It is interesting to note down that fans are eager to enquire about Akshay Bhatia wife. Let's keep on reading to know more about her.
Akshay Bhatia is an American professional golfer of Indian descent. He was born on January 31, 2002, in Northridge, California.
He currently resides in Wake Forest, North Carolina, and was runner-up at the 2018 U.S. Junior Amateur.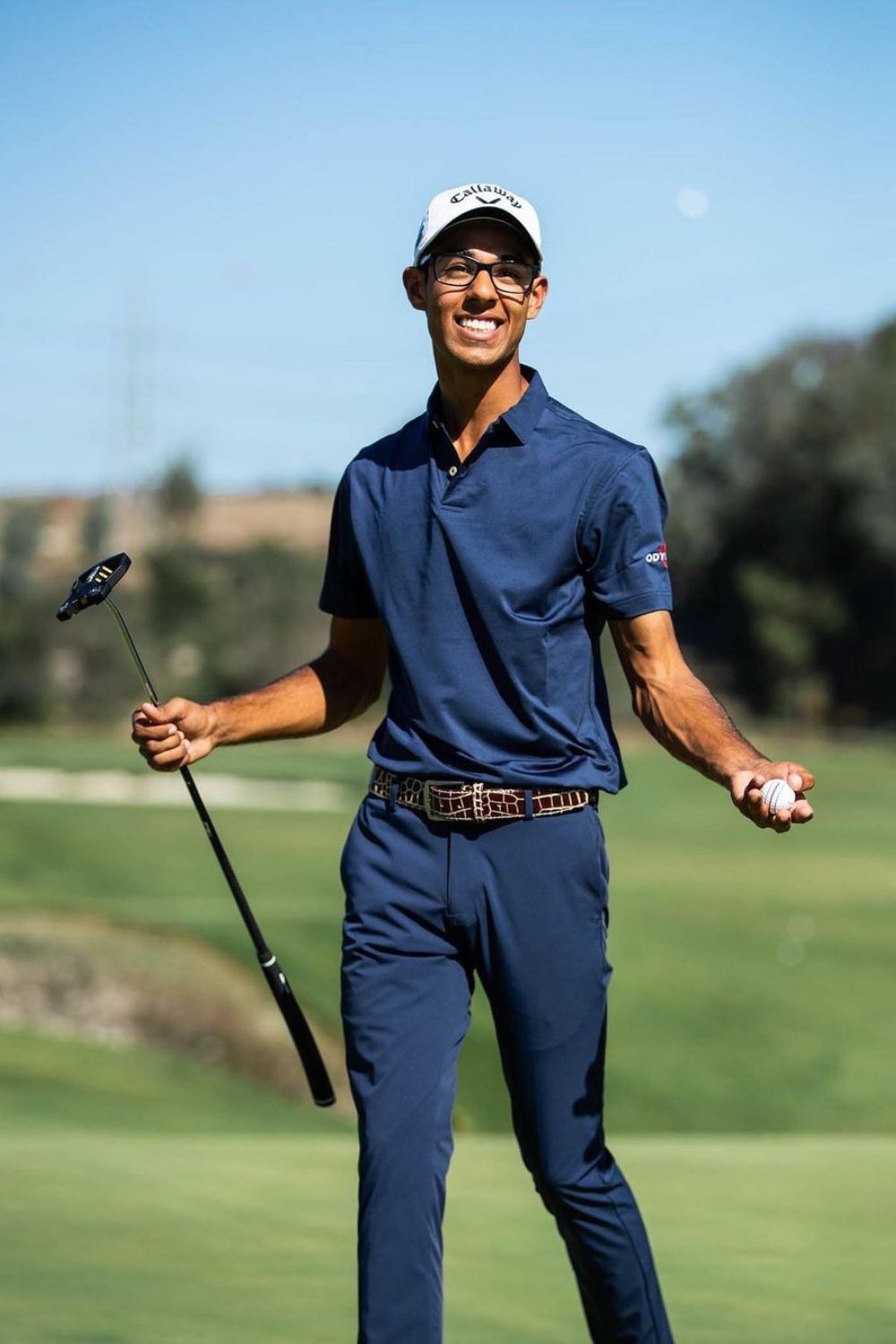 He grabbed two silver medals at the 2018 Summer Youth Olympics; one in the boy's individual and the other in partnering with Lucy Li.
Bhatia played on the Junior Presidents Cup team in 2017 and Junior Ryder Cup in 2018, with both teams winning.
He transformed himself into a professional with a debut at the Sanderson Farms Championship in September 2019.
In June 2021, Bhatia qualified for the U.S. Open at Torrey Pines. He made the cut and finished tied for 57th in his first major championship appearance.
On March 5, 2023, he became runner-up to Nico Echavarria at the 2023 Puerto Rico Open at Grand Reserve Golf Club in Rio Grande, Puerto Rico.
Meet Akshay Bhatia Girlfriend: Presleigh Schultz
Is 21 years old Akshay married? Or is he dating someone?
In fact, the young professional golfer is unmarried. However, he is in a relationship with Presleigh Schultz.
Presleigh is of American nationality with Caucasian ethnicity. Although she has not revealed her birth date, she might be similar to the age of her boyfriend, Akshay Bhatia.
Bhatia reportedly approached Presleigh by sliding into her DM on Instagram, and they began dating shortly.
The couple seems to be active on their social media accounts, through which they post their pictures publicly. They are also social media influencers for those who try to live like they do.
Schultz is a business manager and a content creator. Before coming in relation to the golfer, she was unknown to the public.
But, later on, she managed to create hype among the fans and became a sensational topic of discussion. Now, her Instagram account has garnered over 23K followers due to her attractive posts.
Similarly, her Tiktok account also has followers of more than 82K, with above 1.8 million likes.
Akshay and Presleigh are enjoying their relationship, as seen in the photos and videos they share. But, still, they have not yet agreed to tie the marriage vows.
Akshay Bhatia Mexico Championship
At a young age, Bhatia competed at the 2023 Mexico Open at the Vidanta Vallarta in Vallarta, Mexico, from April 27-30, 2023.
He played the championship alongside proven TOUR winners John Rahm and Tony Finau.
The Indian-American golfer took a solid step towards activating full PGA Tour membership, posting a solid 1-under 70 in the final round at the Mexico Open for a solo fourth-place finish at 18-under par.
He finished in the fourth-place finish, six strokes behind winner Finau. That means he remains in the conditional category that includes Special Temporary Members, but it is another step toward cementing the 2024 Tour status.
Bhatia has now accrued 396 non-member FedExCup points this year, which would place him No 76 on the current standings if he were a member.
If his non-member points equal or surpasses No. 125 on the official FedExCup standings at the conclusion of the FedExCup Fall, he will earn full 2024 PGA Tour membership.
In order to become a full Tour member this season and become eligible for the FedExCup Playoffs, Bhatia will need to win an event.
However, the player is optimistic and said the following about the Mexico Championship:
"I know I'm capable of winning. We're just going to have fun."