The Washington Nationals baseball outfielder Alex Call & his wife, Samantha Call, are among the power couples in the MLB. They are expecting their first child in October 2023.
Samantha, a pediatric occupational therapist, often goes to her husband's games to cheer him up.
The two are together since Call's days at Ball State University in the mid-2010s, where he played college baseball for Ball State Cardinals. Determination & trust indeed are fruitful!
Alex Call made his MLB debut in 2022 with the Cleveland Guardians marching forward through progression in the minor league affiliates: double-A and triple-A teams.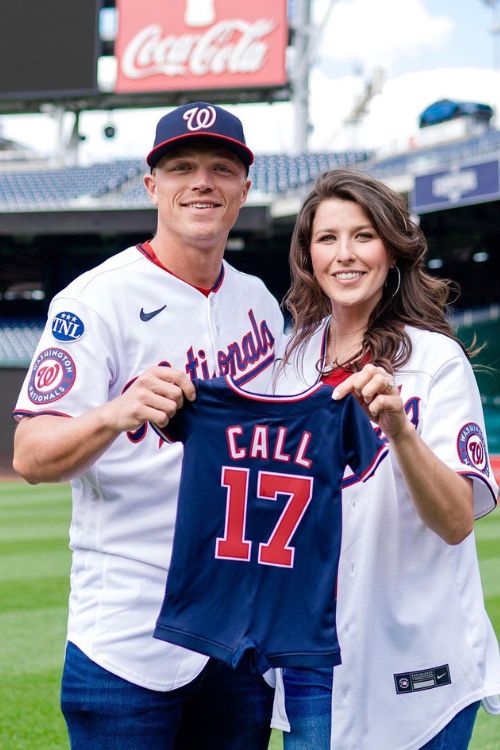 A former prospect of the Chicago White Sox, Call once came into the limelight as the guy who loved keeping tabs on his every statistic.
The 28-year-old had waited a long time to make his MLB debut, so he is making sure to make every moment count.
In the Washington Nationals, he plays alongside Patrick Corbin, Trevor Williams, C.J. Edwards, Dominic Smith, and Kyle Finnegan.
After being out of the playoffs entry in the 2022 MLB season, the Nationals will try their best to clinch the playoffs & their 2nd World Series title in the 2023 season.
Alex Smith's Wife, Samantha Call
Alex Smith's wife, Samantha Call, has been working as an occupational therapist for five years.
Samantha Call graduated from Ball State University in 2017, earning her degree in Kinesiology and Exercise Science. Samantha then went on to join Huntington University, earning her doctorate in occupational therapy.
Born on October 15, 1994, Samantha comes from a family with followers of Christian beliefs. Samantha has previously worked as an occupational therapist at The Bowen Center and Hoperbridge.
Prior to joining her current workplace, Samantha worked at Living Hope Global Ministries & OCJ Kids as an occupational therapy doctoral capstone.
Samantha is available on Instagram with the username @samanthacall_ and usually gives a glimpse of her married life with Alex.
Being an occupational therapist, Samantha certainly needs to stay on top of her game when it comes to fitness. She has shared pictures of her doing yoga with friends and was previously an instructor of fitness classes.
Alex And Samantha Call Relationship Timeline
Alex and Samantha Call's relationship began in the winter of 2015. The baseball couple, Alex and Samantha, might have known each other through mutual friends.
By the time Samantha first crossed paths with the Washington Nationals outfielder, he was making a name for himself in the collegiate leagues.
Went Public About Their Romance
Christmas 2015 certainly brought lots of gifts for Samantha, and one of the gifts came from her future husband, Alex Call.
On December 7, 2015, with a Christmas tree in the background, Samantha went public with her relationship with Alex. A few days later, Alex confirmed it, sharing a similar cozy snap of him and Samantha.
A couple of months later, on Valentine's Day, the couple each shared an appreciation post for each other. After that, there was no hiding.
Announced Their Engagement
A surprise was awaiting Samantha on St. Patrick's Day in March 2019. What looked like a normal hike in Arizona's hills turned out to be a marriage proposal.
Alex went down on one knee as they were hiking, with the couple sharing a series of pictures from that moment on their socials.
After the proposal, Alex even organized a picnic-esque date on top of the hill, making the engagement even more memorable.
Married In December 2019
The preparation for the wedding kick-started with a bridal shower in October 2019. The couple organized their bridal shower at Trail's Edge Brewing Co as they thanked their friends for making the program special.
Alex might not have had the time, but Samantha was able to organize a bachelorette ceremony before her wedding.
On December 12, 2019, the couple tied the knot in the presence of their family and friends. It was only two months after their wedding the couple chose to share pics from the event.
For their honeymoon, Samantha and Alex traveled to Sandals Grande St Lucian. They shared several loved-up pictures from their romantic trip.
Earlier this year, on April 21, Alex and Samantha took to Instagram to announce they were expecting their first child, due in October 2023.