Kelli Finglass, the Dallas Cowboys Cheerleaders director, has a daughter named Samantha Finglass.
Following in her mother's footsteps, Samantha currently identifies herself to the world as the Director of the Texas A&M Lettermen's Association.
Growing up, Samantha was exposed to the marketing world from an early age, as both her parents were involved in the Dallas Cowboys team's business operations.
Today, Samantha is utilizing her experience and knowledge to lead the Texas A&M Lettermen's Association to success.
Kelli McGonagill Finglass, the present director of the Dallas Cowboys Cheerleaders, hails from Lindale, Texas.
There, she graduated from Lindale High School and pursued Modern Dance at Texas Christian University, where she joined Alpha Delta Pi.
She later earned a Bachelor of Arts in International Marketing from the University of North Texas.
She began her professional cheerleading journey in 984 to 1989 and later became an assistant director from 1989 to 1990.
Subsequently, she assumed the role of director and business manager in 1991, working to expand the organization's reach and create a successful brand.
In addition to her contributions to the Dallas Cowboys Cheerleaders, Finglass managed DCC events like Dance & Drill Team Competitions, Camp DCC, Cheers for Years, and Cheers for Fitness.
Kelli Finglass Daughter: Who Is Samantha Finglass?
Samantha Finglass is the daughter of Kelli Finglass, the director of the Dallas Cowboys Cheerleaders, and Joel Finglass, who worked for the business operations of the team.
Born on June 26, 1997, she is currently 26 years old.
Her mother's cheerleading background influenced her upbringing, inspiring her to join her school's cheerleading team.
After completing her high school education, Samantha pursued her undergraduate studies at Texas A&M University, graduating in 2020 with a Bachelor of Science in Telecommunications Media Studies.
She continued her academic journey by earning a Master of Education in Intercollegiate Athletic Leadership from the University of Washington.
Finglass initiated her professional career early on, beginning as a Production Assistant at Triage Entertainment in 2013.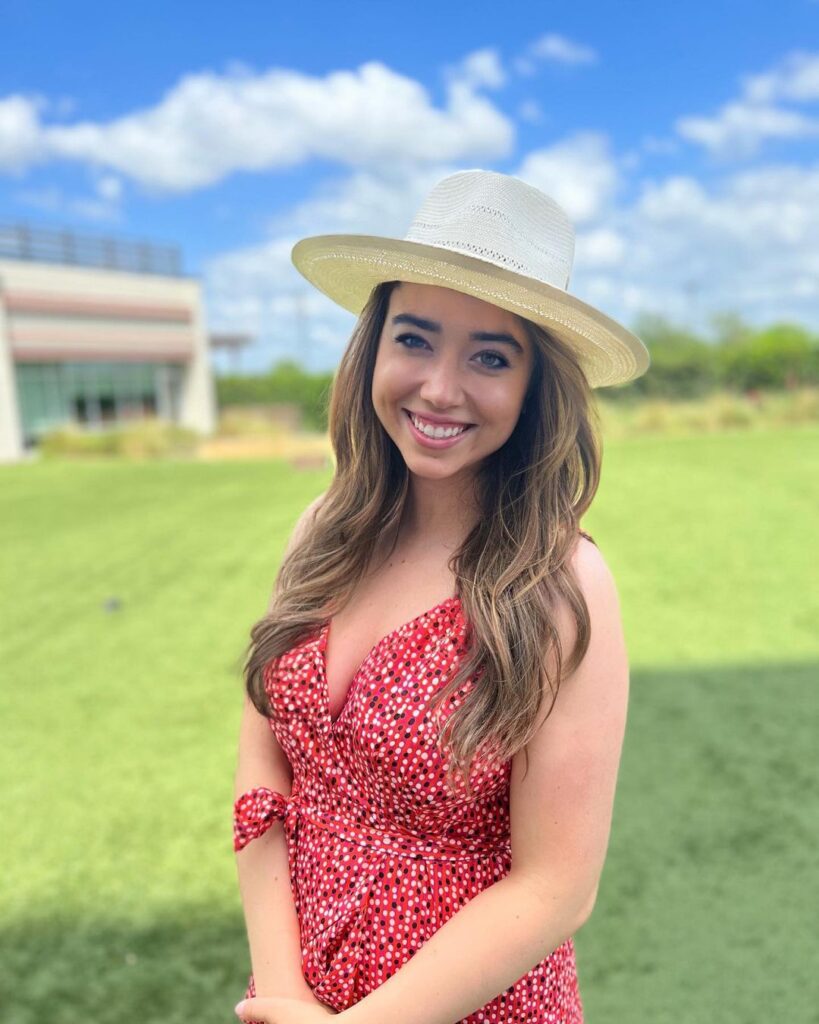 She subsequently served as a Freelance Web Correspondent at Dallas Cowboys for a year.
Later, she took on the role of a social media producer for the CMT show, acting as a vital link between Viacom in New York City and MTV, facilitating the distribution of media content for the CMT program.
During her time as a student at Texas A&M University, Samantha was an athletic ambassador for the institution's sports programs, including Texas A&M Football, Texas A&M Basketball, and the Texas A&M Lettermen's Association.
Currently, Samantha holds a significant position as a Director, making notable contributions to the sports industry.
Samantha Finglass Is Happily Engaged To Boyfriend
26-year-old Samantha is happily engaged to her soon-to-be husband, John Patrick McKean.
Samantha's recent engagement to John Patrick McKean was a momentous occasion. John proposed to her on August 23, 2022, in the presence of their loved ones, making it an unforgettable evening for both of them.
The same night, Samantha joyously shared the news of their engagement, captioning it "Best night ever."
Their relationship has lasted for several years, although the precise timeline remains unknown.
At the moment, John is pursuing his medical studies and is working towards becoming a doctor.