Pat Fitzgerald was fired by Northwestern University on July 8 after hazing incident came forward. A former player came forward with accusations against the private univeristy.
Only in 2020, Pat Fitzgerald signed a massive $50 million 10-year deal with Northwestern University. And now, two years into it, he has lost it all.
An unidentified former player has made accusations against the football program and Fitzgerald for failing to protect its player.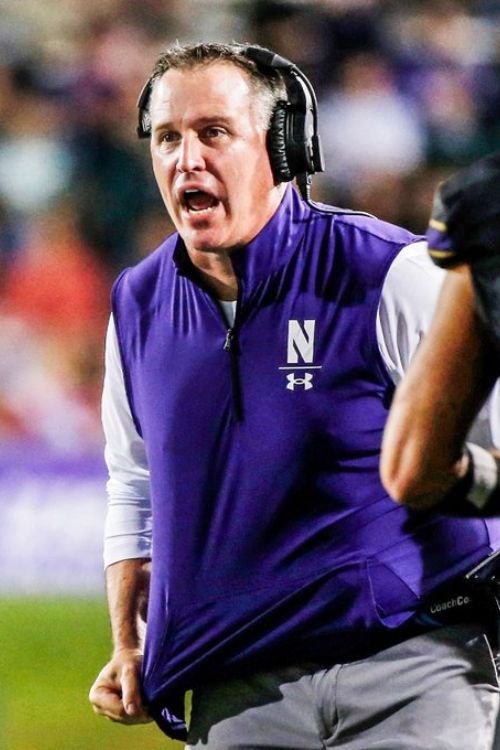 The hazing incident included a tradition called "Running" which saw older players tie up a younger player and make him perform "naked slingshot" and "naked bear crawls".
The current players of Northwestern University have backed their former coach, but the University has decided to fire Pat from his position.
Why Was Pat Fitzgerald Fired? Hazing Scandal
Pat Fitzgerald's firing from the head coach's position has caused an uproar on the internet and around the football community.
After six months of investigation, Northwestern University fired their head coach, who had been with them since 2006. Before his firing, Pat had been suspended for two weeks without pay.
With Northwestern University being a private institution, the records have not been made public yet. The controversy began when an unidentified former player reported about a hazing tradition.
Daily Northwestern was the first to break the news after the former player said sexualized hazing activities would take place in the locker room.
It included an activity known as "Running," which involved restraining one younger player and eight to ten older players performing sexual acts in a dark locker room.
The "Running" would take place at Christmas and Thanksgiving and was known as Runsgiving and Runsmas. After the report was published, a second player backed the claims.
The older students would target the younger player by clapping their hands over their heads around him, a gesture which they called "the Shrek clap."
Did Pat Fitzgerald Know About The Hazing?
The former players have accused Fitzgerald of knowing about the hazing incident but not taking any action.
But Pat had previously said he wasn't aware of the alleged hazing. The former students said the head coach had absolutely failed by not intervening and should have made it stop.
The President of Northwestern University, Michael Schill, wrote an open letter to the school community that the hazing was clearly not a secret which provided enough opportunity to Coach Fitzgerald to learn what was happening.
But it also stated that they did not find "sufficient" evidence that the coaching staff knew about the ongoing hazing. It also failed to find any credible evidence that Coach Fitzgerald himself knew about it.
The former coach released a statement on Monday stating he did not know about any hazing in the football program.
Pat Fitzgerald Wife, Stacy Fitzgerald
Pat Fitzgerald and wife Stacy Fitzgerald share three boys-Jack, Ryan, and Brendan.
In an interview with Chicago Tribune in 2019, Pat hailed his wife for the sacrifices and dedication she has for her family and work.
2019 marked four years since Stacy became the President of the North Shore Trevians Youth Football Program. Though Stacy came from a soccer family, she was a strong advocate for football.
Stacy and Pat grew up six blocks from Pat and met in high school. She began learning about football by quizzing Pat about it.
Their oldest son, Jack, currently plays tight end for Northwestern University. Their two younger sons are also interested in football, and the couple allowed their sons to play football from grade two.
During the ongoing investigation, Stacy and their three sons were also included in the meeting addressed by Fitzgerald to his team on Monday.