At the present moment, many male wrestlers have the most popular name in the world of wrestling entertainment.
But in recent days, women's involvement in wrestling growing rapidly worldwide. Among all the popular female wrestlers, Saraya-Jade Bevis, i.e., Paige, is also one who has been performing since the age of 13.
You might know Paige for her work in the World of Wrestling entertainment and a woman who is also a Judge, Actor, and businesswoman. She has also been hailed for her beauty and photogenic poses.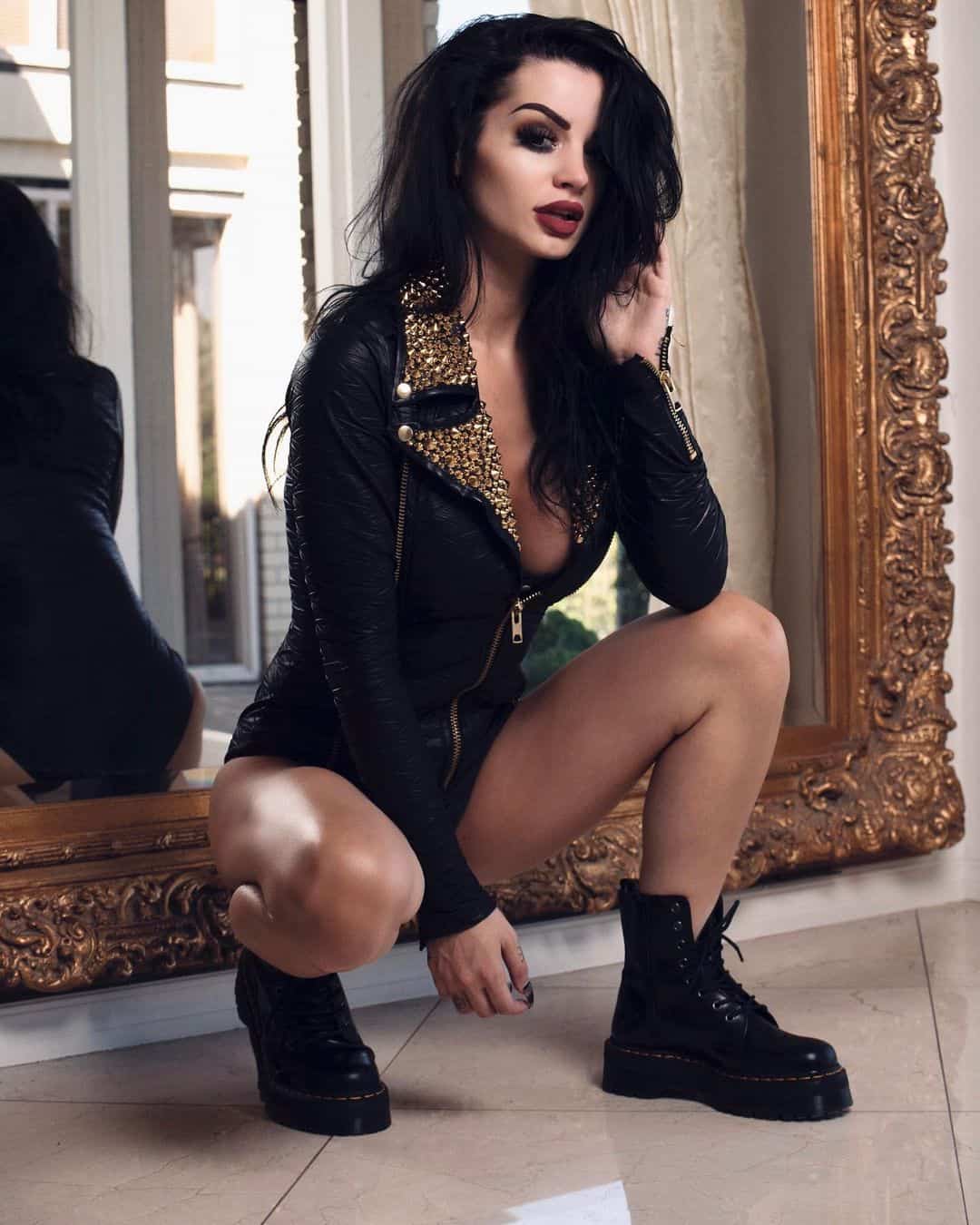 Moreover, the young wrestler is only the woman to hold the 'WWE Divas Championship title and the 'NXT Women's Champion title at the same time.
From running her own clothing store to makeup brands, she has inspired many young ladies out there with her active involvement in most professional fields.
We bring you all the details about her in this article.
Quick Facts
Full Name
Saraya-Jade Bevis
Birth Date
17 August 1992
Birth Place
Norwich, England
Ring Name
Britani Knight
Paige
Saraya
Religion
Roman Catholic
Nationality
British
Ethnicity
White
Education
The Hewett School
Horoscope
Leo
Father's Name
Patrick Bevis
Mother's Name
Julia Hamer-Bevis
Siblings
2
Age
30 Years Old
Height
5 ft 8 in (173 cm)
Weight
120 lb (54 kg)
Hair Color
Black
Eye Color
Dark Brown
Body Measurements
34-24-34
Build
Athletic
Profession
Wrestler, Actor, Business Woman
Active Years
2005-2018
Sexual Orientation
Straight
Marital Status
Unmarried
Boyfriend
Kevin Skaff
Kids
No
Net Worth
$3 million
Social Media
Twitter, Facebook
Merch
Jersey, Book
Last Update
June, 2023
Paige – Early Life, Family, and Education
Saraya-Jade Bevis, i.e., Paige, is an English professional wrestler born on 17 August 1992 somewhere in Norwich, England.
She was born to Patrick Bevis and Julia Hamer-Bevis. Both of her parents are professional wrestlers and also used to run a bar. Moreover, her brother Roy Bevis and half-brother Zak Zodiac are also professional wrestlers.
From an early age, Paige did not want to pursue her wrestling career because she was scared of her family's injuries.
So wanted to become a zoologist than a wrestler. Later on, at the age of 13, in 2005, Paige made her debut as a wrestler in the World Association of Wrestling under the ring name Britani Knight.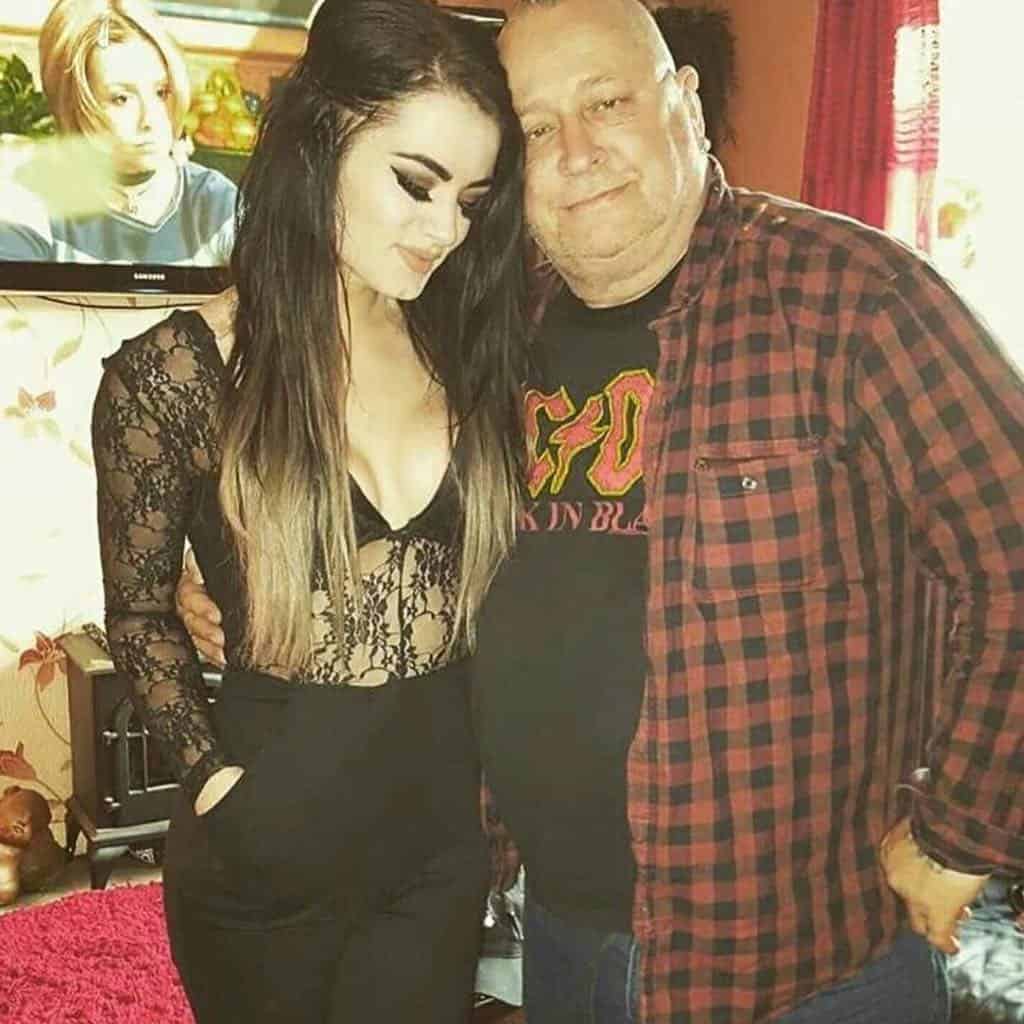 When Paige turned 15 years, she worked as a bouncer and bartender at her parent's bar when Bevis's parents were away from the city.
Talking about Bevis's academic record, she attended Hewett School and graduated in 2008. Furthermore, there is no information regarding Paige's university degree and others.
Paige; Age, Height, and Physical Appearances
Paige is a gorgeous person who has been active in wrestling since her early days. The famous wrestler is 30 years as of now.
She is born under the sun-sign Leo, one of the fiercest and most successful signs. And from what we know, they are dramatic, creative, and self-confident people.
Likewise, famous for her successful career, Bevis is also lauded for her gorgeous features. She stands at the height of 5 ft 8 in (173 cm) and weighs around 120 lb (54 kg) with a well-maintained and good body shape structure.
Moreover, Paige has glowing skin and a perfect slim body measuring 34-chest size, 24-waist size, and 34-hips size. The wrestler has no complaints about her health.
Including a flawless skin complexion even in her early 30's the wrestler has a beautiful dark brown pair of eyes and black hair that compliments and enhances her beauty. With British nationality and white ethnicity, she follows the Roman Catholic religion.
Paige; Professional Career
Early Career
As mentioned earlier, without her interest in wrestling, Paige made her debut in 2005 at the age of 13 after her father made her replace a wrestler who had not turned up.
At the age of 16, she participated in various wrestling events promotion in Europe and the US. Moreover, Paige competed in 'World Wide Wrestling League (W3L) women's title. Unfortunately, she lost the match against Sara in the final round.
In April 2006, the young wrestler teamed up with her mother in a triple-threat tag-team match for the 'WAW' under the ring name Britani Knight.
After that, Paige united with the Norfolk Dolls team, which also won the World Association of Women's Wrestling (WAWW) Tag Team Championship in June 2007.
The native British got a chance to participate in various wrestling events held in Scotland, Scotland, Ireland, Wales, Belgium, France, Turkey, Denmark, Norway, Germany, and the United States at the age of 14.
At the initial or beginning phase, she didn't achieve a huge amount of success, but she continued fighting wrestlers.
From 2009, Paige achieved a single success in her life. At the beginning of the year, she defeated her mother, Julia Hamer-Bevis ( ring name Sweet Saraya), in the Herts and Essex (HEW) Women's Championship, WAWW British Championship, and Real Deal Wrestling (RDW) Women's Championship.
Likewise same year, Bevis defeated Jetta in a champion vs. champion match.
In the year 2010, Paige, along with her mother, won the match after defeating Amazon and Ananya in the 'PWF Ladies Tag Team Championship.' However, Paige lost the match against her mother in the 'HEW Women's Championship.'
The year 2011 became a little hectic year for Paige. She participated in various matches but did not achieve success as much as expected. After losing at the different matches, she won an elimination match and became WAWW Hardcore Champion.
Teaming up with her mother in Shimmer Women Athletes as the Knight Dynasty defeated Nikki Roxx and Ariel. With this, the Knight Dynasty won the Shimmer Tag Team Championship but later lost the match against the Seven Star Sisters.
WWW Career
Before signing to WWW, Paige participated in the try-out matches where she was not so successful with her first match but succeeded in the second game. This leads the young wrestler to sign a contract with WWW in September 2011.
She debuted at the Florida Championship Wrestling (FCW) house show in January 2012 with Saraya's ring name. But after she made her debut appearance on FCW TV, the wrestler changed her ring name to Paige.
After that, Bevis made her television in-ring debut with Sofia Cortez.
Bevis and Cortez are associated with Rick Victor, which led the team to win the match against Audrey Marie and Aiden English. After collaborating in a few more matches, Bevis and Cortez parted away by the end of 2012 year.
2012–2014 Career
After FCW rebranded its name to NXT, Saraya made her debut on the third episode of the NXT but lost to Cortez.
After huge success from the audiences, Bevis went on to win the match against Audrey Marie, Sasha Banks, Emma, Aksana, and multiple victories over Alicia Fox.
In 2013, despite a shoulder injury, she continued defeating Summer Rae in singles matches. After defecting Tamina Snuka and Alicia Fox, she went on to become the first NXT Women's Champion.
2014–2015 Career
On 7th April 2014, Paige made her main roster debut with the episode of RAW. She even congratulated Divas Championship AJ Lee on her successful title defense at the pay-per-view event.
But AJ slapped Page, challenging her to an immediate match for the championship. This led Bevis to win her first Divas Championship after winning against AJ.
With this success, Paige became the youngest wrestler to win the 'Divas Championship' and only the woman to hold the 'NXT Women's Championship' simultaneously at the age of 21. In a non-title match against Alicia Fox, which led her to retain the title.
Paige and Lee acted like best friends during the tag match when they were teamed up together, but they lost the match.
Similarly, on 21 July, in the post-Battleground match of the Raw episode, Paige and lee teamed up together, winning the match against Emma and Natalya. In another title match, Bevis again went on to become the Second Divas Championship.
At the beginning of January 2015, the British native won the non-title match against Nikki Bella. Later, Paige and Natalya teamed up against The Bella Twins at the Royal Rumble event, where Paige's team lost the match.
After a while, Paige again teamed up with lee against The Bella Twins for the WrestleMania event. Paige and lee won the match at the end.
Paige, along with Charlotte and Becky, formed a team named PCB. The PCB then faced a match against each other at the SummerSlam in a three-team elimination match where Paige won against Becky.
Later on, the PCB competed in the Divas beat-the-clock challenge, where Charlotte stands at the top number. In November 2015, after winning the fatal four-way match, Bevis became the new number, one contender, for Charlotte's Divas Championship.
After a small injury, the young fighter took a break from wrestling and then appeared on television shows. Then she returned to her profession on 18th January 2016 in the Raw episode, where she teamed up with Natalya to match against Brie Bella.
After returning, she collaborated with Total Divas members – Brie Bella, Natalya, Alicia Fox, and Eva Marie facing Lana, Naomi, Tamina, Summer Rae, and Emma in a 10-Diva tag team match on the WrestleMania 32 kick-off show. Paige's team won the match with a great victory.
2016-2018 Career
After violating the company's wellness policy on 17 August, the young player was suspended for 30 days. In September 2016, Paige announced that she would be going through neck surgery on October 19 and would not wrestle for a certain time.
On October 10, Paige was again suspended for her second violation of the wellness policy, and this time for 60 days. She returned to the ring in September 2017 after a complete recovery from the surgery.
In December 2017, in a six-woman tag-team match, after Sasha Banks kicked Paige, she suffered again from neck surgery. But this time, after her recovery, she didn't return to the ring competition. The young wrestler officially retired from wrestling on April 9, 2018.
2018- Present
After retirement from wrestling, Paige joined SmackDown on 10 April 2018 (a wrestling program television show) as a general manager.
For a few weeks, the young wrestler took a break from SmackDown to promote a movie based on her life Fighting with My Family. Then after a few weeks, she returned to SmackDown again, but this time, she made a backstage appearance on 10 April 2019.
Due to her neck surgery, Paige made an off-screen appearance in the episode of SmackDown on skype on 20 March 2020.
Movies and TVs Shows
A documentary on the Bevis family, 'The Wrestlers: Fighting with My Family,' was produced by Channel 4 in July 2012. She has been featured in six WWE Video games, namely WWE 2K15, WWE 2K16, WWE 2K17, WWE 2K18, WWE 2K19, and WWE 2K20.
Paige also appeared in the series Total Divas in October 2014 and E! for the second part of the third season.
Moreover, she has appeared in various series and television shows like Ridiculousness, Smosh's, What Just Happened??! with Fred Savage, Miz & Mrs, WWE Backstage, and more. The British native has also judged the show Tough Enough.
Talking about Bevis's film career, she has featured in two WWE studio films: Santa's Little Helper, released in November 2015, and Scooby-Doo! and WWE: Curse of the Speed Demon, released in 2017.
She has also provided a voice role for the animation film Surf's Up 2: WaveMania.
Who is Paige Dating? Is She Married?
Many wrestlers have a love triangle of some sort. Many of them have successful, long-lasting relationships, whereas some end in disaster due to different misunderstandings and work schedules. But yeah! She is yet to be married.
Bevis has always been in the spotlight with her relationship status. She has been in a relationship with guitarist Kevin Skaff and even engaged with each other.
Later in early 2016, the couple broke up their love relationship. The same year in October, Paige got engaged to Alberto Del Rio. He's also a professional wrestler player.
Nonetheless, after dating for a year, the two walked away from the relationship in 2017.
She is currently in a relationship with an American singer Ronnie Radke since 2018. The couples often share their pictures, roam around different vacations, and spend time together.
Paige – Business Ventures and Net Worth
No doubt, Saraya-Jade Bevis has earned quite a name and fame with her career in wrestling. Further, the Los Angeles resident has appeared in a few movies and television shows.
Accordingly, it can be speculated that she has earned a significant fortune in her career till now.
As we know, Bevis makes most of her income from her successful career as a wrestler and by working in various movies and TV shows.
Paige has accumulated an impressive net worth of $ 3 million.
She co-launched a coffee company named The Dark Gypsy and a clothing company Blackcraft Cult clothing, in September 2015.
After a year, Paige was no longer affiliated with these companies, which she announced through her social media.
Similarly, right after a year, in December 2017, the wrestler launched an online clothing store TheSarayaStore.com under her real name Saraya. The opening of The Saraya Store was held in Anaheim, California.
Moreover, Paige also launched her own cosmetic brand Saraya Jade Cosmetics on 16 November 2018. Reportedly, she has collaborated with Hot Topic since 2019.
Paige's: Social Media Presence
Paige actively appears on different social media. She is available on Instagram, Twitter, and Facebook. The wrestler shares and tweets stuff related to her family and professional career.
Paige is available on Instagram as @realpaigewwe and has around 5.9 Million followers. Her Instagram posts are mostly related to her professional photoshoots and working place.
One can also see the British nationality posting pictures of her vacationing to different places.
Also, her account is well organized and looks clean. At present, she has shared nearly 2140 posts on her Instagram account.
On Twitter, she is available as @RealPaigeWWE making 12.5k tweets to date. Her tweets are mostly related to professionalism.
She joined Twitter in December 2010 with 2.6 Million followers at present. With the passing of time, we're sure that her followers will be increasing rapidly.
Frequently Asked Question
What is Paige doing now?
Her in-ring days are over. Therefore, she is all into grooming the upcoming wrestlers as a trainer at the WWE Performance Center.
And, prior to this, Paige has already experienced the same kind of job on Tough Enough