Whether it's a match inside the ring or a real-life battle, Stephanie Nicole Garcia-Colace (Nikki Bella) has always faced it fearlessly.
She is beautiful, fearless, bold, and determined. Nikki Bella is a former WWE superstar. She is also called "The fearless."
Nikki's life is as beautiful as her career. Yet, it is evident that life is not always a bed of roses. Nikki Bella had her hardship and struggles.
She hasn't always been lucky in terms of love. Nikki was in various relationships, but that didn't work out.
Talking about her career, she debuted with her twin sister in WWE.
They were called the "Bella Twins." However, at first, they were shown a villainous character and were disliked by the audience. Gradually, everyone started liking them (Nikki and Brie).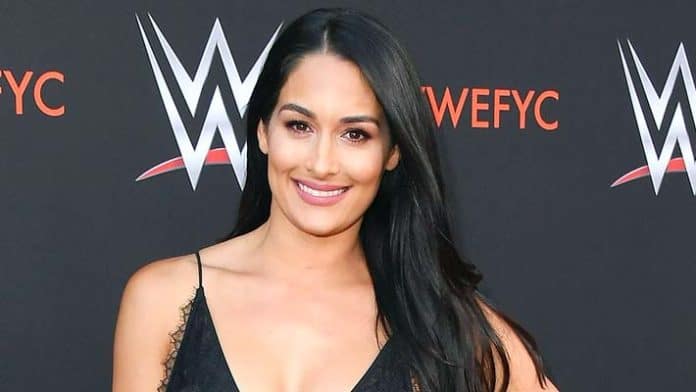 Today, let us dive into the life of Nikki Bella, a former WWE superstar. Here we will be talking about her early life, age, career, love life, net worth, and many more.
But first, let us have a look at the quick facts.
Quick Facts
Full Name
Stephanie Nicole Garcia-Colace
Birth Place
San Diago, California, U.S.
Birth Date
November 21, 1983
Nick Name
Nikki Bella, Nicole, The fearless
Religion
Christian
Nationality
American
Ethnicity
Half Mexican- Half Italian
Father
Jon Garcia
Mother
Kathy Colace
Education
Chaparral High School, Arizona
Grossmont College, San Diego
Horoscope
Scorpio
Sibling
2
Started Career
September 15, 2007
Retired
March 24, 2019
Age
39 Years Old
Height
5 ft. 6 inch
Weight
57 kg
Signature Move
Rack Attack 2.0

Fearless Lock (Modified STF)

Body Measurement
35-24-34
Hair Colour
Brown
Eye Colour
Black
Annual Salary
$1 million
Marital Status
Engaged
Children
1
Profession
Wrestler
Net Worth
$6 million
Affiliations
WWE
Movies and TVs Shows
Confessions of a Womanizer,

The Flintstones & WWE: Stone Age SmackDown

Meet My Folks

Social Media
Instagram, Twitter, YouTube
Merch
Books, Poster & Clothes
Last Update
June, 2023
Nikki Bella Early life | Childhood, Family
Nicole was born on November 21, 1983, in San Diago, California. Nikki's mom gave birth to twins. Nikki was born 16 minutes earlier than her sister Brie.
Nikki was born to Jon Garcia (father) and Kathy Colace (mother). She had a normal childhood, and she spent most of her early days on a farm in Arizona.
Nikki's parents were so supportive; they always supported her no matter what. Nicole feels grateful for that. Indeed, she had a normal yet comfortable childhood.
Nikki was always interested in sports. Nikki played soccer during her college days, and she was very serious about it. She almost made soccer her career, but later she changed her mind because she had a severe leg injury.
As Nikki was interested in sports from the very beginning, she eventually had a healthy life. Nicole was always conscious of her health, body, and fitness.
Nicole went to Chapparal High School, and for her higher studies, she joined Grossmont College in San Diago.
Nikki played football for the college back then. Unsurprisingly, she became everyone's favorite in a short time due to her football skills.
If Nikki wanted, she could have chosen football as her career, but she didn't. Instead, she starts searching for other jobs and moves to Los Angeles in hopes of getting some modeling and acting offers.
Nikki Bella Carrer | Struggles and Success
After Nikki moved to Los Angeles, she did different jobs. She wanted to do some modeling but was not getting any opportunity to prove herself.
Eventually, due to her physique and beauty, she got attention from modeling agents. Hence, she made her first debut in "Meet my Folks" on Fox TV. Later, Nicole and Brie even did a commercial together.
Both Nikki and Brie participated in International Body Doubles Twins Search and WWE Diva Search 2006.
Though they couldn't win the competition, they indeed got some exposure. They finally got the opportunity to be a part of WWE (the USA's biggest wrestling platform).
World Wrestling Entertainment (WWE)
Florida Championship Wrestling
Nicole, along with her sister, signs a developmental contract with WWE in 2007, and Florida Championship Wrestling was assigned to them.
On September 15, 2007, Nikki and Brie made their in-ring debut against Nattie Neidhart and Krissy Vaine and won the match.
Nikki started having a scripted rivalry with Nattie after their match. For the entire October of 2007, they continued their feud.
In WWE, Nikkie and Brie were presented as a villainous character, and if one of them were hurt without being caught by the referee, they would switch places.
Later, Nikki started having a scripted feud with Derrick Linkin in late 2007, but this storyline couldn't continue for long as WWE released Linkin.
Hence, Nikki and Brie resumed the storyline of their feud with Nattie and Crawford.
However, when WWE's main roster was called Natie, Nikki had to continue the storyline with Milena Roucka. Nikki's last match in FCW was on September 2, where she competed in Divas Battle Royals and lost.
The Bella Twins
Nikki and Brie started their career as Bella twins. In 2008, Brie debuted in SmackDown and faced Victoria.
To everyone's surprise, every time Brie was beaten badly, or if she was unable to fight, she goes under the ring and emerges as if nothing had happened to her.
Later, it was found that Nikki would take Brie's place and fight as Brie. The truth came out when Victoria and Natalia pulled both of them out of the ring.
After that, Nicole was then introduced as Nikki Bella.
Instantly, Nikki got everyone's attention, and both the Bella twins were gaining popularity.
Nikki and Bella started having a feud when John Morrison and The Miz took them on a Valentine date, and the Miz spat apples on the face of Brie accidentally.
However, Nikki couldn't control her laughter, and Brie didn't like how Nikki was laughing at her.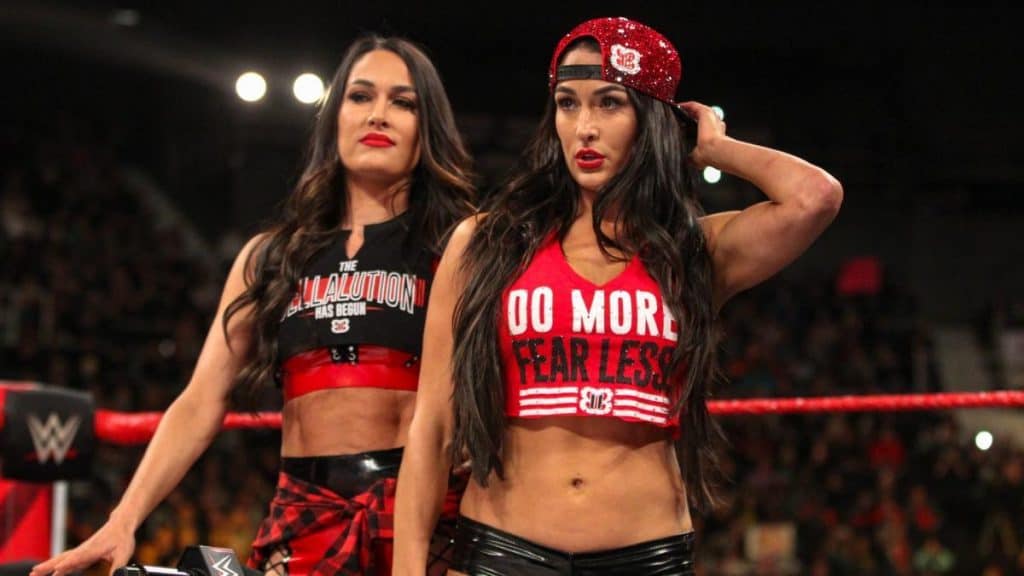 Then, the rivalry between the sisters started, though it was part of the WWE storyline. Nikki and Brie faced each other in so many matches.
But later, they reunited when Brie was drafted to RAW, and Nikki came to her sister's rescue.
In 2009, Nikki and Brie were drafted to ECW; they even had a feud with Jillian Hall; at several events, Bella Twins faced Jillian and defeated her.
In 2011 Nikole won the Battle Royals and became the number one contender for the diva's championship.
Not surprisingly, Nikki won the match against Phoniex in the Lumberjill match and won the Diva's title.
But sadly, after a week of winning the championship, Nikki loses the diva's title as Brie loses the match against Layla.
On the same night, both the Bella Twins were fired by Executive Administrator Eve Torres, which WWE later announced.
Independent Circuit
After being fired by Eve from WWE, Nikki was seen in the Independent Circuit. But she was there only for a year. She joined Independent Circuit in 2012 and was last seen on December 15, 2013.
Return in WWE
On March 11, 2013, Nikki and Brie returned to WWE in the RAW backstage segment. However, they started having a feud with Funkadactyls.
They even had a match in Wrestlemania, but sadly, this match couldn't happen.
Later, the same match took place in the main event, but they couldn't win the match.
After their return to WWE, Nicole and Brie started dressing differently. In 2014, Aj Lee lost her championship to Nikki Bella.
When Brie was fired from WWE, Mr. McMahon involved Nikki in various matches as a punishment.
But Nikki was given an offer by McMahon that if she attacks Brie in the pay-per-view match, she gets the opportunity to be the face of the Divas Division. And without any doubt, Nikki accepts the offer and backstabs her sister.
Nikki and Brie also faced each other at Hell in the Cell, where the loser has to become the winner's assistant for 30 days; Nikki wins that match.
She faces Aj Lee for the championship match; amazingly, Nikki wins that match and becomes the longest-reigning diva's champion (301 days).
Nevertheless, at various events, Nikki retained her championship.
Return after injury and retirement
Nikki had to drop her championship due to her neck injury to Charlotte Flair. Nicole returned to WWE after 10 months and lost to Charlotte for the championship match.
Nikki started having a feud with Maryse; back then, Maryse uses to provoke Nikki all the time.
John Cena– Nikki, and Miz-Maryse fought in the mixed tag-team match in Wrestlemania; eventually, Nikki and John win the match.
On the same day, John proposes to Nikki inside the Wrestlemania ring, and no doubt, Nikki.
Later, Nikki announced she is taking a break from WWE on April 4. However, she was seen on the 25th anniversary of RAW and participated in the first women's royal rumbles.
Later in September, Nikki returned to WWE. At first, she supported Ronda Rousy and stood by her. Soon after, they started having a feud, and they also fought in the championship match.
Sadly, Nikki had to end her career because a cyst was found in her head, resulting in her not fighting in the ring anymore. In June 2019, Nikki retired from WWE.
And later, it was announced that both the Bella Twins would be inducted into the WWE Hall of Fame in February 2020.
Nikki Bella's WWE In-Ring Return Around Wrestlemania 37
Nikki Bella was in public at Wrestlemania 37, as per her earlier approval.
In fact, there have been some thoughts of a comeback to the in-ring capacity as they were teasing the same with some gym concourses and let alone with their physical occupation in Tampa Bay, Florida.
But it seems they have to wait for at least seldom to get make that happen.
The Bella Twins were among the top draws of the WWE Hall of Fame induction protocol containing two years' classes.
There is no plan for them to have a match despite rumors that they could be back in action sooner than later.
They were even speculated to be a part of the tag team turmoil match, but that wasn't the case.
Nikki Bella Personal Life | Boyfriend, Breakups
Nicole's love life is not as amazing as her career; she has faced many troubles in her love life.
Nikki, in 2014 revealed that she was 20 years old when she got married to her high school sweetheart, which lasted for 3 years.
Then, Nikki Bella met John Cena. They started being fond of each other and soon were in a live-in relationship. John also proposed to Nikki at Wrestlemania.
However, John Cena and Nikki Bella called off their engagement and 6 years long relationship.
Back then, John didn't want to be a father, whereas Nikki always wanted a child. As per many sources, this could be one of the main reasons for their breakup.
Nikki was devastated at that time and didn't date any other person for a long time. Later in 2017, she met Artem Chigvintsen on Dancing with the Stars; Nikki was working with him.
Soon, they started growing feelings for each other. However, fans still wanted John and Nikki to be together.
But later, Nikki, in an interview, cleared everything up and expressed her feeling toward Artem.
Recently, Nikki and Artem have been blessed with a baby boy. Nicole is so in love with Artem and very glad that she met him. She is happy now and enjoying every bit of her motherhood.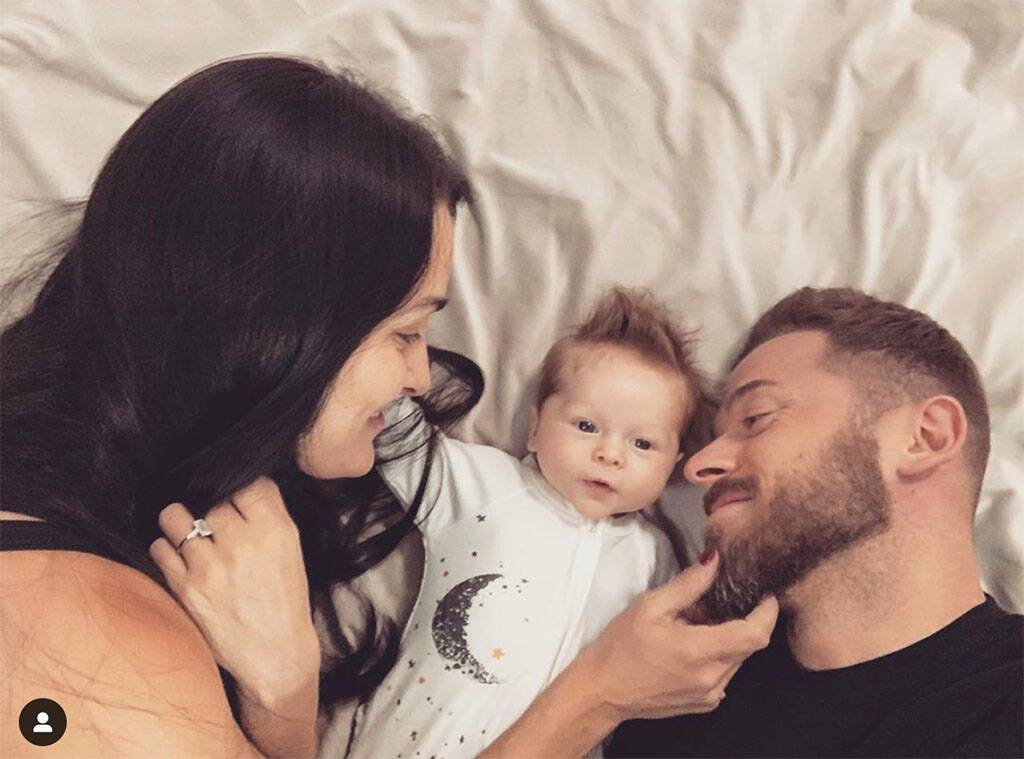 No matter how hard her love life was before, she is now happy and living every bit of her life with Artem. Surely, her baby boy has added essence to her life.
Nikki Bella Net Worth
Obviously, Nikki Bella has been working for a long time and has earned a good amount of money.
Nikki Bella earns $1 million every year, and her net worth is estimated to be $6 million. She also earns from her joint youtube channel with her sister.
Apart from that, Nicole is a part of two reality shows, Total Bellas and Total Divas.
Nikki, with her sister, has opened a brand named Berdiebee apparel line and Belle Radici Wine.
Net Worth of Nikki Bella in Different Currencies
Here is the net worth of Nikki Bella in different currencies, including cryptocurrency and BitCoin.
Currency
Net Worth
Euro
€

5,174,400

Pound Sterling
£

4,429,679

Australian Dollar
A$

8,267,274

Canadian Dollar
C$

7,589,880

Indian Rupee
₹

444,870,000

BitCoin
฿

125
Social Media Presence
Instagram (@thenikkibella): 9.6 million followers
Youtube (The Bella Twins): 3.17 million followers
Twitter (@BellaTwins): 3.6 million followers
Nikki Bella | Frequently Asked Questions (FAQs)
Are Nikki and Artem still together?
Nikki and Artem are registered to tie the knot on Thanksgiving weekend, 2021.
The couple got engaged on a trip to Paris in November 2019. The two intended to marry in 2020, but the coronavirus had them postponing their wedding.
With the pandemic slowly down, the couple is ready to get married.
What is the Entrance Song of the Bella Twins?
You Can Look (But You Can't Touch) is the Entrance theme song of the Bella Twins.
What is Nikki Bella's Finisher?
Bella's finisher is named the Rack Attack.
Who is Bella's Husband?
The WWE superstar is not married yet. However, she is engaged to her boyfriend Artem Chigvintsen.