You obviously remember the lad who scored the game-winning touchdown at Super Bowl LII, don't you? In fact, the lad was Zach Ertz, who led the Philadelphia Eagles to win the Super Bowl, particularly the first in its history.
Not to mention, Zach has been playing for the Eagles since 2013 when they drafted him in the second round.
At present, seven years later, the American tight end has established himself as a key player for the team with an outstanding career personally.
Notably, he was a unanimous All-American in 2012 while playing collegiate football at Stanford.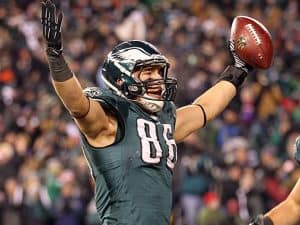 Besides, he has some gutsy blocking abilities with a good foot-speed for a tight end and smart and efficient running.
When and where was Ertz born? How was Ertz's college career? Along with these, we had tried to answer all the queries you possibly developed in your mind when you heard his name. Let's dig into this!
Quick Facts
Full Name
Zachary Adam Ertz
Birth Date
November 10, 1990
Birth Place
Orange, California, United States
Residence
Center City, Philadelphia, United States
Nickname
Zach Ertz
Religion
Christianity
Nationality
American
Ethnicity
White
Education
Monte Vista High School, Danville, CA
Stanford University
Horoscope
Scorpio
Father
Doug Ertz
Mother
Lisa Ertz
Siblings
Three Brothers
Brothers
Nick Ertz
Jackson Ertz
Shane Ertz
Sister
NA
Age
30 Years Old
Height
6 feet 5 inches (196 cm)
Weight
113 kg (250 lbs)
Build
Athletic
Eye color
Blue
Hair Color
Brown
Profession
NFL player
Playing Position
Tight end
Active years (Senior Career)
2013 – present
Teams
Philadelphia Eagles
Sexual Orientation
Straight
Marital Status
Married
Wife
Julie Johnston (m. 2017)
Children
None
Salary
$6.6 million
Net Worth
$16 million
Career Earnings
$43million
Social Media
Facebook, Twitter, Instagram
Merch
Jersey, NFL Football
Last Update
2021
Zach Ertz: Early Life, Family, and Education
It all began for Zach on November 10, 1990, in Orange, California. To point out, he was the oldest son of Doug and Lisa Ertz.
Likewise, Nick, Jackson, and Shane are all three younger brothers of Zach. As a matter of fact, his father also was a football player in his college days at Lehigh University football team.
Similarly, Ertz grew up in his hometown with his brothers learning the fundamentals of football from his father.
In the meantime, he joined Monte Vista High School in Danville, where he played football and basketball for the school's teams.
To point out, Ertz recorded 56 receptions with 756 receiving yards and 14 receiving touchdowns in his senior career in high school.
As a result, his brilliance was recognized by including him in the All-East Bay Athletic League's first team.
College Career
Soon after graduating from high school, Zach joined Stanford University in 2009, where he was included in the Stanford Cardinal football team.
Likewise, after redshirting the 2009 season, he got the chance to play intercollege games from 2010.
Notably, Zach made 16 catches for 190 yards, including five touchdowns after 13 games in his first playing season in 2010.
In like manner, he recorded 27 receptions with 343 receiving yards and four receiving touchdowns in the 2011 season.
Particularly, he made four catches and one touchdown against Oklahoma State in the Fiesta Bowl that year.
Furthermore, in his junior season in 2012, he made six touchdowns with 69 catches and 898 receiving yards.
To point out, he made it to All-Pac-12 first team and became a consensus All-American amidst reaching the Mackey Award finals that season. Soon, he declared to enter the NFL Draft selections.
Zach Ertz: Professional career
In fact, Ertz skipped his senior season at Stanford to compete for the 2013 NFL Draft, where he was the second-best tight end prospect as per ESPN Scouts Inc. and Sports Illustrated.
Moreover, he attended the NFL Scouting Combine in Indianapolis, completing all the combined and positional drills.
Actually, he had finished second in the bench press and ninth overall among all tight ends in the 40-yard dash in Indianapolis.
Similarly, he visited the Atlanta Falcons and Philadelphia Eagles before the draft. Particularly, many NFL drafts experts and scouts had projected him to be selected in the late first round or second round.
Selected by the Philadelphia Eagles
As per the speculations made, the Philadelphia Eagles poached Ertz in the second round of the 2013 NFL Draft.
Actually, his selection was a part of the head coach Chip Kelly's plan to use three tight end sets from the season.
Eventually, Ertz signed a four-year, $5.37 million contract with the Eagles with a $2.29 million signing bonus and $3.65 million guaranteed.
In fact, he was the third tight end as per the Eagles' depth chart. Nevertheless, his debut came in the season opener against the Washington Redskins where he intercepted Michael Vick's 11-yard pass.
Likewise, he received his first NFL start against the Denver Broncos, recording a reception for 38-yards in their 52-20 loss.
Notably, the first touchdown came for him due to Nick Foles' 15-yard pass against the Oakland Raiders in a 49-20 victory.
Overall, he scored 36 receptions for 469 receptions yards with four touchdowns in a total of 16 games in his rookie season. Also, he played the playoff game where the Eagles lost 26-24 to the New Orleans Saints.
Still not a starter
In like manner, Ertz was still second on the team's depth chart behind a better receiver, Brent Celek, in the 2014 season.
Notably, he had 15 receptions for 115 receiving yards against the Washington Redskins in Week 16's 27-24 loss. Overall, he had three touchdowns and 58 receptions for 702 yards in the season.
Next season too, he was not used as a starting tight end. In fact, he received a neck injury concussion with an impact from Lavonte David during a 45-17 loss against the Tampa Bay Buccaneers.
To sum up his 2015 season, he recorded 75 receptions for 853 receiving yards and touchdowns while playing 15 games that included seven starts.
Contract extension
To point out, Ertz extended his contract with the Eagles in January 2016 with a five-year, $42.5 million deal that earned him an $8 million signing bonus.
Eventually, he got his starting position at the dawn of the 2016 season under the new coach, Doug Peterson.
Explicitly, he displaced a rib in the season opener against the Cleveland Browns that saw him sidelined for the next two games.
Also, he had 13 passes caught for 139 yards in a 27-13 win against Dak Prescott's Dallas Cowboys.
After all, he made 78 receptions for 816 receiving yards while making 14 starts out of 14 games he played in the 2016 season.
2017 season and the Super Bowl LII
Notably, Ertz led all the tight ends in the NFL in terms of receptions, yards, and touchdowns during Week 7 of the 2017 season.
Sadly, he suffered a hamstring injury in a 33-10 win against Colin Kaepernick's San Francisco 49ers. Also, he caught ten passes for 103-yards while the Eagles thrashed the Chicago Bears 31-3.
Overall, Ertz made 74 receptions for 824 receiving yards with eight touchdowns in all of the 14 games he played and started in the 2017 regular season.
Furthermore, Pro Football Focus ranked him fifth among the tight ends and 68th on the NFL Top 100 Players of 2018.
Moreover, the thrill of 2017 has not started yet as the Eagles reached the Super Bowl LII after defeating Minnesota Vikings in the NFC Championship.
Notably, Ertz caught seven passes for 67-yards and a touchdown after starting the Super Bowl as the Eagles beat the New England Patriots 41-33. In fact, it was the first Super Bowl victory for both Ertz and the Eagles.
2018 season and an NFL record
Meanwhile, Ertz had five receptions for 48 yards in an 18-12 victory against the Atlanta Falcons in his first game of the 2018 season.
Similarly, he had 14 receptions for 145 yards with two touchdowns in a loss to the Dallas Cowboys.
Remarkably, he set a new NFL record for most receptions by a tight end with 113, breaking the previous record held by Jason Witten in a win against the Houston Texans in Week 16.
Overall, the 2018 season saw him make 116 receptions for 1,163 yards with eight touchdowns.
The 2019 and 2020 seasons
Notably, Ertz had nine passes caught for 103 yards and a touchdown against Cordarrelle Patterson's Chicago Bears in Week 9 of the 2019 season.
Furthermore, he had nine catches for 91 yards and two touchdowns in a 23-17 win over Saquon Barkley's New York Giant in Week 14.
After all, Ertz had concluded the 2019 season with 88 receptions for 916 receiving yards. In the meantime, he sprained his high ankle in Week 6 of the 2020 season.
Accordingly, he is on the injured reserve since October 22, being ruled out for 4-6 weeks.
Zach Ertz: Awards and Titles
No doubt, the Super Bowl LII winner has earned a fair number of recognitions in his over seven years of NFL career.
As of now, he has been selected for Pro Bowl three times consecutively since 2017. Moreover, he holds an NFL record for most receptions by a tight end in a season.
Besides, he had been the Pac-12 champion in his junior year with the Stanford Cardinal football team.
The same year, he was honored with a unanimous All-America and All-Pac-12 first-team selections. Moreover, there are many still to come for the current 29-year-old tight end.
Zach Ertz – Net Worth and salary
Notably, it has been over seven years since Zach began playing in the NFL. Furthermore, he is currently contracted to the Philadelphia Eagles with a five-year deal worth $42 million.
Currently, he makes over $6.6 million a year only from his duty at the Eagles.
Zach Ertz has a net worth of about $16 million as of 2021.
Besides, he has pocketed around $43 million till now from his playing career only. In addition, he earns a fair deal of fortunes from various endorsements and sponsorship deals.
As a matter of fact, he will be earning $8.25 million in 2021 as a part of his contract.
Zach Ertz: Relationship
In fact, Zach is a married man who married Julie Johnston on March 26, 2017. Particularly, Julie is an American cocker player who plays for the Chicago Red Stars of the National Women's Soccer League.
Furthermore, she had made over 100 appearances for the United States national women's team.
According to sources, the two met in 2012 at Stanford University and dated until Ertz proposed her in February 2016.
Moreover, the duo was featured in ESPN The Magazine's Body Issue in 2017. As of now, the couple is living a happy married life, and no rumors of their affairs have been heard so far.
Zach Ertz's Social Media
No debates, Zach Ertz is a big name in NFL, especially among the tight ends. Accordingly, he has had a lot of fan following in his social media accounts.
As of now, he reaches to his fans through social media handles that include Instagram, Twitter, and Facebook.
Twitter: 498.6 thousand followers
Facebook: 134.4 thousand followers
Instagram: 736 thousand followers
Zach Ertz: Common Queries
Did Zach Ertz graduate Stanford?
Zach attended Stanford University, where he played for the Cardinals for three years.
Notably, he had announced to take part in NFL Draft selections after the 2012 season at the college, cutting off his senior season there.
However, after signing for the Philadelphia Eagles, he returned to the university as players need to complete their college semester before playing off-season games with NFL teams.
Accordingly, he had graduated in 2013.
Is Ertz still on the Eagles?
Zach Ertz played NFL football for the Philadelphia Eagles for over seven years since they picked him in the 2013 NFL Draft. He is currently under a five-year contract with the Eagles that will see him with them until 2021.
Is Zach Ertz married?
As a matter of fact, Zach Ertz married the American soccer player Julie Johnston in March 2017.
Actually, the couple had dated for over four years when Ertz proposed to Julie in February 2016. Moreover, they are enjoying their married life.
Besides, they have not had any children as of now. Perhaps, the busy sporting schedule for both of them is the reason for that.