Christopher Jason Witten, commonly called Jason Witten, is a household name for NFL lovers. He is an American football player for the Dallas Cowboys of the National Football League (NFL), who plays as a tight end.
Witten was also a sports broadcaster and analyst for the ESPN show 'Monday Night Football' during 2018. He currently plays for Las Vegas Raiders.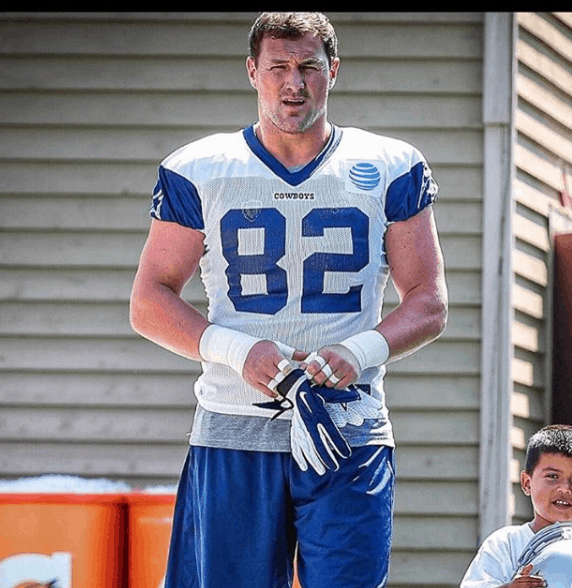 We shall discuss more with him in detail. But before that, let's have an instant sneak peek into quick facts about him.
Jason Witten – Quick Facts
| | |
| --- | --- |
| Full Name | Christopher Jason Witten |
| Birth Date | May 6, 1982 |
| Birth Place | Elizabethton, Tennessee, United States |
| Nick Name | Jason Witten |
| Religion | Christian |
| Nationality | American |
| Ethnicity | White |
| Education | Elizabethton High School, University of Tennessee |
| Horoscope | Taurus |
| Father's Name | Ed Witten |
| Mother's Name | Kimberly Witten Barnett |
| Siblings | Ryan Witten, Shawn Witten |
| Age | 41 Years Old |
| Height | 6ft. 6in (1.98 m) |
| Weight | 263 lb (119 kg) |
| Shoe Size | Not Known |
| Hair Color | Brown-Dark |
| Eye Color | Hazel |
| Body Measurement | Not Known |
| Build | Athlete |
| Married | Michelle Witten |
| Kids | C.J., Cooper, Landry, and Hadley Grace |
| Position | Tight End |
| Profession | NFL Player, Broadcaster |
| Net Worth | $12 million- $40 million |
| Salary | Around $3,500,000 |
| Currently Plays for | Las Vegas Raiders |
| League | NFL |
| Active Since | 2003 |
| Social Media | Facebook, Twitter, Instagram |
| Merch | Hoodie, Autographed jersey |
| Last Update | June, 2023 |
Jason Witten – Early Days
Christopher Jason Witten was born on May 6, 1982, in Elizabethton, Tennessee, United States, to his parents Ed Witten and Kimberly Witten Barnett.
He spent his childhood in Washington, D.C. His father used to work as a mailman, who soon became addicted to alcohol and drugs when he was six and always insulted his mother and older brothers Ryan and Shawn in a brutal manner.
Things were getting more complicated for him, making him move to his grandparents in Elizabethton at the age of 11. He initially played football as a linebacker and tight end under his grandfather Dave Rider's guidance coach.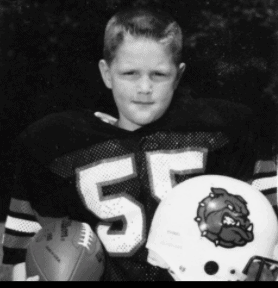 He attended Elizabethton High School and became a three-year starter who assisted his team reaches the state semi-finals three times, accomplishing both All-American and All-State honors as a junior-level student.
He also grabbed USA Today Player of the Year for Tennessee, East Tennessee Player of the Year, Region Defensive Player of the Year, and runner-up for the Mr. Football award.
He attained 26 receptions and 14 touchdowns on offense. He was also into playing basketball, where he averaged 15 points and 12 rebounds per match.
Jason Witten – College Career
In 2000, Witten got a scholarship to the University of Tennessee, where the head coach Phillip Fulmer offered him the position of a defensive end. Witten initially started playing special teams and also looked for a second-string defensive end.
He got injured playing as a tight end and got shifted to the offensive side midway. Although Witten disagreed with the shift and even understood the situation, he resumed his game as a blocker. He learned the position too.
He also started playing his first two games. As a freshman, he scored one reception, which went for 11 yards in a 70–3 win over Louisiana–Monroe.
In his three games as a sophomore, Witten recorded 28 passes for 293 yards and two touchdowns. He scored his first touchdown in a 35–24 win over Alabam.
He had a breakout yet fantastic year as a junior, scoring reception (39) and yards (493) with five touchdowns setting the records high.
That also included a game-winning touchdown in the sixth overtime against the University of Arkansas. He earned All-SEC (SEC) and Academic All-SEC honors.
After the drastic improvement in his junior season, he strived to enter the NFL Draft.
Meanwhile, he also continued playing the position in only 20 games. Witten left standing third all-time among the school's other tight-end players with 68 career receptions and fourth all-time with 797 receiving yards.
Jason Witten – Professional Career
The Dallas Cowboys selected Witten in the third round (69th overall) of the 2003 NFL Draft. He successfully entered the league as a 20-year-old rookie player.
On September 7, he had his NFL debut in a 27–13 loss to the Atlanta Falcons and started seven of the 15 games he played in his rookie season.
Tony Romo was another freshman who additionally showed up in Dallas in 2003 and would proceed to turn into Witten's partner all through their professions, just as his flatmate during a future group instructional courses and travel games.
He had to miss one game as a rookie player as he broke his jaw against the Arizona Cardinals and went through major surgery. Despite the injury, he continued playing and accomplished his rookie year with 35 receptions for 347 yards and a touchdown.
Apart from his college career, Witten had a breakout season in 2004, where he ruled the NFC with 87 catches. It was also a record-breaking moment for the Cowboys' team.
More on his professional life
On November 15, he had nine receptions for 133 yards and two touchdowns against the Philadelphia Eagles.
And that win got him to his selection in the first Pro Bowl. Now, he was a member of the Cowboys franchise's legacy of great tight ends, including Jim Doran, Lee Folkins, Pettis Norman, Mike Ditka, Billy Joe DuPree, Franklin Clarke, Doug Cosbie and Jay Novacek.
Similarly, in the 2005-6 season, he maintained his position with an average of 60 receptions in three consecutive seasons and was also called Pro Bowl every year.
The impactful season in Witten's life was that of 2007, where he broke his record with 96 receptions, which ranked him as the third tight end in NFL history.
Again, he was selected to the Pro Bowl and made it huge to the 2007 All-Pro team and teammates Terrell Owens and DeMarcus Ware.
This win got him selected for the 'Walter Payton NFL Man of the Year Award.' which was won by Jason Taylor.
Witten scored 81 receptions, came 13th in the NFL for 2008, 952 yards, four touchdowns, and was named a starter for the 2008 Pro Bowl.
He grabbed NFL Iron Man Award for the 2009 season scoring 94 receptions for 1,030 yards and two touchdowns.
And More
Despite the injury on his head, Witten became the fastest tight end to make 600 receptions against Washington Redskins for season 2010. He made this with a 10-catch, 140-yard, one-touchdown day at home.
During the season finale, Witten was called the tight end of the year by the NFL Alumni Association.
Overall, Witten accomplished the 2010 season with 94 receptions for 1,002 yards and nine touchdowns. He was ranked No. 36 by his team players on the NFL Top 100 Players of 2011.
Unfortunately, Jason suffered from a ruptured spleen. Regardless of the injury, he did play for the 2012 season, during which he stood second in franchise history and third tight end in NFL history to make 700+ catches.
He led the Cowboys with 77 receptions for 713 yards and three touchdowns for the 2015 season.
On March 28, 2017, Witten came with a four-year contract extension with the Cowboys through the 2021 season. He conquered the season with 63 receptions for 560 yards and five touchdowns on his way to his 11th Pro Bowl.
On April 31, 2018, Witten announced his retirement and accepted t a position as the lead analyst for ESPN's Monday Night Football telecasts.
But soon, Witten started making news for his bad commentary for the 2018 season.
But as things didn't work so far, he came out of his retirement joining the Cowboys on a one-year contract worth $4.5 million.
Also, after his unretirement, while he made the first announcement to ESPN. He went bald; yes, you read it right Bald and Beautiful.
There was a big conspiracy: Was Jason Witten pressured into wearing a wig as part of his ESPN contract?
Jason Witten – Personal Life
Witten is happily married to Michelle, an emergency room nurse at Dalla's Parkland Memorial Hospital. They have four children named C.J., Cooper, Landry, and Hadley Grace.
Witten is a Christian and shows up in a video on I Am Second. The movement is all about having faith and influencing people to put Jesus First.
Witten wrote an article for ESPN titled "How Twitter has become NFL locker room poison."
He almost mentioned the negative impact social media could have, particularly on youngsters and younger players who grew up with Twitter and Instagram as an integral part of life, learning from his own experiences and tenure in football reign.
Jason Witten – Net Worth
Jason Witten is a very well-known and hard-working player who has strived harder to make his position since 2003 in NFL. He is one of the best tight ends players we have known.
During his whole tenure as a footballer, he was also a color analyst/ sports broadcaster for ESPN's Monday Night Football telecasts in 2019.
And according to the recent online survey, he has signed up a one-year contract with the Las Vegas Raiders as of which is worth $4 million with active bonuses aside.
We cannot predict Witten's exact salary but can assume signing a deal with the Raiders has increased his net worth for sure.
"Jason Witten has an accumulated net worth of $40 million as of 2023".
He shows up for different ads, which also adds to the source of his income.
#ad Throughout the season, days where we can recover and recharge are essential in order to get ready for the next game. @drteals Epsom Salt Soaks not only ease my muscle soreness, but they help me relax to shift my focus to the next game on Thanksgiving! #DrTeals

Posted by Jason Witten on Wednesday, November 27, 2019
Jason Witten's Achievements
Witten grabbed most receptions(18) as a tight end in a single game in 2012.

Witten has won the 2012 'Walter Payton NFL Man of the Year Award' and the 'Bart Starr Award in 2013.

And to honor his long-term accomplishment on the field with the Cowboys, on June 21, 2013, Jason Witten is named "Jason Witten Day" in Elizabethton, Tennessee.

In 2015, he was the second tight end to have more than 1,000 receptions in the history of the NFL.

In 2019, he stood 4th in NFL history for catching 1,215 receptions.

Witten is the first player in franchise history to score in 14 seasons.
Jason Witten – Rookie Card
Here's a picture of Witten's rookie card: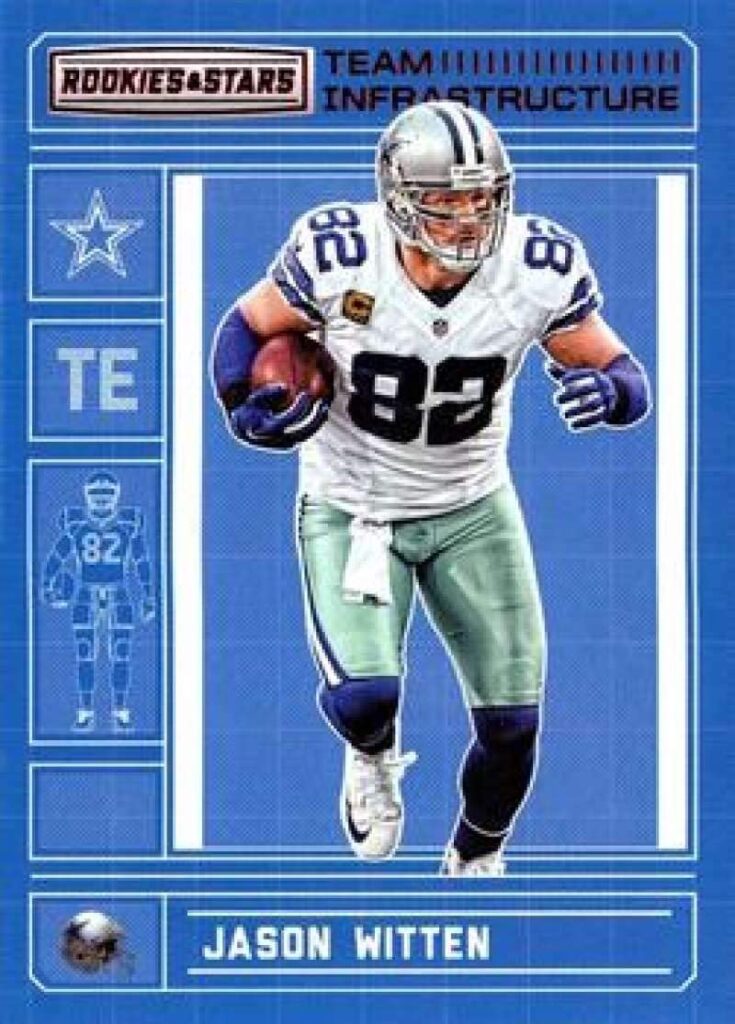 Jason Witten – Jersey
Witten wore jersey number 82 for the Las Vegas Raiders and Dallas Cow Boys.
You can purchase Witten's jersey at the website of eBay.
Jason Witten – Signed helmet
Here's a picture of Witten's signed helmet:
Jason Witten – Quotes
Here are some of Jason Witten's popular quotes:
A win's a win… We have to build off this and continue to grow. Winning these games and playing the way we did against Washington, nobody scares us in this division.

We have a good era of tight ends right now.
Seeing some of these guys is pretty special. They've done a lot for us, the young players.
He can kind of take it and change the game for us, … We miss him there. Marion's done a good job stepping up. But the big thing about Julius is that he can take a two-yard gain and turn it into 10.
I don't think we would probably use much of that.

No, no, or well, not really ù maybe.
Jason Witten – Website
Here's the link to Jason Witten's official website: Jason Witten
On the website, one can find details about Witten, including his biography, video gallery, records, awards, achievements, news, etc.
Jason Witten – NFL Records
Jason Witten had recorded some amazing goals. You can check his NFL records on the website of NFL.
Perseverance. Believe. Fight. An inspiration to us all— congratulations @Shaquemgriffin pic.twitter.com/7xkiEFqfqG

— Jason Witten (@JasonWitten) February 28, 2018
Jason Witten's – Social Media Presence
Jason Witten is fairly and squarely available on each possible social networking site. He has a very maximum but moderate fan following.
He keeps posting about the ongoing sports affair, his family on Instagram. Give him a follow if you haven't.
Instagram- @realjasonwitten82 and has 555k followers
Twitter-@JasonWitten and has 897k followers.
Facebook – @jasonwittenofficial with 435K followers
Also, don't miss catching out on a fun video on Dad do the Ballerina Bun by Jason Witten.
Common Queries about Jason Witten
What is Jason Witten's one-day contract deal?
Jason Witten signed a one-day contract with Dallas Cowboys in March 2021 as he wanted to retire as a member of the Cowboys.
He had an astonishing 17 years career at NFL, and 16 of his seasons were with the Cowboys.
Is Jason Witten in the hall of fame?
No, Jason Witten is not in the hall of fame yet. But he is often described as a future Hall of Famer, owing to his exceptional career.
Is Jason Witten related to Dave Rider?
Dave Rider, former Elizabethon head coach, is Jason Witten's grandfather from his mother's side.
Dave Rider died on December 20, 2020, at the age of 82.
Did Jason Witten break a trophy?
Jason Witten broke the Pro Bowl trophy in half while congratulating the AFC winners during the postgame trophy ceremony in Orlando. Here's a clip of it:
Does Jason Witten work as a coach?
Jason Witten got hired as the head football coach at Liberty Christian School.
How much did Jason Witten receive at Madden rating?
Jason Witten received a rating of 93 at Madden NFL 15.
Also, you may be interested in reading about another dynamite NFL player Bram Weinstein, Kirk Herbstreit.