In America, sports is one of people's favorite pass time, and in that regard, baseball is at the top of the most beloved sports among Americans.
If you ask a random person to name their top ten baseball player, A.J.Hinch will be at the top of the list.
A now-retired baseball player Hinch played baseball for Standford University and later joined Oakland Athletics to pursue a professional baseball career.
Not to mention, Hinch also played baseball for Kansas City Royals, Detroit Tigers, and Philadelphia Phillies.
Moreover, Hinch served as a coach and manager for American professional baseball teams like Arizona Diamondbacks San Diego Padres.
As of 2023, Andrew is working as a manager for the professional team Detroit Tigers.
There is much more to go on in Hinch's personal and professional life.
So keep reading till the end of the article to know more detailed information on Andrew, like his early life, family, net worth, wife, kids, etc.
Before moving, let's have a read on some of the renowned baseball player's quick facts and coach A.J.Hinch.
Quick Facts:
Full Name
Andrew Jay Hinch
Birth Date
May 15, 1974
Birthplace
Waverly, Iowa, United States
Age
48 Years Old
Known as
A.J.Hinch
Nationality
American
Horoscope
Taurus
Height
5'9 inch
Weight
76kg
Father Name
Dennis Hinch
Mother Name
Becky Hinch
Siblings
Yes
Education
Midwest City High School
Stanford University
Profession
Baseball player and Coach
Affiliation
Oakland Athletics
Kansas City Royals
Current Affiliation
Detroit Tigers
Marital Status
Married
Wife
Erin Hinch
Kids

Yes

Net-Worth
$8 million
Social Media
Twitter
Merch
Poster
Last Update
March, 2023
A. J. Hinch | Early Life, Family, and Education
A. J. Hinch was born on May 15, 1974, in a beautiful place in Waverly, Iowa, United States. He was taken to parents Dennis Hinch and Becky Hinch.
The baseball player spent his childhood in Nashua, Iowa, with his sister Angie Hinch and his parents creating beautiful memories and fruitfully spending his childhood.
When Hinch reached the age of eight, he and his family moved to Oklahoma.
Talking about his academic records, he joined Midwest City High School in Midwest City, Oklahoma, where he graduated in 1992.
Hinch was also a regular and the best baseball player in high school. After completing a high school degree, the baseball player attended Stanford University to finish his further story.
At his University, he majored in psychology. Also, at Stanford University, he played baseball and won different awards.
Furthermore, there is no information regarding Hinch's early life and childhood activities.
A. J. Hinch | Age, Height, and Physical Appearances
The charming and gorgeous Hinch is [calculate years datestring="05/15/1974″] years old. According to horoscope charts, he belongs to the Taurus sun sign.
And from what we know, they are hardworking, stable, Practical, and well-grounded.
Moreover, by his birth name, the baseball player is also known as Andrew Jay Hinch.
Following the necessary diet routines and exercise, Andrew stands at an incredible height of 5'9 inches and weighs around 76kg.
Likewise, his black hair and shining black pair of eyes make him look handsome. Sadly, his body measurements are unknown at the moment.
However, the baseball player has not revealed anything related to shoe size or any tattoos on the body. The readers will be updated with the information if found any.
When describing this nationality, he belongs to the native American with white ethnicity. Unfortunately, his religion is still unknown to the public.
A. J. Hinch | Career
Early Career
Hinch started his career in baseball after joining Midwest City High School in Midwest City, Oklahoma.
After joining the high school baseball team as a senior, he was also awarded the 1992 National Gatorade Player of the Year in baseball.
Later on, after graduating from high school, Hinch joined Stanford University and joined Delta Tau Delta International Fraternity.
He won a bronze medal at the 1996 Atlanta Olympics and was named to the 1998 Topps All-Star Rookie Team.
Professional Career
In the 1996 Major League Baseball Draft, Andrew was selected by Oakland Athletics(One of the American professional baseball teams).
After that, Hinch signed a contract with Oakland Athletics in June 1996, debuted with the team in 1998, and remained with Athletics until the 2000 season.
After Oakland Athletics, Andrew joined Kansas City Royals(an American professional baseball team based in Kansas City) from 2000-01.
Then after a successful two-season with Kansas until 2002, he was released from the team.
Further, he signed a contract with Cleveland Indians, which was purchased later by Detroit Tigers in March 2003.
For the 2004 season, Hinch played for Philadelphia Phillies. Later on, the Phillies team split into two groups: majors and Triple-A.
A.J. completed his 2005 season playing for Phillies Triple-A. This was his last game for the team as a baseball player before his retirement in baseball.
Don't forget to check out: <<Andrew Cashner Bio: Baseball Career, Injuries, Family, & Wiki>>
Life After Baseball
After retirement from baseball in 2005, Hinch joined Arizona Diamondbacks as the manager of minor league operations.
Arizona, in 2006, named Hinch as the director of player development.
After replacing Bob Melvin on May 8, 2009, Andrew became the manager for the Diamondbacks.
He became the youngest to be named the major baseball league team manager at 34.
Unfortunately, after his winning percentage became low for a non-interim manager in Diamondbacks history, Hinch was fired from Arizona on July 1, 2010.
Along with A. J. Hinch, the general manager of Arizona Josh Byrnes, has also been fired.
The talented and hardworking Hinch joined San Diego Padres(an American professional baseball team) as a vice president of professional scouting on September 21, 2010.
After four successful years as a vice president, Andrew resigned from the team and position on August 5, 2014.
Manager
On September 29, 2014, Andrew became the manager of the Houston Astros. Hinch completed the 2015 season with a record of 86-76 and a wild card.
Houston finished their 2016 season with an 84-78 record and improved performance.
After winning 50 games out of 74 in 2017 with a record of 106-61, the Astros won their first division title in 16 years, and they are first since joining the American League.
Hinch's team won two games at home in the postseason. Also, in the final match, Hinch led the Astros to their first World Series victory with a record of 5-1.
Andrew had the most playoff victories as an Astros manager with this win.
Moreover, the Astros continued their extension with A. J. Hinch for 4-more years and signed a contract on August 30, 2018.
Unfortunately, on January 13, 2020, Andrew and Jeff Luhnow were suspended for one year for their roles in an extensive sign-stealing scheme.
Hinch and Luhnow were fired from the Astros by its owner Jim Crane.
In addition to the suspensions of Hinch and Luhnow, Commissioner Rob Manfred fined the team $5 million and took away its top two draft picks in 2020 and 2021.
In October 2020, Andrew signed a three-year contract with the Detroit Tigers as a team manager.
You might be interested in reading: <<Jack Leiter Bio: MLB Draft, Father, & Baseball>>
A. J. Hinch | Career Stats
Have a look at the career stats of A.J. Hinch.
| | | | | | | | | | | |
| --- | --- | --- | --- | --- | --- | --- | --- | --- | --- | --- |
| Year | Team | GP | AB | R | H | RBI | BB | SO | HR | SB |
| 2004 | PHI | 4 | 11 | 1 | 2 | 0 | 0 | 4 | 0 | 0 |
| 2003 | DET | 27 | 74 | 7 | 15 | 11 | 3 | 18 | 3 | 0 |
| 2002 | K.C. | 72 | 197 | 25 | 49 | 27 | 18 | 35 | 7 | 3 |
| 2001 | K.C. | 45 | 121 | 10 | 19 | 15 | 8 | 26 | 6 | 1 |
| 2000 | OAK | 6 | 8 | 1 | 2 | 0 | 1 | 1 | 0 | 0 |
| 1999 | OAK | 76 | 205 | 26 | 44 | 24 | 11 | 41 | 7 | 6 |
| 1998 | OAK | 120 | 337 | 34 | 78 | 351 | 30 | 89 | 9 | 3 |
| MLB Career | | 350 | 953 | 104 | 209 | 112 | 71 | 214 | 32 | 13 |
A. J. Hinch | Personal life, Wife, and Kids
Being a professional baseball player, Hinch is found to keep his private life secret. But we still managed to share some interesting facts about Hinch.
The former baseball player A. J. Hinch is happily married to Erin Hinch. The couple tied the knot in 1999.
The love story between A. J. Hinch and his wife began on a blind date. At that time, Andrew used to play for Oakland Athletics.
When the couples met for the first time, they were different from each other. A. J was more focused on his career and was a big dream player, whereas Erin was not a sports fan.
Children
Hinch couples are also blessed with two kids, daughters Haley and Kaitlin. Due to the baseball matches, Hinch, with his wife and kids, used to reside in Kansas City. Later in 2014, they shifted to Houston.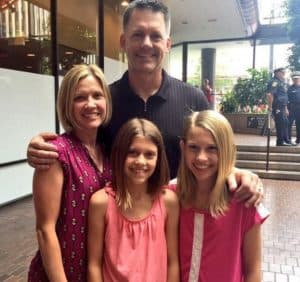 Speaking to Sports Mag, Hinch said of being a dad and how he and his wife Erin created their traditions and made their girls a real part of their Father's career.
"I've had to go through first dates, the prom, the college decision. She's a driver now. I kind of wish I was that 34-year-old manager again. They used to wear a little tank top that said 'I love the manager.'

They were so little and now they're great young ladies. My wife Erin and I have included them in everything we do. And that meant missing a lot of school in 2017 and 2018 when we made the playoffs, all the way to the ALCS to the World Series. We just want them to be a part of it, we're building life experiences with them. "
Hinch is enjoying being a Father of two daughters and the husband of his proud wife. The couples are happily satisfied with their life, and there is no rumor of divorce or separation.
Also, read: <<Christian Hackenberg Bio: Age, Career, College, NFL, Baseball, Net Worth Wiki>>
A. J. Hinch | Networth and Salary
From playing for one of the world's biggest clubs, A. J. Hinch started his baseball career in 1998. Being in sports activities has its perks.
Reportedly, A. J. Hinch has an astounding, jaw-dropping net worth and salary amount. All of the income comes from his baseball and coaching career.
As of 2023, A.J.Hinch's Net-Worth is estimated to be around USD 8 million.
Like many other top-level professional baseballers, the native American has amassed a lot of money throughout his baseball career.
Sadly, there is not much information regarding the signing contract amount with different clubs of A. J. Hinch.
The baseball coach millionaire is just beginning to showcase his true potential and work to the top. Moreover, Hinch's progress will continue to surprise us all.
However, from various sources, we know that an average American baseball player's average salary is around $4.38 million.
The salary range varies for the players according to their playing position and experiences.
At present, A. J. Hinch lives a lavish life with his family and is often seen enjoying vacations around different places.
Hinch has not disclosed anything related to his assets like his Bungalow, car, and other property; he has kept it all a secret.
A. J. Hinch's Social Media Presence:
A. J. Hinch is a great personality with a wide range of talent and skills. A. J. Hinch has built his career very impressively so far.
Being a baseball player and coach simultaneously, you can't help but be recognized by an audience worldwide.
Hinch's popularity has grown steadily, especially on social networking platforms like Twitter, where he is most active.
He has a huge presence on the social networking site Twitter. However, he does not have accounts on other popular sites like Facebook and Instagram.
On Twitter, he's available as @ajhinch making 93.8 k followers as of 2023.
His Twitter bio says, 'Proud husband and Father. Stanford alum. Baseball. Coffee. Wine.' Hinch's sense of humor is one of his main qualities loved by his audience.
A. J joined Twitter in October 2011 and has tweeted only around 370 times until now.
Likewise, Hinch makes interesting posts and updates, which has helped him assemble many fans and followers.
Some FAQs:
Where does A.J. Hinch live?
A.J. Hinch currently resides in Woodlands, Texas, with his family.
How much does A.J. Hinch's rookie card worth?
A.J. Hinch's rookie cad price ranges from $0.99 to $29.95.
What's the jersey number of A.J. Hinch?
Hinch was featured in Jersey number #14 while playing for Kansas City Royals.
What is A.J. Hinch's managerial record with Arizona Diamondbacks and Houston Astros?
According to reports, A. J. Hinch has a record of 570 wins and 452 losses in his managing career with the Arizona Diamondbacks and Houston Astros.