Aaron James Judge is the real name of an American professional baseball outfielder, Aaron Judge. He played for the New York Yankees of Major League Baseball (MLB). During his career, he was directly selected as the American League (AL) Rookie of the Year in 2017 and completed second in voting for the AL Most Valuable Player Award.
Similarly, he played college baseball for the Fresno State Bulldogs, and he got joined the Yankees after the first round of the 2013 MLB draft. He was also named as All-Star and won the Home Run Derby, and at that time, he was the very first MLB rookie to do so. Continuously, he won the American League (AL) Rookie of the Month Awards as well as AL's Player of the Month Award.
Talking about his physical measurement, he is 6 feet 7 inches tall and 128 kg heavy. His height and weight renowned him as the largest player in the MLB. If you are a real fan of Aaron Judge, visit his top 100 quotes below.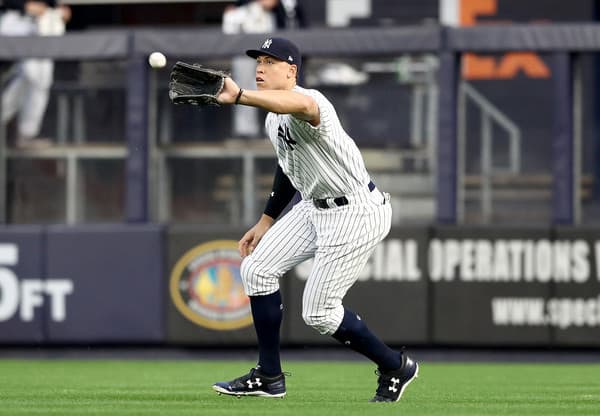 "My dad told me, 'If you're going to go out there and play baseball, or you're going to play basketball or football, work hard at it no matter what. I want you to have fun with your buddies, but you have to put in the time because this is your craft.' He didn't just want me to be good. He pushed me to that next level."― Aaron Judge
"I just take it one day at a time, try to forget about what I did the day before. Go out there like every day is Opening Day."― Aaron Judge
"If your team is in the trenches, you've got to be in the trenches with them."― Aaron Judge
"To a certain extent, I enjoy failure. It's part of the game. There's always room to grow; there's room to improve."― Aaron Judge
"Even though it feels like you are so far away from the big leagues, my love for the game kept me motivated to get through the hard times in the minors."― Aaron Judge
"Repeating, trying to repeat success – it never gets easier."― Aaron Judge
"If I'm sitting at home playing video games, and I've got a couple of minutes to myself before bed, I'm listening to music and putting a couple of playlists together. I'm passionate about music."― Aaron Judge
8th of 100 Aaron Judge Quotes
"You define great players as guys that are out there grinding, battling every day with their team."― Aaron Judge
"I do a lot of planks. I feel like the plank is the most underrated core workout; that's one of my go-to moves."― Aaron Judge
"That's why you get three of them. Say you get one that you don't think is a strike, and they call it on you: that's why you get two more."― Aaron Judge
"They just brought it up to me and said, 'Hey, this is what we're going to do.' They're going to put out a section and call it Judge's Chambers and give them little judge outfits, and we'll see what happens. I think it turned out great."― Aaron Judge
"If my barrel meets the ball, I think good things are going to happen."― Aaron Judge
"My goal every year is to come in and be consistent. It doesn't matter if it's the first game of the year or it's the last game of the year."― Aaron Judge
"If I keep taking my good swings, swing at the right pitches, good things will happen."― Aaron Judge
"If you have a good music tone of the day, it puts everybody in the right mindset."― Aaron Judge
"In my early work, my time in the batting cage, that's serious, and that's when I feel like I'm really working. That's where I have to lock in on my approach, make sure my mechanics are right, and make sure my mindset is right for the upcoming game. But then, when the game comes up, it's a game! You're supposed to have fun when you play games."― Aaron Judge
"To put on the pinstripe – it's extraordinary. Just being able to play one game with the Yankees is quite an honor."― Aaron Judge
"When I think about 2017, I feel like it was just another year. It was a whirlwind, but I wouldn't have wanted it to play out any other way. I'm glad I was in New York. There's nowhere else I would rather play, and there's no other group of teammates that I would rather be around."― Aaron Judge
"A lot of people love to watch the Yankees."― Aaron Judge
"I had a lot of fun playing football and basketball, but deep down, the chess match or cat-and-mouse game between the pitcher and batter in baseball really drew me in. It's a thinking man's game, and for me, nothing can compare to that."― Aaron Judge
"People strike out. I strike out a lot – it happens. Just got to keep working."― Aaron Judge
"You're always still trying to win a job. That's everyone's mindset: come in here and fight for your job, win a job."― Aaron Judge
"I love the city of New York. It's kind of fun. I grew up in the country, so I'm getting a little change of pace. The city has been great."― Aaron Judge
"You never hit a good slider or curveball; you just try to go after the mistakes."― Aaron Judge
"That's your dream, to play professional baseball. When you get the opportunity like that, getting drafted – especially by Oakland, a California team, pretty close to home – it was tempting. At the time, I just didn't think I was ready or mature enough mentally or physically to start pro ball."― Aaron Judge
"My main focus is, 'What can I do today to help the team win the ballgame?' You have those blinders on. It helps you focus."― Aaron Judge
"I think that is one thing I've picked up: follow a routine, be consistent, and everything is going to fall in place. If you are scrambling around, and you are late for stuff, that adds extra stress, and you have to go out there and hit a 97 mph fastball."― Aaron Judge
"That's why we play. That's why we train. That's why we do everything in the offseason. It is to win a World Series."― Aaron Judge
"I kind of wish I would have been able to see the old Yankee Stadium after seeing the new one."― Aaron Judge
"I'd rather be in a good position in the playoffs and holding up a World Series trophy than holding up an MVP trophy."― Aaron Judge
"Music, I feel like, affects people's moods."― Aaron Judge
"Ever since I was a little kid, that intrigued me. The game within the game was the biggest thing. A lot of people don't see the little things we do within a game."― Aaron Judge
"I know I wouldn't be a New York Yankee if it wasn't for my mom: the guidance she gave me as a kid growing up, knowing the difference from right and wrong, how to treat people and how to go the extra mile and put in extra work, all that kind of stuff."― Aaron Judge
"I think it was like, 'I don't look like you, Mom. I don't look like you, Dad. Like, what's going on here?' They just kind of told me I was adopted. I was like, 'OK, that's fine with me.'"― Aaron Judge
35th of 100 Aaron Judge Quotes
"You have to have a great fielder at shortstop, and you've got to have a guy that has good range and good hands in center field."― Aaron Judge
"Any time you play shortstop or center field, the majority of the baseballs are hit in the middle of the field."― Aaron Judge
"Sometimes you've got to tip your cap when they're painting stuff on the corner. But you can't give up, got to keep battling and make some adjustments."― Aaron Judge
"I've just got to stay patient, take my walks when I can, hunt the mistakes, and get on base."― Aaron Judge
"I talked to a few schools about playing football, but I had already pretty much made my mind up. I fell in love with baseball at a young age, and I knew that that's what I wanted to do."― Aaron Judge
"Being around veteran leaders such as CC Sabathia and Brett Gardner really helped me."― Aaron Judge
"Fighting for a job – that's been my mindset every Spring Training."― Aaron Judge
"You have to earn your job every day."― Aaron Judge
"Even in the Minor Leagues, I thought you have to go out and earn a spot. Nothing is ever given to you."― Aaron Judge
"Just being in a video game is an honor, and being on the cover, I can't really describe it."― Aaron Judge
"If I'm making consistent contact, even if they're outs or right at somebody, if I'm just making consistent contact, I'm happy."― Aaron Judge
"The New York Yankees' organization – they train us well from the get-go. They tell us how to handle everything."― Aaron Judge
"Once it gets to two strikes, it's time to battle, put something in play, and try to get the job done."― Aaron Judge
"The ups and downs, that's baseball life. That's what I live for, play for."― Aaron Judge
"When you go to college the first couple years, and you kind of get beat around, you kind of think about, 'Maybe if I went to pro ball, it would be a little bit better.' Now that I look back on it, I made the right choice."― Aaron Judge
"If someone throws you a good slider, you're not going to hit it. You've got to always hunt those ones that kind of pop up or hang thigh-high or up."― Aaron Judge
"The biggest thing is, you don't hit the good sliders; you just hit the mistakes. That's what my thing has always been: Just keep hunting mistakes."― Aaron Judge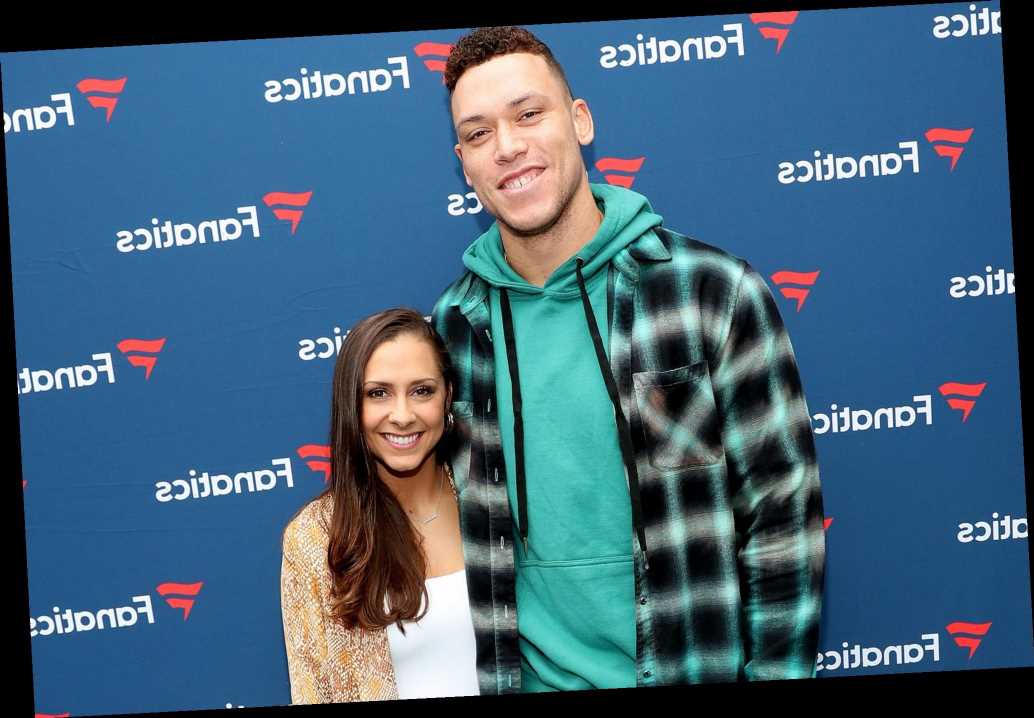 "I just like music."― Aaron Judge
"Defensively, hitting-wise, running the bases. There's always room to improve. That motivates me to get a little better every day."― Aaron Judge
"It doesn't really matter the score or the situation: I got a job to do."― Aaron Judge
"I've always had that mindset of, 'OK, I may be hot this month or doing really well this month, but don't get too high, don't get too low – just enjoy it.' Don't ride the rollercoaster, basically. I always thought about it like, I'm not going to an amusement park, I'm going to a baseball field."― Aaron Judge
"Everything I do, I'm always playing music. When I wake up in the morning, I'm playing music. When I'm showering, I've got music playing. When I go to the field, music is playing."― Aaron Judge
"When you come to a game, it's supposed to be fun for the players and the fans."― Aaron Judge
"I know a lot is expected of me, but I'm surrounded by some great teammates."― Aaron Judge
"Pitchers made an adjustment to me. It's up to me to come up with an answer."― Aaron Judge
"The biggest thing for me is I want to be consistent."― Aaron Judge
61th of 100 Aaron Judge Quotes
"I just felt like Adidas was a brand that really fit me. Not only are they on the field, but off the field stuff."― Aaron Judge
"I just try and keep everything simple."― Aaron Judge
"For me, all my negative thoughts that I have about, 'How did you miss that pitch? Why did you miss that pitch? You shouldn't have missed that pitch.' I just kind of sit there and kind of crush it up, and once I'm done doing that… I just kind of toss it aside."― Aaron Judge
"The mental game is what separates the good players from the great players. So anything I can do to get that mental edge to help me stay my best, I'm gonna try and do it."― Aaron Judge
"I have a short time to play this game. I'm trying to get every ounce of it out of my body."― Aaron Judge
"One and done, Home Run Derby champion. It was a cool experience. I enjoyed it all, but I don't think I really need to go out there and do it again."― Aaron Judge
"I just focus on what the team needs me to do to win."― Aaron Judge
"I got a job to do on the field."― Aaron Judge
"There should always be competition. You should never feel comfortable, no matter where you are at. If you are a 10-year veteran, you should not feel comfortable. For me, that kind of just drives me, that kind of unknown of what is going to happen. The unknown is kind of what drives me."― Aaron Judge
"For me, it's just about taking it one at-bat, one pitch, one play at a time."― Aaron Judge
"As a kid growing up in California, I collected autographs."― Aaron Judge
"There are some great pitchers in this league. You're going to get fooled sometimes. They're going to get you."― Aaron Judge
"If they are going to nibble and try to go below the zone or off the plate a little bit, I want to try and get a pitch in the zone that I can do damage on."― Aaron Judge
"If I know it's going over the fence, I am going to start jogging and just get around the bases and get back in the dugout."― Aaron Judge
"In baseball, you have to remain calm, cool, and collected. In football, you can let out a little anger sometimes. It was a fun game, and I liked it, but I knew in my heart I was going to play baseball."― Aaron Judge
76th of 100 Aaron Judge Quotes
"Usually when you get on the sweet spot of the bat, you don't really feel it."― Aaron Judge
"I never want to play timid or scared of anything, especially when my pitcher or my teammates are out there going 100 percent."― Aaron Judge
"That's what it's all about – postseason baseball."― Aaron Judge
"Ever since I got drafted by the Yankees, I've been working on my swing."― Aaron Judge
"The big thing is, it's about learning which off-speed pitches to swing at. A lot of people say, 'Oh, this guy can't hit a curveball; this guy can't hit an off-speed pitch.' But it's about swinging at the right one. Swing at the hangers. Swing at the ones you can handle."― Aaron Judge
"When you're on the road, fans pay to cheer on their team and boo the other team; that's just part of it. That's what they're supposed to do. I expect it. I think everybody expects that."― Aaron Judge
"For me, the strike zone has always been, If it's something I can drive, it's most likely a strike. I feel like if it's a ball I really can't do much with, it's most likely a ball. So that's just always been my approach."― Aaron Judge
"This is a crazy game we play. You're going to have those times you can't get out, and those times where you can do everything right, and the ball does not fall."― Aaron Judge
"Some guys, first pitch of the at-bat gets called a strike – maybe it's a ball off or below their knees, and it gets called a strike – and then the next two pitches, they swing at balls in the dirt, and all of a sudden, they're yelling at the umpire about that first pitch. You just swung at two balls in the dirt, buddy."― Aaron Judge
"I needed to go to college. I needed to mature."― Aaron Judge
"When I was younger, I'd always forget stuff. I think there was probably 4-5 times where we'd drive 30 minutes to a town for the baseball tournament, and all of a sudden, I'd get to the field and look in my bag, and I didn't have my cleats. So my dad had to race all the way home to get my cleats and get back before the game started so I could play."― Aaron Judge
"My dad played junior college basketball, and he always showed me clips of Michael Jordan."― Aaron Judge
"When I was in the West Coast watching the Giants, Rich Aurilia was a guy I always liked."― Aaron Judge
89th of 100 Aaron Judge Quotes
"One thing I really liked about David Winfield, man, just… the way he played the game, and such a class act he was on and off the field."― Aaron Judge
"During the season, I usually work out two or three times a week. I'll do a full-body workout after games. I plan it out the day of."― Aaron Judge
"I really don't like splitting my workouts into lower body one day, upper body the next day – that makes me I feel like I'm working out every day, and I feel like I'm more tired during the season than I need to be."― Aaron Judge
"When I'm lifting heavy, doing squats, and doing upper-body workouts, it's mostly about core and stability. But I'll still do deadlifts. I also do tire workouts with these big 600-pound tires, flipping them and stuff like that."― Aaron Judge
"I'm not too worried about stats and stuff like that."― Aaron Judge
"I've just got to go in there and get some quality at-bats and do my job and help the team win any way I can."― Aaron Judge
"You can never come into the spring feeling like you've got a guaranteed spot. Once you do that, you kind of get stagnant, and someone's going to pass you up."― Aaron Judge
"That mindset never changes. It should never change. If you've been in the league for 14 years or been in the league not even a day, you should have that mindset that you're going to go out there and prove yourself and earn a spot."― Aaron Judge
"That's one thing that's a passion for me: teaching."― Aaron Judge
"44 is a number I really like."― Aaron Judge
"My dad was my role model; he always did the right thing."― Aaron Judge
"When you're facing a different guy every at-bat, he's coming at you with his best stuff. There's no warm-up; there's no 'see a pitch.' You've got to be locked in from the very first pitch… The biggest thing is do your homework before the game starts."― Aaron Judge