Indiana Pacer defeats Orlando Magic 111-106 on Friday night at Amway Center.
Indiana Pacers shooting guard Aaron Holiday came strong off the bench for the Pacer's win over the Orlando Magic.
This is Aaron's back-to-back games with a lead score for the Pacer's team to give the team two straight wins.
Coming off the bench Aaron scored 20 points, 2 rebounds, and 3 assists. Previously he made season-best 22 points in a victory over Minnesota.
To get those 20 points, he made six of Indiana's 11 3-pointers. He made his first four attempts from beyond the arc. He finished 6 of 10 from beyond the arc Friday.
His six three-pointers marked a season-high and also beaten his seasonal scoring average for eight consecutive games.
"I'm not used to having great games, but I'm used to shooting the ball and making buckets.
And I hold myself to a high standard," said Holiday, who has made 13 of his last 19 3-point shots.
"When I'm really mad is when I have really bad games. I had four turnovers today and that was just me making dumb plays."
Sabonis returned to starting lineup after three games.
Similarly, Domantas Sabonis added 16 points, 15 rebounds, and six assists in his return from a three-game injury absence.
Sabonis made a double-double within the first half when he made 11 points, 12 rebounds, and five assists.
Likewise, Dough McDermott posted 19 points, six rebounds, and a steal within 21 minutes.
Brogdon also returned after missing the previous four games with a right hip injury. He had 11 points, missing all five of his 3-point shots.
Looking at his team's play Indiana coach was very proud.
"We're getting guys back, we moved the ball nicely and we're sharing it really well," Indiana coach Nate Bjorkgren said.
"We're getting big contributions from our bench. That overall readiness is what I'd like to see continue."
On the other hand, Orlando's guard Terrence Ross gave the Pacers a hard time as he scored 10 of his 24 points in the fourth quarter.
James Ennis III made two free throws to cut the Magic to 109-106 with 14.9 seconds remaining. But T.J. McConnell sealed it with two free throws with 8.7 seconds remaining.
Mo Bamba had 14 points and six rebounds for the Magic.
"I'm definitely trending up, but I've got to be tougher on myself," said Bamba, who blocked three shots.
Pacers meet Memphis Grizzlies on Monday while Magics meet Milwaukee Bucks.
Boston Celtics defeat Minnesota Timberwolves in overtime.
Boston Celtics beat Minnesota Timberwolves 145-136 in overtime on Friday at TD garden.
Timberwolves started strong and took 12 points-lead in the 1st quarter over the Celtics.
But the Celtics cut the lead with strong shooting in the second quarter. They collected 32 points while Minnesota only collected 27 points.
However, Minnesota's strong shooting in the 1st quarter helped them to keep the lead of 7 points over the Celtics.
Soon Celtics came back strong after Minnesota received free throws.
Celtics' Kemba Walker whistled for a foul on Anthony Edwards's drive to the basket with 4:49 left in the third quarter.
Subsequently, Walker disagreed with the call leading to a technical foul. Brad Stevens too challenged the call, but the foul stood.
After Minnesota converted received three free throws off of the fouls on Walker to take a 13-point lead.
The Celtics played with even more strong force. They made great plays to push the ball up the court. As Boston immediately responded to free throws with a 16-5 run to come within 92-90 late in the quarter.
In the defensive end too they did extremely well to block the Timberwolves from scoring.
The Celtics went on to put as many as 11 points during the fourth quarter before the Timberwolves forced overtime.
Then finally the Celtics controlled throughout overtime and went on to get an impressive 145-136 victory over the Timberwolves.
Jayson Tatum posted an impressive 53-points on the night, making him the youngest player in the franchise history to score 50 in a single game.
He also became the first Celtics player since Larry Bird to score as many as 53 points.
Tatum finished with a double-double scoring 53 points along with 10 rebounds and four assists. Similarly, Jaylen Brown scored 26 points, 5 rebounds, and 3 assists.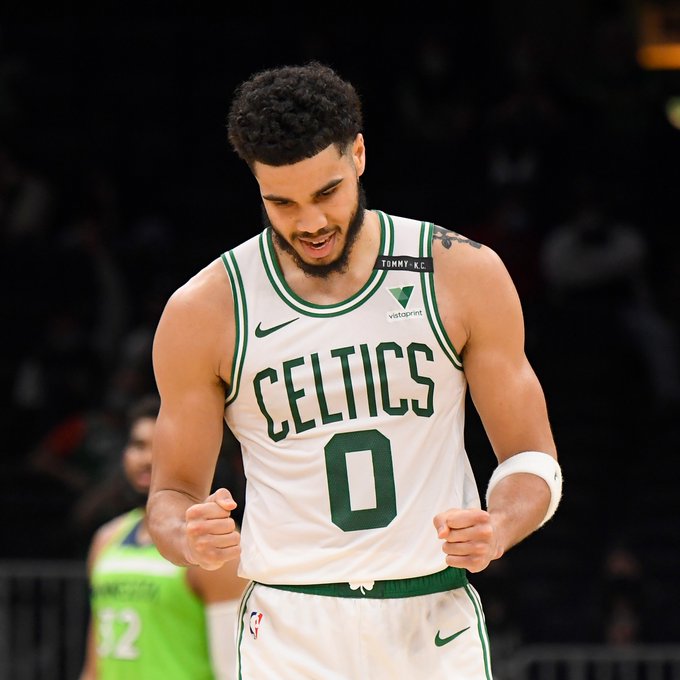 Likewise Marcus Smart scored 24 points with 6 rebounds and 8 assists. Kemba Walker finished with 17 points.
D' Angelo Russell leads Timberwolves to overtime.
On the other hand, Karl-Anthony Towns dropped a double-double, scoring 30 points, 10 rebounds, 7 assists.
D'Angelo Russell returned for the Timberwolves to score 26 points including 4 rebounds, and 8 assists coming off the bench.
Russell scored 19 of his 26 points in the fourth quarter and overtime tonight.
He also made a three-pointer with 8.6 sec left that tied the game at 124- all taking the game to overtime.
Meanwhile, Anthony Edwards made 24points along with 5 assists and rebounds. Likewise, Josh Okogie dropped 16 points, Jade Mc daniels dropped 11 points.
With the win, Boston Celtics are at 27-26 standing 7th place in the Eastern Conference and they will face the Toronto Raptors on Monday.
Meanwhile, the Timberwolves face Chicago Bulls at Target Center.