Aaron Murray is a former American footballer with a short career span as an NFL player but is highly popular. He played as a quarterback for different squads throughout his amazing career.
He has achieved a lot throughout his career and has successfully garnered some name and fame. Murray's NFL career started in 2014; before that, he played college football.

Finally, in 2020 he decided to retire from NFL after his contract with Tampa Bay Viper terminated.
In the public's eye, Murray has always been one sincere player who has always been dedicated to his game.
As an NFL Quarterback player, Allen has played for Kansas City Chief from 2014 to 2015.

However, for Arizona Cardinals (2016), Philadelphia Eagles (2016), and Los Angeles Rams (2017), he only played as a practice squad member. After that, he played for Atlanta Legends and finally retired from Tampa Bay Vipers.
Aaron has been in the news and trending on social media platforms. As a result, people have gained interest to know more about this sensational star.
Today, in this article, we discuss the life of Aaron Murray as a quarterback. We will also discuss his personal life, height, weight, age, wife, kids, net worth, career, and many more.
But before we start with our article, let us have an instant glance at the quick facts.
Quick Facts
Full Name
Aaron William Murray
Birth Date
November 10, 1990
Birth Place
Tampa, Florida, United States
Nick Name
Not Available
Religion
Christianity

Nationality
American

Ethnicity
White
Education
Henry B. Plant High School, Georgia University
Zodiac
Scorpio
Father's Name
Dennis Murray
Mother's Name
Lauren Murray
Siblings
Josh Murray, Stephanie Murray
Age
32 Years Old
Height
6 ft. 1 inch (185 cm)
Weight
94 kg (207 lbs)
Hair Color
Black
Eye Color
Brown
Build
Athletic

Occupation

Professional Football Player

(Before)

College Football Analyst (Presently)

Position
Quarterback

Affiliation

NFL
NFL Debut
2014
Retirement

2020
Sexual Orientation

Straight

Marital Status
Married
Wife's Name
Sharon Stufken
Children
Not Available
Net Worth
$10 Million
Salary

$615,000
Social Media
Instagram, Twitter

Merch
Autographed Jersey of Kansas City
Last Update
June, 2023
Aaron Murray: Early Life, Family, and Education
The quarterback was born in Tampa, Florida, in 1990. Dennis Murray and Lauren Murray gave birth to Aaron Murray on November 10. Aaron's father was a Catholic, but his mother was Jewish by religion.
As a result, while growing up, Murray knew the values of both religions. In addition, from a very early age, Murray had a great interest in football to which his parents were always supportive.
Aaron had two siblings, one brother and one sister. From here, we come to know that he had a good childhood, and he spent his days playing with his siblings.
First, he went to Jesuit High School but didn't study there for long as he later transferred to Henry B. Plant High School. There in Pant, he competed in various inter-school matches.
Undoubtedly, Murray was a splendid student; as a result, he got 53 scholarship offers. Finally, he decided to join Georgia University for further studies and career development.
From there, Aaron's journey leaps, and he even got awarded with Hillsborough Offensive Player of the year.
However, this is a different part, so we will get into details in the career part; stay till the end of this article to find more interesting things about Aaron.
External Features of Murray
As of 2023, Aaron is 32 years old. During his engaged years, he was well trained and fit with a perfect weight of 94 kg as an athlete and a height of 6 ft. 1 inch.
The footballer has short black hair. Well, to perfectly match his hair, he has shiny brown eyes. Aaron wears shoe size 10.
According to his birth chart horoscope, Aaron is a Scorpio. People with this sun sign are usually determined, motivated, and focused.
Read about Top 12 NFL Quarterbacks of Current Year.
Indeed, Murray is one determined and focused person; if it were not for his hard work and dedication Murray would not be in the place where he is today.
Aaron Murray | Football Career
The 6 feet an inch tall footballer has a rich career history. Always an enthusiastic sportsperson, Aaron started playing at a young age, let's say from his school days, and found his passion for football.
After pursuing his career, Aaron began playing for small teams and eventually hit his big shot and appeared in major big games.

Aaron finally made it to the NFL by taking small steps and not losing hope. Here is a timeline of his career in his most loving sport, football.
College Career and Stats
As we already know, Murray always shared a love and passion for football. So after college, he verbally committed Mark Richt, head coach of the University of Georgia, to play under his supervision.
In 2009, Murry redshirted during his freshman season as he was injured during the fall.
Murray was trying to prove himself, and he got a chance to prove himself when Zach Mettenberger got dismissed for violating the team's rules. And Murray got the opportunity to take Zach's place and start as a quarterback.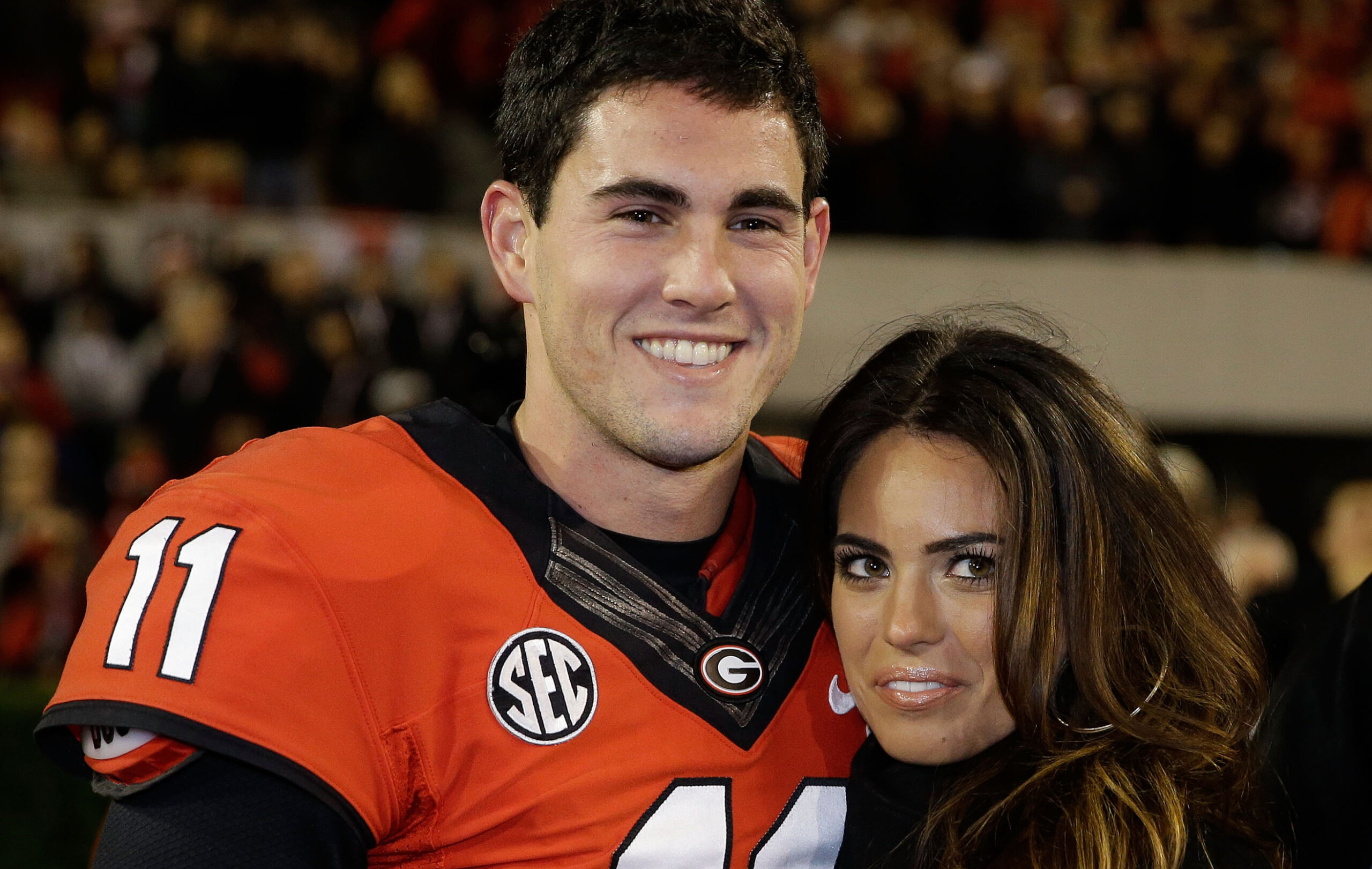 Murray didn't let this opportunity go and tried his best; he not only tried his beat but did his best too. As a result, Georgia wins their next six contests.
In the same year, 2010, Aaron even sets the UGA freshman record in thirteen games with 3049 passing yards. Besides, this was the golden phase of Murray's life as he achieved a lot.
Despite being a youngster and just a college student, he didn't rest and focused on his game. Finally, his hard work paid off after being ranked as fourteenth nationwide and fourth in SEC from efficiency rating.
He played for four years with the same enthusiasm and gave his best shot. Nonetheless, he graduated from Georgia University with a 62.3 CMP percentage, with 1.38 on average and 16 touchdowns.
Professional Career
Later, Aaron thought of making football his lifelong career and started his professional career in NFL as a quarterback, playing for Kansas City Chiefs in 2014. Moreover, he got selected in the fifth round.
But Aaron couldn't do much of a thing in Kansas, and after one year of the contract, he was released by them. Hence, he went to another club, Arizona Cardinals.
Aaron couldn't do much at the beginning of his NFL career, unlike his college career. So, he kept on changing the clubs in the beginning years.
For three years, Aaron was only changing clubs which was hampering his career. Finally, with some unsuccessful performances in NFL in 2020, Aaron retired from NFL after Aaron's contract with Tampa Bay Vipers was terminated.
Currently, Murray is working as an analyst for college football. However, if Murray hadn't changed clubs more frequently and shown some passion and determination as he showed in college, he would have been one of the best NFL quarterbacks in history.
Also, read about Russell Wilson: Early Life, Fitness, Marriage, Kids & Net Worth.
Awards and Accolades
In his lifetime as a footballer, Aaron has achieved many trophies, achievements, and most importantly, a decent place on this football field.
Amongst his notable achievements, we have listed some below.
SEC Passing Touchdown Leader

Career Passing Yards Leader, SEC

Capital One Bowl MVP, 2013

All-SEC Second Team, AP 2011

Coaches' 2010 Freshman All-SEC Team

Coaches All-SEC Team, 2011

CFN 3rd Team All American, 2012

Freshman All American in 2010
Aaron Murray: Wife and Children
Aaron is a married man, and he got married in 2019 to his beautiful wife, Sharon Stuken.
They don't have any children yet, but they have two beautiful fur babies they consider their babies.
They briefly dated for a year and a half before getting married. Besides, Murry romantically proposed to Sharon, and he went down his knees; with his two fur babies were by his sides and proposed to Sharon. Who could say no to this amazing proposal, so she said yes?
The cutest thing about the proposal and who grabbed everyone's attention was their fur babies. One dog named Georgia had a sign around her neck that mentioned, "will you marry my daddy? And the other dog Harper has a ring in his small pouch.
Interestingly, Murray proposed Sharon in the same place where they met for the first time, the dog park. Apart from that, they went to the same high school, but Sharon didn't know Aaron.
This beautiful couple tied their knot in 2019 in a private event with the attendance of their close friends, family members, and their fur babies in Athens.
Aaron Murray: Net Worth & Salary
Even though Aaron had retired from football in 2020, his net worth in 2023 is $10million as he is currently working as a college football analyst.
Similarly, in a year, Aaron earns around $600k. He gets his salary based on his contract with the club.
You might enjoy reading about the former NFL Player James Harrison: Bio, Wife & Net Worth.
Unfortunately, not much has been found about his property, house, and car collection. But as soon as we can find any information regarding it, we will update you soon.
Social Media Presence
Aaron is an active social media user where he frequently posts and tweets his pictures and updates. As a result, he has gathered quite a following across all his social media accounts.
Murray gives his honest opinion on sports and entertainment and doesn't fear giving any opinions that could be controversial.
Aaron is active on Twitter and Instagram, and this is a delightful treat to his fan that he keeps posting about his personal life and pieces of training in his social media handle.
However, if you want to know more about him, you can find a lot of information regarding him on different websites.
Frequently Asked Questions (FAQs)
What is Aaron Murray doing these days?
Murray is currently working as a college football analyst for CBS Sports and a radio show host for ESPNU Sirius XM.
What is Aaron Murray's jersey number?
Aaron's jersey number for Tampa Bay Vipers was 11.