Admiral Schofield is a British-American professional basketball player who plays in the NBA. He plays as a small forward for the Florida-based NBA club, Orlando Magic.
The Orlando Magic small forward is quick-paced and omnipresent while playing on the court. However, he has an average height for a forward, so taller opponents often outperform him.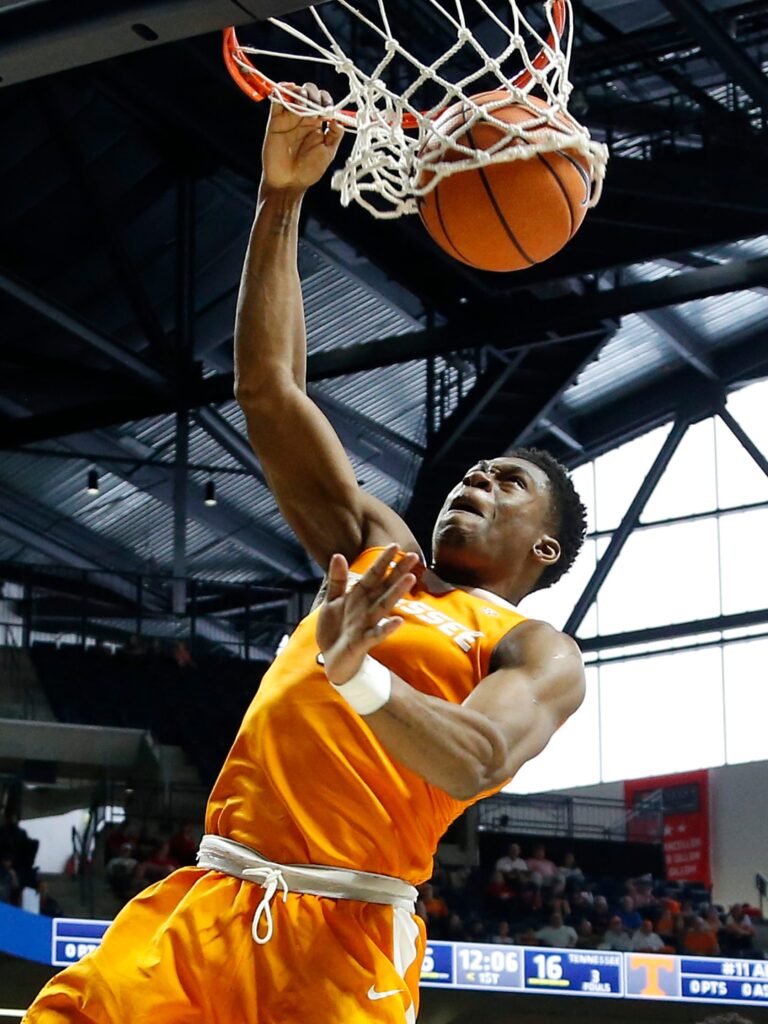 During his college years, although his last two seasons were admirable, the NBA clubs had doubts about whether to pick him or not. The 76ers eventually selected him in the hope that he would prove himself.
Unfortunately, he has not had any memorable season in the NBA so far. However, he is still very young and doing well in the NBA G League, so there is still some hope.
Now let's excavate more information about Admiral's life and career in the article beneath. But before getting any further, here are some quick facts about him.
Quick Facts
Full Name
Admiral Donovhan Schofield
Known As
Admiral Schofield
Date of Birth
March 30, 1997
Birthplace
London, England
Nickname
Not available
Religion
Christianity
Nationality
British-American
Zodiac Sign
Aries
Age

26

years old
Height
1.96 m (6'5″)
Weight
241 lb (109 kg)
Hair Color
Black
Eye Color
Dark brown
Build
Athletic
Father's Name
Anthony Schofield
Mother's Name
Dawn Schofield
Siblings
Four (O'Brien, General, Joshua, and Octavia Schofield)
Education

Zion-Benton Township High School (Zion, Illinois)
University of Tennessee (Knoxville, Tennessee)

Marital Status
Unmarried
Sexual Orientation
Straight
Girlfriend
None
Kids
None
Salary
$1.576 million
Profession
Basketball player
NBA Draft
2019 / Round: 2 / 42nd pick overall
Position
Small forward
League
National Basketball Association (NBA)
Active Years
(2019 – Present)
Net Worth
$1.5 million
Currently Plays for
Orlando Magic
Social Media
Instagram, Twitter
Merch
Rookie Card
Last Update

May 2023
Admiral Schofield | Early Life & Family
Admiral Donovhan Schofield, also known as Admiral Schofield, was born in London, England, on March 30, 1997. He is one among five children of Anthony and Dawn Schofield.
Besides him, there are three siblings in his family now. Sadly, his brother, Joshua, passed away untimely in 2007.
Many people wonder how he got his first name as it sounds unique. In fact, his father, Anthony, was working as a US Navy officer at the time of his birth, so he gave him that name.
However, Admiral admits that his family members never call him by his first name, and he initially used to get confused when his school teachers addressed him, saying, Admiral. He did not like it previously, but now he is pretty proud that he has such a unique name.
Although born at St. Mary's Hospital in London, he spent his entire childhood in Illinois, Chicago. His parents migrated back to America when he was around two years old.
His family settled in Great Lakes, Illinois, following his father's retirement after 24 years of service.
Admiral initially attended the local primary school in Great Lakes. As everyone in his family enjoyed sports, he played almost all sports while growing up. However, he mainly played football and basketball.
His eldest brother, O'Brien, was almost ten years older than him who was pretty good at football.
Donovhan, on the other hand, liked basketball primarily and focused on bettering his basketball skills. He says that Michael Jordan was his greatest inspiration, and he watched his game with utmost interest as a kid.
Admiral's Brother is a Former NFL Player
Admiral's eldest brother, O'Brien Schofield, played in the top-tier American football league, NFL, for around six years. After his college career with the Wisconsin Badgers, the Arizona Cardinals drafted him as the 130th overall pick in the 2010 NFL draft.
Schofield mainly played as a linebacker and earned the reputation as a great defenseman since he was a high schooler. Sadly, his professional career could not be as long as he had expected.
On the brighter side, he won many accolades and awards throughout his football career. He won the Super Bowl Championship with the Seattle Seahawks in the 2013 season. In addition, O'Brien was the East-West Shrine Game Defensive MVP in 2010.
He eventually retired from his playing career after the Atlanta Falcons released him in 2016.
Admiral Schofield | Basketball Career
High School Career
After passing middle school, Admiral joined the Zion-Benton Township High School in Zion, Illinois, and studied there until his graduation. He initially played as a center for their high school team.
Apart from playing for his school, he participated in the AAU tournaments parallelly for the Team NLP. Schofield never failed to impress his coaches and spectators with consistent point-scoring abilities and frequent rebounds.
Similarly, as a senior, Admiral was nominated for the McDonald's All-American and achieved his place in the Associated Press Class 4A All-State second team.
Click here to learn about the 7 feet tall Serbian former basketball player Darko Milicic, the youngest and first European player ever to win the NBA championship ring!
College Career
Admiral Schofield enrolled in the University of Tennessee in Knoxville and took up African Studies as a major. However, he was mainly there to play basketball and played for the Tennessee Volunteers in the Southeastern Conference (SEC).
Schofield missed three matches in his sophomore season as a punishment for rules violation, but he got more playtime than his previous season. However, he had minimal improvement and finished the season with 8.2 points per game.
He showed his actual game in the last two seasons when he averaged points and rebounds per game in double digits.
Professional Career
After graduating college, Admiral Schofield declared for the 2019 NBA draft with a huge expectation. He had improved his game a lot in the last two years, and it was already evident that an NBA club would select him.
Soon after, they traded him to the Washington Wizards. Fortunately, the Wizards signed a three-year contract with him in July 2019. They sent him to the Capital City Go-Go for a while to play in the NBA G League.
On December 4, 2019, Admiral became the first Wizards player to appear for them and the Go-Go club to play for both on the same day.
Moving toward his rookie season, Schofield appeared in just 33 matches of the season for his club and had significantly less playtime. He could only average 3.0 points and 1.4 rebounds per game.
Consequently, the club traded him to the Oklahoma City Thunder in 2020.
Following a short stint with the Atlanta Hawks in August, he joined the Lakeland Magic, the affiliate club of the Orlando Magic, which participates in the NBA G League.
After averaging 14. 4 points and 7.2 rebounds per game in the 2020-21 NBA G League, the Magic made him sign a two-way contract with them for the 2021-22 season. However, he had no impact on the game this latest season.
Awards & Achievements
Some of his awards and achievements are:
Second-team All-SEC (2018)
AP Honorable Mention All-American (2019)
First-team All-SEC (2019)
Don't forget to check out the story of an American former basketball player Jordan Cornette who became a popular TV personality after having a very brief basketball career!
Admiral Schofield | Net Worth & Career Earnings
One of the emerging talents in American basketball, Admiral Schofield, has a net worth of approximately $1.5 million.
After the Philadelphia 76ers traded him to the Washington Wizards, he signed a three-year deal worth $4.3 million. But, Schofield remained only for a season with them, for which they paid him $1 million.
Similarly, when he was with the Orlando Magic in the 2021-22 season, the club paid him around $423k. Before that, he had signed a deal worth about $1.5 million with the Oklahoma City Thunder, but they released him during the preseason.
Still, he earned $300k from the Thunder. Schofield is with the Orlando Magic at present, and the club has offered him $1.576 million for the upcoming season.
Besides, he did some earnings playing for some NBA G League clubs like Capital City Go-Go and Greensboro Swarm as well. In addition, he has made some money through merch sales and brand endorsements.
The American-born power forward Dedric Lawson is an emerging young basketball player who currently plays for the Besiktas Icrypex in the Turkish Basketball Super League. Learn more here!
Admiral Schofield | Personal Life
Schofield was pretty famous among fellow students during his college years and many girls back in those days desired him. Some media featured his picture with a girl from his university days, but his relationship with her was unclear.
Now that he has been in a professional basketball league for some years, he has earned more fans. They are curious about his relationship status and more about his personal life.
Admiral has gone a bit off track lately, and he is trying to regain his strength. So, he may take some time before making up his mind to commit to a love life. However, he is currently working on himself and improving his game.
So, we assure you that we will update you once we find out more about his love life.
Age & External Features
Admiral Schofield is 26 years old.
He stands at the height of 1.96 meters (6'5″). Similarly, he has had a tremendous athletic physique since his teenage days and has maintained it through all these years.
Admiral currently weighs around 241 lb (109 kg). Furthermore, he has inked some tattoos on his body, mainly on his arms and legs.
Social Media
Frequently Asked Questions
What is the wingspan of Admiral Schofield?
Admiral Schofield has an approximate wingspan of 6 feet 10 inches.
What jersey number does Admiral Schofield wear?
Admiral Schofield wears jersey no. 25 for the Orlando Magic and its affiliate club, Lakeland Magic. However, his jersey number was 5 when he played college basketball for the Tennessee Volunteers and later jersey number 1 with the Capital City Go-Go.
Is Admiral Schofield in the G League?
Admiral has already appeared for G League teams such as the Greensboro Swarm, Capital City Go-Go, and the Lakeland Magic in the past. He is still with the NBA G League club, Lakeland Magic.
So yes, he is in the NBA G League, but it is unclear how often he would appear for the Magic in the league this season.