In a heartwarming ceremony held in July 2022 in Indiana, Aidan O'Connell and his beloved wife, Jael Johnson, exchanged their vows, marking the beginning of their journey as a married couple.
Their love story originated at Purdue University, where their paths first crossed.
O'Connell showcased his prowess as a football quarterback for the Purdue Boilermakers.
He made his debut on the field against Northwestern, a moment that kickstarted a promising career.
Throughout his journey, he participated in six games, earning the privilege of starting three of them.
During his initial outings, Aidan exhibited exceptional skill, completing an impressive 34 out of 50 passes for a total of 271 yards.
He decided to enter the 2023 NFL Draft after the 2022 season.
O'Connell was drafted by the Las Vegas Raiders in the fourth round with the 135th pick of the 2023 NFL Draft.
Aidan O'Connell Wife: Jael Johnson Is A Volleyball Player
Aidan O'Connell and his wife, Jael Johnson, crossed each other's path while both were actively engaged in the Fellowship of Christian Athletes at Purdue University.
Jael, an accomplished athlete herself, was an integral part of the Purdue Boilermakers' volleyball team.
In recognition of her exceptional talent, Jael was bestowed with the Indiana Volleyball Player of the Year Award in 2018.
Her prowess extended to prominent tournaments and lists, including her triumph at the Northern Lights Qualifier (NLQ) and her inclusion in the Under Armour All-America Watch List for 2017.
During her junior year, her exceptional skills were acknowledged with a spot on the state's first team and a noteworthy honorable mention on the College Volleyball Club All-Top Americans list.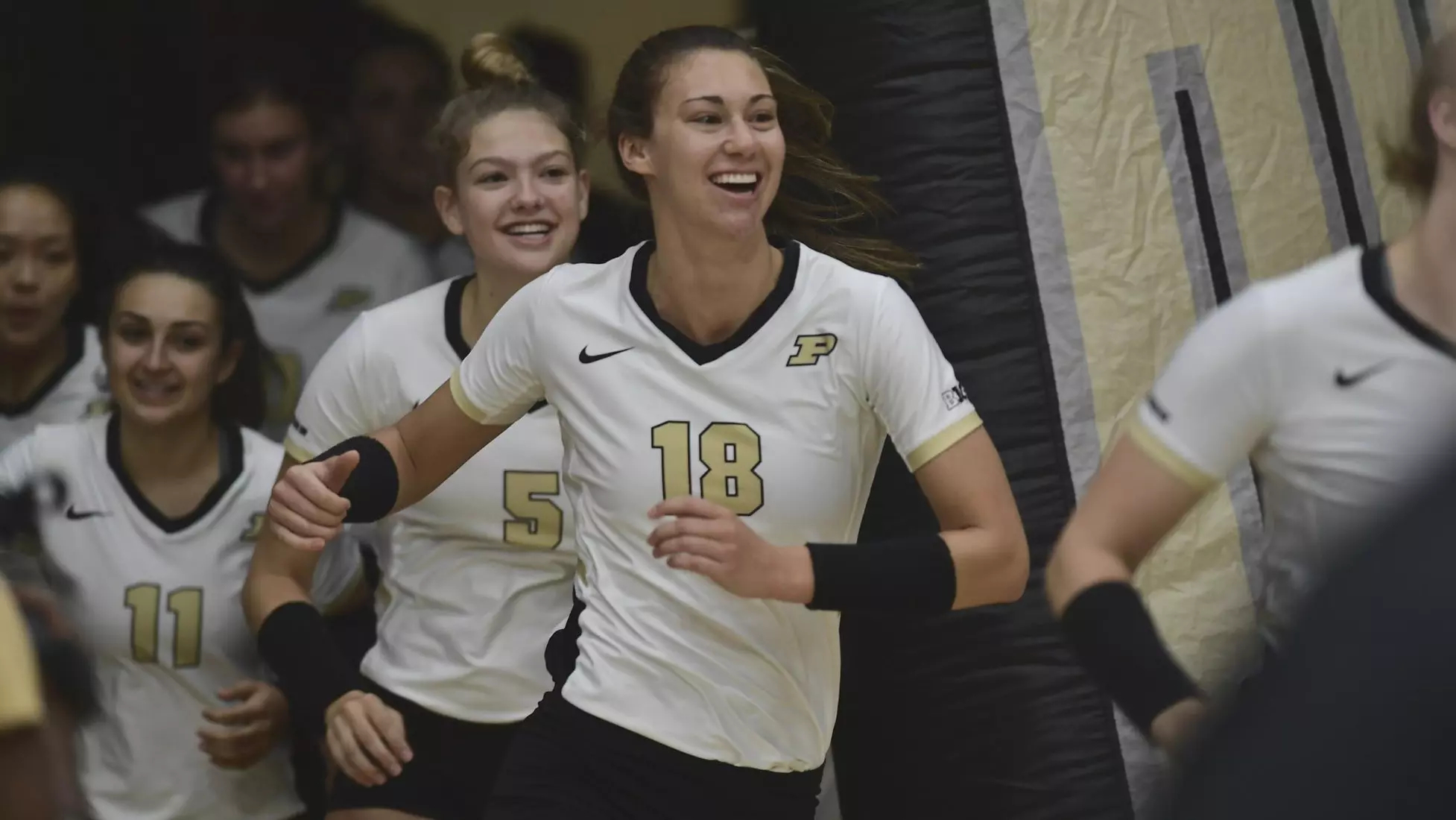 As she embarked on her collegiate journey with the Boilermakers, Jael made significant contributions to the team's success.
In her freshman season in 2018, she participated in 23 games.
Her sophomore year was marked by 21 appearances and one start.
Notably, she achieved a career-best seven total blocks during an NCAA Second Round matchup.
Similarly, Jael's junior year in 2021 witnessed her ascend to greater heights.
Starting in 23 games, she garnered the title of Big Ten Player of the Week.
Who is Jael Johnson?
Born on June 4th to her parents, Steve and Lisa Johnson, in Indianapolis, Jael Johnson's journey began with the support of her Purdue-graduate mother and father.
She grew up with her two brothers, Jared and Jacob.
Her roots trace back to Avon High School, where she graduated in 2018.
At Purdue, Jael's commitment to education and personal growth led her to complete a bachelor's degree in speech, language, and hearing sciences.
Her pursuit of excellence continued as she embarked on a master's degree in human resource management at the Krannert School of Management.
Beyond her athletic prowess, she also embraced the opportunity to engage in scholarly endeavors, participating as an undergraduate researcher for the Huber Motor Speech Lab, a testament to her multifaceted talents.
Jael's devotion to her faith was evident through her involvement in the Fellowship of Christian Athletes.
Beyond her academic and athletic commitments, she found joy in spending quality time with her family and embarking on adventures to new and unexplored places.
Relationship Timeline
Aidan O'Connell and Jael Johnson's journey together began in 2018 when they first crossed paths.
At that time, Aidan was a sophomore, while Jael was taking her first steps as a freshman.
Their initial interactions were rooted in friendship, with casual conversations weaving through the 2018-2019 school year.
As they spent time together in group settings, their comfort around each other grew organically.
The pivotal moment that marked the transition from friendship to romance was when they were invited to speak at a local youth group.
This experience brought them closer, and it wasn't long before Jael made their relationship official through Instagram in 2019.
On March 2, 2022, Aidan popped the question, to which Jael said yes. Hyped with euphoria, he shared the moment on his Instagram.
Aidan and Jael's connection has been beautifully documented on their Zola wedding website.
Their shared faith played an integral role in nurturing a relationship that centered around honoring Christ.
The public recognition of their bond took shape with a memorable Instagram post on December 4, 2019.
In the post, Jael proudly showcased her support for Aidan as he played on the hallowed grounds of Ross-Ade Stadium.
Their journey culminated in a celebration on July 30, 2022, as Aidan and Jael exchanged their vows at the Abram Farm Event venue.
The couple's special day was commemorated through a wedding video that Jael shared on her Instagram on September 18, 2022.
The video captured the essence of their wedding day.