Alec Bohm girlfriend, Jacque Darby, was a member of the track and field team at Wichita State University, from where she graduated in 2020.
Alec and Jacque have been in a relationship since 2018. The couple announced their relationship by posting photos of them on Instagram.
Alec Daniel Bohm is a professional baseball player who plays third base for the Philadelphia Phillies of Major League Baseball (MLB).
The Phillies selected Bohm in the first round of the 2018 MLB Draft as the third overall pick. Then, in June of the same year, he signed a contract with them.
Alec was added to USA Baseball's 28-man team for the 2019 WBSC Premier12 championship, one of several tournaments that serve as Olympic qualifying events.
Bohm is a young, talented player who is still developing. He has the potential to be a star in the MLB, and the Phillies are hoping that he will be a key part of their team for many years to come.
Alec Bohm Girlfriend Is A Former Athlete
Jacque Darby and Alec Bohn met while they were attending Wichita State for their Bachelor's degree.
The couple got into a relationship around 2018. Despite being in a relationship for almost five years, the duo hasn't shared much about how they met or when it started.
The lovers shared their most memorable picture on September 13, 2018, along with the caption, "Pictures aren't our thing."
Jacque Darby was born in June 1997 to David and Kim Darby in Olathe, Kansas. She grew up with three other siblings: one brother, Jake, and two sisters, Katie and Lauren.
Jacque attended South High School in Kansas. In high school, she played track and field for four years and soccer for two years.
After that, she went to Wichita State University for her Bachelor's degree in Kinesiology and Exercise Science. There, she met her boyfriend, Alec.
During her college years, Alec's girlfriend was involved in track and field. She was then named to the Academic All-Conference in 2021.
Additionally, Darby earned the title of Academic All-Conference in 2020 and Spring AD Honor Roll in 2021.
Alec Bohm's Parents
Alec Bohm is the son of Lisa and Dan Bohm. Lisa Bohm, whose birth name was Lisa Seiler, was born on July 15, 1965.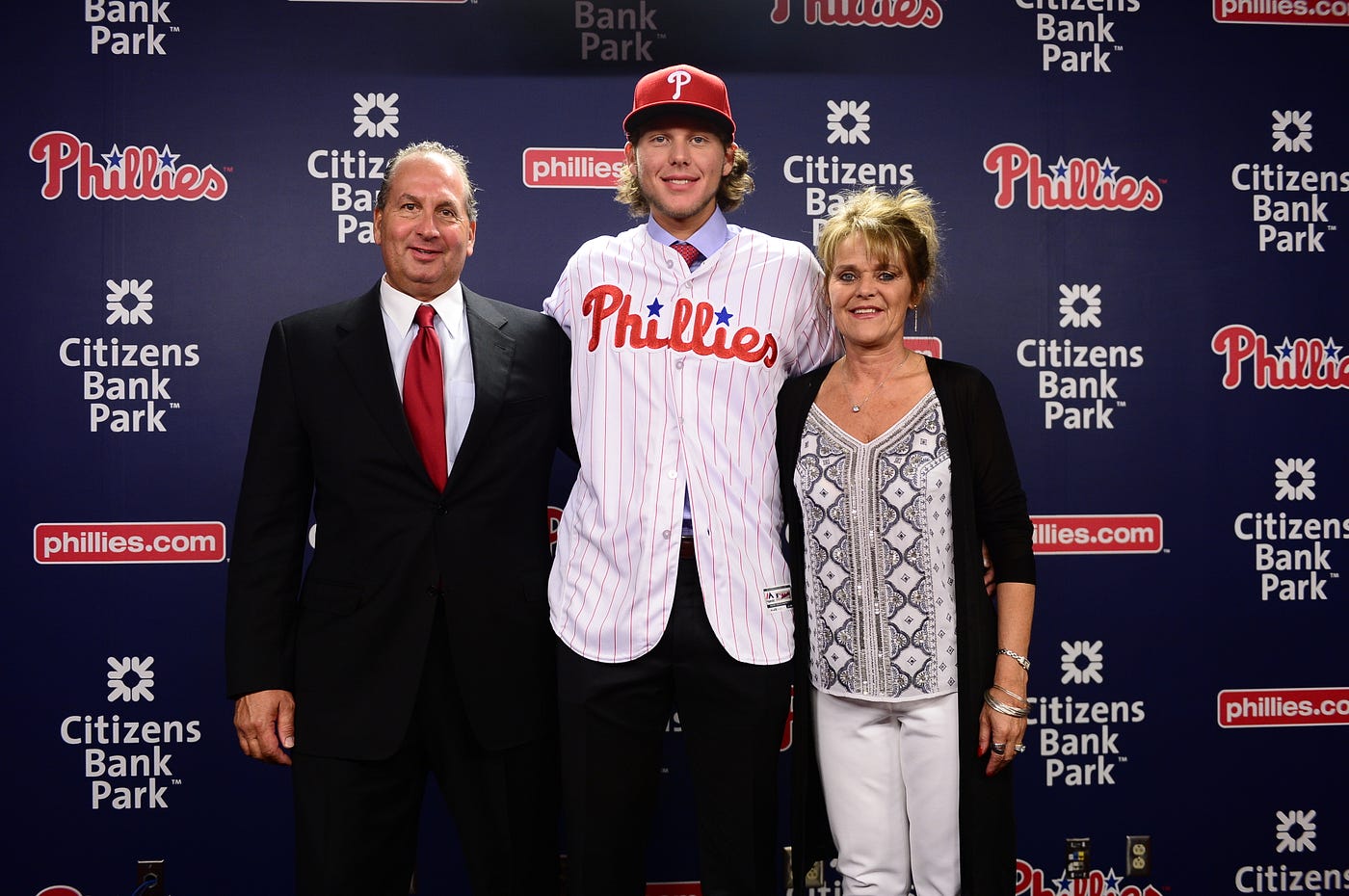 Lisa is a director at the Alec Bohm Foundation, which was started by her son to encourage kindness and have a positive impact on communities all over the world.
Likewise, Dan Carl Bohm was born on December 1, 1960. Bohm's dad is also a director at the foundation.
Similarly, Alec's grandfather, Henry Bahm, was a Navy officer in the United States who honorably retired on May 6, 1946.
Besides this, there isn't much information about the player's family.