Alex Antetokounmpo is a professional basketball player mostly recognized as the youngest brother of NBA players Giannis, Thanasis, and Kostas. Alex is an undrafted free agent playing for Wisconsin Herd.
Besides that, he also has an older brother named Francis, a soccer player.
Giannis and Thanasis play for the Milwaukee Bucks, while Kostas plays for the Fenerbahçe Beko.
All of Alex's brothers are well-established players in the league. His older brother Giannis is especially famous for being the star player of the Bucks.
The team offered him the largest contract in NBA history in 2020 to keep him with them.
Not to mention, Giannis is the only player aside from LeBron James and Kareem Abdul Jabbar to be named MVP twice before he turning 26.
So, it is safe to say that young Antetokounmpo follows in his brother's footsteps. He went on to play in the top professional basketball division of the Spanish basketball league system right after high school.
Moreover, he comes from a very athletic family. The basketballer's mother was a high jumper, while his father used to play football in Nigeria.
The athlete started playing basketball when he was only nine years old and has flourished a lot under his brothers' guidance.
Antetokounmpo recovered from his illness before his team began their 2023 season.
Before details about the Antetokounmpo brother's life and career, here are some quick facts about him.
Quick Facts | Alex Antetokounmpo
| | |
| --- | --- |
| Full Name | Alexandros Emeka "Alex" Antetokounmpo |
| Birth Date | August 26, 2001 |
| Birth Place | Athens, Greece |
| Nick Name | Alex |
| Religion | Christian |
| Nationality | Nigerian / Greek |
| Ethnicity | Nigerian Greek |
| Education | Dominican High School |
| Horoscope | Virgo |
| Father's Name | Charles Antetokounmpo |
| Mother's Name | Veronica Antetokounmpo |
| Siblings | Four; Francis, Giannis, Thanasis, And Kostas |
| Age | 21 Years Old |
| Height | 6'8″/2.03 m/203cm |
| Weight | 214 lb/97 kg |
| Hair Color | Black |
| Eye Color | Brown |
| Build | Athletic |
| Profession | Basketball Player |
| Current Team | Wisconsin Herd |
| Position | Small Forward |
| Active Years | 2020 – Present |
| Marital Status | Unmarried |
| Girlfriend | None |
| Kids | None |
| Net Worth | $1 Million |
| Social Media | Instagram, Twitter |
| Merchandise | Funky Pop, Giannis Signed Items (Giannis Antetokounmpo) |
| Jersey Number | 29 |
| Last Updated | March 2023 |
Alex Antetokounmpo | Early Life, Family, & Education
Alex Antetokounmpo was born in Athens, Greece, and grew up in a neighborhood of Sepolia.
His parents are Charles Antetokounmpo and Veronica Antetokounmpo. They were immigrants from Nigeria who moved to Europe in search of a better life for their kids.
Hence, Alex is also of Nigerian descent, and his parents have done a good job of instilling Nigerian culture and values in him.
Charles and Veronica worked very hard to provide their kids with a good life and future.
However, being a black family living in Greece, they didn't have an easy start. They were often victims of racist and inferior behaviors.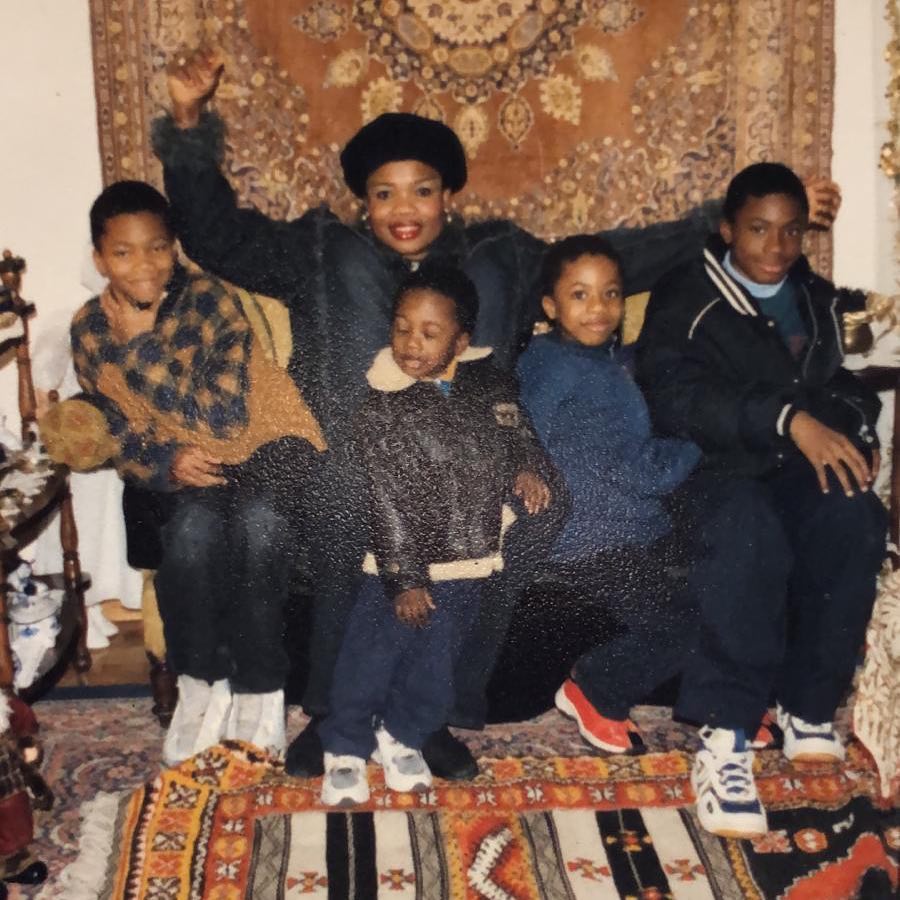 Although they had a hard time finding employment at first, eventually, Charles worked as a handyman while Veronica became a babysitter.
In their children's words, they used to work till exhaustion to provide for the family.
Since it was hard to feed the family on their income alone, the Antetokounmpo brothers used to sell watches, handbags, and sunglasses in the street.
As a result, they developed a strong work ethic and understood the value of money early in life.
Besides that, basketball was an escape for all of the Antetokounmpo siblings. Alex started playing in sixth grade when he was nine years old.
Father's Death
Sadly, the brothers lost their father in 2017 due to a heart attack. He was only 54 years old, and his sudden death shocked the family.
It broke their hearts but brought them even closer. It inspired them to work harder and together to continue their father's legacy.
Charles was a very selfless guy who would starve himself to feed his kids. he would do absolutely anything for his children's happiness, better future, and life.
The siblings consider it their responsibility to keep their father's legacy alive. They are grateful for everything he's done for them and the work ethic he passed on.
Giannis honored his father by incorporating the phrase "I Am My Father's Legacy" in his first signature sneaker with Nike. He also named his son after his father.
Antetokounmpo Brothers
Alex is the youngest of four brothers. Almost all of his brothers are athletes who play professional basketball.
Francis Antetokounmpo
Francis Olowu Ofili Antetokounmpo is the oldest son of Charles and Veronica. He is the only sibling who was born in Nigeria. He grew up mostly in his grandparents' care.
Olowu's parents left him behind when they moved to Europe. They made the difficult choice as working while caring for a toddler would have been difficult.
Nevertheless, he eventually joined them later on. In Nigeria, Francis used to play soccer and was very athletic like the rest of his brothers.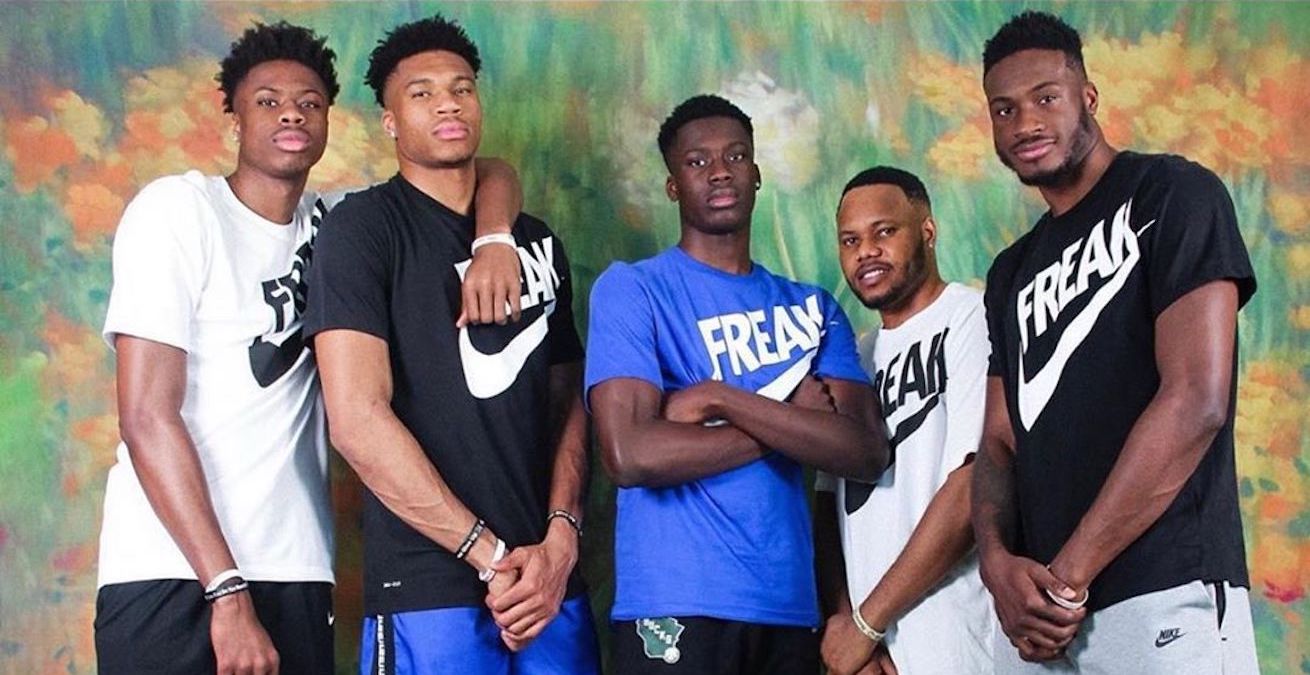 The oldest Antetokounmpo also played a little bit of basketball. However, he is best known as a soccer player than a basketballer.
Besides that, he is more of a musician now and goes by his middle name Ofili. The former soccer player recently released a song called "That Ting," which you can find on Spotify.
Thanasis Antetokounmpo
Athanasios Rotimi Antetokounmpo is the second child and first one born in Greece. He plays alongside Giannis in the NBA with the Milwaukee Bucks.
The New York Knicks drafted him into the NBA in 2014. Before that, Thanasis used to play for the Greek professional team Filathlitikos.
Thanasis started his professional career with the Filathlitikos. Likewise, the second-oldest brother played for other teams like MoraBanc Andorra and Panathinaikos before signing with the Bucks.
Giannis Antetokounmpo
Giannis Sina Ugo Antetokounmpo is the third oldest child of Charles and Francis. He is the Milwaukee Bucks' star player who often makes headlines with his exceptional defense skills and shooting abilities.
Like his older brother Thanasis, he started his professional career with the Greek professional team Filathlitikos. The Milwaukee Bucks drafted the Greek Freak in the first round of the 2013 NBA Draft.
Shortly after, he started showing the Bucks his true worth. In 2016, the Milwaukee team offered him a $100 million contract to stay with them.
Likewise, in 2020, he signed the richest contract in NBA history, worth $228 million for five years. He is well-respected in the league for his work ethic, skills, and speed.
Giannis has won several awards and honors in the NBA. He is a two-time MVP and has been named to the All-Star game five times.
Currently, Giannis is listed as the injured player due to a knee injury, and his part in the coming game between Washington Wizards and Milwaukee Bucks seems questionable in 2023.
Kostas Antetokounmpo
Konstantinos Ndubuisi "Kostas" Antetokounmpo was born on November 20, 1997, and is the fourth child of Charles and Veronica.
Like his brothers, he is also a professional basketball player who plays for the Fenerbahçe Beko and the EuroLeague.
The Philadelphia 76ers drafted him in the second round of the 2018 NBA Draft.
After the Antetokounmpo family moved to the U.S. in 2013, he completed his junior and senior high school years at Dominican High School. He was on their basketball team, leading them to a state championship title in his senior year.
After that, he attended the University of Dayton to play collegiate basketball. However, as he spent two years of high school in Greece, he did not play in his freshman year.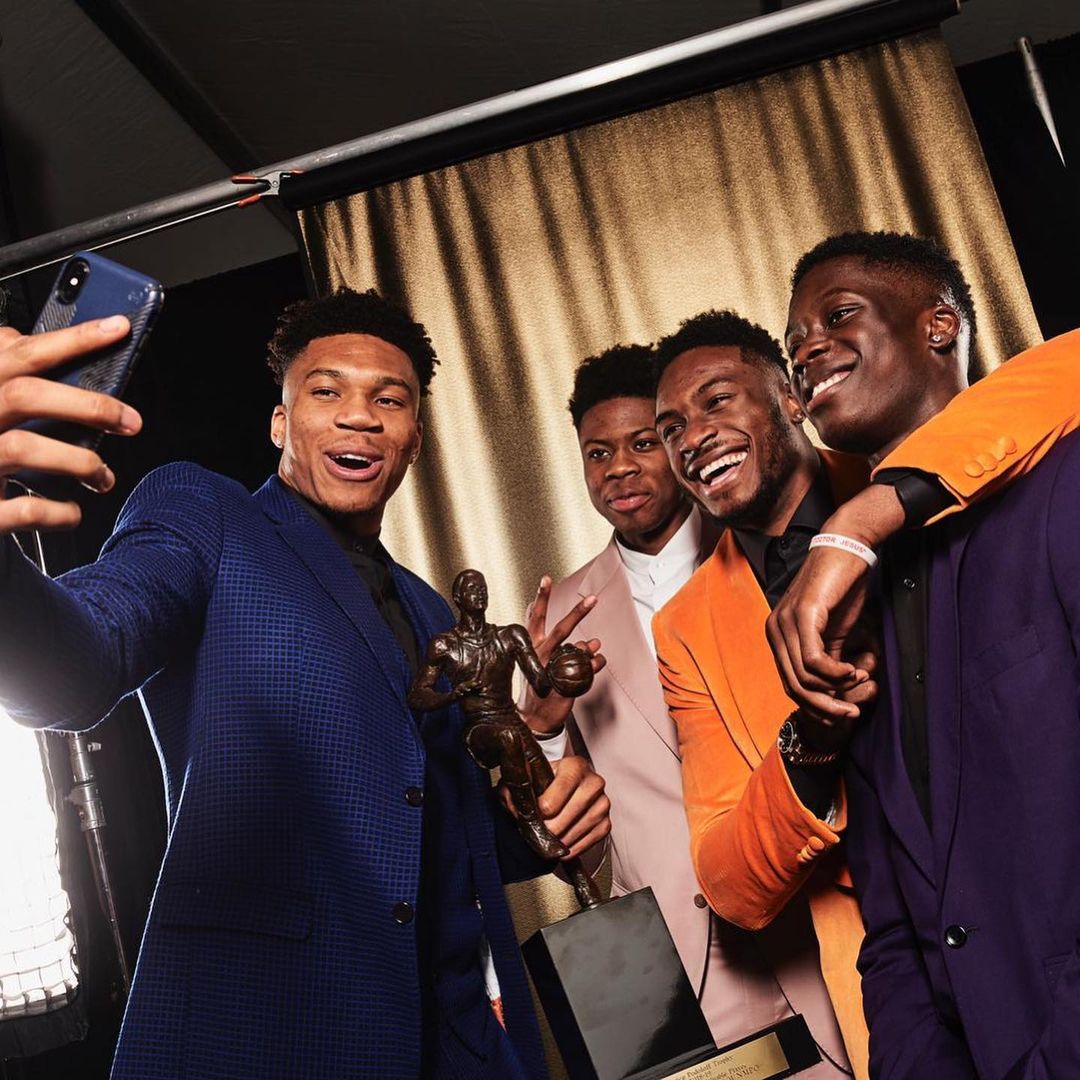 Nevertheless, he brought his best to the game in his sophomore year. Shortly after that, he announced his entrance to the 2018 NBA Draft.
He won the 2020 NBA Championship while playing with the Lakers. Before that, he served as a power forward to the Dallas Mavericks and Texas Legends.
With the EuroLeague return after his release from the Chicago Bulls, he has agreed with Fenerbahce to sign a contract until the end of the 2022-23 season.
Education
Like his older brother Kostas, Alex completed his high school education at Dominican High School. He was a two-time All-State while playing for the school's basketball team.
As a result of his skills and work ethic, he received scholarship offers from different colleges like DePaul, Ohio, and Green Bay.
However, he opted out of college to start his professional career at the Spanish league Liga ACB.
Alex Antetokounmpo | Age, Height, & Weight
Alex is 21 years old as of 2023. He is born under the sun-sign Virgo.
Talking about the basketball player's height, he is 2.03 m tall. Likewise, he weighs about 214 lbs.
Hence, he is fit and has a toned physique. As an athlete, Alex takes great care of his health and diet.
Alex Antetokounmpo | Professional Career
Early Career
Alex started his career in basketball after joining the Dominican High School, and as a freshman, he averaged 2.9 points per game.
Likewise, as a senior in high school, he averaged 20 points and seven rebounds per game.
Professional Career
UCAM Murcia
The basketballer signed a three-year deal with the Spanish team UCAM Murcia in 2020. He plays in one of the best leagues in Spain, Liga ACB.
It's been almost a year since he has been with the team. Although the contract's financial details are not available to the public, the deal is fair for a rookie player like him.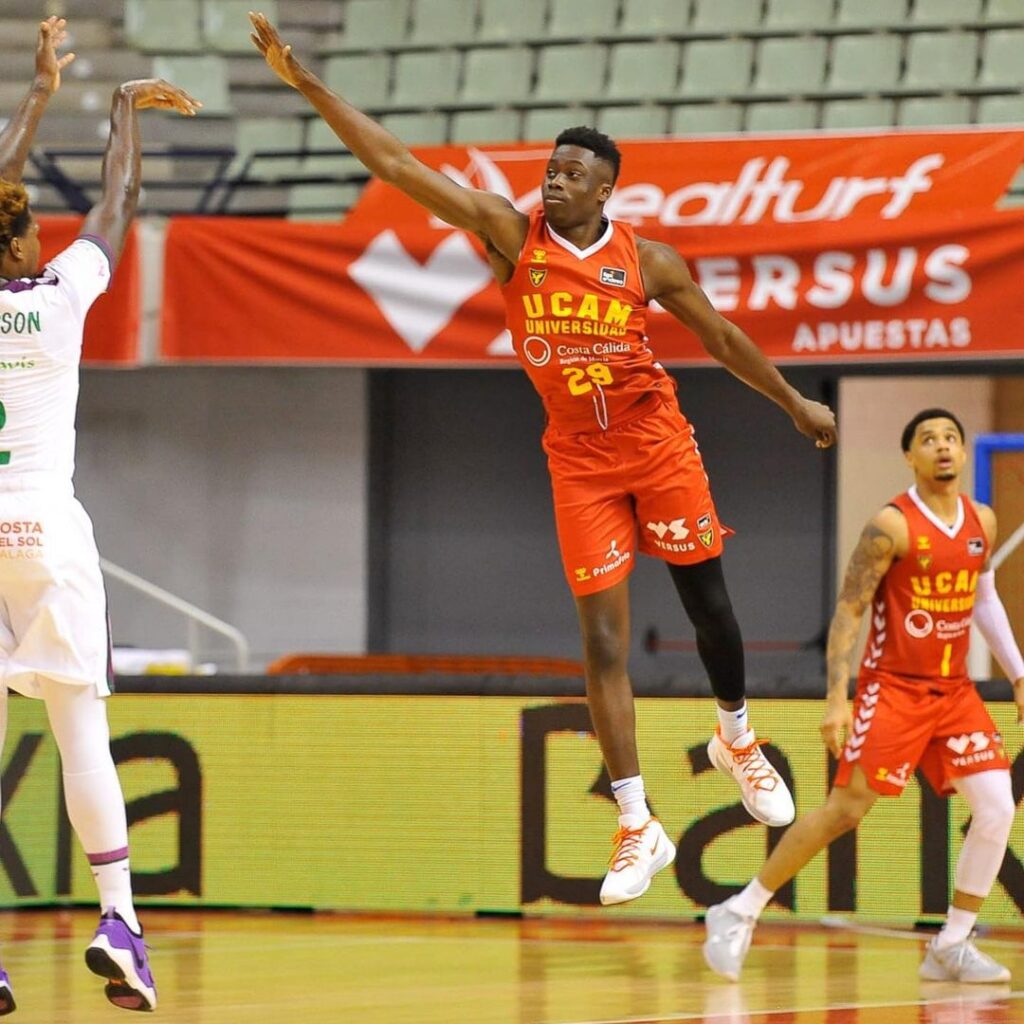 On October 18, he recorded 28 points and six rebounds, shooting 6-of-9 from three-point range, in an 83–69 win over SCD Carolinas, in his first debut for the club's reserve team in the Liga EBA.
Wisconsin Herd (2022– Present)
On November 3, 2022, he was the opening night roster for the Wisconsin Herd.
He signed with Wisconsin Herd on September 17, 2022, on exhibit 10/ Minimum for $1,017,781 as a free agent.
Antetokounmpo, due to illness, across 15 minutes of play, logged zero points (0-4 FG, 0-1 3Pt), three rebounds, one assist, and one block during the Herd's 93-91 win against Grand Rapids on December 31, 2022.
He recovered from his illness before the Herd began their 2023 season. He is expected to continue being a backup. Antetokounmpo averaged 2.6 points and 1.3 rebounds across his 15 games during the 2021-22 G League season.
Family Interview & Rise Release
The Antetokounmpo family joined Yahoo Sports on behalf of their new movie Rise, released on June 24 on Disney+.
Yahoo Sports senior Vincent Goodwill spoke with the Antetokounmpo family about their incredible journey from Greece to the NBA.
Rise is a 2022 biographical sports drama film based on the true story of three young Nigerian-Greek brothers, Giannis, Thanasis, and Kostas Antetokounmpo, who rose to fame and success within the NBA.
Akin Omotoso directed it from a script written by Arash Amel.
Alex Antetokounmpo | Relationship Status & Girlfriend
The small forward is not dating anyone right now.
Alex focuses on his growing basketball career and the upcoming NBA Draft. Hence, all of his attention goes to basketball.
Likewise, he is a full-time professional basketball player living in Spain, so he has very little time between training and games to devote to romantic relationships and girlfriends.
However, his older brother Giannis is in a committed relationship with former volleyball player Mariah Riddlesprigger. He also has a son named Liam Charles Antetokounmpo.
Similarly, Kostas is in a relationship with Demi Filippakou, a certified Hydrotherapist. She has a degree in Physiotherapy.
Alex Antetokounmpo | Net Worth, Salary & Income
Since the player has recently started his basketball career, he hasn't earned a lot of wealth. Nevertheless, his net worth is estimated at $1 million.
He was in a contract with Wisconsin Herd for $1,017,781 as a free agent in 2022.
Besides that, Giannis has a net worth of $70 million, and his career earnings amount to $106,999,970.
Moreover, he earned $27,528,088 in salary for the 2020-21 season.
He is sponsored by well-known companies and brands like 2K Sports, Hulu, and Nike.
Similarly, Thanasis's career earnings in the NBA are over $3 million. He made $1,701,593 in the 2020-21 season.
Trivia
Alex's top influencer has always been his brothers.
His nationality is Nigerian Greek.
He belongs to Igbo Ethnic group.
In 1991, Alex's parents left Lagos, Nigeria.
Alex Antetokounmpo | Social Media Presence
Instagram: 807k Followers
Twitter: 20.4k Followers
View this post on Instagram
Search Graph
Alex Antetokounmpo belongs to the Antetokounmpo family, which makes him automatically famous and known.
Frequently Asked Questions (FAQS)
Will Alex Antetokounmpo get drafted?
Alex is an outstanding player who made 28 points and six rebounds in his debut game with the Murcia. After all, he receives guidance from some of the best NBA players.
Antetokounmpo, after going undrafted in the 2021 NBA Draft, is now playing for Wisconsin Herd as a free agent.
What is the wingspan of Antetokounmpo?
Antetokounmpo is a tall player with a height of 2 meters and a wingspan of 7-2.
Who is the tallest among the three brothers?
Giannis is the tallest of all the Antetokounmpo brothers at 2.11 m, although Kostas is a bit closer, which is 2.08 m; then comes Alex, 2.03 m, and at last Thanasis, the shortest of them all 2.01 m.