When Antetokounmpo won the 2019 NBA MVP award, it seemed like nothing better could happen after that. However, Giannis Antetokounmpo's girlfriend, aka Mariah Riddlesprigger, broke the news that she was pregnant with his child.
Subsequently, in February 2020, the couple welcomed their first child, Liam Charles Antetokounmpo. Since then, many people have wanted to know about Giannis' baby mother.
Questions like, what does she do? How old is she? Are the two lovebirds married? Have been frequently asked. As a result, we have provided our dear readers with this article.
Here you will find all the details concerning her private and professional life. You will also find information on her net worth, salary, age, nationality, family, and social media.
Quick Facts:
| | |
| --- | --- |
| Full Name | Mariah Riddlesprigger |
| Date of Birth | September 17, 1992 |
| Birth Place | Fresno, California, U.S.A |
| Marital Status | In a relationship |
| Boyfriend | Giannis Antetokounmpo |
| Nationality | American |
| Ethnicity | Mixed (African-American) |
| Religion | Christianity |
| Height | 5 feet 10 inches |
| Age | 29 years old |
| Horoscope | Virgo |
| Father's name | Pat Riddlesprigger |
| Mother's name | Cathy Riddlesprigger |
| Siblings | Two sisters (Makayla Riddlesprigger and Maya Riddlesprigger) |
| Weight | 149 lb |
| Hair color | Black |
| Eye Color | Dark-Brown |
| Children | Liam Charles Antetokounmpo |
| Education | Rice University |
| Graduation Year | 2014 |
| Salary | Not available |
| Net Worth | $50 million (Giannis Antetokounmpo's Net Worth) |
| Online Presence | Twitter, Instagram |
| Last Update | March, 2022 |
Giannis Antetokounmpo Girlfriend Bio | Early Life, Family and Education
Mariah Riddlesprigger was born on September 17, 1992, in Fresno, California. Likewise, her mother, Cathy Riddlesprigger, was a regular housemaker.
On the other hand, her father, Pat Riddlesprigger, played basketball for Fresno State University during the late 80s and early 90s.
Aside from that, she grew up with two siblings, Makayla Riddlesprigger and Maya Riddlesprigger. Regrettably, there is not much intel on her sister.
Education
During her college years, Mariah attended Rice University. Subsequently, she graduated with a Bachelor's doctorate in Sports Management in 2014.
However, Riddlesprigger's involvement was not just limited to academics. To explain, Mariah was a part of the college volleyball team.
As a matter of fact, when Riddlesprigger was in high school, the Fresno native was the captain of her high school team. Added to that, she even bagged the MVP title in her senior year.
Giannis Antetokounmpo Girlfriend | Age, Body Measurements & Nationality
Mariah was born in the year 1992. As a result, she is 29 years old currently. Likewise, she hares her birthday on September 17, making his birth sign Virgo.
Moreover, Virgos expect perfection from themselves and also from others around them.
Moving on, Riddlesprigger stands at 5 feet 10 inches and weighs 149 lb. In contrast, her boyfriend measures 6 feet 11 inches (2.11 m) and weighs 242 lb (110 kg).
Aside from that, Mariah has luscious black hair and dark brown eyes. Furthermore, she is of African-American ethnicity.
Giannis Antetokounmpo Girlfriend | Career
Mariah spent two years working in the Rice University ticket office. After that, she had quite the start to her professional career as she got the opportunity to work with the Philadelphia 76ers.
Also check out: Iman Shumpert Wife Bio: Teyana Taylor, Net Worth, Kids, Marriage Wiki >>
She worked as an intern from May 2015 to June 2016, which also included the NBA Summer League. However, it is during her second stint with the organization that Mariah really made a mark.
Besides that, there is not much written about her career. In contrast, there is an abundance of information about her baby father, Giannis' job.
Giannis started his NBA journey with the same franchise that he is currently playing for, Milwaukee Bucks. Moreover, the Bucks selected Antetokoumpo as the 15th overall pick in the 2013 NBA Draft.
Since then, Giannis has become a four-time All-Star (2017-20) and the 2019 NBA MVP. Besides that, he also appeared twice in All-NBA Second Team and NBA All-Defensive First-Team in 2019.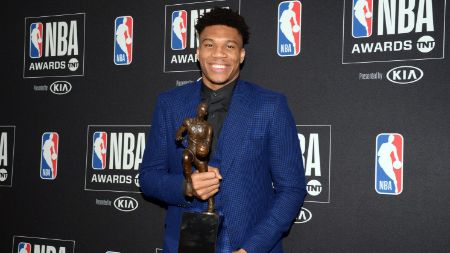 Furthermore, Antetokounmpo helped his side reach the Eastern Conference Final last season. But, they lost to the eventual NBA champions, Toronto Raptors, in the finals.
If you are interested in buying Basketball jerseys, click here>>
Nonetheless, Milwaukee and Giannis have bounced back commendably as they are the no.1 seed in the Eastern Conference. As a result, the Bucks are touted by many as the 2019-20 season's potential champions.
Giannis Antetokounmpo Girlfriend | Net Worth and Income
Well, there is no information when it comes to Mariah's net worth. Furthermore, it does not seem like she is employed at the moment. And, why would you if you're lover is the NBA 2019 MVP, Giannis?
Don't forget to check out: <<Karl Malone Net Worth: Bio, Contracts, Salary, House, Wife, Children Wiki >>
Talking about Antetokounmpo's net worth, he has amassed an incredible $50 million in his seven seasons in the NBA. Likewise, Giannis took home $25.8 million as his salary in the 2019-20 season.
Giannis Antetokounmpo Contract
Giannis is currently in his four-year $100 million deal, which he signed in 2017. Likewise, it is due to end at the culmination of the 2020-2021 season.
Before that, Antettokounmpo was on a rookie scale contract. Moreover, it was a three-year $8.6 million deal.
Who is Giannis Antetokounmpo Girlfriend? Mariah Riddlesprigger & Baby
Mariah is fortunate to have found Giannis as her partner. Although the pair have not been married yet, they are in a live-in relationship.
They first met each other when Mariah interned with the NBA. And they have been happy in a relationship ever since.
If you are interested in buying Basketball boots, click here>>
The couple shares an exceptional bond that only a handful of other couples do. Moreover, Giannis and Mariah often share pictures of each other on their social media handles that show them having a great time.
Besides that, the couple also loves to travel together, as suggested by their Instagram posts. Just recently, the duo traveled to Rome for a romantic getaway.
Hence, all things point towards Antetokounmpo and Riddlesprigger tying the knot very soon.
Well, just Antetokounmpo thought 2019 could not get any better, it did. To illustrate, Mariah broke the news that she was pregnant and that Giannis would be a father.
To commemorate the occasion, Mariah posted a photo with a tiny little stuffed toy and a mini-sized Jersey of Antetokounmpo. Being the comedic genius, Giannis sarcastically commented, "Who's the father?"
Then, in February 2020, Giannis announced on his Twitter handle that he was officially a dad. Subsequently, the couple named their son Liam Charles Antetokounmpo.
Interestingly, the baby's middle name Charles is a homage to his Antetokounmpo's late father, who passed away in 2017.
Social Media Presence:
Twitter: 15.7k followers
Instagram: 44.1K followers
Some FAQs:
Where is Mariah Riddlesprigger from?
Mariah was born and raised in Fresno, which is a city in California's San Joaquin Valley.
How did Mariah and Giannis first meet?
According to sources, Giannis and Mariah met each other when Mariah interned with the NBA.
What is Mariah Riddlesprigger Nationality?
Mariah Riddlesprigger holds American nationality and belongs to mixed (African-American) ethnicity.