Francis Antetokounmpo belongs to the 'Antetokounmpo Family' which is a big name in the basketball industry. The athlete family has given five basketball players, two of whom are currently associated with the National Basketball Association (NBA).
Francis Antetokounmpo is the oldest of the five brothers. He is a semi-professional basketball player. However, he is more profoundly known as a professional soccer player.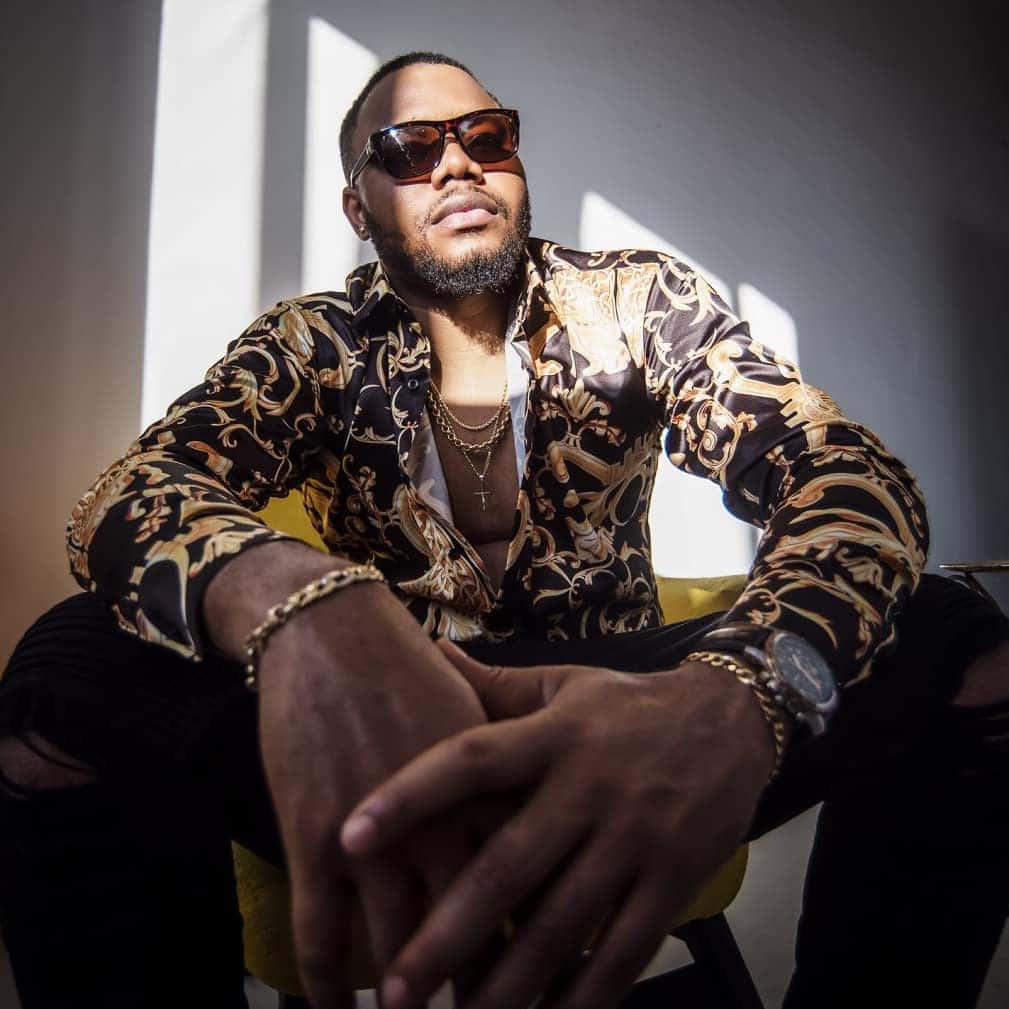 Athleticism is his first love, but he is equally inclined towards music as well. He released his first official single in 2020.
Francis Antetokounmpo might not be as popular as his brothers in the basketball matches, but that does not make him any less.
He has indeed explored more comprehensive and varied genres than anyone in the family.
Today, we will be talking about the oldest Antetokounmpo brother's personal and professional life. Let's get started and find out more about this multitalented personality!!
Francis Antetokounmpo |
Quick Facts
Full Name

Francis Olowu Ofili Adetokunbo (Antetokounmpo)

Known As

Francis Antetokounmpo

Birth Date

October 20, 1988

Birth Place

Lagos, Nigeria

Religion

Not Known

Nationality

Greek

Ethnicity

Nigerian Descent

Horoscope

Libra

Father's Name

Charles Antetokounmpo

Mother's Name

Veronica Antetokounmpo

Siblings

Four younger brothers

Brothers' Name

Thanasis Antetokounmpo

Age
35 years old
Height

6 feet 5 inches (195.58 cm)

Weight

Not Known

Hair Color

Black

Eye Color

Dark Brown

Build

Athletic

Marital Status

Unmarried

Relationship Status

Not Known

Children

None

Profession

Soccer Player

Musician

Basketball Player

Music Video

Shekosi

Position in Soccer

Midfielder

Charity

Antetokounbros 5K Run

Position in basketball

Power Forward

Net Worth

$1 million

Social Media Presence
Instagram
Last Update
November, 2023
Francis Antetokounmpo | Early Life and Family
Francis Antetokounmpo was born on October 20, 1988, in Lagos, Nigeria. He was born to parents Charles Antetokounmpo and Veronica Antetokounmpo.
He has four younger brothers: Thanasis Antetokounmpo, Giannis Antetokounmpo, Kostas Antetokounmpo, and Alex Antetokounmpo.
Moreover, Francis's family has been gifted with supreme athletic genes. All of his siblings have successfully built a distinct identity for themself in the sports industry.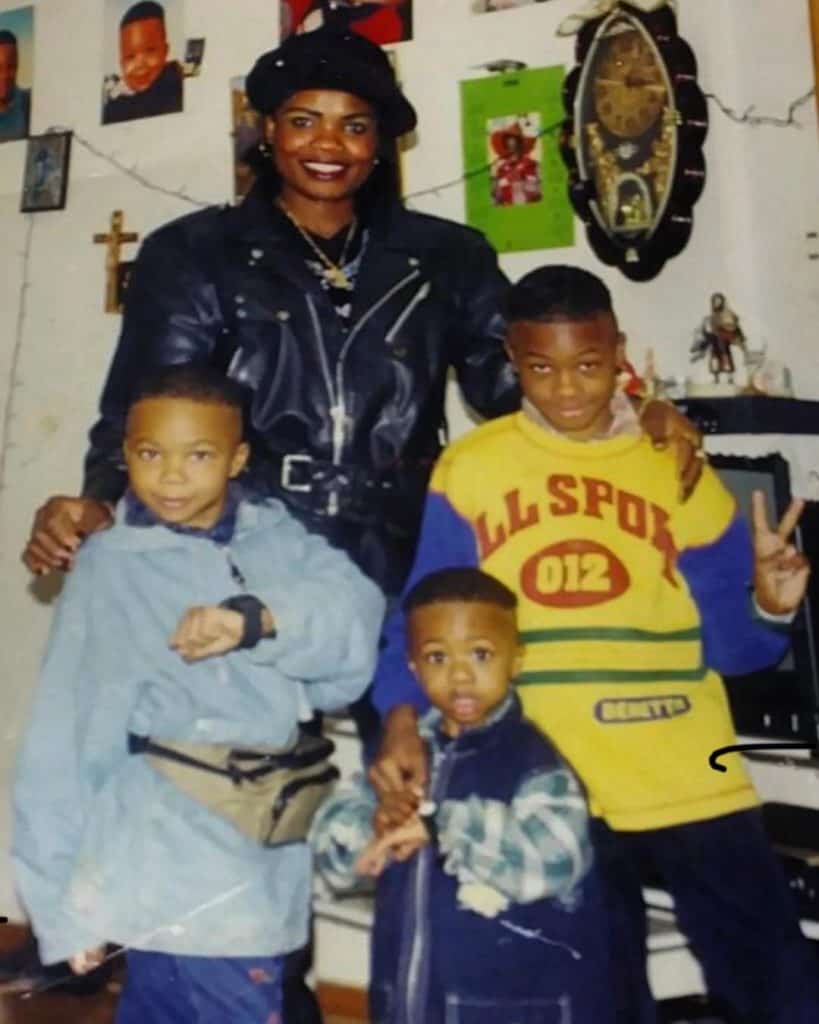 Francis's parents initially lived in Lagos, Nigeria. In fact, they were born Nigerians.
The Antetokounmpo couple chose to move out of the nation for the good of their firstborn. They flew to Athens, Greece, searching for better opportunities in life.
However, they had to leave Francis in Nigeria for a certain period with his grandparents. All the migration and shifting is why Francis is the only Antetokounmpo brother born outside of Europe or Greece.
His father, worked as a handyman while his mother served as a babysitter. The soccer star's parents worked really hard to meet their family's needs. Moreover, they lived as the only black family in the locality.
Although the family moved to a new nation, they never estranged themselves from their Nigerian culture. Francis alongside his sibling while growing up were taught Greek culture as well, but their Nigeran roots always stood dominant.
You might be interested in reading: Jalen McDaniels Bio: Basketball Career, Brother, Salary & Wiki>>>
Antetokounmpo
The original last name of the family is Adetokunbo.
Giannis's passport misspelled it. So then the whole family changed it to Antetokounmpo.
They hold a distinct surname. The idea behind changing it to something even more difficult is mysterious.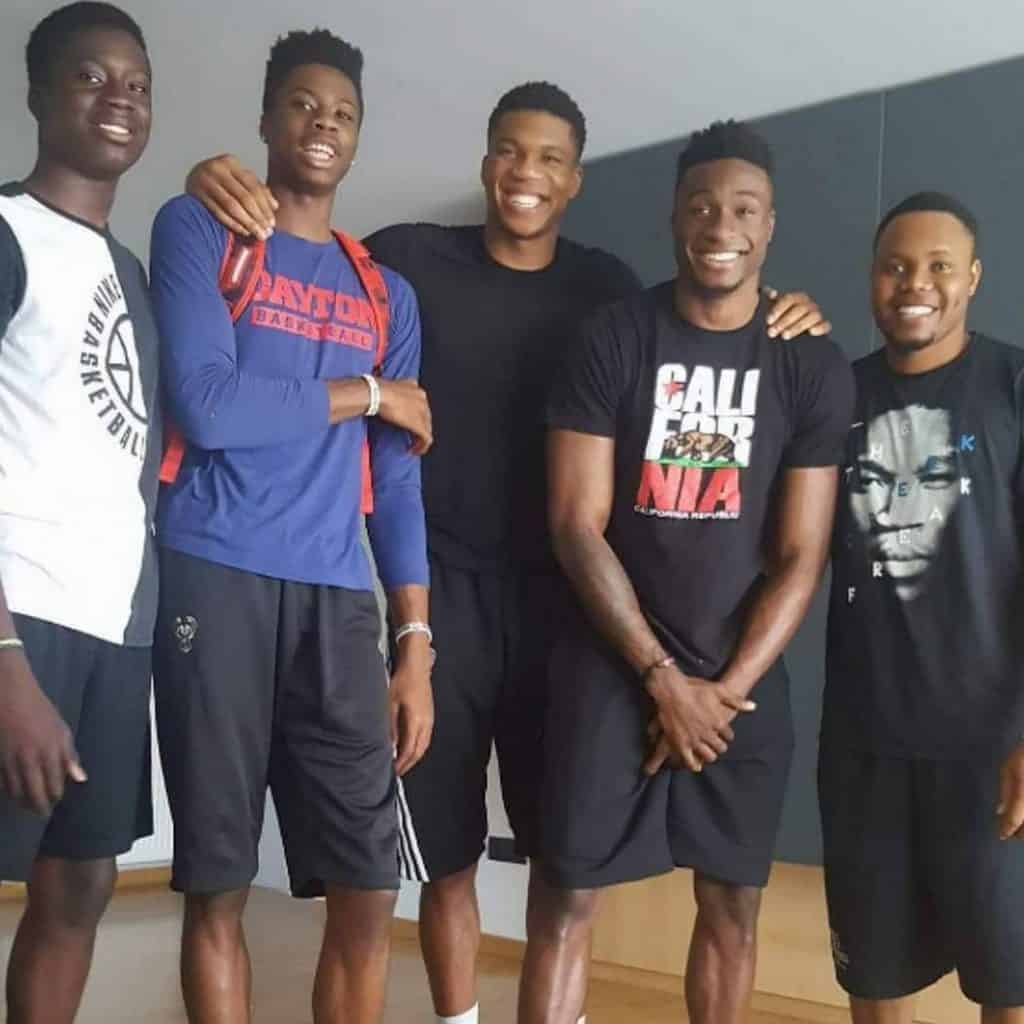 The Antetokounmpo brothers (Francis's Brothers)
Thanasis Antetokounmpo
Thanasis is for years younger than Francis. He started his basketball career in association with the Greek club Filathlitikos. He recorded 12.2 points per game on average with the Greek squad.
The New York Knicks drafted him in the 2014 NBA Draft, the 51st overall pick. However, he debuted in the NBA two years later, in 2016.
The Milwaukee Bucks signed him on July 16, 2019, reuniting him with his brother Giannis.
You might also be interested in reading: DeAndre Bembry Bio: Basketball Career, Family Tragedy, Contract, & Wiki.
Giannis has to be the most popular Antetokounmpo brother as of now. He is six years younger than Francis.
Giannis Antetokounmpo Girlfriend Bio: Mariah Riddlesprigger, Baby Wiki>>
He currently plays for the Milwaukee Bucks of the NBA, alongside Thanasis. The Milwaukee Brewers drafted him in the 2013 NBA draft, 15th overall.
The 6 feet 11 inches gentleman is popularly known as "Greek Freak" because of his size, speed, and ball-handling skills.
99 Famous Giannis Antetokounmpo Quotes for success
Kostas Antetokounmpo
Kostas and Francis have a massive nine years age gap. However, the brothers from the same mother still managed to have a very friendly and brotherly equation.
Kostas was declared for the 2018 NBA Draft. The Philadelphia 76ers drafted him as a final pick. They later traded him to the Dallas Mavericks.
The Los Angeles Lakers claimed him off of waivers on July 21, 2019.
Alex Antetokounmpo
The youngest Antetokounmpo is thirteen years younger than the eldest one. Nevertheless, his four elder brothers have very high hopes for him.
They believe that he holds the potential to be better than all of his brothers.
Antetokounmpo got into a three-year contract with UCAM Murcia of the Liga ACB on June 22, 2020. He also had a pretty successful high school basketball career.
Troy Brown Jr. Bio: Basketball Career, Family, NBA, Net Worth, & Wiki
Francis Antetokounmpo | Sports Career (Soccer and Basketball)
Francis played basketball in Greece alongside his brothers. His brothers were always keen to pursue basketball as a profession. However, Francis did not consider doing it for a living.
He played basketball in a small local club of Filathlitikos. He was associated with the club's senior men's team.
Thanasis and Giannis also played in the senior team of the same club.
Both were part of the pro-level in Greece's 2nd tier league, which Francis did not explore.
However, he played with the club in Greece's semi-pro level 3rd tier league.
He was pretty athletic. He was a fantastic soccer player with significant success on the soccer pitch.
Their love for soccer was perpetuated to him by his father, Charles. Charles also played and loved soccer dearly.
Francis played as a midfielder both in Greece and Nigeria. He was associated with quite a few clubs.
He got associated with AE Sparti, a Greek football club based in Sparta, Laconia, Greece, on January 18, 2018.
Francis broke his ties with them within a few months. He then got involved with Aittitos Spaton, a Greek football club based in Spata, East Attica, Greece, on September 11, 2018. He left the club on January 23, 2019.
Francis played soccer as a professional. But he never played within the United States. Hence, he was never prominent among the United States soccer fans.
You might want to read: Muggsy Bogues Bio: Height, Basketball Career, NBA, Net worth, &Wiki.
Francis Antetokounmpo | Music Career
A Musician in the family of athletes might sound a little unusual. Francis himself is an athlete, but he always carried music in his blood and heart.
His mother, Veronica, was a music enthusiast. It is believed that she could even sing. That must have motivated and pushed Francis towards music.
He released "Shekosi," his first single, on July 22, 2020. It has the guest appearance of Serbian actor Darko Peric.
We might not recognize Peric by his name, but most of us would immediately form an illusion of his face in our head if someone says that he was a part of a Netflix hit series.
Darko Peric is none other than Helsinki from La Casa De Papel (Money Heist).
You can listen to Francis's song on the combined YouTube channel of Antetokounmpo brothers, AntetokounBros Tv.
The music video has 127,629 views, 4.9 K likes, 79 dislikes, and 659 comments as of November 20, 2020.
The audiences seem to have loved the music video, loading it with positive feedback. May the eldest Antetokounmpo shine in the music industry!
Francis Antetokounmpo does not use his first or last name in the music industry. In fact, he calls himself 'Ofili.'
Ofili is his middle name. It is of Nigerian origin and connotes wisdom and greatness.
Francis Antetokounmpo | Charity
The Antetokounmpo organized "Antetokounbros 5K Run" in Athens, Greece, in partnership with NIKE.
Francis, Thanasis, Giannis, and Alex were a part of it. However, Kostas did not participate because of some unknown reason.
The four Antetokounmpo siblings ran along with hundreds of people who answered their call.
They ran through the streets of Athens and the center of the city. Likewise, the center of the city was closed for the event.
It was a 5km course that began at the Triton gym in the area of Sepolia. It ended at the historic Kallimarmanon stadium. The first modern Olympic Games were held in that stadium.
The motive was charity. Hence, every single runner paid €5 for participation. The total sum collected was provided to charity for the help of the "Ark of the World."
It is a non-profit organization that aims to protect and provide help for mothers and children in need.
You might also want to read: TJ Leaf Bio: Basketball Career, NBA, Family, Net Worth, & Wiki.
Francis Antetokounmpo | Net Worth
Francis has explored quite a few different things in his career. He has earned a decent amount of money from all the projects he has ever been a part of.
Francis Antetokounmpo's net worth is estimated to be around $1 million.
Furthermore, he manages to live a decent life. On the other hand, his younger brother Giannis owns a fortune of $60 million. Moreover, he is the Antetokounmpo brother that plays for the Bucks.
99 Famous Giannis Antetokounmpo Quotes for success
Moreover, Thanasis and Kostas also earn a fair amount of money. Their net worth lies between $1 million – $3 million.
The youngest Antetokounmpo is still too young to make fortunes like his elder brothers. However, he would definitely shine in the basketball industry in the days to come.
Undoubtedly, with fame, money will follow.
Francis Antetokounmpo | Social Media Presence
Francis is more into music lately, and he loved his job as a musician. It is quite different than what his brothers do, but the former footballer seems to enjoy it.
Likewise, he dedicates his social media handles like Instagram to music mostly. But also, he is often seen acknowledging and appreciating his younger siblings' victories on social media.
Francis Antetokounmpo | FAQs
Who is Antetokounmpo in basketball?
Antetokounmpo is not a single person in basketball. Instead, it combines five brothers dedicated and attached to basketball.
Francis, Thanasis, Giannis, Kostas, and Alex Antetokounmpo are basketball players. However, Francis didn't play professional basketball.
He was more in soccer. Also, he is making a name as a musician these days.
Every NBA follower must have recognized the popular Giannis Antetokounmpo. Thanasis and Alex are also associated with the NBA.
Alex also looks forward to making it big in basketball like his brothers.
Is Francis Antetokounmpo American?
No, Francis Antetokounmpo is a Nigerian by birth. However, he and his family spent most of their lives in Athens, Greece. The family holds Greek nationality.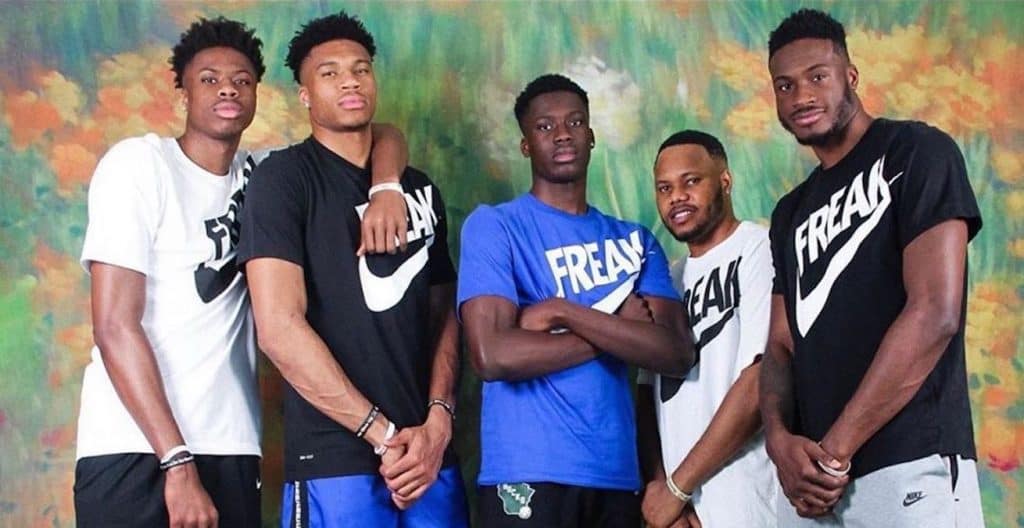 How tall are the Antetokounmpo brothers?
Francis Antetokounmpo is 6 feet and 5 inches. Thanasis and Alex Antetokounmpo stand at 6 feet and 7 inches.
Giannis and Kostas Antetokounmpo are the tallest in the family, standing at 6 feet and 11 inches.
What is Francis Antetokounmpo's transfermrkt value?
His transfermrkt value is not made public in his profile.