At the age of 16, Alex Ovechkin made his professional debut, and, without a doubt, he is one of the greatest ice hockey players of all time.
National Hockey League (NHL) ranked him 19th in the NHL's Top 100 players of the 2019-20 season. He is often called "the Great Eight" or "Ovi."
Thus, it should not come as a surprise when Alex Ovechkin was the first overall pick by Washington Capital in the 2004 NHL Entry Draft. Moreover, he has earned several awards.
He has been winning the hearts of his fans since his debut. Many people who don't watch hockey games are also familiar with Alex Ovechkin, who has been famous for quite some time.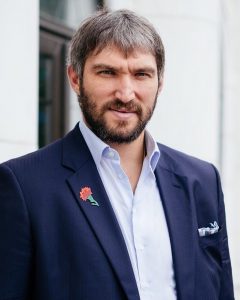 Before moving any further, let's look at Alexander Ovechkin's quick facts.
Quick Facts:
Full Name
Alexander Mikhailovich Ovechkin
Birth Date
September 17, 1985
Birth Place
Moscow, Russian Soviet Republic
Age
38 years old
Nick Name
Alex
Nationality
Russian
Alma Mater
Dynamo Moscow
Horoscope
Virgo
Father's Name
Mikhail Ovechkina
Mother's Name
Tatyana Ovechkina
Siblings
Late Sergei Ovechkina, Mikhail
Height
6 ft 3 in
Weight
107 kg
Shoe Size
Not available
Profession
Professional ice hockey winger
Position
Forward, Left-wing
Relationship Status
Married
Spouse
Nastya Shubskaya
Children
Two (Sergei Ovechkin, Ilya Alexandrovich Ovechkin)
Awards
NHL All-Rookie Team

2018 ESPY Award for the Best Male Athlete

2018 ESPY Award for the Best NHL Player

Affiliation
Washington Capitals, Russian National Ice Hockey Team
Current Team
Washington Capitals
Net Worth
$60 million
Social Media
Instagram, Twitter
Merch
Jersey, Signed Jersey, Autograph, Poster
Last Update
November, 2023
Alex Ovechkin | Early Life, Family
Alexander Mikhailovich Ovechkin, or Alex Ovechkin, was born on September 17, 1985.
His parents, Mikhail Ovechkin and Tatyana Ovechkin, gave birth to him in Moscow. He shared his childhood with two elder brothers, Sergei and Mikhail.
Alex has been a sports enthusiast since childhood, and it turns out that the blood of athletism runs in the family.
His mother was a two-time Olympic gold medalist in 1976 and 1980 in basketball. Moreover, his Father was also a football player.
Introduction to Hockey
At age two, Alex picked up a hockey stick for the first time. He attended Public School, number 596, after moving to Moscow's outskirts, which had a "crumbling neighborhood."
His school was infamous for strict rules and discipline. To escape from his tough school and neighborhood, he turned to sports.
He switched to Dynamo Moscow's sports school after attending eight and a half grades in his previous school.
Alex would attend training sessions early morning and late at night while his friends were "getting high and getting dead."
He also reported that most of them died in an interview, whereas some were in prison. His brother, Sergei, introduced Alex to hockey and encouraged him to pursue hockey.
And if their parents couldn't take Alex to a hockey game, Sergei would. But his chChildhoodhortly met with a tragedy when Sergei, 24, lost his life in a car accident.
Alex was 10 then, which deeply affected him and shaped his life today. The following day, he had a hockey game and remembered crying on the bench.
Sergei was one of the biggest supporters of Alex, and his parents tried to keep up with it. Besides, he does not talk about this openly as he describes it as a challenging moment.
You might also be interested in reading: <<Nazem Kadri: Stats, Contract, Hockey, Wife & Net Worth>>
Alex Ovechkin | Career
Alex is regarded as one of the greatest ice hockey players, and his achievements define this.
The captain of the Washington Capitals of the NHL is the greatest goal-scorer in NHL history. So let's see how it all began.
Dynamo Moscow
Alex made his professional debut with Dynamo Moscow when he was 16. Before being drafted by NHL, he played for three seasons with Dynamo Moscow, scoring 32 goals.
For 2001-02, he played 21 games and scored 4 points. The Washington Capitals drafted Alex Ovechkin for the 2004 NHL.
Unfortunately, due to the 2004-05 lockout, he started with Dynamo Moscow for one more season. He was thus delaying his rookie season. For 2004-05 he played 37 games and scored 27 points.
Moreover, he was the youngest member to play for Russia's national team.
Washington Capitals
Alex Ovechkin made his NHL debut with Washington Capital. His effort was noticed, which earned him the title 'Rookie of the Year.'
In 2007-08, he won his first Hart Memorial Trophy, followed by his second straight first Hart Memorial Trophy in 2008-09. In 2008, he became the first NHL player to score 60 goals in a season.
Moreover, he has broken other records, such as Washington Capital's record for goals in a single season, the most goals by a left-winger, and NHL's first player to score 40 straight goals in a season.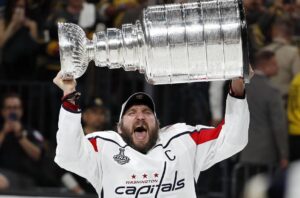 Besides all these records, he is the first-ever player to win all four major awards, which include Lester B Pearson Award, the Hart Memorial Trophy, Art Ross, and Rocket Richard trophies.
For the first time, Ovechkin was suspended by NHL for two games. Eventually, this cost him $98,844 in salary. In 2010, he was named the captain of Washington Capital.
He is the second-youngest player to b become the captain and the first European to become so.
Likewise, Alex has over 700 goals in 1,152 games over his career and three Hart Trophies, Stanley Cup, and 12 All-Star honors.
Unquestionably, he is one of the leading goal-scorer of his generation. His love and passion for ice hockey helped to lead the Capitals to the Stanley Cup.
It was the only second time to win so since 1998. Moreover, he won the Conn Smythe trophy, handed to the most valuable player.
Don't forget to check out: Dylan Larkin
Summary Career Stats
| | | | | | | | | | | | | |
| --- | --- | --- | --- | --- | --- | --- | --- | --- | --- | --- | --- | --- |
| Summary | GP | G | A | PTS | +/- | PS | PIM | SH | GWG | TOI | CF% | oZS% |
| 2021-22 | 2 | 3 | 2 | 5 | 1 | 0.8 | 0 | 11 | 0 | 20:00 | 45.6 | 66.7 |
| Career | 1199 | 733 | 592 | 1325 | 76 | 178.3 | 731 | 5738 | 116 | 20:54 | 52.9 | 57.0 |
Alex Ovechkin | Highlights & Awards
3xTed Lindsay Award (2008, 2009, 2010)
3xHart Memorial Trophy (2008, 2009, 2013)
2xBest NHL Player ESPY Award (2018, 2019)
9xMaurice "Rocket" Richard Trophy (2008, 2009, 2013, 2014, 2015, 2016, 2018, 2019, 2020)
Conn Smythe Trophy (2018)
Stanley Cup champion (2018)
NHL All-Star team (2019)
Calder Memorial Trophy (2006)
Art Ross Trophy (2008)
Best Male Athlete ESPY Award (2018)
Alex Ovechkin | Personal life & Wife
Alex is married to his beautiful wife, Nastya Shubskaya. They first met at the Summer Olympics 2008, held in Beijing.
It started as a friendship and exchanged phone numbers. After losing her phone, they lost touch for five years.
Things quickly moved from friendship, and in 2016 they signed their marriage certificate in Russia and held a ceremonial wedding a year later.
Previously known as Anastasia Shubskaya, she is a professional model and the daughter of the famous Vera Glagoleva. In 2014, she was one of the "Top 10 Bachelorettes in Russia."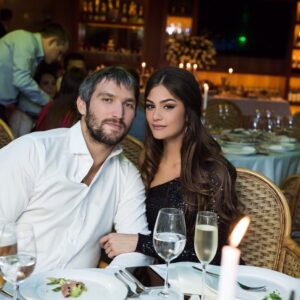 Although she was already in showbiz, she came into the limelight after being romantically involved with Alex.
The couple announced that they were expecting their first child in June 2018. And on August 18, Nastya gave birth to their first son.
They named him Sergei to honor his eldest brother. His son's birth was announced through a picture of Sergei's little foot, and his face was revealed a year later.
On May 27, 2020, she gave birth to their second son, Ilya Aleksandrovich Ovechkin. They announced his birth through Instagram.
You may also be interested in Keith Yandle.
Alex Ovechkin | Net Worth
On 2005 August 5, he signed three year deal with Washington Capitals, his annual salary being $3.9 million.
Moreover, he signed an extension contract for 13 years worth $124 million in 2008. His average salary was $9.5 million annually, making it the richest in the NHL year.
With fame comes success, and with success comes wealth. It is without a doubt that Alex is one of the wealthiest hockey players in the world.
Thus it is unsurprising that Wealthy Gorilla ranked him fifth among the richest hockey players in 2020.
"As of 2023 ALEX OVECHIKIN net worth is $60 million."
Alex's hobby includes collecting cars; they owned seven automobiles in 2013.
In 2012, he bought a House in McLean, Virginia, worth $4.2 million. The House is reported to have five bedrooms, 11,000 sq. ft—space, and 7.5 bathrooms.
Alex Ovechkin | Personality
His family bought up Alex in a modest way by his parents. His mother was mainly on the road winning games.
In addition, his Father gave up football due to a leg injury and was a cab driver for some time before leaving his job to focus on Alex.
In an interview with GQ Magazine, he said he wasn't very used to the luxurious stuff. Enthusiast, hyperactive, and fidgety are the correct adjectives that can be used to describe Alex.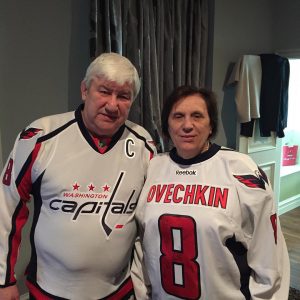 Furthermore, he is always on the go, and there is no turning back once he sets his mind on something.
And this can sometimes lead him to be stubborn. Well, at least we know he is a man of his principles.
Alex can be carefree and reckless on the ice at times. For instance, NHL was suspended for three games in 2012 without pay for hitting Zbynek Michalek, a defenseman of the Pittsburgh Penguins.
Besides, he is gifted with sound common sense. And sees beauty and potential in little things.
He has been in the limelight for over a decade and has learned to live with it. He enjoys and is comfortable with the spotlight he receives.
For instance, in 2009, after a goal against Montreal, he put his hand in his ears to encourage his fans to cheer louder.
Alex has always been a family man. He asks for his parent's advice when in trouble. His parents often come to see his games. He regularly posts about his wife and children on social media.
Moreover, to keep his late brother close to him, he inscribed the name "Sergei" on the gloves which he wore in Dynamo Moscow. And after every goal, he would kiss the glove.
You may also be interested in Nikita Kucherov.
Social Media Presence:
Alex is pretty famous on social media and regularly updates his fan through it. You can follow him on social media via these links.
Instagram: 1.6 million followers
Twitter: 2.5 million followers
Some FAQs:
What jersey number does Alex Ovechkin wear?
Alex Ovechkin wears jersey number #8 as the professional hockey player for the Washington Capitals.
What are Alex Ovechkin's rookie cards worth?
Alex Ovechkin's rookie cards range from $48.55 to $6,500.
What is Alex Ovechkin's Nationality?
Alex Ovechkin is Russian by Nationality.
What is Alex Ovechkin's goals record?
Alex Ovechkin has 730 career goals.
Is Alex Ovechkin right or left-handed?
Alex Ovechkin is right-handed.
What position does Alex Ovechkin play?
Alex Ovechkin is a professional hockey player who plays in forward and left-wing parts.
How is Maria Kirilenko related to Alex Ovechkin?
Maria Kirilenko and Alex Ovechkin were romantically involved and engaged in each other in 2014.
Who is Alexander Ovechkin's fiance?
Alexander Ovechkin is happily married to his beautiful wife, Anastasia Shubskaya, who also goes by the name Anastasiya. The duo got married in 2016.