With summer here and lockdown still happening, many miss the cool breeze and swimming, something we took for granted.
But no one has missed the ice and sliding in it like our athlete, Keith Yandle, a professional National Hockey League(NHL) player.
Keith is a veteran when it comes to ice and has been playing since 2006. At the moment, Yandle is serving as a stellar defenseman and alternate captain for the Florida Panthers.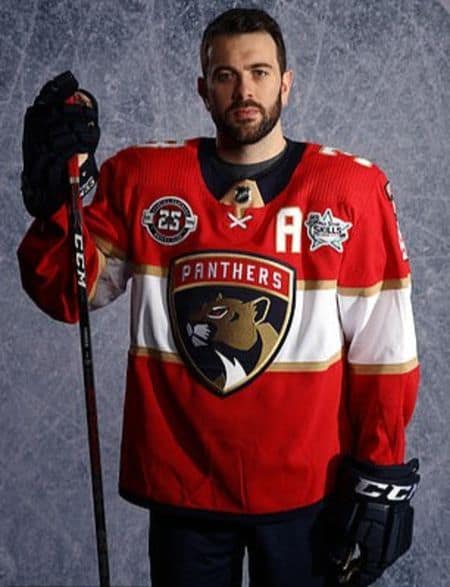 We have seen what he can do on the ice, but how about his real life? Today, we will try to look deep into his personal life from dating, college years, marriage, and many more.
Quick Facts
| | |
| --- | --- |
| Full Name | Keith Michael Yandle |
| Birth Date | September 9, 1986 |
| Birth Place | Milton, Massachusetts, US |
| Alias | Keith |
| Religion | Christian |
| Nationality | American |
| Ethnicity | White |
| Education | University of New Hampshire |
| Horoscope | Virgo |
| Father's Name | Bud Yandle |
| Mother's Name | Unknown |
| Siblings | An Older Brother |
| Age | 36 Years Old |
| Height | 6 feet 1 inch (185 cm) |
| Weight | 86 kgs (190 lbs) |
| Build | Athletic |
| Eye color | Dark Brown |
| Hair color | Dark Brown |
| Profession | NHL Professional Player |
| Active years | 2006-present |
| Team | Florida Panthers |
| Social Media | Instagram, Twitter |
| Marital Status | Married |
| Wife | Kristyn Yandle |
| Children | Daughter |
| Net Worth | $20 million |
| Merch | Hockey Card, Autographed Items, Equipment |
| Last Update | May, 2023 |
Who is Keith Yandle?
Keith Michael Yandle is a veteran ice hockey player and has been active for over 14 years now.
Starting from the Phoenix Coyotes, currently, he serves as a defenseman for the Florida Panthers. Also, he was drafted in the 2005 NHL draft in the fourth round, 105th overall.
Keith Yandle | Age, Body Measurements, Height, and Weight
One of the team's critical members, Keith Yandle, has been courteously serving as one for the Florida Panthers.
He was born on September 9, 1986, which makes him 33 years as of now. Yandle's sun sign is Virgo, the sign well known for being smart, logical thinker, and emotional.
True to this, the defenseman's role is more than just brawling and strength; it also needs proper planning and quick reflex. Aside from his strategic plan, Yandle's physicality also helps for the deed.
Likewise, Yandle stands at 6 feet 1 inch (185 cm) and weighs around 86 kgs(190 lbs). Thanks to his years and years of training, Yandle has mastered the control of his body.
Other than that, Keith is a charismatic man who looks dandy with those dark brown eyes and the same shade of hair.
Keith Yandle | Childhood, Family, and College
Keith Yandle, whose full name is Keith Michael Yandle, was born and raised in Milton, Massachusetts, the United States of America.
He is the son of the father, Bud Yandle, while her mother's identity is unknown.
Besides his parents, Yandle has an older brother named Brian Yandle, whom he grew up with. Sadly, other information and their current whereabouts are unknown as of now.
Likewise, Keith is an American citizen who belongs to a white ethnic background. Still, his religious belief is hard to pinpoint.
As for his education, Keith went to Milton High School and Cushing Academy during his childhood, where he played hockey. After that, he enrolled at the University of New Hampshire.
However, he chose to let go of the idea of going to college and instead went to play for the Moncton Wildcats.
Keith Yandle | Early Career & Amateur Years
Based on the little trails we got about Keith, he has played ice hockey since he was a kid. Hence, from childhood, Yandle had wanted to pursue a professional career.
Likewise, as a youth, Keith played in the 2000 Quebec International Pee-Wee Hockey Tournament with a minor ice hockey team from the South Shore. He continued playing ice hockey in his high school and college years too.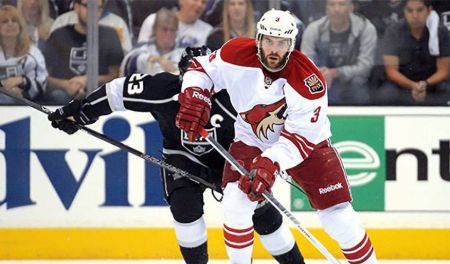 Not to mention, Yandle attended the University of New Hampshire, where his older brother, Brian, played from 2002 to 2006.
Later in his career, Yandle forgoes his academics and instead played for the Moncton Wildcats of the Quebec Major Junior Hockey League(QMJHL).
From 2005 to 2006, Keith played in 66 games where he recorded 25 goals and 59 assists for 84 points during his amateur years.
Similarly, the Wildcats won the QMJHL championship. At that time, Yandle got the QMJHL's Emile Bouchard Trophy for the best defenseman and Telus Trophy for defensive player of the year.
Keith Yandle | Professional NHL Years
Finally, in the 2005 NHL draft, the Phoenix Coyotes picked him in the fourth round, 105th. And Yandle made his debut on October 11, 2006, against the Detroit Red Wings, where he played for the entire 20 minutes.
Likely, Yandle participated in the American Hockey League All-Star Game as a PlanetUSA team member in the following season. Then straight to 2010, Keith got took part in his first Stanley Cup playoff game.
There he scored his first goal for Phoenix against Detroit and eventually a tie. Later he would assist a goal and be named one of the game's three stars.
In 2011, NHL All-Star Game named him a replacement for the Atlanta Thrasher's Tobias Enstrom.
That same year in July, he began as a free agent and soon enough signed a five-year contract extension with the Coyotes worth $26.25 million.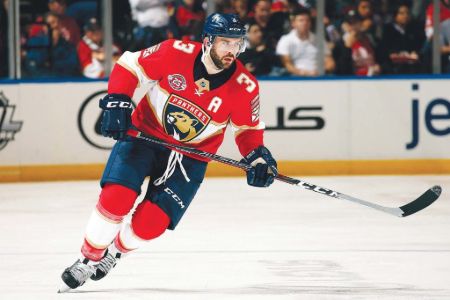 Moreover, in the 2012 Stanley Cup playoffs, Yandle proved to be an integral part of the game against the Los Angeles Kings.
Held at the Western Conference Final, he contributed nine points during their run.
Likewise, on November 14, 2014, Keith played his 400th consecutive game with the team.
As a matter of fact, he is the second all-time on the franchise's most extended consecutive games list, right after Dale Hawerchuk.
The following year, Keith was then traded to the New York Rangers in exchange for defenseman John Moore.
After a year, he was again traded by the Rangers to the Florida Panthers in exchange for a conditional 2017 fourth-round draft pick and a 2016 sixth-round draft pick.
Thereafter, the Panthers signed Keith signed for a seven-year contract worth $44 million, just three days after the trade. He continued to wear jersey number 3 for the Florida team.
Two years into the team, Panthers moved Yandle into the leader position for most consecutive games, 676 at that time.
The change happened slightly after Anaheim Ducks forward Andrew Cogliano was suspended after playing 830 consecutive games back in 2018.
Severe Dental Injury
In 2019, the defenseman lost nine teeth after taking a puck to his mouth against the Carolina Hurricanes. He was spitting blood in the ice rink before being assisted by a dentist.
However, he did not leave the game after being hit in the first period. Yandle missed the second period while being attended by a dentist but returned in the third period to finish the game.
Even then, the athlete did not miss any games. He had some quick dental work on Sunday morning after being hit on Saturday. After that, he was all ready to go in the Sunday evening game against the Buffalo Sabres.
No wonder Keith has maintained an Iron Man streak. He hasn't missed a game since March 26, 2009, and has played 922 consecutive games.
Keith Yandle | Stats
| | | | | | | | | | | | |
| --- | --- | --- | --- | --- | --- | --- | --- | --- | --- | --- | --- |
| Year | GP | G | A | P | +/- | PIM | PPG | PPP | SHG | S | S% |
| Playoffs Career | 58 | 6 | 30 | 36 | -2 | 26 | 1 | 18 | 0 | 105 | 5.7 |
| NHL Career | 1,032 | 102 | 498 | 600 | -56 | 602 | 38 | 282 | 0 | 2,301 | 4.4 |
Get detailed information on Yandle's projections and stats on Rotowire and Hockey Reference.
Is Keith Yandle married? Wife and Children
Just as his professional life, Keith's personal life is also a hot topic to many of his fans. Well, to let it out, Yandle is a married man as of now. He is married to his long-time girlfriend turned wife, Kristyn Yandle.
Despite the lack of details, it is said the two have been dating for a long time. Keith's wife was born and raised in Dorchester, Massachusetts, and she is known for doing many charity and social works.
Other details have been kept away from the public eye.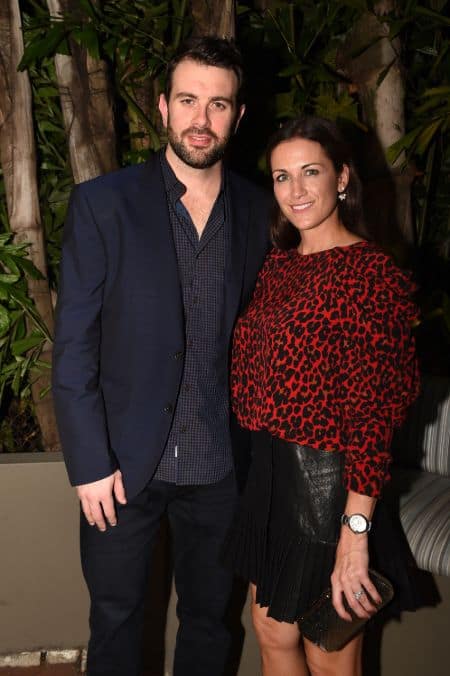 Moreover, the lovely couple welcomed their first child, a daughter named Mila Yandle, in 2011. They have not welcomed anyone new into their family since then.
As a matter of fact, the couple is very blessed and happy with what they have at the moment. And, of course, both of them have not been in any rumors or allegations that could ruin their relationships.
Similarly, there is no mention of Keith's past relationships anywhere in the media. And the same goes for his wife as well. So now, the small family is living their blissful life in their residence in New York City.
Keith Yandle | Net Worth and Income
Being on the ice for over 14 years has earned him enough recognition and fame for Keith Yandle. As a matter of fact, he has accumulated a generous amount from his career as well.
According to recent data, Keith has garnered a net worth of $20 million. Throughout his career, Yandle has made many million-dollar contracts with well-known teams.
Reportedly, Keith signed a seven-year contract with Florida Panthers for $44,450,000 back in 2016. As for his salary, the 33-year-old player makes around $7,500,000 in his yearly paycheck.
Moreover, Keith's average salary happens to be $6,350,000 annually. Also, to this date, he has made more than $53,196,828 from his successful NHL career.
Keith Yandle | Social Media Presence
The superstar and ice hockey player is active in social media as well. You can follow him on his official Instagram and Twitter to know more about him even though he barely updates.
Keith Yandle | FAQs
Why was Keith Yandle benched?
Yandle was benched by Joel Quenneville in Game 3 against the Tampa Bay Lightning as he was having a hard time in the first two games. He made four giveaways that gave Tampa a chance to score.
He was benched alongside Sergei Bobrovsky. Furthermore, the NHL player was inactive while Sergei was put as a backup for goaltender Chris Driedger.
Coach Joel said that it wasn't an easy decision. Keith is the second-highest paid player in the Panthers' active roster. You can see his Cap hit in CapFriendly.
How long is Keith Yandle's streak?
Currently, the NHL defenseman has the second-longest streak and the longest active streak in the NHL. He has played 922 games without missing a single game since March 26, 2009.
Besides that, in March of 2021, he completed his 1000th game and was gifted a cool golf cart by his team. The golf cart had all of his team's logos and had '1000 NHL Games' written in the front.
What is Keith Yandle's workout routine?
The athlete mostly does strength training rather than running. He said that since running is hard on his joints, he mostly does a lot of stationary bike work.
Likewise, he owns a road and mountain bike and goes for a spin twice a week for some natural scenery.
Besides that, he works out with professional fitness trainers. Furthermore, the player also does pilates for a good stretch along with workouts.
How much is Keith Yandle worth?
Yandle is reportedly worth $20 million.
Is Keith Yandle a healthy scratch?
Yes, Keith was a healthy scratch in Game 4 against the Tampa Bay Lightning.