Allison Williams is an American sportscaster who works for Fox Sports and is the former host of Marlins Live on ESPN.
Many renowned figures such as Jamie Little, Molly McGrath, Laura Rutledge, and Bonnie Bernstein have worked with ESPN, and Williams began her career alongside these accomplished reporters.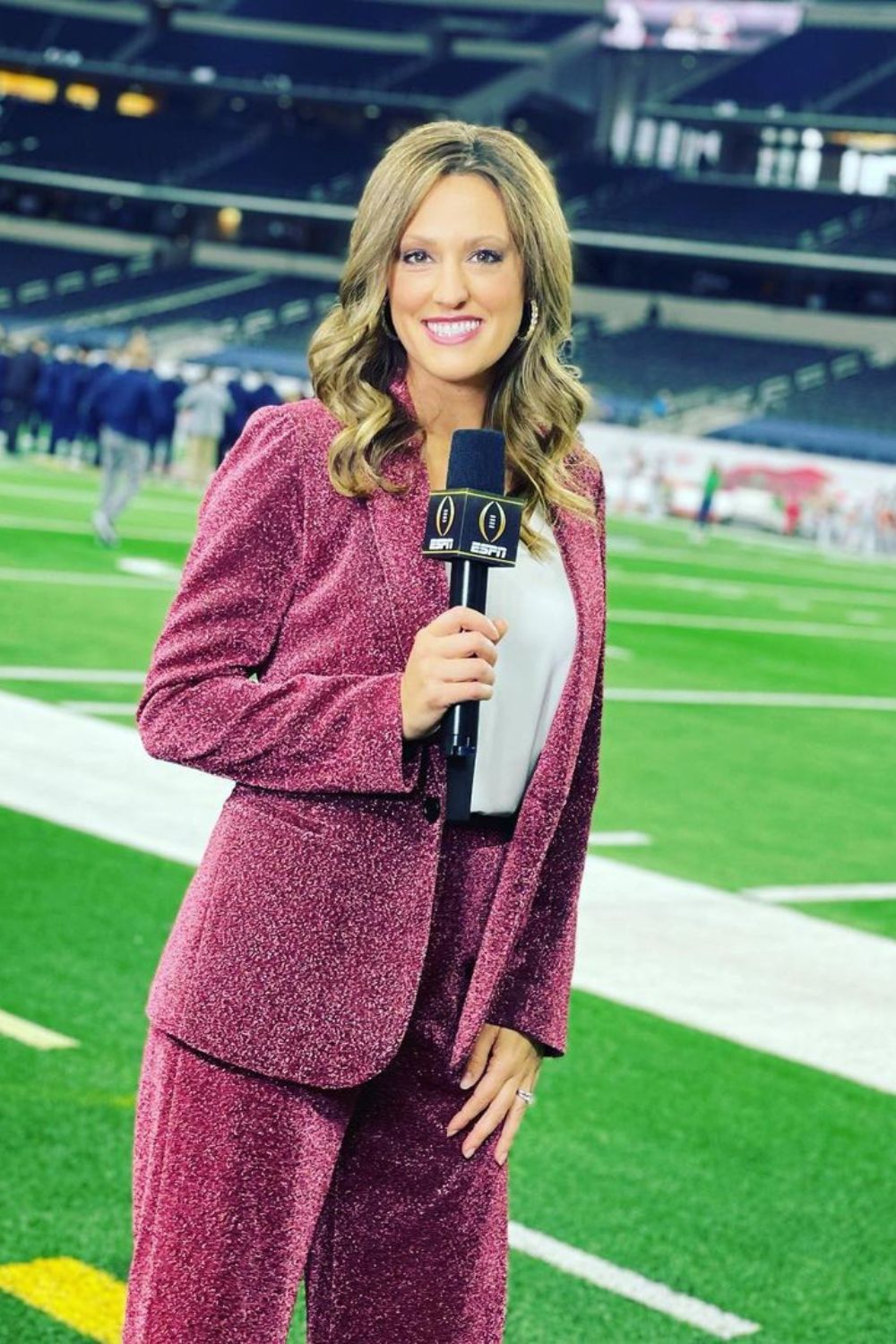 She is a hard-working individual who is very hard to miss while on the field, covering NFL, NBA, and other sports.
At a young age, Allison set out to make a name for herself in journalism.
Growing up in Miami and developing an adoration for sports led Williams to journalism, and what better network to work for than ESPN?
Today, we will delve into the life of the beautiful sportscaster, career, early life, net worth, and personal life.
Let's first check the undermentioned facts!
Quick Facts
| | |
| --- | --- |
| Full Name | Allison Williams |
| Birth Date | January 18, 1984 |
| Age | 39 Years Old |
| Birth Place | Ann Arbor, Michigan, USA |
| Famous Name | Allison |
| Religion | Undefined |
| Nationality | American |
| Ethnicity | Caucasian |
| Education | University Of Miami |
| Horoscope | Capricorn |
| Father's Name | Dale Williams |
| Mother's Name | Unknown |
| Siblings | None |
| Height | Estimated 5 ft 5 in / 1.65 m / 165 cm |
| Weight | Unavailable |
| Hair Color | Dark Brown |
| Eye Color | Black |
| Body Measurement | Unknown |
| Married | Yes |
| Husband | Samuel Fred Coutts |
| Children | Yes (Son: Lyle Samson) Daughter (Alexandra Marie Coutts ) |
| Profession | Sideline Reporter |
| Net Worth | Around $1 Million |
| Affiliations | Fox Sports (Current), ESPN (Former) |
| Active Since | 2006 |
| Social Media | Instagram, Twitter |
| Last Update | March 2023 |
Early Life, Education, & Parents
Allison Williams is an American sportscaster born on January 18, 1984, in Ann Arbor, Michigan, to her father, Dale Williams, and her mother, whose information is nowhere to be found.
She has a brother named Evan Williams; other than these, we could not find detailed information regarding her family.
Similarly, as a native of Michigan, the sportscaster belongs to the Caucasian ethnicity.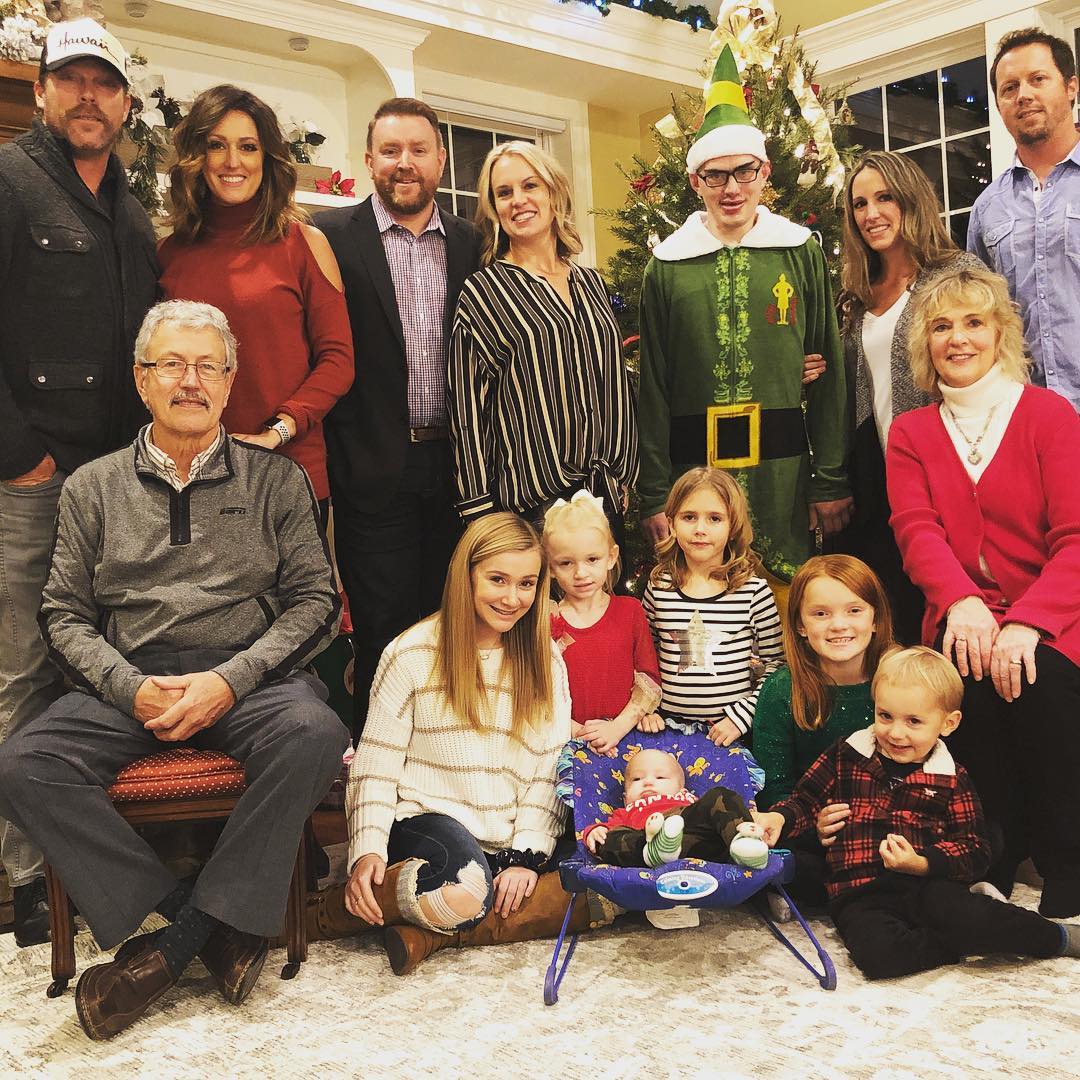 Williams is a Capricorn, according to horoscopic charts.
Moreover, as for her education, Allison is a graduate of the University of Miami with a degree in journalism.
Age & Body Measurements
The Michigan-born sportscaster is 39 years old as of 2023.
Moving on to her body measurements, not much is available. But, as it turns out, Williams is almost 1.65 meters tall.
Williams has brown eyes that go hand in hand with her brown hair, an oblong face, thin lips, and a perfectly dimpled cheek complimenting her captivating beauty.
Her work ethic and determination have been consistent for over a decade.
Similarly, Allison's effort is praiseworthy, for no one should lightly assume that being a reporter is easy.
The Ann Harbor native possesses a very enticing body and comfortably makes the list of attractive sideline journalists.
Sideline Reporter
Allison pursued her dream of becoming a Journalist after completing college.
CSS immediately hired her as a high-spirited graduate to cover college-level basketball and football matches.
Gradually, Williams' natural hosting ability led the network to assign her as an anchor for a segment called Ultimate Fan Experience.
The Michiganites traveled to Florida to work for FOX Sports after the CSS contract ended in 2010.
At the same time, upon arrival at FOX Sports and discussing service terms, the network decided to enlist Allison as a sideline reporter and a pregame show host.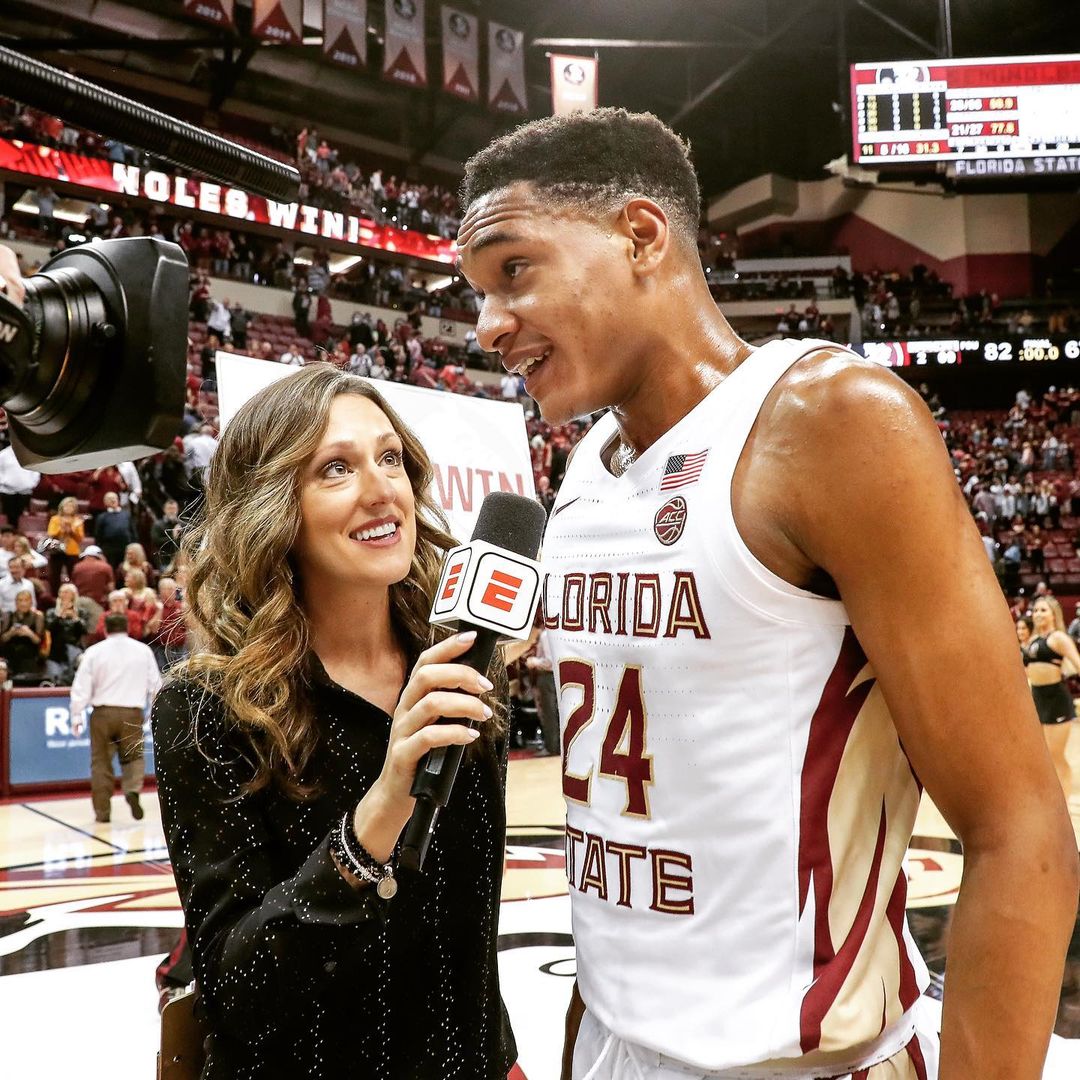 Besides, she covered the Florida Panthers hockey team and the Florida Marlins baseball on home games with play-by-play man Steve Goldstein, color analyst Bill Lindsay, and sportscaster Frank Forte.
FOX Sports gave more opportunities to Williams, as she got to host a show called Miccosukee Sports Rap.
Eventually, the Miami Dolphins acquired her as a team member to report on their games and anchor Dolphins Game Day Live.
With sufficient experience, the sportscaster ventured into radio, wherein the Michigan-born undertook the hosting roles for Radio 560 WQAM for a year.
ESPN
Thus, with lots to give and a lot to prove, Williams applied for a post at ESPN.
The network accepted her request, and as of March 2011, Allison proudly reported for the said network.
In the same way, working at ESPN brought the limelight that the sportscaster never thought possible.
The broadcasting company entrusted her to handle the Big Monday segment's hosting duties that widely covered college games.
In 2016, Allison moved from the Friday ESPN Night college football game to the Saturday slots on ABC/ESPN.
She worked with analysts Brock Huard and commentator Bob Wischausen.
After fulfilling the roles designated to her, Allison found another segment to be a part of; The Jason Taylor Celebrity Golf Special. However, fate turned, and she had to face some uncertain challenges.
Williams departed from ESPN in October 2021 because she did not want to take the COVID-19 vaccination as she was planning for her second baby.
As ESPN mandated the COVID-19 vaccination, following the reason she resigned from the network.
She posted a 5-minute video to update her fans and followers, stating that her request was denied by the ESPN and Walt Disney Company.
Fortunately, after leaving ESPN, she joined The Daily Wire.
Lawsuit
Allison, a former ESPN reporter, joined hands with another former ESPN producer Beth Faber and filed a case against the sports network in Connecticut on 08 January 2023.
They claimed their religious beliefs were violated.
In August, she applied for disability exemption from the network's vaccine mandate as she was undergoing in vitro fertilization.
At the time, she could not get a doctor's letter to support her concerns due to threats given to medical providers for doing so in California, leading her to apply for a religious exemption weeks later.
She claimed she was a Christian and sincerely believed in prohibiting vaccination.
But anyway, they were fired in 2021 for failing to comply with the company vaccine rule.
The lawsuit claimed that ESPN and Disney made no effort to accommodate her even after they offered to work remotely and follow all other things expect being vaccinated.
The 83-page complaint alleged Disney's vaccine mandate was not their doing but a "state action" influenced by its "symbiotic relationship with the Defense Department."
They sought "compensatory damages, back and front pay, reputational damages, damages for emotional trauma and distress, punitive damages, reasonable attorneys' fees and costs of the action, pre-and post-judgment interest."
As the case is still going on, and there have been no updates on this case as of this writing. We will be sure to update you when the verdict is returned.
Celebrity Doppelganger / Famous Dad
Allison Williams earned her name through hard work in broadcasting, which brought some fame.
However, it has some downfalls; she was often confused with Allison Howell Williams, who received critical fame for her role in HBO's Girls and the highly acclaimed movie Get Out.
While both Williams served very different fields, people often confused her with the actress, while she had to clear the real things.
Similarly, she was asked if her father is a renowned anchor, Brian Williams, who worked for CBS and NBC.
As he served in the same field as Allison, there were rumors that they could be related because of their profession and last name.
Nevertheless, Allison denied all the rumors happily and cleared the confusion.
Net Worth, Salary & Income
The former ESPN reporter, Allison, proudly sits on a stunning net worth through a decade-long service at ESPN and Fox Sports.
Allison Williams's net worth is estimated at around $1 million as of 2023.
She plans to extend her contract to continue her services at one of the world's most prominent networks.
Sadly, we could not find her exact salary, but we have an estimated range that the analyst may have pocketed of $33k to $75k.
It is a considerable sum that became possible through the relentless dedication and loyalty to the craft.
Moreover, some sources confirmed that in 2019, Allison received a whopping salary of $300k.
She lives a quality life with her husband and children. The couple is often seen touring different parts of countries and enjoying vacations.
Husband & Kids
Allison is a married woman; her husband's name is Samuel Fred Coutts. They have been married since 2017.
Even though Williams is a famous sportscaster, she has kept her husband's profile low-key.
Through her Instagram post, we noticed that the sportscaster exchanged vows with Coutts in a romantic venue.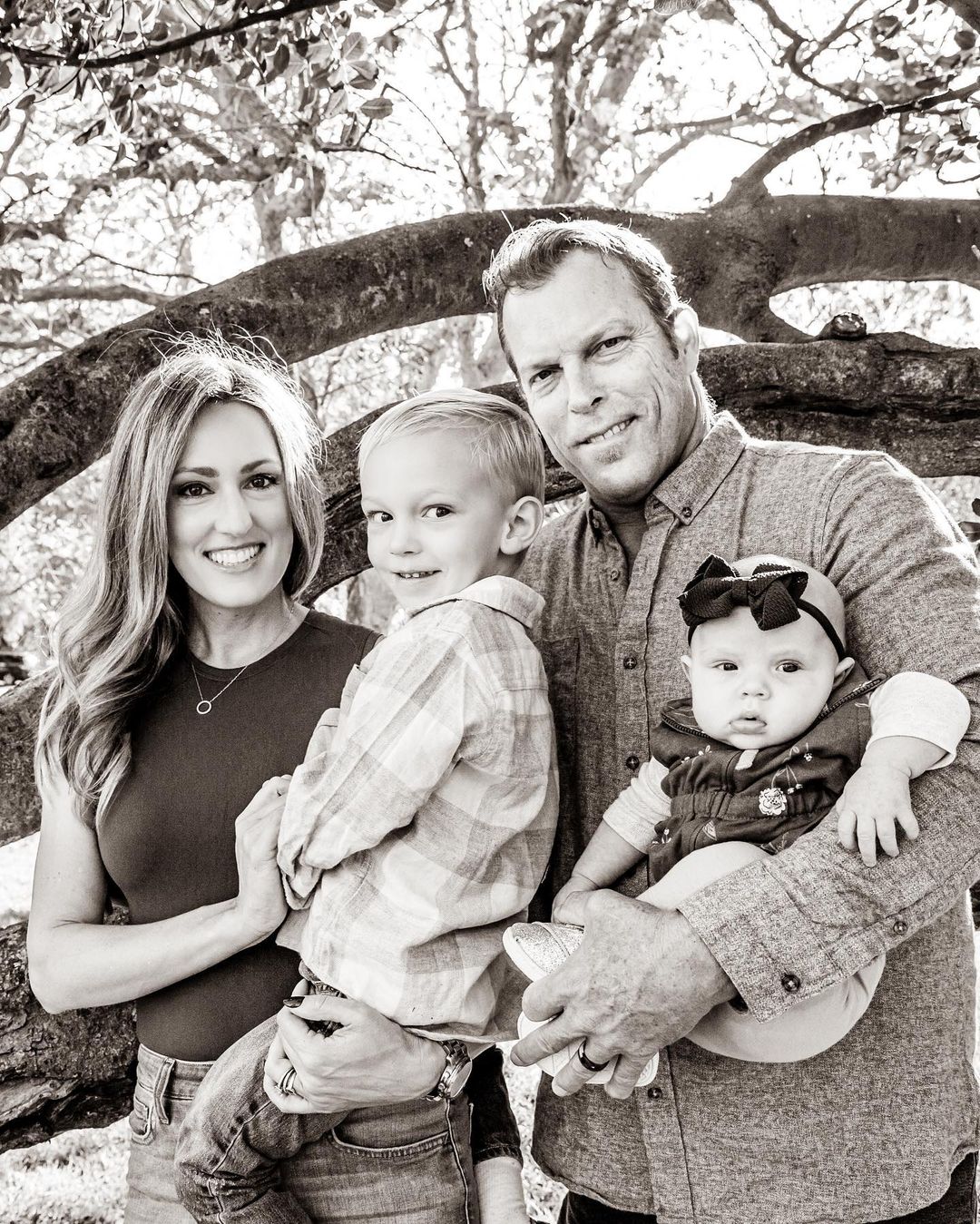 The venue was the countryside, overlooking hills and a lush landscape. They tied the knot on July 1, 2017, in the presence of their near and dear ones.
The couple strengthened their marriage by welcoming their first child, Lyle Samson, born on July 19, 2019.
Their firstborn son was named after his grandfather Sammy Lyle Samson, who passed away in 2015.
They welcomed another baby Alexandra Marie Coutts on July 12, 2022. She was born at 4:51 pm EST and weighed 8 lb 15 oz.
Social Media Presence
The famous American broadcaster is active on different social media platforms.
She shares the most crucial career highlights and information regarding her personal life from these top social platforms.
On Instagram, she is active as allison_williams with 41.1k followers. She updates photos of her with her family and her job, taking interviews with many sports personalities.
The sportscaster is active as @AllisonW_Sports on Twitter, with 55.5k followers.
Allison joined Twitter in October 2010, and her Twitter bio reads, "Sports Reporter and mom (to 2 humans and six chickens) definitely not Brian Williams daughter."
Popularity Graph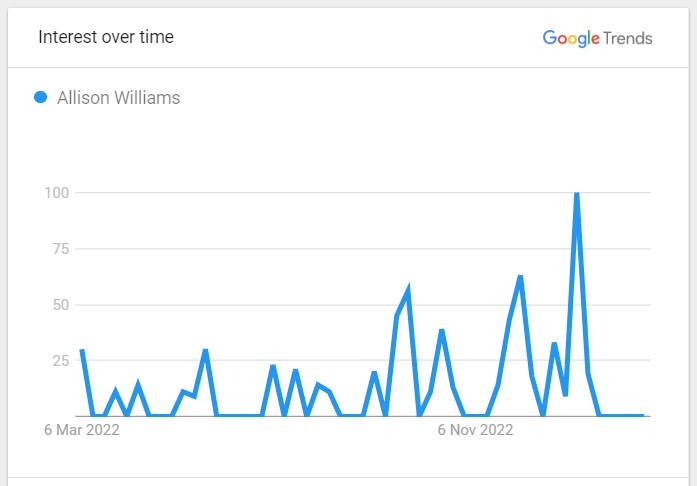 Frequently Asked Questions (FAQS)
What is Allison Williams affiliated with?
Allison Williams is affiliated with Fox Sports as of 2023. She served in ESPN for almost a decade and left the network in 2021.
Is Allison Williams, Brian Williams' daughter?
No, American sportscaster Allison Williams is not the daughter of Brian Williams. The American actress Allison Howell Williams is the daughter of Brian Williams.
Did Allison Williams work with Tommy Hutton?
Allison Williams did field reporting with color commentator Tommy Hutton and play-by-play commentator Rich Waltz.
What is the relationship between Allison Williams and Daniel Kaluuya?
American sportscaster Allison Williams has no relation with Daniel Kaluuya. However, the actress Allison Williams and Daniel was paired up for a movie named Get Out.