Currently a FOX NFL game analyst, Brock Huard is a normal person as we are. However, the difference that stands between us is his paid-off passion.
At present, Huard lives as us but in a better stance away from glam and glitz, but not so away from little limelight and ongoing passion.
Unlike many of us, his dream worked great for him, and he could find success in the field he pursued. How much of his work have you seen to date? Well, we will take you on a round-trip journey real quick.
To illustrate, Brock Huard is a former football quarterback for the National Football league (NFL). Furthermore, the athlete has featured in teams like the Seattle Seahawks and Indianapolis Colts.
Apparently, Huard's family are all into the sport, and each of them is crazily involved.
Besides, if you wish to see him at present, you can switch on the FOX NFL, and he will be seen starring alongside Chris Myers, Greg Jennings, and reporter Jen Hale.
Quick Facts
Full Name
Brock Anthony Huard
Date of Birth
April 15, 1976
Birth Place
Seattle, Washington
Nick Name
None
Religion
Unknown
Nationality
American
Ethnicity
White
Zodiac Sign
Aries
Age
46 Years Old
Height
6 feet 4 inches (1.93 meters)
Weight
232 lb (105 kg)
Hair Color
Blonde
Eye Color
Blue
Build
Athletic
Father's Name
Mike Huard
Mother's Name
Peggy Huard
Siblings
An older brother, Damon Huard
A younger brother, Luke Huard
Education
Puyallup High School
University of Washington
Marital Status
Married
Wife
Molly Hills (Huard)
Kids
Two daughters, Haley Huard and Macey Huard
A son (name unknown)
Profession
Former football player, Game Analyst
Position
Quarterback
Affiliations
Seattle Seahawks
Indianapolis Colts
Active Years
1994-present
Net Worth
$6 million ($39,910 average annual salary)
Social Media
Twitter
Last Update
December 2022
Height & Body Measurements
Brock Huard is a man with a maintained body as he stands tall at 6 ft. 4 in (1.93 m). Similarly, his weight of 232 lbs. (105 kg) complements his towering body.
In the bargain, Huard hits the gym for his bodily maintenance and does heavy workouts a few days a week, while the other days include light workouts.
As for his appearance, Huard is a built man with a fair skin tone and a rectangular face. All in all, he has blonde hair and oceanic blue eyes.
Likewise, as we briefed his workout, his diet plan includes various proteins, carbs, and enough fat content to flavor each meal.
"When you diet right, and you take care of yourself. Balance, flexibility, some of the durability that can come with that rather than just being bound up and stiff."
-Brock Huard
Brock Huard | Early Life
Huard (fully named Brock Anthony Huard) was born on April 15, 1976, to his parents, Peggy Huard and Mike Huard. Additionally, his birthplace is Seattle, Washington, and he falls under the Aries' zodiac sign.
Moving on to his family, he is the middle child among the three children. To illustrate, he has an older brother, Damon Huard, and a younger one named Luke Huard.
Family Background
Despite the fact that the Huard family isn't the first family to have been involved in sports as a whole.
However, football is the first thing for the whole family. From his father's step to their children, the Huard family rocked the football field.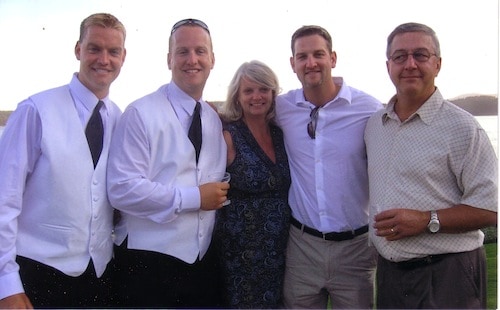 Father, Mike Huard
Mike Huard was born on Jan 23, 1950, in Prosser, as he enrolled in the Prosser High School. As a youth, he tried football, basketball, and baseball. All in all, he was a high school's three-sport standout.
However, moving to Central Washington University, he starred in football. By the end of the graduation, he had bagged All-Evergreen Conference, all-district, and honorable mention NAIA West Coast honors.
Afterward, he commenced his coaching career through White Swan High School and retired in the 1997 season. Then, he began as the physical education teacher at Puyallup High School.
Mother, Peggy Huard
Peggy Huard is a dutch born in the Netherlands who eventually moved to the United States, graduating from Enumclaw High School in 1969.
Back then, she worked for the Puyallup School District in the areas of special education.
Later, as she dated Mike Huard, she became the soccer mother, busy at home raising the kids.
Older Brother, Damon Huard
Damon Huard is the oldest child of the family, born on July 9, 1973, in Yakima. Similarly, he attended Puyallup High School and moved on to the University of Washington, where he majored in business.
Apparently, he is an NFL player who first commenced his play in Germany and later playing beside Tom Brady. At present, he is married to his wife, Julie, and are parents to Holly, Sam, and Brooke.
Younger Brother, Luke Huard
Luke Huard is the youngest child of the Huard family, born on Oct 1, 1979, in Redmond.
Like his brothers, he also graduated from the Puyallup High School and the University of North Carolina with a political science degree.
Moreover, Luke played football parallel to his studies and later focused on the coaching part more.
"Love your kids, enjoy every day, give special thanks to your wives, because without them you wouldn't be what you are, and be kind to people."
-Mike Huard (father of Brock Huard)
Brock Huard | Education
Huard got enrolled in the same school as his father and brother did, the Puyallup High School in Puyallup, Washington.
After graduating from it, he attended the University of Washington, where he majored in psychology.
Equally important, Brock Huard records an impressive 3.6 GPA in his college.
Puyallup High School
Brock Huard was featured as the left-handed quarterback in his high school days as he led his father's team.
Playing under his father's coaching, Huard bagged many accolades like the Gatorade National Player of the Year, All-State, and Class AAA State Player-of-the-Year.
Some of his other wins were Parade, Super Prep, Blue Chip Illustrated, ESPN, College Sports, and Schutt All-America. Apparently, he had also featured in the basketball as he posted 18.1 points and 7.5 rebounds.
Overall, Huard had recorded 237 passes, 45 touchdowns, and 10 interceptions as a footballer.
Coming out of high school, he was the top sought athlete in colleges. Altogether, he had listed UCLA and Washington as his choices and later committed to Washington.
University of Washington
Brock Huard commenced his college days as a redshirt freshman and competed against the Mukilteo's Shane Fortney for the starting position.
As Fortney was selected as the starter, Huard had his foremost career action in the 1996 season at Arizona State.
At first, Huard played behind senior quarterback Jake Plummer, and as Fortney was injured, he took his position as the starter.
Then, Fortney transferred to Northern Iowa, and Huard led Washington to fourth place in the AP poll.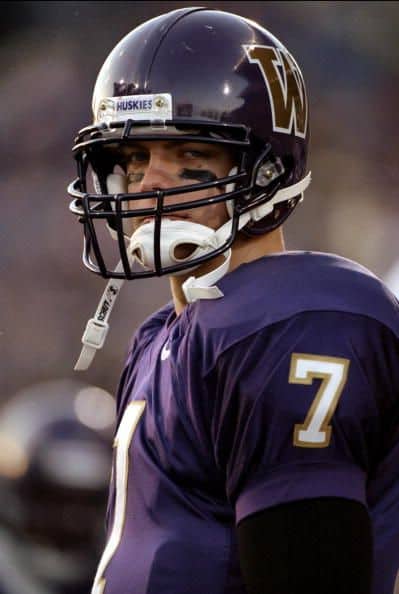 Following in the 1997 season, he missed the games due to his ankle injury. After returning in the 1998 season, he commenced his gameplay through a win at Arizona State.
During his tenure, Huard surpassed numerous records of his older brother.
By the end of his time frame, Huard had 20 school records. Following it, his stats were 6,391 passing yards, 53 touchdown passes, 151 attempts without an interception, and 190.4 total yards per game.
Altogether, he stood as the finalist for the Davey O'Brien National Quarterback Award. Not to mention his All-Pac-10 honors as a sophomore at the University of Washington.
Brock Huard | Professional Career
After honorable graduation from Washington, Brock Huard entered the 1999 NFL Draft. The Seattle Seahawks signed Huard as the 77th overall pick in the third round.
Apparently, he was the seventh quarterback drafted by the Seahawks by the new general manager and head coach Mike Holmgren.
Seattle Seahawks
Brock Huard's foremost professional game only came in 2000 as the backup to Jon Kitna. Prior to it, he was the third-string, whose first pass attempt in the NFL preseason games went as the touchdown.
Starring behind Kitna, Huard played his first game against the Dolphins. Later, he even started four games where he recorded three touchdowns and two interceptions.
All in all, in 2000, when Brock stood against the Denver Broncos, his older brother was against the Indianapolis Colts. Thus, they became the first set of brothers in NFL history to start at quarterback on the same weekend.
Following it, he started Game Six, which unfortunately bought an injury two games later. Huard struggled with a kidney injury against the Broncos and only appeared in one game.
Indianapolis Colts
As the Seattle Seahawks took in Matt Hasselbeck, they traded Brock Huard to the Indianapolis Colts in 2002. During his tenure in the Colts, he appeared as the backup for Peyton Manning.
Subsequently, Huard signed to be a third-string quarterback for the Seahawks. Unfortunately, he spent the whole season on the injured list, hence ending his professional career.
Overall, Brock Huard NFL career stats stand as 60 of 109 for 689 yards with 4 touchdowns and 2 interceptions with a quarterback rating of 80.3.
Brock Huard | Beyond NFL
Huard commenced his broadcasting career in 2008 through ESPN radio, where he covered college football networks for a decade.
Additionally, he has experience in calling games for ESPN, ABC, and the SEC Network, as well as working in the studio for ESPN.
Back then, he also worked as the color analyst with play-by-play announcer Bob Wischusen. Together, they covered ESPN college football broadcasts in the SEC and Big Ten.
Later, Huard stood as the color commentator for the 2013 Seahawks preseason games. During it, he played alongside Fox Sports' Curt Menefee as they did play-by-play on KCPQ and KZJO.
Before joining Fox Sports in 2019, Huard had jobs announcing for ESPN Pop Warner football specials live from Disney's Wide World of Sports.
As of now, he works as a co-host on a sports radio talk show KIRO-AM and in the Brock and Salk show, with co-host Mike Salk.
Their Brock and Salk Show used to be on ESPN 710 Seattle, which moved to the podcast only in late September 2019.
Brock Huard and Jim Mora
As a matter of fact, the story between Brock Huard and Jim Mora dates back to 2017 when the former Washington QB Brock Huard was one of ESPN's broadcasters. Back then, he was hosting at Husky Stadium for the UCLA game against Washington.
Of course, it was also the very moment when the UCLA quarterback Josh Rosen suffered an apparent left-hand injury. Therewith, Huard had covered the scene stating if anything was going on with Josh and if the number one quarterback had a wrong turn.
Later, reporters had asked Jim Mora about those questioning Rosen's "toughness." That was when Mora went on with his statement stating it wasn't Huard's opinion that was needed. Also, his statement would only bring up controversial ground.
"I think it's ludicrous that anyone would question Josh Rosen's toughness when they don't know the nature of his injury. Maybe the producer was talking in his ear, I don't know. But it doesn't make any sense to me that Brock Huard has any way to ever question Josh Rosen. But that's his job, so I do understand that that's his job."
Indeed, Brock Huard also made his piece of statement afterward.
"He's going to protect his team. He's going to do whatever he can to protect his player. If that means taking some shots at me, that was in his prerogative to do so."
Net Worth
As of 2021, Brock Huard is estimated to have a net worth of $6 million or more. To look back into his career earnings, Huard had a $386,667 average salary with the Seahawks, while his earnings in the Colts was $2,875,000.
Currently, the broadcaster receives $39,910 as an average annual salary. Apart from his earnings, Huard is always giving either through donations or charity.
His most current work is alongside his brother as they signed for charity with UW Husky Football for Seattle Children's COVID-19 Relief.
Brock Huard | Private Life
Alongside a former NFL athlete, broadcaster, Brock Huard is also a family man. He is married to a wonderful woman, Molly Hills (Huard), a former basketball player.
The duo is reported to meet during their college days at the University of Washington and started dating since then. After their graduation, they got married instantly and now share three children.
Indeed, their common love for sports must have had them together from the start. As of now, they lead a Christian household full of athletes.
In fact, their days must go by traveling places in the car to reach their children's matches. Also, it was reported that the Huard family has moved to Colorado.
Short Glance on Brock Huard's Kids
As athletic as the parents are, so are the kids. Huard's kids have followed their parents' major footsteps, devoting themselves to the line of sports.
Haley Huard
The oldest of the three siblings is Haley Huard, who is currently in the senior year of Eastlake high school. Additionally, she is expected to graduate in 2021.
As for her, Haley is a basketball player like her mother and has already set the mark as one of the 13 best shooters of Washington's high school girls' basketball players.
Macey Huard
The second eldest after Haley is Macey Huard, who is currently involved in The Bear Creek School. Apparently, she is also a basketball player who is expected to graduate in 2023.
Furthermore, Brock guard's youngest child is a baby boy whose name is yet unknown.
Brock Huard | FAQs
What time is the Brock and Salk show?
The Brock and Shalk show that changed from the daily radio show to the weekly podcast now airs from 7 to 10 a.m. Monday through Friday on 710 ESPN Seattle.
What was the jersey number of Brock Huard?
During his NFL tenure, Brock Huard featured in the jersey numbers 5, 7, and 11.
What is Brock Huard's college statistic?
As a collegiate player, Brock Huard maintained 27 interceptions, 776 attacks, 51 touchdowns, and a passer rating of 131.3.