A woman gets challenged her entire career, and, in the end, her hard work wins. This is the case of former USWNT player and current Sports analyst Aly Wagner.
Aly Wagner is a Sports analyst and former footballer. She is a two-time Olympic gold medal winner in 2004 & 2008.
Further, she helped her country to reach the World Cup semifinal twice. Aly started her playing career at School and College team and ended as a Legend.
Aly suffered from many injuries throughout her career. She made a comeback every time as an even better footballer and proved herself. She retired from football in 2010.
Her love for the Sport brought her back into the Football World once again after her retirement. For, the last few years she is working as a sports broadcaster. Aly's extreme football knowledge makes her a favorite among many viewers.
Today, we will take a closer look at Aly Wagner's Education, Career, Net Worth, and many more aspects of her life. First, here we present you with some quick facts:
Aly Wagner | Quick Facts
Full Name
Alyson Kay Eyre Wagner
Birth Date
August 10, 1980
Birth Place
San Jose, California, US
Nick Name
Aly
Religion
Christianity
Nationality
American
Ethnicity
White
Education
Hillbrook School
Presentation High School
Santa Clara University
Horoscope
Leo
Father's Name
Vicky Wagner
Mother's Name
Dennis Wagner
Siblings
Three (Jeff, Jared & Sam)
Age
42 Years Old
Height
5ft. 5in. (165 cm)
Weight
59 kg (130 lb.)
Hair Color
Blond
Eye Color
Blue
Body Measurement
Not Available
Build
Athlete
Married
Yes
Husband
Adam Eyre
Children
Four
Profession
Broadcaster; Former Footballer
Position
Midfielder
Current Affiliations
Fox Sports
Former Teams
United States, San Diego Spirit, Boston Breakers, Olympique Lyonnais, Los Angeles Sol
Salary
$50,000
Net Worth
$500, 000
Shoe Size
Not Available
Social Media
Twitter, Instagram
Merch
DVD
Last Update
March, 2023
Aly Wagner Bio | Early Life & Education
Aly Wagner was born on August 10, 1980, in San Jose, California, USA. Her parents are Vicky Wagner and Dennis Wagner.
Her father, Vicky, was the U-17 girls' team Coach at the Central Valley express. Aly has two brothers named Jeff and Jared, who are football players.
Her sister Sam is also a football player, who played football for UC Berkeley.

Aly with her parents and husband
Wagner was born into a family with a football background. Her niece Clare Wagner plays football for Washington Premier GO3 ECNL as a midfielder. Furthermore, her other niece, Sydney Wagner, plays for Seattle Celtics as a center forward.
Education & High School Career
Aly started her education at Hillbrook school. She joined Presentation high school for her high school education.
Wagner played on the high school's football team for four years. She won Central Coast Championship both as a sophomore and senior.
She was a very talented football player from a very young age. In her senior year, she was named on All-American NSCAA, Gatorade National high school player of the year, Parade Magazine high school player of the year, and Parade All-American.
She also won Presentation Athlete of the Year and Northern California Student-Athlete of the Year.
Here are 81 Broad and Famous Megan Rapinoe Quotes
Aly Wagner | Age, Height & Nationality
Nonetheless, 40 years old Aly Wagner is one of the most talented footballers of her generation.
Besides her talent, many people also get delighted with her attractive figure. As a broadcaster, she has a unique talent for keeping viewers interested.
Further, Wagner is 5'5″ (165 cm.) tall and holds an athletic body figure of 59 kg. Also, she has blonde hair, a pair of blue eyes & a pointy nose.
According to the Zodiac calendar, Wagner is Leo. For those who believe in the Chinese horoscope, her sign is a monkey. Her nationality is American, and her ethnicity is white.
Aly Wagner | Personal Life & Husband
Wagner is married to former football player Adam Eyre.
The couple got married in December 2006. Adam played at Santa Clara University, Miami Fusion, and New England Revolution of Major League Soccer. Currently, Aly and her family live happily in San Diego, California.
Aly and her boyfriend-turned-husband, Adam, are the parents of four beautiful children. In August 2013, Aly gave birth to triplet sons, Griffin Charles Denis, Daven Nicholas, and Lincoln Wagner.
The boys are now seven years old. In December 2015, she gave birth to a beautiful daughter named Blake Wagner.
In her free time, Cara likes to play with her dog, watch football, and be active in her home town San Diego.
Aly is fond of movies, songs, and technical gadgets but doesn't like reality shows. Usually, she likes to listen to Fiona Apple.
Aly also likes to read books and lists Way of the Peaceful Warrior as her favorite book. Besides that, she also has a set of drums in her house, which she vows to learn one day.
Talking about interests, she is a huge fan of Peet's Coffee. She also has a dream of starting her own business one day in the future.
Aly Wagner | Career
Wagner joined her first club at the age of five. She played at Central Valley Mercury of the Santa Clara Valley Youth Football League. After that, she kept playing football for her School and some local team.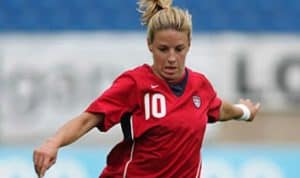 Further, Aly has also competed in a triathlon. After seeing her brother Jeff competing in Triathlon, she took part in Wildflower Triathlon 2005 and finished second in her age group.
Santa Clara Broncos
Aly was extremely talented from a young age. She started playing for Santa Clara in 1998 and won several individual awards along with team trophies.
At the age of 18, in 1998, she got called up for the United States Women's National Team (USWNT).
At that time, she was playing for Santa Clara Broncos in her freshman year. In her freshman year, she played 23 games and scored 10 goals and 12 assists for the Broncos.
Due to her exciting performance, she got named WCC Freshman of the year, First team ALL-WCC and 2nd team NSCAA All-American. Besides that, she got awarded The San Jose Mercury News player of the year.
After that, Wagner guided Broncos to the 2001's Women's NCAA Championship victory. In the final, she scored Santa Clara's only goal against perpetual powerhouse North Carolina.
After an extraordinary season, in 2002, she got awarded Hermann Trophy as the best Collegial player in the USA. Moreover, she was also awarded Today's top VIII and Honda Sports Award as the US's top college soccer player.
Club Career
San Diego Spirit chose Wagner as the number one pick in the 2003 WUSA draft. In her first season, she helped Spirit to finish third in the WUSA season.
Also, she scored two goals and produced four assists playing all twenty games. Among them, three assists and one goal were game-winners.
After the season, she was named in the All WUSA Second team. She was sold to Boston Breakers at the end of the 2003 season. On June 19, 2004, she debuted for Breakers in a match against the Washington Freedom.
After two years in Boston Breakers, she was transferred to the French club Olympique Lyonnais. Aly scored two goals in three games for the Ligue 1 side. Sadly, she couldn't play more games due to injuries.
In 2009, she returned to the USA and started playing for the Women's Professional Soccer League's club Los Angeles Sol.
She once again gained back her form and played 15 games for Sol. Due to recurring injury problems, she announced her retirement from Football on January 14, 2010.
National Team
From 1999 to 2008, Wagner played a 131 match and provided 42 assists for her country.
Aly made her National team debut while she was still at Santa Clara Broncos. On December 16, 1998, Aly made her debut for USWNT playing against Ukraine. In April 1999, she scored her first USWNT goal in a friendly match against Japan.
Her first big year on the National team was in 2003 when she was selected for the Women's World Cup squad.
In total, she played 21 games for USWNT, scoring four goals and eight assists. Further, she scored two important goals against Sweden and Canada in the Algarve Cup.
Learn about fellow sports anchor Cara Capuano Bio: Early Life, Career, Husband, Twitter Wiki
Aly played 4 matches in Athens Olympics 2004, starting three of them. She played an important role in the team that won the gold medal. Wagner bagged three assists in the Algarve Cup 2005, including assisting the winning goal in the final.
After that, she had quite a difficult time due to injuries. Her knee injury forced her to do minor surgery.
Sadly, she played only eight games for the national team that year. In 2006, she recovered from her injury and played 21 out of the USA's 22 matches.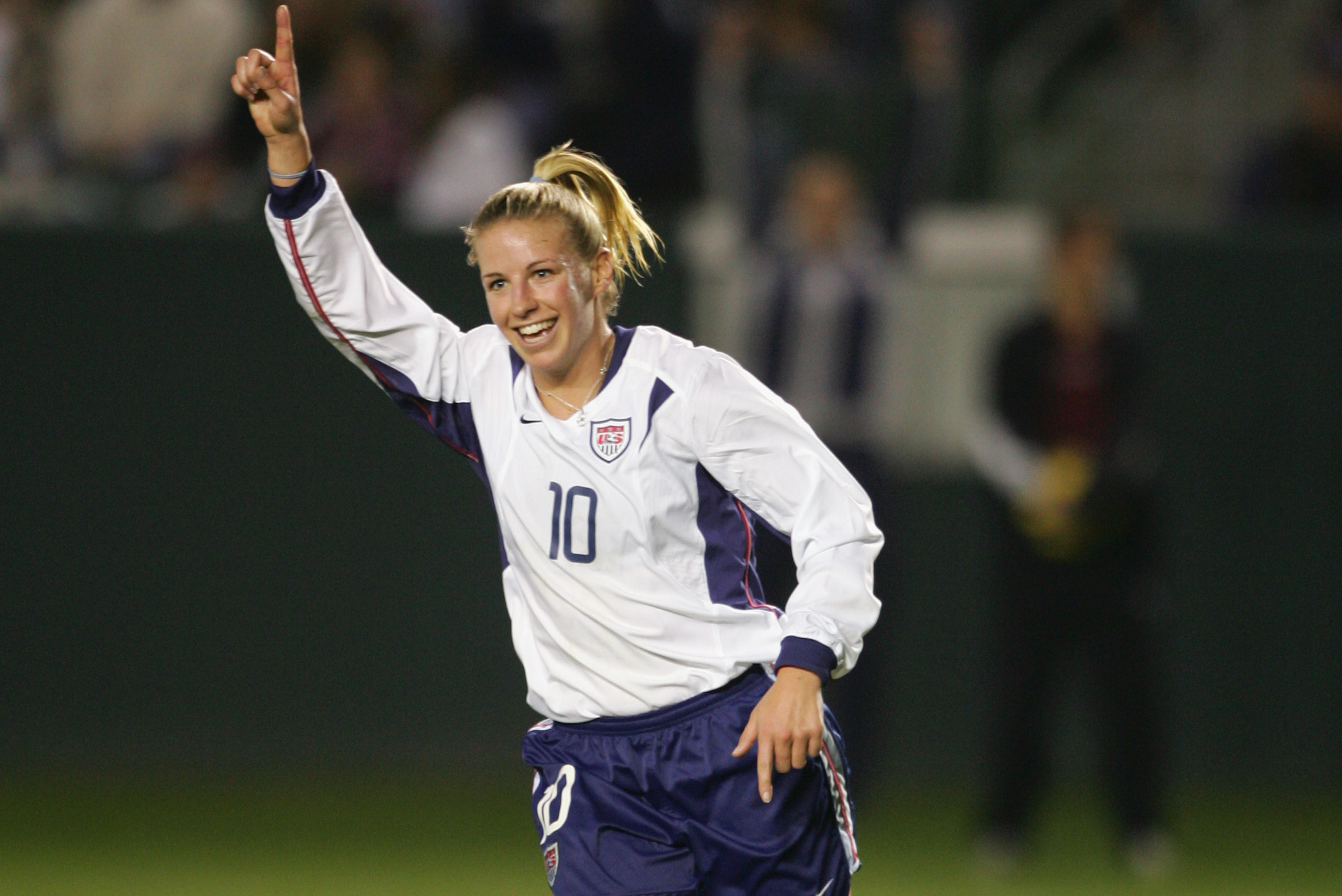 Aly once again got included in the Women's World Cup Squad and played in the third-place match against Norway.
Unfortunately, she suffered from different injuries throughout the year. Those injuries affected her badly, and she played only a few matches after that.
She played one match as a substitute in the 2008 Beijing Olympics and won her second Olympic gold medal. As a midfielder, she scored 21 goals and has provided 42 assists playing for her country.
Broadcasting
After retiring from Football, she worked for a plant food Company as Chief Operating Officer. Nonetheless, she wanted to return to the Sports World. So, she chose broadcasting as her next destination.
Aly Wagner's first big appearance as a soccer analyst was at the 2015 Women's World Cup.
During the 2016 Rio Olympics, Aly joined her former teammate Danielle Slaton at NBC Sports. Since then, she has been doing an excellent job as a broadcaster covering different tournaments.
Wagner created history in the 2018 World Cup as the first woman to call a Male World Cup match. She commented on Iran's 1-0 win against Morocco along with Darek Rae as an analyst.
Learn about fellow sports anchor Cara Capuano Bio: Early Life, Career, Husband, Twitter Wiki
Aly Wagner | Net Worth & Salary
The 40 years old was a pretty successful football player and certainly has earned pretty well for her devotion to her job. Currently, she is one of the most demanded football analysts in the US.
As a Sports analyst, Wagner earns about $50,000 per year.
According to playerswiki.com, she made around $200K as a football player. In total, her net worth is around $500,000.
Throughout her career, she had some endorsement deals. Furthermore, Aly is living a very blissful and luxurious life with her family in San Diego, California.
Aly Wagner | Social Media Presence
Wagner is present on Twitter as @alywagner and has 20k followers. She mostly talks about football and her personal life. She is quite active and has tweeted 3,580 times.
Likewise, her Instagram account @alywagner has 2,685 followers. She mostly posts photos of her lovely children and other family photos. She also talks about her profession and other stuff it.
Aly also has a Wikipedia page dedicated to her.
Common Queries about Aly Wagner
When was Aly Wagner pregnant for the first time?
Aly Wagner got pregnant with their triplet sons around late 2012 and early 2013.
Does Aly Wagner have a daughter?
Yes, Aly Wagner has a beautiful daughter, Blake. Blake was born in December 2015 after her triplet brothers.