Amar'e Stoudemire is a professional basketball coach and former player from the United States. He works as a player development assistant for the National Basketball Association's Brooklyn Nets (NBA).
Off the court, Stoudemire has a record company, a clothing line acts, and has written a series of children's novels for Scholastic Press.
Furthermore, Stoudemire holds a significant stake in Hapoel Jerusalem, with whom he won a title in 2017.
Here's everything you need to know about Amar'e Stoudemire, including his life on and off the court.
So, if you guys want to know more about Stoudemire, hurry up and read the entire article. First, look at the quick facts about the legendary player.
Quick Facts
Full Name
Amar'e Carsares Stoudemire
Birth Date
November 16, 1982
Birth Place
Lake Wales, Florida
Nick Name
Amar'e
Nationality
American / Israeli
Ethnicity
Black
High School

Lake Wales High School
Mount Zion Christian Academy
Cypress Creek High School

College
University of Memphis
Playing Career
2002 – 2020
Zodiac
Scorpio
Chinese Zodiac
Dog
Father's Name
Hazell Stoudemire
Mother's Name
Carrie Stoudemire
Siblings
Marwan Willmore, Hazell Stoudemire Jr.
Age
40 years old
Height
6 ft 10 in
Weight
111 kg
NBA Debut
2002
Shoots
Right
Points
15,994 (18.9 ppg)
Rebound
6,632 (7.8 RPG)
Blocks
1,054 (1.2 bpg)
Tattoos
Yes
Food Habits
Non-veg
NBA Draft
Round: 1, Pick: 9th overall, 2002 (Selected by the Phoenix Suns)
Hair Color
Black
Eye Color
Dark Brown
Career Highlights and Awards

6× NBA All-Star (2007–2011, 2005)
2007 All-NBA First Team, etc.

Build
Athletic
Children
Four
Wife
Alexis Welch
Jersey Number
32, 1, 5
Position
Player development assistant
Profession
Former Basketball player, Coach
League
NBA
Net Worth
$70 Million
Retired from NBA
2016
Social Media
Instagram, Twitter, Facebook, YouTube
Merch
Biography, Notebook
Last Update
March, 2023
Amar'e Stoudemire | Early Life & Family
Amar'e was born in Lake Wales, Florida, a tiny town about an hour's drive from Orlando. Hazell and Carrie, Stoudemire's parents, split when he was a child.
They have two boys together, Hazell Jr. and Amar'e. Stoudemire's mother worked in agriculture, harvesting oranges in Florida and traveling north to upstate New York in the fall to collect apples.
She met Artis Wilmore after divorcing Hazell, with whom she had a son, Marwan, Stoudemire's half-brother.
When Stoudemire was 12, his father died of a heart attack, and his mother was in and out of prison for offenses such as petty theft and fraud.
In 1994, Stoudemire stayed in Newburgh, New York, for "about five months" before transferring to Port Jervis, where he remained until 1998.
In the absence of his parents, Amar'e had various outside influences to assist and guide him, including a police officer, Burney Hayes, with whom he periodically resided.
The player also lived with Travis King, the coach of his Fastbreak USA AAU club, and Rev. Bill Williams, a clergyman. The player did not begin playing organized basketball until he was fourteen.
Education
As a result of his mother's issues with the law and frequent moves, Amar'e changed six times between five high schools in two states.
His first year at Lake Wales High School in Lake Wales, Florida, was cut short owing to academic ineligibility. Following that, he moved to Mount Zion Christian Academy in Durham, North Carolina, to play under coach Joel Hopkins.
Stoudemire returned to Florida for the summer, attending Dr. Phillips High School in Orlando.
He temporarily re-enrolled at Mount Zion Academy before sitting out a year at West Orange High School in Winter Garden due to academic ineligibility resulting from his Mount Zion transcripts.
His final destination was Cypress Creek High School in Orlando, Florida, where he graduated in 2002. Due to all the moves, he missed his junior year and only played two complete seasons.
After graduating from high school, the player attended the University of Memphis for further education.
Ben Gordon is a former professional basketball player from the United Kingdom. He was an NBA player for 11 seasons. Click here to find more!
Amar'e Stoudemire | Career
High School Career
Amar'e was selected to participate in the 2002 McDonald's All-American Game at Madison Square Garden in New York City.
The player shared the court with two future New York Knicks teammates, Carmelo Anthony and Raymond Felton.
Stoudemire was also selected Florida's Mr. Basketball, the Orlando Sentinel's Florida High School Player of the Year, and USA Today's All-USA Basketball First Team member.
Professional NBA Career
Amar'e's first season began soon after the Suns picked him, winning the NBA Rookie of the Year Award. His excellent play lasted until the 2005-2006 season, when he sustained a severe knee cartilage injury.
His recuperation procedure was protracted due to the need for microfracture surgery. Knee ailments plagued Stoudemire for the rest of his career, as did an eye issue that required him to wear goggles in 2008.
In 2010, the player opted out of his contract and signed as a free agent with the New York Knicks. Stoudemire's fortunes improved during the 2010-2011 season.
However, he was sidelined the following year again. He later played for the Dallas Mavericks and the Miami Heat before retiring from the NBA in 2016.
Did Amar'e Stoudemire stop playing after retiring from the NBA?
Stoudemire did not retire from basketball after leaving the NBA. On August 1, 2016, the player signed a two-year contract with Hapoel Jerusalem, a team he co-owns in the Israeli Basketball Premier League.
He assisted Hapoel Jerusalem in winning the Israeli Basketball League Cup on October 1, 2016. Similarly, he went on to be named to the All-EuroCup Second Team for the 2016–17 season and an Israeli Basketball Premier League All-Star.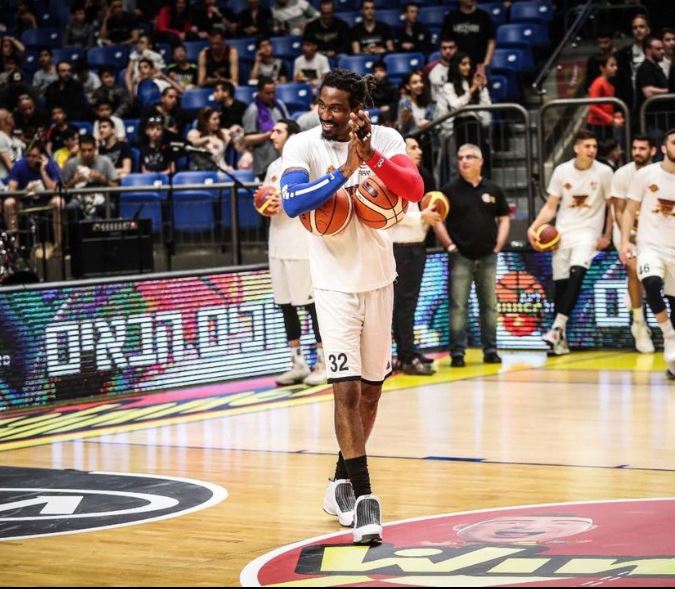 In June 2017, he assisted Hapoel Jerusalem in winning the 2016–17 season. Further, Amar'e signed with the Fujian Sturgeons of the Chinese Basketball Association on October 30, 2019.
Likewise, he played in 11 games for the Sturgeons, averaging 19.3 points and 8.2 rebounds. Stoudemire departed the squad in mid-December 2019 to return to the United States.
The player returned to Israel for a third time on January 22, 2020, signing with Maccabi Tel Aviv for the remainder of the season. Likewise, He helped Maccabi Tel Aviv win the Israeli Basketball Premier League Finals in July 2020, receiving MVP honors.
Reggie Jackson is a professional basketball player who plays point guard for the NBA's Los Angeles Clippers. Click here to know about the player's injury, net worth, and girlfriend!
Amar'e Stoudemire | Other Ventures
In 2011, Stoudemire developed his apparel brand, which debuted in late 2011 at Macy's. Rachel Roy assisted with its creation.
According to Stoudemire, the collection is courtside attire for the fashion-forward girl. Stoudemire's record company, Hypocalypto, has signed rappers from Phoenix to Atlanta.
Likewise, the player inked a deal with Scholastic Press in August 2011 to create a series of middle-grade chapter novels titled STAT: Standing Tall And Talented.
STAT: Home Court, the first book in the series, which Stoudemire describes as biographical, was released in August 2012.
Additionally, Amar'e, with sports agents Arn Tellem and Ori Allon, became a significant stakeholder of Hapoel Jerusalem B.C., in the summer of 2013.
Further, Stoudemire Cellars, a kosher Israeli wine label, was founded in February 2018. The brand debuted with three wines; all produced at Tulip Winery in Kfar Tikvah.
Amar'e Stoudemire | Body Measurements & Tattoos
The former NBA player has an athletic build with a listed height of 6 ft 10 in (2.08 m) and a listed weight of 245 lb (111 kg).
A biblical passage is tattooed on the left side of the player's chest. The verse reads, "So the last shall be first, and the first last: for many be called, but few chosen. Matthew 20:16"
Similarly, the phrase "Prophecy" is tattooed on the coach's right pec. On his right upper arm, the player has the tattoo of the words "Poverty." Further, on his right shoulder is a large letter "P" that serves as the first letter of both comments.
On his right bicep, he has a brick wall design with the words "Knowledge is Power" in the center. The statement on his right bicep is supplemented by one on his left, which says, "Knowing is Knowledge."
Additionally, the player has a tattoo of the word "STAT" on his right upper arm. The remainder of his upper arm is similarly covered in a flame design.
On the top half of his right forearm is a tattoo of a faceless guy wearing a suit and carrying a basketball in his left hand. On the inside of the player's right forearm is a rose blossom tattoo.
Stoudemire's left hand has a tattoo of a bit heart. He has tattoos of little symbols and characters on each of his fingers.
Moreover, the basketball player has a tattoo of Jesus Christ on his left upper arm and shoulder. The tattoo shows Jesus standing with his arms around a strong man. The tattoo design also consists of the words, "NOBODY KNOWS MY SORROW."
Amar'e Stoudemire | Marital Life
Amar'e is married to Alexis Welch. The two started dating in 2002. After dating for ten years, the couple got engaged in May 2012.
Soon, the love birds got married on December 12, 2012, on the roof of their Greenwich Village apartment.
The player filed for divorce from his wife in October 2018. However, the case was rejected in July 2019 due to his failure to present the necessary documentation. Welch then took the matter into her own hands and finalized her divorce.
To everyone's surprise, the couple again married each other in late 2020. The pair threw a second ceremony and a big reception in Miami, Fla. It seems as though nothing can separate the two from each other at all.
Children
The couple has four children together. Their first child is Aré Stoudemire. Likewise, they are also parents to daughter Assata Stoudemire and son Amare Jr. Stoudemire.
Similarly, Alexis gave birth to Alijah, their fourth child, in October 2020, weighing 7 pounds, 3 ounces and measuring 19 1/2 inches long.
Amar'e Stoudemire | Net Worth & Real Estate
During his time in the NBA, Stoudemire earned a top yearly salary of $23.4 million. Amar'e made $167 million in salary alone during his career.
The player has a net worth of $70 Million.
Social Media
Frequently Asked Questions (FAQs)
Is Amar'e Stoudemire also a coach?
Yes, Stoudemire is also a coach. After retiring from the NBA, the Amar'e was hired as an assistant player development coach for the Brooklyn Nets in 2020.
What happened to Amar'e Stoudemire's older brother?
Hazell Stoudemire, Stoudemire's elder brother, died in an automobile accident in Polk County, Florida, in the early morning hours of February 6, 2012. At the time of the accident, he was not wearing a seat belt.
Is Amar'e Stoudemire interested in football?
Aside from basketball, Stoudemire was a standout in football. His father trained him in Pop Warner football. Also, the player envisioned himself as a brilliant receiver for the University of Miami, the University of Florida, or Florida State University.
Growing up, Amar'e supported Shaquille O'Neal, the center for the NBA's local Orlando Magic.
Charlie Bell is a former professional basketball player who now acts as a coach for the Flint United of The Basketball League. Click here to know more about him>>>