Charlie Bell is a former professional basketball player who now works as a coach for the Flint United of The Basketball League.
Bell had been active as a professional basketball player for twelve years, from 2001 to 2012. After retiring from basketball, he decided to coach the basketball team as his passion for basketball never vanished.
Being active as a professional significantly impacted Bell as he returned to his basketball roots without pursuing any other careers after retirement.
Besides basketball Bell is also active as TV personnel. His webisodes where he incorporates local people and takes on their job are popular on the broadcasting channels.
Bell has been around basketball for over two decades, so as an experienced and skillful player, he is widely known in the sports industry.
This article will help to dwell deep into the player's personal and professional life. Now, let us dig deep into some facts about Charlie Bell.
Quick Facts
Full Name
Charlie Will Bell III
Birth Date
March 12, 1979
Birth Place
Flint, Michigan
Age

44 years old

Known As
Charlie Bell
Religion
Christian
Nationality
American
Education
Flint Southwestern Academy
Michigan State
Horoscope
Pisces
Father's Name
N/A
Mother's Name
N/A
Siblings
N/A
Height
6 ft 3 in (1.91 m)
Weight
200 lb (91 kg)
Build
Athletic
Shoe Size
4 (US)
Hair Color
Black
Eye Color
Dark Brown
League
TBL
Playing Career
2001-2012
Marital Status
Divorced
Spouse
N/A
Children
Two
Profession
Basketball Player
Position
Shooting Guard
Currently Playing for
Not Active
Net Worth
$1 million
Salary
$60k
NBA Draft
2001 undrafted
Social Media
Twitter, Facebook
Merch
N/A
Last Update

December, 2023
Charlie Bell | Early Life, Family & Education
Charlie Bell was born in Flint, Michigan, on March 12, 1979.
There has not been much information about his family members. He has kept silent about the details of his parents and childhood days.
However, Bell has always been inclined towards this from a very early age. He played basketball in his school.
Sharpening his skills and techniques from a young age led him to be a fantastic player in NBA and earned many titles in his professional career.
Bell attended Flint Southwestern Academy High School in Flint, Michigan. After graduating high school, he went to Michigan State and played college basketball.
Charlie Bell | Age & Physical Appearance
Bell is 44 years old. Moreover, he has a height of 6 ft 3 in (1.91 m) and weighs around 200 lb (91 kg).
He has an outstanding balance of height and weight, which has helped him perform well in his career.
A balanced diet and healthy lifestyle are needed for such a healthy figure. Bell is a basketball coach, so maintaining a healthy body is essential to move around and educate other players.
Tattoos
Bell is fond of tattoos and ink. He has some tattoos engraved on his body.
In his right arm, Bell has inked the name of his hometown Flint. He has honored his birthplace and paid homage to where he grew up.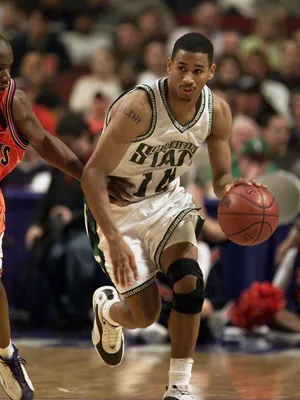 Bell also has a tattoo on his left arm, but its meaning is not yet disclosed. However, looking at his tattoos, we can say that he likes the body arts and honors his roots.
Charlie Bell | Career
Bell played college basketball in his college. He earned himself many awards and honors by playing for the college team. As a result, the officials selected him as the Michigan State defensive player of the year. During his excellent college years, Bell played for three NCAA Final Fours.
NBA Debut
Bell was not drafted into NBA but was signed by the Phoenix Suns in 2001. He was with the team for a short period as he played only five games for the club.
Bell then transferred to the Phoenix Eclipse and played four games. On January 10, 2002, Bell signed with the Dallas Mavericks for a ten-day deal. In his tenure with the club, he only played in two games.
Sean Williams is a veteran basketball player. He plays with no restriction from the clubs. To know more about him, click here.
International Career
He was famous in the Italian and Spanish leagues for his outstanding skills and performances. In March 2002, Bell joined the Benetton Treviso of the Italian League.
With his excellent skills added to the team, the team won the Italian League championship with Treviso.
In the 2002–2003 season, Bell played for the Virtus (Kinder) Bologna. He had an injury in December 2002 because he could not play for the rest of the season.
In August 2003, Bell joined the Mabo Livorno. He played for the club for a year.
In July 2004, Bell entered into a contract with the signed Leche Rio Breogan Lugo of the Spanish League.
Bell played very well internationally, and due to his hard work and dedication, he was named to the All-Spanish League First team for the 2004–05 season.
He was the top scorer in the Spanish league and the three-time Spanish League player of the month.
Back into NBA
Bell was back into NBA in 2006 as he signed with the Milwaukee Bucks for the 2005–2006 season. He was with the Bucks for five years.
With the years of being on the court and sharpening his basketball skills, Bell has become one of the most famous basketball at that time.
To lure him to themself, the Miami Heat offered him $18,500,000 for five years contract, but the Bucks matched the amount and retained him to their team.
From 2010 to 2011, Bell played for the Golden State Warriors. In 2012, he signed with the Pepsi Caserta. But, soon, he retired from playing basketball in the same year.
Coaching Career
On November 3, 2016, Bell signed with the Texas Legends as an assistant coach. Later, Bell joined the Iowa Wolves to become an Assistant Coach.
Currently, Bell works as a coach for the Flint United of The Basketball League.
Charlie Bell | Drunk Driving Case
In October 2011, Bell was arrested for a drunk driving case in California.
Bell was charged with the drunk driving case by a police officer on California Highway and was locked up for four hours before letting out.
Charlie Bell showed up drunk at the hearing of the drunk driving case and was held in custody by the police.
Officials did a blood-alcohol test, and Bells' test showed 0.9, which was above the legal limit of Michigan, which is 0.8.
Due to his case, he was suspended by NBA for the first game in the 2011-2012 season.
Charlie Bell | Relationships & Kids
Bell was married to Kenya Bell until 2012, when the couple divorced. Kenya is an American R&B singer, beauty pageant title holder, engineer, model, and reality television personality.
She has appeared in two seasons of Basketball Wives and became popular with the show's success.
The couple met in college and started dating. Charlie and Kenya have two children together, Casey and Charlie IV.
But after marriage, the relationship turned sour, leading to the relationship's fall. In 2011, Kenya assaulted Charlie with a box cutter in front of their children and was arrested by the police.
As per the divorce settlement, Charlie had to pay $1,000 monthly in child support, and the couple shared custody of the children. The property of the couple was also divided as per the agreement.
Kenya got the Grand Blanc Township home, while Bell got the house in Las Vegas.
Bell had to share his earnings with Kenya, which was around $1.1 million. Kenya got half of Bell's NBA benefits.
Bell pleaded that Kenya took more than enough of his earnings, which was not fair to him as she also had a decent source of income.
But the plea was excused and not given enough attention. The couple settled the divorce by splitting his earnings.
After a rough marriage, Bell was quite skeptical for a while, but he once again found love in Khanna. The couple got married in December 2016.
However, Bell has no children with Khanna.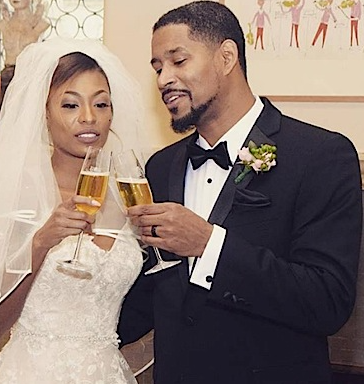 The couple was going well in the relationship for another two years until Khanna filed for divorce. She accused Bell of having a drinking problem. The main reason for the divorce was Bell's alcohol addiction, as mentioned by Khanna.
Charlie Bell | Net Worth
Bell's net worth is estimated to be around $1 million. His sources of income are the deals he signed with the different basketball clubs throughout his playing career.
He has been in the game for more than two decades, so the earnings are valid per the sources.
Bell is a basketball coach for the Flint United of The Basketball League. His salary as a basketball coach is $60000.
You might be interested to read about Joel Anthony, one of the best defenders in the NBA. Read about his professional and personal life here.
Charlie Bell | Awards & Achievements
1997- Fourth-team Parade All-American
2002- Italian League champion
2004- Top Scorer in Italian League
2005- Top Scorer Spanish League
2005- All-Spanish League First Team
2000- NCAA champion
2001- Second-team All-American NABC
2001- Third-team All-American AP
Charlie Bell | Social Media Presence
Bell is active on Twitter and Facebook.
Bell enjoys a massive fan following on the social media handles. As he has been active in basketball for many years, the numbers of fans and admirers are justifiable.
He shares his professional life on the platforms. Fans worldwide can get information regarding the daily activities and professional sides.
Bell sometimes shares his personal life, and we can get glimpses through the posts. But mostly, he likes to keep his personal life private.
Frequently Asked Questions (FAQs)
Where is Charlie Bell now?
Bell has retired from playing professional basketball. Currently, he works as a coach for the Flint United of The Basketball League.
Is Charlie Bell married?
Bell has been married twice, but the marriages were not successful. However, he has two kids with his first wife, Kenya.
What is the net worth of Charlie Bell?
As a professional basketball player for twelve years and now working as a basketball coach, Bell has made $1 million.
Troy Brown Jr. is a promising player for the Washington Wizards. He holds the position of Small forward / Shooting guard of the club. Click here to know about his life.