The two-time SEC Champion and 2014's Biletnikoff Award winner, Amari Cooper, has a net worth of $12 million in 2023. He signed with Cleveland Browns on March 16, 2022, with a salary of $20 million.
Amari Cooper Alias Gilly Lock, who plays as the wide receiver for the Browns, is grinding to make a remarkable career for himself in the NFL.
He finished seventh with 301 points in the top 10 DYAR to give him one of the best seasons in the league. He had 1160 receiving yards and nine touchdowns while playing in 17 games.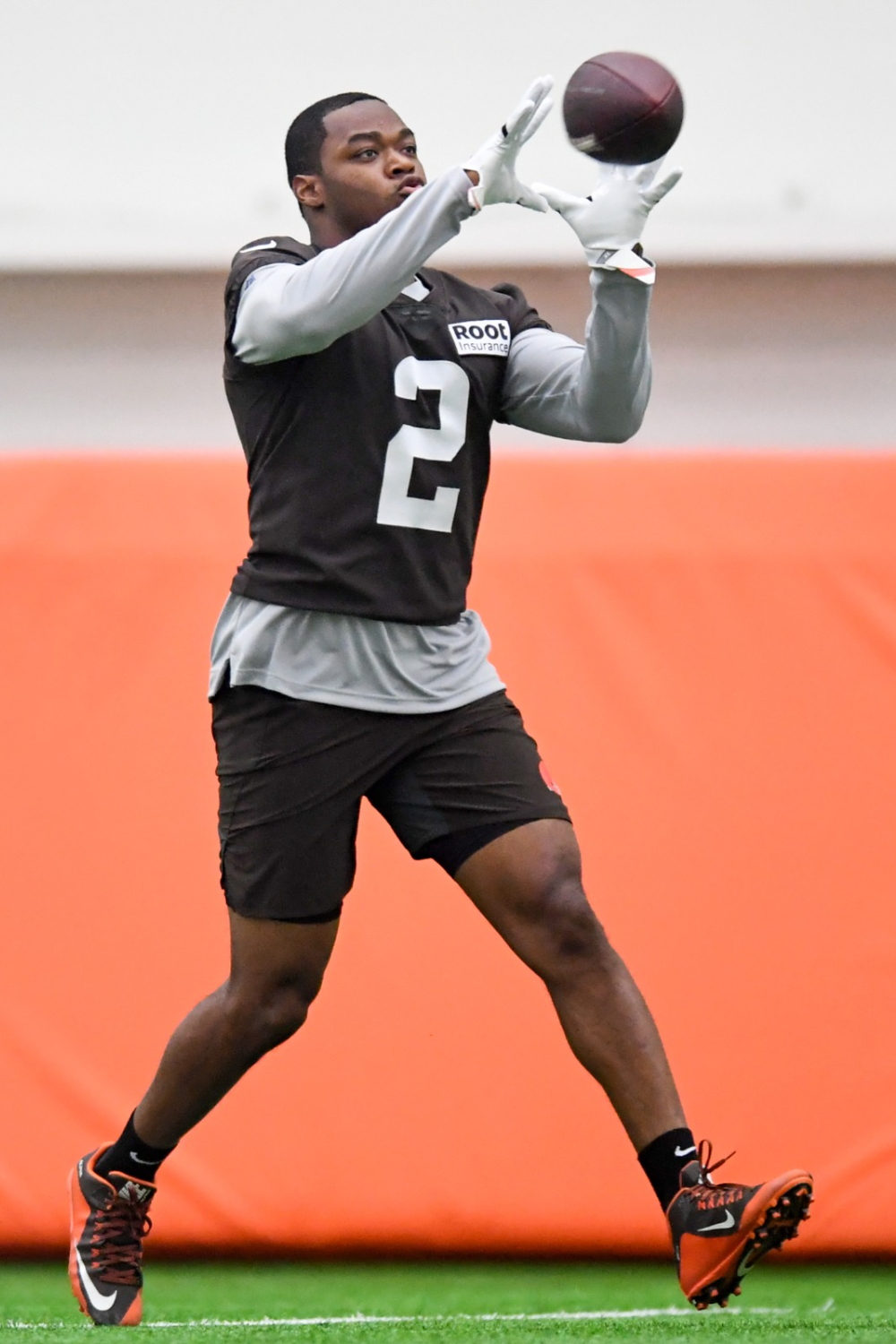 To be precise, he has begun his journey and has achieved half of his goals in less than one decade since the initiation of his professional career.
Plus, it is believed that Amari will further his playing career and become an NFL legend.
Moreover, the American wide receiver lives a radiant life on his enormous fortune, for which he works beyond hard.
From earning money in more than six figures to being honored with numerous awards, Amari has set the path solely in the NFL.
So now, without wasting time, let's engage by going through the article.
Quick Facts
Full Name
Amari Cooper
Nick Name
Gilly Lock
Date Of Birth
June 17, 1994
Birth Place
Miami, Florida
Age
28 Years Old
Gender
Male
Sexual Orientation
Straight
Height
6'1″/1.85m/185 cm
Weight
102 kg/225 lb
Horoscope
Gemini
Religion
Christian
Nationality
American
Ethnicity
African-American
Hair Colour
Black
Eye Colour
Brown
Skin Colour
Dark
Marital Status
Unmarried
Girlfriend
Destiny Jones
Father's Name
Terrance Cooper
Mother's Name
Michelle Green
Siblings
Four sisters; Airrika Cooper, Aspen Cooper, Avery Cooper, and Ashley Cooper
High School
Miami Northwestern Senior High School
University Name
University of Alabama
Records

BCS National Champion (2012)
Two times SEC Champion (2012, 2014)
Biletnikoff Award (2014)
First-team All-SEC (2014)
Unanimous All-American (2014)

Profession
Football Player
Active from
2011-Present
Position
Wide receiver
Jersey Number
19
Current Team
Cleveland Browns
Former Team
Dallas Cowboys (2018-2021)
NFL Awards

Four Times Pro Bowl (2015, 2016, 2018, 2019)
PFWA All-Rookie Team (2015)

Net Worth
$12 Million
Salary
$20 Million
Endorsements
Nike, Carnival Corporation, Verizon Communication, and Pepsi
Merch
Signed Jersey, Funko Pop
Social Media
Instagram, Facebook
Last Update
March 2023
Amari Cooper | Net Worth, Salary, & Contracts
Amari, who has accumulated about $12 million net worth, also earns a good income from his profession as a football player. As of 2023, his salary is about $20 million.
Cooper was paid $5.6 million by his former football team Dallas Cowboys, from 2015 to 2019. Moreover, In 2020, Amari's base salary was $10 million, while he earned $20 million in 2021.
The American football wide receiver has earned around $97 million in his eight seasons in NFL.
Contracts Breakdown
On March 17, 2020, Amari signed a five-year deal with the Dallas Cowboys for $100 million. It was his extension contract with the Cowboys.
The wide receiver pocketed total guaranteed money worth $60 million for signing the agreement, a guaranteed signing bonus of $40 million, and a signing bonus worth $10 million.
Before joining the Dallas Cowboys, Cooper played with the Oakland Raiders. He signed a four-year contract with the Raiders for the 2015-2019 season and earned $22.6 million.
Also, Amari obtained a signing bonus of $14.7 million, total guaranteed money of $22.6 million, and a signing guarantee of $22.6 million.
Net Worth Of Amari Cooper In Different Currencies
Besides US dollars, we have detailed information on Amari Cooper's net worth in various currencies. Here, we have even included Bitcoin. Let's have a look at the table;
| | |
| --- | --- |
| Currency | Net Worth |
| Euro | €11,080,200 |
| Pound Sterling | £9,827,760 |
| Australian Dollar | A$17,213,436 |
| Canadian Dollar | C$16,055,940 |
| Indian Rupee | ₹978,792,000 |
| BitCoin | ฿575.83 |
Physical Assets
The American football wide receiver lives luxuriously in his purchased house in Frisco, Texas. In 2017, he paid about $740,000 to the mansion close to the Dallas Cowboys headquarters.
The mansion has four bedrooms equipped with four and a half baths. Plus, it spreads over a 4,480 square feet area.
Moreover, Copper also has another property, which he purchased in 2015. The mansion covers 12,000 square feet and has two bedrooms with an oversized garage. It has been reported that the wide receiver secured the home by paying $1.6 million to the previous owner.
Do you think the highest-paid footballer is satisfied with only two mansions? He earns enough, so he has the freedom to live and buy many properties he likes, right?
Amari can visit his California-based house, for which he paid about $1.7 million. The built-in facilities like gym, lawn, spacious rooms, and a pool justify the house's worth.
Vehicle
Besides residing in huge villas, Amari loves driving luxurious cars. In other words, the athlete is devoted to collecting branded four-wheelers.
He has numerous cars in his collection. As a starter, he purchased a 2015 Ford Ferrari GT for $450K and Cadillac CTS Sedan for $70K in 2015.
The following year, Amari spent $65K on Ford Mustang Convertible.
Also, the NFL player often travels on his BMW i8. Most probably, it is his go-to-go vehicle.
Cooper bought an Aston Martin Vanquish in 2017 with a market price of $275K.
Not only this, but Amari also bought a grey-colored Land Rover Range Rover in 2017. But, the sweetest thing about his purchase is that he gifted it to his birth mother.
According to the report, Cooper's mother always longed to ride in a restful car. And the player made her dream come true.
Amari Cooper | Lifestyle & Books
The American football wide receiver is living his life to the fullest. Along with his branded and designer clothes, he prefers flexing valuable timepieces.
The player has Patek Philippe Nautilus, Richard Mille RM 011, and Rolex Presidential worth 145k, 233k, and 33k, respectively.
Jewelry
Amari is a huge fan of accessories and likes to wear them whenever possible, like earrings, finger rings, bracelets, and neck chains. The athlete has a collection of numerous jewelry pieces made of a diamond.
Amari bought a necklace in 2019 with the reading Coconut Grove on it, amounting to $250k. And it is reported to be crafted with 35-carat Emerald-cut VVA diamonds.
Also, do you know that Amari paid about $140k to the renowned jeweler, Gabriel, for making the full gold plates chain and a bracelet for him?
It is not an ordinary necklace but a 45-carat Cuban chain with a #19 Amari Cooper engraved pendant.
Perfume
Amari also has a specific taste when it comes to body fragrance. Most probably, his presence is affected by the perfume he uses.
It is so because the athlete only uses Mason Francis's Baccarat Rogue 540 Eau de Parfum. And he spends about $300 on it per piece.
Vacations
Whenever Amari gets some leisure time, he prefers to travel to different beautiful exotic destinations all over the world. Considering his bank balance, there are no destinations that he couldn't afford.
Being a public figure, it is extremely hard for Cooper to enjoy himself freely.
So, probably, Amari has visited numerous countries and has not shared on his social media accounts or the press.
However, Cooper has shared a few of his photos during his trips. For example, in 2021, he was seen at Turkish Chef Nusrat Gökçe Alias Salt Bae's steak house in Denton.
The player was amazed by the chef's technique of sprinkling salt with his elbow. Perr a report, Amari enjoyed with his friends at the steakhouse, which cost them $1k.
Amari Cooper | Charity & Investment
The American football wide receiver has a heart of gold as he spends his hard-earned money helping needy people.
In December 2020, Amari joined Toy Drive, located in Grove, to help children in The Barnyard Community Center. He helped financially to 50 single parents by donating $25K.
Also, Amari participated in the eighth Reliant Home Run Derby along with his Dallas teammates in 2019. He helped every involved member in raising $100K plus.
Furthermore, the American football player collaborated with the Blue Star Family in 2018 and gave many Sleep Number beds to the military family.
Investments
As per the reports, Amari has invested in numerous businesses. From all those investments, he earns a million figures.
To be precise, the player has invested about $4 million-$6 million in undisclosed private companies.
Merch & Endorsements
The website, shopclevelandbrowns.com, sells Amari Cooper's jersey and canvas. His hot-selling products include Men's Nike Jersey and auction canvas.
Moreover, Amari's merch items like Thanks Day Football Jersey, Funko Pop, and unsigned football cards are available on Amazon.
Endorsements
Many reputed brands and companies have been endorsing Amari for several years. Like, Nike sponsors his every cleat and sports apparel.
The label has designed him a shirt that has the reading, "Worth the First." Also, to date, only 214 shirts under the same design have been made.
Last year, Cooper attended the Pepsi Neon Beach Super Bowl Beach Party as an ambassador for the brand. Plus, he has appeared in many commercials, including in Verizon Communications.
Career Highlights
Amari began playing football from the time he was in high school. During his Miami Northwestern Senior High School schooling, the athlete secured himself as a prominent player.
Later, Amari attended the University of Alabama, where he played for three years, from 2012 to 2014. Amari averaged 3,463 receiving yards and 31 touchdowns with 228 receptions in total.
Cooper tried his luck for the NFL Draft in 2015. Expectedly, Oakland Raiders drafted him in the first round with the fourth overall pick. The wide receiver assisted the Raiders from 2015 to 2018.
Amari was traded to the Dallas Cowboys on October 22, 2018. His three-year stat at the Cowboys includes 292 catches for 3,893 yards and 27 touchdowns in 56 total games.
On March 16, 2022, Copper was traded to the Browns for the fifth-round pick and a swap of sixth-round picks in the 2022 NFL Draft.
Quotes
"I was always taught to be hungry and humble."
"The value of a prototype is in the education it gives you, not in the code itself."
"All our gifts and talents are from God, but they are also for God…for His glory and pleasure. Don't waste them; make great use of them, and make Him proud."
Interesting Facts
As of 2023, Amari has 856K followers on his Instagram.
During Amari's rookie years with the Raiders, he was regarded as the first rookie to secure 1,000 receiving yards.
Frequently Asked Questions (FAQS)
Does Amari Cooper have a girlfriend?
Amari is in a relationship with his girlfriend, Destiny Jones.
Who does Amari Cooper play for now?
The American professional wide receiver plays for the Cleveland Browns as of March 2022.