The American football wide receiver Amari Cooper was born to his parents, Michelle Green and Terrance Cooper, on June 17, 1994.
Amari is a family-oriented man. For him, his mother and siblings are the most important besides his games.
In addition, the wide receiver plays mainly for his birth mother, Michelle, who raised him in the best possible way.
Generally speaking, Amari has engraved his name in NFL history by performing exceptionally.
He recognized his playing skills and talent as "God-given." To be precise, the athlete was very good at playing since his childhood days.
In particular, Amari Cooper would do the same by observing other fellow's games.
He initiated his professional journey when the Oakland Raiders drafted him in the first round (overall fourth pick) in the 2015 NFL Draft.
Since then, the athlete has played for two more teams, including Dallas Cowboys (2018-2021) and Cleveland Browns (2022-present).
Likewise, Amari has received numerous awards, including the Fred Biletnikoff Award (2014), Unanimous All-American (2014), and many more.
Also, Cooper has earned a significant fortune through his profession. His reported net worth is $12 Million.
Amari Cooper Parents: Terrance And Michelle
Amari is the son of his mother, Michelle Green, and his father, Terrance Cooper.
Michelle fulfilled her role as not only a mother but also as a father while raising Amari. The family used to live in a poor neighborhood.
While growing up, Amari dealt with the poverty. Nonetheless, Michelle worked several jobs to support her children solely.
Michelle Used To Repair Amari's Shoes With The Glue
As mentioned, Amari had a rough childhood due to the weak financial condition of his family.
Michelle was a single breadwinner for the family and had insufficient money to buy new shoes for Amari.
So, Amari used to wear the same shoes for school, playing, and running. And whenever his shoes tore apart, Michelle stuck them with the glue.
And Amari was happy to play with his friends in those "talking shoes."
Michelle Was So Busy To See Amari Playing
Amari was already making a record in his high school. And his mother knew it but could never make time to attend the games.
While Amari was giving his best performance at school football, Michelle was busy working.
Back then, the athlete's mother worked for Royal Caribbean Cruises, Texas Taco Factory Restaurant, and a temp agency.
Also, Michelle used to earn money by styling hair for her regular customers and neighbors at her home.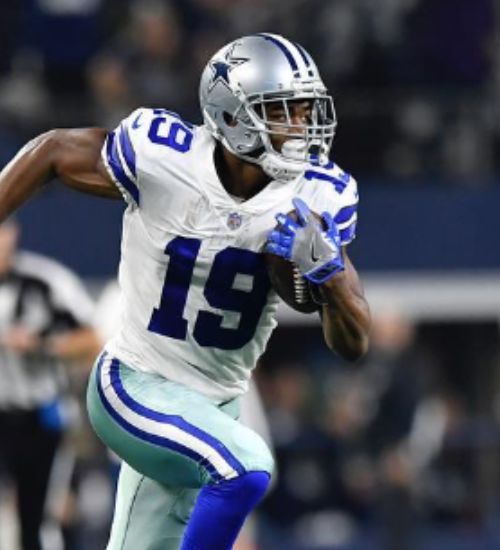 After some time, she earned enough money to buy a truck. Before that, she used to walk alone with the heavy bags.
All her hard work did not go in vain, as Amari became one of the most successful athletes.
Moreover, Amari bought her a big home after being drafted into the NFL. Not only this, he gifted Michelle a luxurious Range Rover a year later.
Amari Cooper Has Never Seen His Father, Terrance Cooper
The wide receiver is not close with his birth father; even Amari has no idea about his appearance.
His father, Terrance, was jailed in Florida State in 1996. At that time, Amari was not even two years old.
In May 1996, Terrance was arrested for being involved in a burglary. After that, he was proven to be guilty and a habitual criminal, for which he received 30 years imprisonment.
So, due to Terrance's absence from Amari's life for so long, the athlete never got to know him.
In his initial days, Amari was sad for not having a father in his life. But, later on, this did not bother him at all.
Info On Amari's Siblings
The wide receiver is not the only child of his parents. He has four sisters: Airrika Cooper, Ashley Cooper, Avery Cooper, and Aspen Cooper.
He has a close bond with all his sisters. However, much details about them are currently unavailable.
Frequently Asked Questions (FAQs)
1. Who Are The Parents Of Amari Cooper?
Amari Cooper was born to parents Terrance and Michelle Cooper on June 17, 1994.