Andre Drummond is an American basketball player for the Chicago Bulls of the National Basketball Association (NBA). Detroit Pistons drafted him in the first round of the 2012 NBA Draft.
Drummond was one of the top-rated basketball players in the high school class of 2011 and played one season of college basketball with the Connecticut Huskies before the draft.
He was named to the NBA All-Rookie Second Team with Pistons in 2013 and was named an All-Star for the first time in 2016.
The NBA star recorded 67 double-doubles breaking his previous franchise record in 2019. No other players have had more double-doubles than him since his debut.
On July 6, 2022, Andre signed a two-year deal worth $6.6 million with the Chicago Bulls. He earned 4 rebound points and 1 rebound over 3 minutes in a 111-110 win over Atlanta Hawks on January 24, 2023.
Besides basketball, he is also a rapper who goes by the stage name DRUMMXND. His blockbuster songs include Listen, Made you look, Ball out, change, and many more.
To learn more about Drummond's journey from the number 2 ranked high school player to the top NBA player, stay with us.
But before that, let's go through some of his quick facts.
Quick Facts
| | |
| --- | --- |
| Name | Andre Jamal Drummond |
| Date of Birth | August 10, 1993 |
| Birth Place | Mount Vernon, New York |
| Nick Name | Big Penguin, Showtime |
| Age | 30 Years Old |
| Gender | Male |
| Religion | Christianity |
| Nationality | American |
| Ethnicity | Black |
| Horoscope | Leo |
| Height | 6'11″/2.11 m/211 cm |
| Weight | 127 kg/279 lb |
| Body Mass Index (BMI) | 29.2 |
| Build | Athletic |
| Wingspan | 2.29 m |
| Shoe size | 18 |
| Hair Colour | Black |
| Eye Colour | Black |
| Tattoo | Yes |
| Father's Name | N/A |
| Mother's Name | Christine Cameron |
| Siblings | Ariana |
| Relationship | Single |
| Ex-Girl friend | Candice Brooks, Jennette Mc Curdy, Jenna Shea |
| Children | Deon King, Aubrey EllaRose |
| Profession | Basketball Player |
| Position | Center |
| Education | Woodrow Wilson Middle School, St. Thomas More, University of Connecticut |
| High School Ranking | 5-star recruit/ 2nd ranked (ESPN) |
| Draft | 2012 (9th overall pick) |
| NBA Debut | 2012 |
| Team | Chicago Bulls |
| Previous Team | Brooklyn Nets |
| Current Affiliations | NBA |
| Jersey Number | 3 |
| Net Worth | $40 Million-$45 Million |
| Social Media | Twitter, Instagram, Facebook, YouTube |
| Merch | Pistons Action Figure, Autographed Basketball |
| Last Update | November 2023 |
Body Measurement & Playing Style
The 6'11″/2.11 m Chicago Bulls player weighing around 127 kg/279 lbs. is difficult to ignore on the basketball court because of his outstanding rebounding skills.
His athleticism helps him rebound the Ball faster than the opponent. That's why, since 2018, he has been leading NBA in rebounding.
Moreover, he is an old-fashioned big man who uses his size and strength to score in the paint or take rebounds.
Regarding his hairstyle, he used to trim short until 2019. But, for the past couple of years, Drummond has been rocking with the dreads hairstyle and long beard.
Drummond has many tattoos on his body. On his left wrist, he has a friendship tattoo symbolizing peace, love, and hope. Likewise, Andre also has a lion tattoo on his arm and faith written on his other wrist.
Altogether, Drummond has 11 pieces tattooed on his back. Furthermore, he also has the name of his mom and sister tattooed on his fingers.
Early Life & Family
Andre Drummond was born on August 10, 1993, in Mount Vernon, New York, to Jamaican parents. His mother's name is Christine Cameron, but his father's name is unknown.
His family moved to Middletown when he was 7 years old. Andre grew up playing with his sister Ariana Drummond.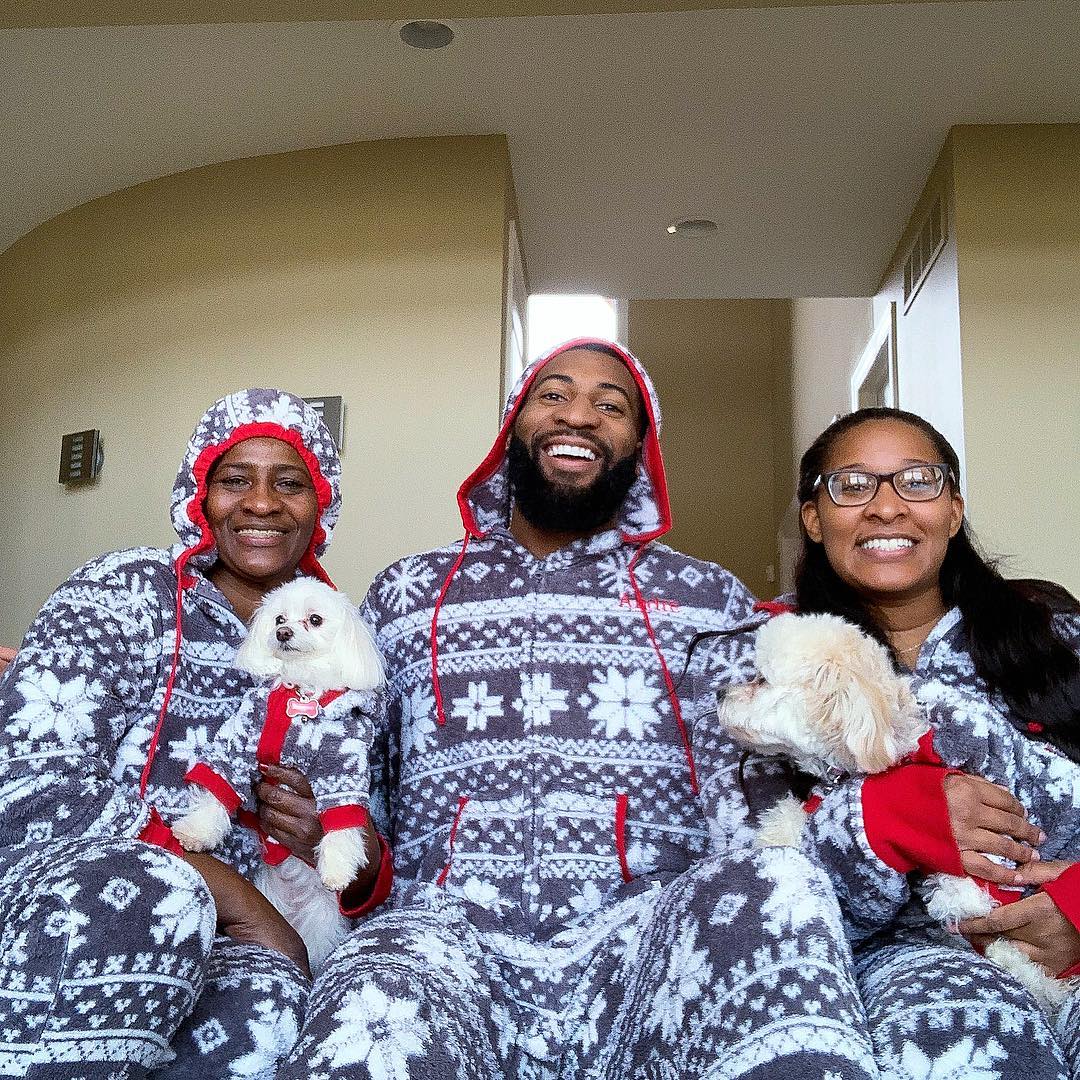 During his childhood, his favorite subjects were math and computer. Furthermore, Andre was a multisport athlete playing soccer, football, lacrosse, and baseball.
High School
Drummond found his passion for basketball after he joined Capital Preparatory Magnet School in Hartford, Connecticut.
Drummond recorded 12.7 points, 11.9 rebounds, and 6.5 blocks per game in his freshman season. He improved his stat during his sophomore year, averaging 20.2 points, 16.6 rebounds, 7.2 blocks, and 4.5 steals per game.
During his sophomore year, Drummond transferred to St. Thomas Moore High School and led the team to the national prep championship in 2011.
Drummond's performance ranked him the No.1 in the class of 2011 by ESPN and No.2 by Rivals.com and Scout.com.
He initially declared that he would spend his postgraduate at Wilbraham & Monson Academy. However, two weeks later, Andre revealed via Twitter that he planned to join the University of Connecticut.
College Career
During his freshman season at UConn, he started in 30 out of 34 games, averaging 10.0 points, 7.6 rebounds, and 2.7 blocks per game.
Likewise, Drummond was named in All-Rookie Team Big East and Big East Rookie of the Year. However, UConn was eliminated in the first round of the 2012 NCAA tournament.
Professional Career
Detroit Pistons
Andre was selected as the 9th overall pick by Detroit Pistons in the 2012 NBA Draft. He averaged 7.9 points, 7.6 rebounds, 1.0 steal, and 1.6 blocks during his rookie year. Likewise, he earned NBA All-Rookie Second Team on May 14, 2013.
On February 14, 2014, he scored 30 points and an NBA Rising Stars Challenge record of 25 rebounds, and was named MVP of the event.
He scored a career-high 32 points in the loss against Miami Heat on March 29, 2014.
All-Star Selection
Drummond began the 2015-16 season with 11 consecutive double-doubles. On November 3, 2015, he recorded a career-best 29 rebounds and 25 points in a loss against Indiana Pacers.
Later, the NBA player scored a career-best 33 points in a 147-144 victory over Chicago Bulls on December 18, 2015.
On January 20, 2016, he missed 23 free throws setting the NBA record for most missed free throws in a game. In the exact match, he also made the Pistons record for most free throws attempted with 36.
Furthermore, Drummond was selected for his first-ever NBA All-Star Game on January 28, 2016. Moreover, he scored 14 points, along with 3 rebounds and 1 block, in 17.6 minutes in his first All-Star appearance.
Drummond helped the Pistons finish 8th seed in the Eastern Conference.
However, his team lost against eventual champions Cleveland Cavilers with a 4-0 record in his first playoff series. Despite that, he led the NBA in rebounding for the first time.
Records After Records
Drummond reached 5,000 career rebounds in the first quarter against Minnesota Timberwolves on October 25, 2017. He became the 6th Pistons player to reach that milestone.
On January 24, 2018, Andre registered 30 points, 24 rebounds, 6 blocks, and 4 assists in a 98-95 defeat to Utah Jazz. However, in that game, he recorded 2,000 offensive rebounds.
At 34 years and 167 days, he became the youngest NBA player to achieve the milestone.
Andree recorded 24 points and 20 rebounds in a 93-89 win over Orlando Magic. Later, in April 2019, Drummond broke his won Pistons' record of the most double-double in a single season, recording 67.
Cleveland Cavaliers
On February 6, 2020, Drummond was traded to Cleveland Cavaliers. In the 2020-21 season, he averaged 17.5 points, 13.5 rebounds, and 2.6 assists in 25 games.
However, after being sidelined due to injury, his starting position has been replaced by Jaret Allen. On March 26, 2021, the Cavaliers reached a buyout with him.
Los Angeles Lakers
Drummond was traded to the Lakers on March 28, 2021, joining Lebron James and Anthony Davis on the court.
He has played 21 games with the Lakers, doing all the starts and averaging 11.9 points, 10.2 rebounds, and 1.4 assists in 24 minutes per game.
Philadelphia 76ers And Brooklyn Nets
The Center signed a 1-year contract worth $2.4 million on August 4, 2021.
In exchange for James Harden, he was traded to the Nets on February 10, 2022. He recorded 11 points and 9 rebounds in an a109-85 win against the Sacramento Kings.
National Team
Drummond was selected to become a USA member for the 2014 FIBA World Cup, where he averaged 3.0 points and 2.4 rebounds in 8 games. Likewise, he recorded 6 points and 2 rebounds in a gold medal win against Serbia.
He also represented the USA in the FIBA U-17 World Championship and FIBA Americas U-16 Championship. In both tournaments, the USA successfully claimed the title.
Personal Life
Girlfriends & Children's
In August 2013, Drummond started dating an actress Jennette McCurdy. However, their relationship ended within a month.
In 2015, Drummond first dated Candice Brooks. But after a breakup, he started dating Jenna Shea. However, Drummond told TMZ, "we are not dating," after he was spotted with Jenna.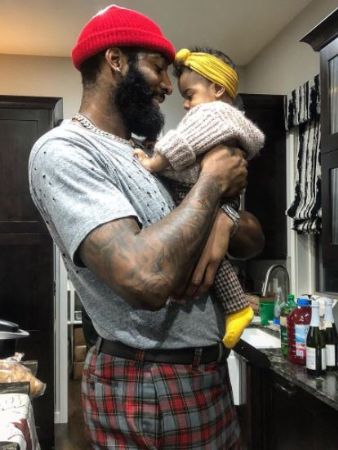 In 2018, rumors began spreading regarding Drummond being the father of two children with different Instagram models.
The first baby boy was Deon King with Abigail Russo, and the second baby girl was Aubrey EllaRose with Elizabeth Costadoni.
In the beginning, Andre denied the reports of being the children's father. Later, he was found spending time with Deon and Aubrey. He even uploaded a vlog of attending children's birthdays on Youtube.
Not A smooth Breakup With Disney's "iCarly"
Jennette McCurdy is the same girl who played the character of Sam Puckett on 'iCarly', and was featured in the Nickelodeon series spinoff 'Sam & Cat.'
She has also done voice acting for animated movies like 'Ice Age: Continental Drift,' and Jennette McCurdy.
It was in March 2014 when this interracial duo excited the whole internet with their dating news. They were spotted holding hands together during their first date.
But what went wrong remains unknown; their relationship took an unexpected twist. McCurdy was featured on the "You Made it Weird" podcast of Pete Holmes and spoke out about her rotten relationship with the basketball player.
McCurdy's confrontation of never hearing about the NBA player before was just because the NBA player used to mention her as a lady crush.
She also stated that going on a date just came out of a spontaneous, irrational decision, as their early conversation were awkward. Also, she did not hesitate about bringing her first kiss as a disgusting one.
One day, Andre bought her a necklace and proposed to her to be his girlfriend, bending on his knees. She had to say yes even after knowing it was a bad idea. After a few days, she called him and clarified the situation.
Accusations & Nude Photos
As mentioned earlier, it was not a smooth breakup! The whole separation thing was taken to a nasty level. McCurdy (then 21) hovered around the internet because her nude photos leaked online.
She was just in her lingerie taking a selfie, most likely private pictures that are only sent to your loved ones. In her defense, McCurdy accused Andre of being a crucial part of this leakage.
The pictures were all out on Twitter and Google. Some said the photos were leaked to take revenge on Andre. And some said it was all Jennette's idea to make a headline out of this news for publicity shaping him as a bad guy.
Andre also took the scene on his Vine account and said, "Sometimes you gotta live and learn by the mistakes you make. You gotta move on and keep pushing."
He made a video and said these lines calmly, probably an answer to McCurdy's statements.
Charity
Since his rookie year, Drummond has been a global ambassador for Special Olympics. He currently engages with many special Olympics athletes in national and international events.
In February 2016, he was awarded NBA Cares Community Assists Award. He was also honored with the monthly award for his commitment and efforts to bring changes to their community.
During NBA Cares Special Olympics, Andre served as an honorary coach who helped to repack 110000 pounds of food for donations benefiting 30,000 Canadians.
He also supported the FlintNow fund to ensure clean water and relief services in Flint, Michigan.
Since joining NBA, Drummond always had planned to make a difference in the community.
Covid 19 Relief
In collaboration with JBL, the NBA player donated 10k headphones to the school, helping them with online classes.
Furthermore, Drummond donated $100k to Middlesex Health Emergency Response Fund to purchase protective equipment, oxygen, and other valuable supplies.
He also helped to donate foods that were affected by pandemics. Moreover, Andre also competed in the ESPN NBA2k20 competition to help raise funds for Covid 19 charity.
Music
Other than basketball, Drummond also has a passion for music. It's no surprise because, in court, he can be seen dancing and freestyling.
Many players have tried and failed to come as recording artists. But as a DJ, he tried to release his rap song rather than play other music.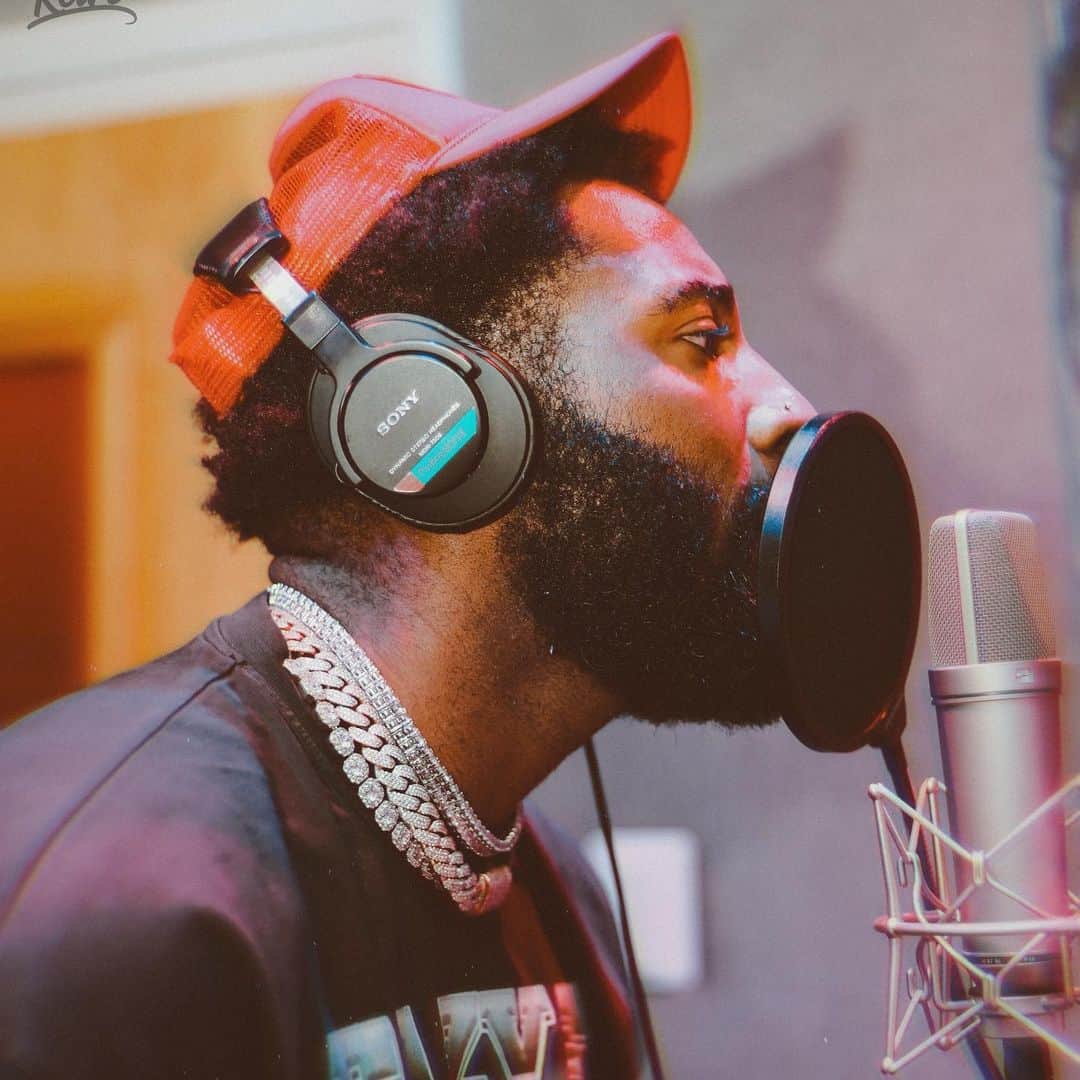 In 2018, Drummond released his first album, "FYI," which includes a few collaborations and eight party-style music tracks.
The NBA player revealed that making music is a hobby rather than a job. He also likes playing Fortnite in his free time.
Did He Disclaim Coach Frank Vogel?
Well, it seemed like the Lakers were not okay with his performance, and Andre was not OK with his coach, Frank Vogel, as he took a shot at him when a fan called him out on Instagram.
Andre, flag-bearer of one of the best rebounders in today's date, didn't live up to his potential for the Lakers. While he was expected to level up when the team needed him the most, he got inefficient on offense.
The Lakers wanted him to play along with Lebron James and Anthony Davis in the frontcourt, but it seemed the idea was a big no-no after this social media post comment.
A fan called him out on Instagram for his not-so-expected performance, and instead of ignoring or taking it as a criticism to improve, he disclaimed his coach, Frank Vogel.
Salary And Net Worth
In 2022, Drummond signed a two-year deal worth $6.6 million with the Chicago Bulls. Likewise, he earns $3.2 million as a base salary in the 2022-2023 season.
His $127 million deal with the Pistons was the most significant contract in franchise history. After his trade to the Cavaliers, he earned an extra $857k because of the trade kicker.
The NBA player has endorsement deals with many brands like Electronic Arts, JBL, Pandora Media, Panini, and Anheuser Busch InBev, contributing to his earnings.
As of 2023, Andre has a net worth between $40 million-$45 million.
Social Media Presence
The NBA player is active on various social media platforms like Instagram, Twitter, Facebook, and Youtube.
Instagram: 1.3 million followers
Twitter: 844.2k followers
View this post on Instagram
Facebook: 700k followers
Youtube: 13.7k subscribers
Drummond usually uploads basketball matches and training photos on his social media handles. Similarly, on his YouTube channel, he mainly uploads vlogs and scenes.
Popularity
Andre is an American professional basketball player who plays for Chicago Bulls in the NBA. He is also a rapper who has numerous songs released on music platforms.
The graph shows his search trend for 12 months.
Frequently Asked Questions (FAQs)
[sc_fs_multi_faq headline-0="h3″ question-0="What is the net worth of Andre Drummond?" answer-0="The estimated net worth of Andre Drummond is $40 million-$45 million. Moreover, he earns $6.6 million per year from his salary. " image-0="" headline-1="h3″ question-1="Is Andre Drummond married?" answer-1="Andre Drummond is not married. Currently, he is single, but in the past, he had many girlfriends." image-1="" headline-2="h3″ question-2=" When was Andre Drummond traded to Cavilers?" answer-2="Andre Drummond was traded to Cavilers on the 2020 trade deadline day in exchange for Brandon Knight, Hohn Henson, and the 2023 second-round pick." image-2="" headline-3="h3″ question-3="Was Andre Drummond hurt?" answer-3="Yes,. Andre had his right toe hurt and suffered a toe concussion, nails were completely removed when the big man from Bucks stepped on his foot on April 2, 2021." image-3="" count="4″ html="true" css_class=""