Australian broadcaster and sports journalist Andy Maher has been married to his wife, Emma Race, for over a decade. They first met around 2008 and got along so well that they decided to marry later that year.
Almost twelve years into their marriage, the couple is now happy parents of three gorgeous daughters: Mille, Sophie, and Phoebe.
As kids growing up in Melbourne, Emma and Andy watched the AFL since they were kids. While Emma supports Hawthorn FC, Andy is a huge fan of the rival team Carlton Football Club.
Andrew Maher, better known as Andy Maher, currently works for Australian TV channel Seven Network and sports radio station 1116 SEN based in Melbourne.
Fans know him best for his coverage of the Big Bash League and AFL for Network 10.
Born in 1964, Andy started his journalism career in the early nineties, writing for the weekly football newspaper Inside Football. In 1996, he joined a television production company named Vuecast and has since been working as a tv program host.
In his career spanning over 25 years, he has been associated with numerous popular sports channels, including Fox Sports, Channel 7, and Channel 10.
Andy has been hosting an AFL-based talk show named The Front Bar for the Seven Network since 2015.
Andy Maher's Wife, Emma Race, And Kids
The celebrated Australian sports journalist married his wife, Emma Race, in May 2008.
The two reportedly met in early 2008 while working at the same studio when their teams played the final home-and-away round of the NFL.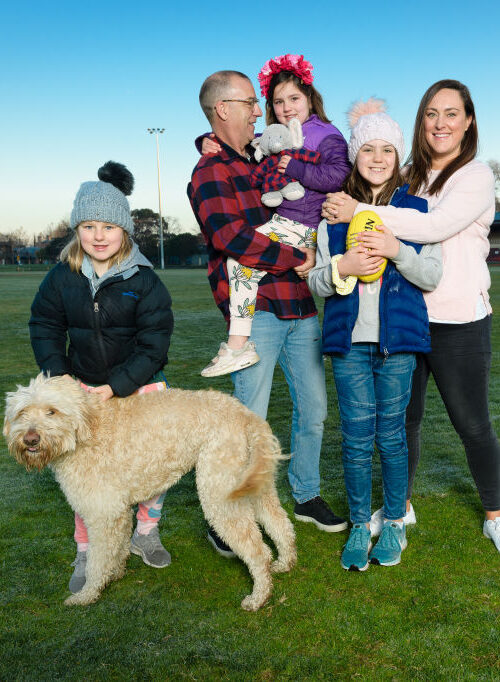 Andy was already a popular media figure then, hosting Before The Game on Network Ten and Race managed comedians featured on the show.
Even though she knew Andy and worked in the same team, the two were fairly unknown to each other.
One night, comedian Anthony Lehmann invited Emma for a drink with the Before The Game crew, which included Andy. While conversing, Andy and Emma found each other interesting and talked about stuff they liked until three in the morning.
Emma believes their shared love for football built an instant connection between them. They now have three daughters, Millie, Sophie and Phoebe.
Like their parents, all their kids are huge football fans and play junior football. Both Andy and Emma encourage them to play the game. They have been training football at an academy run by Darebin Women's Sports Club in Melbourne.
Emma Is The Co-Creator Of A Podcast Show
Emma Race and her five friends, who loved rules football, started a podcast show in 2016. A few years into their journey, they became a group of ten and initially ran the program on ABC before they began broadcasting it independently.
Named The Outer Sanctum Podcast, they started it as a space for sharing their love for football at a time when women were normally excluded from having such conversations.
Soon it became bigger and started discussions on inclusion, diversity, and equality within football.
When the AFWL began in 2017, the show invited many women rules footballers to share their ideas regarding various issues within the football community.
According to Emma, their main purpose was to create a talk show which allowed participants to speak about complex issues affecting the game, which the mainstream media avoided.
It has already been seven years since its first episode aired, and the show has received critical acclaim among the audience.
Meanwhile, Andy is proud of his wife and her team for what they have achieved so far. Likewise, Emma is grateful to her husband for allowing her to give all the time she wants to work on her passion project.