Andy Pettitte is a retired American professional baseball pitcher who played in Major League Baseball (MLB), mainly for the New York Yankees, for 18 seasons. He pitched for the Houston Astros as well.
With the Yankees, Pettitte won five World Series championships and was an All-Star three times. He lists 19 as the king of MLB's all-time postseason wins.
The Yankees organization drafted Pettitte in 1990 and signed with them almost a year later.
In the 2000s, he captured the most games by any starter, and he was a four-seam, cut-and-cut fastball thrower. After the 2013 season, he retired and confessed to using human growth hormone in 2002 to recover from an elbow injury.
Andy had an outstanding first base pickoff move that helped him record 98 career pickoffs, and to his respect, his uniform with number 46 was retired by the Yankees.
Quick Facts
Full Name
Andrew Eugene Pettitte
Birth Date

June 15, 1972

Birth Place

Baton Rouge, Louisiana

Nick Name/Known As

Andy

Religion

Christain

Age
51 years old
Nationality

American

Ethnicity

White

Education

Deer Park High School

Horoscope

Gemini

Father's Name

Tommy Pettitte(French and Indian)

Mother's Name

JoAnn Pettitte (Italian)

Siblings

2

Height

6′ 4″

Weight

102 kg

Hair Color

Black

Eye Color

Dark Brown

Body Measurement

N/A

Figure

Athletic

Marital Status

Married

Wife

Laura Pettitte

Children

4

Profession

Ex-Baseball Player

Net Worth

$75 Million

Salary

Under Review

Currently Works At

Retired

Affiliations

New York Yankees

(

1995

–

2003

)

Houston Astros

(

2004

–

2006

)

New York Yankees

(

2007

–

2010

,

2012

–

2013

)

Active Since

1995

Social Media

N/A

Merch

Paperback

, Artwork Poster
Last Update
November, 2023
Andy Pettitte | Early Life
Pettitte was born in Baton Rouge, Louisiana, on June 15, 1972. He is of Italian and Cajun origin, and he is the younger son of Tommy and JoAnn Pettitte and among his two brothers.
When he was in third grade, he transferred to Texas. He went to Deer Park High School in Deer Park, Texas, pitching for the school's baseball team.
His fastball ranged from 137 to 140 km/h (85 to 87 miles per hour). Andy also played center and nose guard for the football team at college.
<<Jody Vance: Bio, Father, Early Life, Career, Husband& Net Worth>>
Andy Pettitte | Career
In 1991 and 1992, Pettitte pitched for the Gulf Coast Yankees and Oneonta Yankees. In 1992, he launched a win-loss record of 10-4 and a 2.20 earned run average.
Pettitte and Jorge Posada first played with Derek Jeter back in 1993. He was given the title of minor league pitcher of the year for the Yankees in 1994. Pettitte threw a knuckleball, which he abandoned after Posada failed to catch it.
In 1994 and 1995, he also pitched for Albany-Colonie and Columbus Clippers. In 1994, the Yankees called him their minor league pitcher of the season.
He has pitched for the New York Mets, Boston Red Sox, and St. Louis Cardinals in the MLB.
Pettitte won 20 games twice in one season, recording 21-8 in 1996 and 2003. He was part of seven pennant-winning teams in the American League, one pennant-winning team in the National League, and five championship teams in the World Series.
At 19, he owns the record for most victories in the history of the playoffs. Since 1930, he has become the first MLB pitcher to win at least 12 matches in his first nine seasons.
Big Leagues
He didn't have a losing season in the big leagues either. Pettitte ranks first in strikeouts (2,020) among Yankees pitchers, tied-first in games played (438), and third in wins (219). Pettitte and Rivera have combined win-save combinations, the most in history, for a record 81 (11 in the playoffs).
They were noted as the "Core Four" and teammates Derek Jeter and Jorge Posada, as they were teammates for the five World Series won by the Yankees between 1996 and 2009.
No major league pitcher accumulated more regular-season wins from 1995 to 2010 than Pettitte. His 148 victories from 2000 to 2009 accounted for much of the decade.
In the playoffs, Pettitte was 19-10 with a 3.83 ERA and 173 strikeouts. He becomes the second starting pitcher in the same playoffs to win three series-clinching matches (ALDS, ALCS, and World Series) (2009).
On Saturday, October 13, 2012, Pettitte's last postseason appearance was one of the 2012 ALCS games. He did not get a verdict that the Yankees would lose in 12 innings in the game.
In eight separate World Series (seven with the Yankees and one with the Astros), Pettitte played and was on the winning end of 19 postseason series.
The Yankees announced on February 16, 2015, that they would retire Pettitte's number 46 on August 23, 2015.
Pitching Style
Pettitte threw a four-seam fastball, a cutter, a curveball, a sinker, a turn to right-handed hitters, and a slider.
His out pitch was a cutter with a decent inside break on right-handed batters at 84-88 mph, resulting in several ground ball outs and double plays. The fastball was rated in the lower 90s before his initial 2011 retirement, and his curveball was around 74-76 mph.
Pettitte had an extraordinary pickoff switch to first base as a left-handed pitcher, helping him to mark 98 career pickoffs.
Controversies
One of the Yankees named in the Mitchell Study was Pettitte. In 2002, he confessed to using HGH but said it was to treat an illness, not increase his results. During his service, he rejected any further use of HGH.
He also rejected the use of steroids or any other drug that would enhance results. Pettitte said that he was responsible for returning to the squad after his injury as soon as possible. He was sold to the Boston Red Sox by the New York Yankees in 2007.
Since they terminated his contract in June 2007, he was free from the Red Sox. In July 2007, the Red Sox signed him to a one-year, $2.5 million contract extension. He was traded to the New York Red Sox in July 2007.
In 2004, Pettitte admitted to consuming additional HGH injections twice in one day, using HGH obtained by prescription for his father, who was severely ill.
Pettitte remembered in an affidavit that former teammate Clemens told Clemens in 1999 or 2000 that Clemens had recently earned HGH. Pettitte reported to Yankees spring training on February 18, 2008, and apologized to both Yankees and Astros fans for his previous drug use.
He said his friendship with Clemens, his close friend, and former teammate, has become "strained" by the performance-enhancing-drug controversy.
Andy Pettitte | Wife & Children
Pettitte tied the knot in 1992 with Laura, his long-time girlfriend. Though they both attended the same high school, Deer Park High School, the couple met at Central Baptist Church when he was fifteen.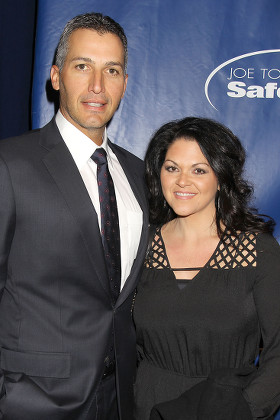 Laura was the minister's daughter who had taught him a great deal about biblical honesty. What's more, Laura had three older brothers that were very close to Pettitte.
Laura and Andy Pettitte began dating after some time: she was in eighth grade, and he was in tenth grade.
As Christian devotees, Andy and Laura promised each other that they would not have sex until they married.
"I don't think people realize how huge of a commitment that is, especially with teenagers. If you commit yourself to not doing that, then you're going to focus on other things in your relationship."
Andy and Laura welcomed their first child, Joshua Blake Pettitte, on November 3, 1994. Four years later, on May 28, they had a second son, Jared Pettitte.
Their first cute daughter, Lexy Grace Pettitte, was born on January 10, 2001. By 2005, with their third son, Luke Jackson Pettitte, the family had grown to six.
In the 37th round of the 2013 MLB draft, Joshua was selected by the Yankees from among the four, the oldest.
Still, the young star opted to study at Baylor University rather than sign a professional contract. He currently plays at Rice University after transferring in April 2014 from Baylor.
<<Darren Collison: Early Life, Lakers, Wife, Contract & Net Worth>>
Andy Pettitte | Networth & Salary
Pettitte has a jaw-dropping and handsome net worth of $75 million as of 2023, solely summoned as an MLB player during his 18-year tenure.
Pettitte retired from professional baseball on February 4, 2011, but made his return on March 16, 2012, by signing a $2.5 million contract with New York for one year.
He signed a $12 million extension with New York for the 2013 season and announced his final retirement on September 20, 2013.
In 2007, he received $3,981,000 for a luxury mansion in Purchase, New York (NY). In addition, he holds other properties in Deer Park, Texas (TX), US.
Andy Pettitte | Social Media
No official social media accounts related to Andy are found. So we can say that he stays away from social media. However, we can peek at his whereabouts through his wife's Instagram account, which is under her name (@lpettitte).
<<Susan Guth: Bio, Early Life, Career, Relationship & Net Worth>>
Frequently Asked Questions (FAQs)
Is Andy Pettitte a grandfather?
Yes, Andy Pettitte became a grandfather at the age of 46. However, he still has yet to raise his younger children.
What does Andy Pettitte do now?
After retirement, Andy moved to Texas and became a pitching coach for a high school. Moreover, he coached his son's team in Houston.