Jody Vance is a famous Canadian news broadcaster and writer with a journalism career spanning more than three decades.
She is a proud journalist who is also the first woman to host a solo all-sports show in primetime on Canadian TV.
In addition, she was awarded the 2017 Paul Carson Sports Broadcast & Journalism Excellence Award for Sports Leadership.
Vance is active in various works as of now. Since 2018, she has been charged with a new role as a Freelance Writer at TheOrca.ca.
Likewise, Jody is Broadcast Pirate Services Ltd's principal owner and the editor of 'My Backyard Press.' Besides, she also works for Al Jazeera English TV.
Having spent so long as a leading journalist in her profession, one would expect Jody to have garnered a remarkable amount, but she has not yet revealed her net worth.
If you are here to know everything about beautiful Jody, you are on the right page. Stick with this article until the end to learn more about Jody.
Jody Vance | Quick Facts
Full Name

Jody Vance

Nickname/Moniker

Jody

Birth Date

August 23, 1967

Birth Place

Vancouver, British Columbia

Current Residence

Canada

Religion

Christian

Nationality

Canadian

Ethnicity

White

Horoscope

Virgo

Father's Name

Not Known

Mother's Name

Not Known

Grand Father

N/A

Sibling

Unknown

Age
55 Years Old
Height

1.64m

Weight

N/A

Reach

N/A

Body type

Athletic

Eye color

Brown

Hair Color

Dark Brown

Profession

Anchor

Marital Status

Married

Relationship Status

Not Known

Children

Two

Net Worth

$1.4 million

Social Media

Instagram,

Twitter
Last Update
May, 2023
Jody Vance | Early Life, Family, and Education
In Vancouver, British Columbia, Canada, Jody Vance was born on August 23, 1967.
While the 55 years-old journalist has not given specifics of her early life, she has spoken freely on social media about her family.
Vance wished her two fathers, Bill and Bruce, Happy Father's Day on a Twitter post dated January 15, 2014.
However, the specifics of her father have not been listed by Jody. Nor did she explain who her birth father is and who her stepdad is.
Similarly, she revealed in her reply tweet on September 1, 2018, that her grandmother served as a hostess at the University of British Columbia (UBC) cafeteria and later became a doctor in Copenhagen.
She further wrote that her grandfather became a partner in Tremblay Motors from working as a car mechanic.
In the same tweet, Jody also said that her father worked for more than thirty years as physical education ( PE) teacher.
Likewise, she also mentioned that her mom worked as a lab technician, and she was single in the 1970s.
Later, Vance responded to a tweet on March 26, 2019, saying that her stepmother is a retired teacher.
Since Jody has always listed her stepdad and stepmom on social media, one can imagine that her parents probably got divorced in the 1970s. Then both got married after their separation.
You might be interested in reading: <<Beth Mowins: Early Life, Career, Relationship & Salary >>
Education
Not much could be found about Vance's educational background, but we assume her to be a well-educated citizen.
As per some sources, she studied at South Delta Secondary School. Moreover, we are unable to find her high school details and college details.
However, we hope in the nearest future we will know more about this amazing woman and will be able to tell all the readers where she got all her education and this unique ability of the work she is doing right now.
Jody Vance | Career
We all know that she is the first-ever woman in Canadian television history to host a sports show in prime time. This is a remarkable achievement by a woman in Canada at that time.
It was before1995 when Jody started her career in the broadcast on CHRX, and shortly after that; she moved to CFMI-FM/CKNW as the assistant promotion director and on-air fill-in talent.
However, in 1995 BCTV called her, which led her to reach her lifelong goal of becoming a sports anchor.
Vance helped start the sports department at Vancouver Television after a brief tenure with BCTV.
There she honed her craft and learned the outs and ins of sports television as the sole member of the sports department.
She served as a fill-in anchor for Sportsnet, a new Canadian sports network, in 1999 and became the first woman to host the network desk.
After SportsNet
It was 2005 when she left Sportsnet, and at that time, she was the lead anchor at Leafs TV.
Vance was the lead anchor at Leafs TV, the Toronto Maple Leafs-owned hockey channel, from 2006 to 2009, after leaving Sportsnet in 2005.
Her final pre-game was April 11, 2009, as the Leafs hosted the Ottawa Senators.
Vance joined Shore 104 FM in Vancouver in June 2009, where she hosted an afternoon program titled 'The Jody Vance Show.'
Similarly, she also joined CBC Vancouver doing sports on top of her job at Shore 104.3 FM and anchored "Finding Stanley," the Vancouver Canucks playoff post-game show.
In October 2011, Vance was hired as host/news anchor BT for City, away from radio and the CBC, rejoining some of her former Sportsnet colleagues.
She was featured as a panelist during intermissions on Sportsnet Pacific Vancouver Canucks broadcasts.
Vance was also part of the on-air crew for the 2012 CONCACAF Women's Olympic Qualifying Tournament broadcast nationally on Space at BC Place.
Roundhouse Radio announced that Vance would be their new midday host in September 2017.
Roundhouse Radio published an advertisement welcoming Jody to host their show and wrote:
"Jody Vance brings to our airwaves decades of radio and TV experience, both locally and through.
Among many achievements, Canada has had its own national sports network, news, Anchor, presenter of Breakfast Television, and she was at CKNW most recently talking about it."
They also added how proud and able a mother she is, apart from being a professional lady.
"Current news and politics. Mother to a young son. She knows the parenting route and has a parenting path. Red seal in Culinary Arts, so now and then, there might be a recipe or two to be shared."
Don Shafer, CEO of Roundhouse Radio: "We are very excited to introduce the significant talents of Jody to Roundhouse Radio regularly.
Her level of broadcast expertise and professionalism runs deep. For her signature style of conversation, people will be tuning in."
Jody Vance | Relationship and Marriage
We are all aware that Jody is a happily married woman with minimal controversy in the media. She is married to Bart Given.
Jody has two sons, more to her married life, whose pictures she shares in her social media timelines time and time again.
Vance shared a photo of one of her sons, Josh, on an Instagram post dated December 14, 2015.
Because we see her sharing pictures of her sons, we can assume she is married, and since there is no news of any controversies and disputes regarding her married life, we can still think she has a great one.
While Jody posted numerous photos with her husband until 2015, she did not include an update on her marital life.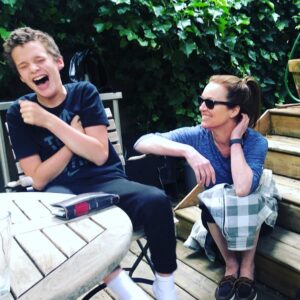 So until now, it has yet to be known whether the pair are continuing their marital life or divorce.
As Vance has not shared her husband's photos in recent days, we see something wrong is going on, but the couple is yet to give any statements openly.
Stick with us to know if she is divorced or still married. We will update you as soon as we get to the truth.
Don't forget to check out: <<Victor Caratini: Bio, Early Life, Career, Relationship & Networth >>
How old is Jody? Height, Weight, and Physical Appearance
Looking at some photos she shares, we can say that Jody is a beautiful woman, and as of 2023, she is [calculate years datestring= "08/23/1967"] years old of age.
Even at this age, she looks as stunning as ever. Vance stands at the height of 1.64m and seems fairly tall, and has a perfect fit and fine body.
The dark brown hair perfectly suits her fair skin, and the brown eyes make her even more attractive.
Even though she is a mother of two, she seems very young and confident and loved by most.
We are yet to get correct information on her weight, but she seems to have an average weight and matches her height seems perfect.
Jody Vance | Net Worth, Salary, and Quotes
One of the most famous Roundhouse Radio anchors who has made a good career as a sports anchor is Jody Vance.
Roundhouse Radio is a popular sports network known for paying its sportscasters a significant salary amount.
She receives a fair salary from the network, as Jody Vance is a frequent Roundhouse Radio anchor.
Jody Vance, the Canadian anchor, earns an annual salary of $60,000 from her popular Roundhouse Radio reporting career. Vance's net worth, however, is yet to be estimated.
As she is very good at what she does and has many fans following, we can assume she is paid well and has a fairly good living standard.
She also seems pretty satisfied with what she earns with Roundhouse Radio.
You might also like read: <<Aaron Rodgers: Net Worth, Girlfriend, Stats & Contract >>
Quotes

Last but not least …. have you been dive-bombed by a crow lately? It's happening all over Metro Vancouver — this is the season for next protecting! WE have stories of crows and some intel as to just how smart these birds are.
Social Media Presence:
Anchors influence many people, and when the anchor is beautiful and cool and good at what he/she does, people really like that.
Jody is also one of those anchors who has a dashing personality and is loved by many.
She is also a social media person. Apart from TV and hosting, Vance is very famous on social media.
If any of you are interested in Jody and has not followed her yet, here is the link to her official accounts:
Twitter: 25.1k Followers
Instagram: 5.5k Followers
Some FAQs:
Is Jody Divorced?
Jody is not divorced. She is still married to her husband, Bart Given, and is leading a happy and healthy marriage.
What is Jody Vance doing now?
As of now, she works as a freelance writer consultant for the different sports news channels and companies such as Theorca.ca, Equity. Guru, Obie & Ax Inc, Al Jazeera Media Network etc.