Anna Bessonova is a former Ukrain-based individual rhythmic gymnast. She is one of the most admired gymnasts of her time.
Born into a sporting family, a passion for sports came naturally to Anna. Further, her mother, herself, was a two-time World champion group rhythmic gymnast.
Moreover, Bessonova is an Olympic Bronze medalist and the 2007 World All-around Champion.
Due to her impressive skills, Anna became the youngest participant in the Ukrainian team during the 2001 World Championships in Japan.
Similarly, with her win in the 2002 World Cup Final for the hoop, the rope, and the clubs, Anna peaked in her career.
From this article, you will get a deep insight into Anna Bessonova's personal life, professional career, retirement, and net worth, as well as some lesser-known facts.
Quick Facts
But before that, let's take a look at some quick facts about Anna.
Full Name
Ganna Volodymyrivna Bessonova
Common Name
Anna Bessonova
Date of Birth
July 29, 1984
Place of Birth
Kyiv, Ukraine
Nickname
Anya, Bess
Religion
Christianity
Nationality
Ukrainian
Ethnicity
White Ukraine
Father's Name
Vladimir Bessonova
Mother's Name
Viktoria Serkyh
Siblings
Oleksandr Bessonova
Education
Deriugins School
University
Unknown
Zodiac Sign
Leo
Age
38 Years Old
Height
5 feet 9 inches (174 cm)
Weight
49 kg (108 lbs)
Eye Color
Dark brown
Hair Color
Dark brown
Build
Slim
Body Measurement
Unknown
Marital Status
Married
Husband
Dimich Momot
Children
One Son
Residence
Florida, USA
Profession
Rhythmic Gymnast
Active Professional Years
2001-2010
Olympic Debut
2004
Total No. of Medals
108 (27 gold, 52 silver, and 29 bronze)
Coach
Albina Deriugina, Irina Deriugina
Awards and Achievements

Two Olympic Bronze
26 world Championships medals
24 European Championships medals

Net Worth
$1 million to $5 million
Salary
Unknown
Social Handle
Instagram,
Gymnastic Merch
Because I can Gymnastics Poster
Last Update
May, 2023
Early Life
The Olympian was born on July 29, 1984, in Kyiv, Ukraine. She was born to her father, Vladimir Bessonova, and mother, Viktoria Serkyh, as Ganna Volodymyrivna Bessonova.
In addition, her father is a former football player, while her mother is a former rhythmic gymnast.
Anya received her initial training from her mother. She has one younger brother, Oleksandr Bessonova.
Anna was naturally interested in sports from a young age. Likewise, her mother had a splendid desire for Anya's future and wanted to learn ballet.
Even so, Anna showed more interest in gymnasts than ballet, and her mother approved it.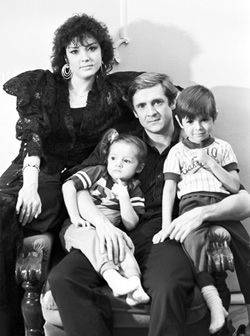 Soon Viktoria also recognized her daughter's talents and ensured that she received training from reputed coaches.
Bess attended Deriugins School in Kyiv. There, she received coaching from Albina Deriugina and her daughter Irina Deriugina.
In the 2001 World Championships, Japan, regardless of her young age, Anna performed very well. Many people approved of her skill after the competition.
Over time Bessonova matured into a very talented and graceful gymnast who went from one success to another.
Everything You Need To Know About Bengali Rhythmic Gymnast Margarita Mamun, Click Here>>
Age, Height, and Weight
As of 2023, Bessonova is 38 years old, and her zodiac sign is Leo.
In like manner, she stands 5 feet 9 inches tall and weighs around 49 kg.
Anna is also praised for her beauty and appearance. She is even described with names such as "The Queen of Elegance" in Ukraine.
Because of her refined personality, she has appeared as a presenter and a commentator at various events in the past.
Career
Road to Fame Career
Anna came in the fifth position in the 2001 World Championships held in Osaka, Japan.
Later, gymnasts Alina Kabaeva and Irina Tchachina, who initially won gold and silver medals respectively in All-Around, tested positive for a forbidden substance.
Thus both were taken away from the winner and runner-up positions. As a result of which, Anna was given the bronze medal.
Furthermore, in 2003, Anna participated as a member of the Ukrainian Group, which won the gold medal in five Ribbons in New Orleans.
She was in amusing shape and ruled in the World Cup final held in Stuttgart the same year.
Subsequently, Anya became the leader of the Ukrainian national team by the year 2003, at the age of eighteen.
Also, she won the final hoop event, beating Alina Kabaeva in Budapest World Championships.
Without a doubt year, 2003 was fruitful for Anna as she won three gold medals – hoops, clubs, and ribbon events in the European Championship.
In addition, Anna bagged three gold medals in the 2003 Grand Prix tournament in a hoop, ribbon, and all-around.
Rise To Fame Career
In 2003, Anna made her Olympic debut and won the all-around bronze medal.
Anna gave an outstanding performance in the 2005 World Championships by winning silver medals in six categories. The categories were all-around, rope, ball, clubs, and ribbon finals.
Added to that, Anny grabbed the gold rope medal in the World Games the same year. Also, she secured four gold medals at the 2005 Universiade in Izmir.
Similarly, the year 2007 was also very fruitful for Anna. Twenty-three-year-old Anna won all the gold medals in the 2007 Summer Universiade, beating Sessina and Kapranova.
In addition to that, she participated in numerous events and came out victorious in many.
The following year, Anna was still on top of the games. She bagged gold at the LA Lights, Deriugina Cup (Kyiv World Cup), and Miss Valentine's Competitions. Impressively Anna secured 15 medals at the World Cup the same year.
In the 2008 Beijing Olympics also, she won the all-around bronze medal.
The year 2009, too, proved to be great for the gymnast. She won first place in the Kyiv World Cup and Deriugina Cup events.
Anna officially retired from the sport in 2010 after the Deriugina Cup in Kyiv.
Medals and Achievements
The Ukraine gymnast has an impressive number of medals under her name. If we collect her medals, there are a total of 108 of them.
Among 108 medals, 27 are gold, 52 are silver, and 29 are bronze. Similarly, Anna had always won at least one title in every competition and event.
Anna has 2-Olympic bronzes, 26-World Championships, and 24-European Championships medals under her name.
In addition to that, she is also the two times winner of the European Team Championships medal, alongside 18-Grand Prix Final medals, 10-World Cup Final medals, and 6-World Games medals.
Some Unknown Facts About Anna
Before her retirement, Anna took part in a TV Dance show called Dancing for You and won the contest. Her partner in the show was Alexander Leshchenko.
After her retirement, she appeared in several Ukrainian TV shows and programs. She was the national sensation at that time.
Anna is an active advocate of sports and a Healthy Lifestyle.
She is also a motivational speaker who encourages young people to have high ambitions for themselves.
The Olympian was also a chief editor for Pink magazine, the Ukrainian edition.
Anna was the commentator and TV host of the 2012 UEFA Euro for the Ukrainian sports channel.
Yeva Meleshchuk is one of her famous students.
Know About Olympic Gymnast Konei Uchimaru Bio and Net Worth, Click Here>>
Husband and Children
Anya married Dimich Momot on April 25, 2018. Momot is a fitness trainer, a travel vlogger, and a businessman.
Anna and Dimich are so much in love with each other. It is evident in the pictures they share on social media.
Dimich proposed to the Olympic winner in a very romantic way. Momot got down on one knee at the NBA game between Miami Heat and Brooklyn Nets and proposed.
In 2020, the lovely pair was blessed with a baby boy. However, they have not opened up much information regarding their son out in public, not even his name.
Net Worth
Anna, also known as the queen of elegance, has collected impressive wealth. According to some online sources, Anna Bessonova's net worth is around $1 million- $5 million.
Most of her income came from her impressive gymnastic career. In addition, the sponsorships deals and endorsements also contributed to her wealth.
Even after retirement, the gymnast is making money by teaching girls gymnastics in Ukraine and USA.
Furthermore, she owns houses in Ukraine and the USA. She is also proud of some expensive cars like the Honda SUV.
Charity
Above all, Anna has been spending some portion of her net worth on funding and donations in her home country, Ukraine.
She has been helping the local sports schools and gymnastics clubs with money and other necessary facilities.
Anya wants to provide equal opportunities to all the girls who dream of becoming great gymnasts like her but could not afford it financially.
Moreover, her family is also running a charity foundation that provides help to needy children.
Social Media
Like other public figures, Anna is also active on social media platforms. On Instagram, Anna has over 41.2k followers as of January 2022.
Her posts are related to day-to-day life, memorable moments with her husband, and the gymnastics profession. Click the link given above to have a look.
Click here to read about the Cuban-American Gymnast Danell Leyva Bio and Net Worth>>
Frequently Asked Questions (FAQs)
Where is Anna Bessonova nowadays and what is she doing?
After retiring from sports, Anna climbed on a new career as a coach at the Deryugin School. The gymnast also participates in international events and conducts classes all over the world.
As of now, Anna lives in the USA with her husband Dimich, and kids.
What are Anna Bessonova's hobbies apart from gymnastics?
Anna loves to read in her leisure time. Besides, she is a caring and mindful person who likes to spend time with her friends.
Who is her biggest rival Anna Bessonova?
Russian rhythmic gymnast Evgeniya Olegonva Kanaeva is Bess's most prominent rival during her active career. The rivalry is nothing personal, but it is professional.
Both gymnasts had to face each other in most of the competitions, and it always used to be eager people who will take the winning trophy in the game.