Anson Horace Carter, better known as Anson, is a former Canadian ice hockey player from Toronto, Ontario. Now a retired player, Anson lives with his wife in Atlanta, raising two kids and working as a game analyst and commentator for popular media in the United States.
Carter debuted with the Quebec Nordiques in 1992 after they drafted him as the 220th overall pick in that year's draft.
Despite appearing for eight clubs for eleven seasons, he never lifted the trophy.
However, he was a successful international player, winning two World Championships representing Canada in 1997 and 2003.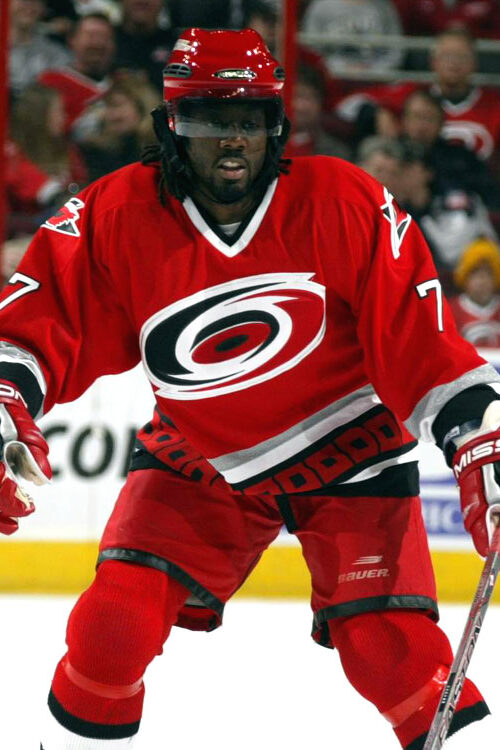 Like many boys in Canada, Anson loved playing with snow; thus, ice hockey became one of his favorite sports. He started playing hockey seriously at age eight and soon joined his school team.
Although he initially wanted to be a doctor, Carter changed his plans. He had even enrolled in the pre-med program at Michigan State University but eventually became a professional ice hockey player.
Anson Carter Wife: Who is Erika Carter?
The Canadian ice hockey player Anson Carter's wife, Erika Carter, is American.
She was born and raised in Waterford, Connecticut, to her parents, Juergen and Margaret "Margie" Keil. She grew up with her sister Kristen.
Sadly, her mom, Margie, passed away on February 27, 2021.
Erika was interested in athletics early on and participated in dance, soccer, and gymnastics.
While at high school, she was the soccer and high school team captain. She started attending gym classes around the same time.
After graduating high school, she attended Boston College in Massachusetts. She graduated with a bachelor's degree in Communications in 1995.
Carter became a certified personal trainer in her twenties and started a job as a personal trainer. While she had always been passionate about fitness and health, she also worked as an Account Director in Advertising Agency for some time.
Erika has been in the fitness industry for over fifteen years, working with different fitness agencies, including Flywheel Sports.
She has been running her fitness club, Erika Carter Fitness, since March 2020 in Atlanta, Georgia.
Marriage With Anson And Kids
Anson and Erika have been married to each other for nearly two decades. The couple first met in the early 2000s and married around 2006 after dating for about six years.
Their first daughter, Mikayla, was born on June 10, 2006. Likewise, Erika gave birth to their youngest daughter, Malia, on August 30, 2008.
The beautiful family resides in Atlanta, Georgia, and owns a French Bulldog. Apart from doing their jobs, everyone in the family loves traveling and dining out during their vacations.
Anson Carter Owns Atlanta Gladiators
After his time in the NHL, Anson played a season for HC Lugano in the Swiss hockey league. Following that brief stint, he returned to America and worked as an analyst for Fox Sports West, NHL Network, etc.
In addition to working as an analyst for NBCSN's Notre Dame Fighting Irish ice hockey and NBC's NHL coverage, he wrote commentaries on the 2013 Stanley Cup playoffs for the Huffington Post.
Besides, Anson is involved in various other projects, including founding his record company, Big Up Entertainment, and the Shirt Off My Back clothing line.
He is also the producer of movies like Knock Knock Killers (2011) and Bald (2008.
Carter joined the ECHL club Atlanta Gladiators as its minority owner in 2022.