Anton Chupkov is one of the most famous swimmers from Russia in the breaststroke category. He is the current record holder in the 200m breaststroke.
Anton might have taken a break from his career, but the Russian stud always remained dominant in the breaststroke style.
Ever since he joined the youth national team, he dreamed to reach the pinnacle dream of a swimmer. However, his most significant moment came when he won a Bronze in the Rio Olympics.
Anton signed with the Toronto Titans, the ISL's first Canadian-based professional swim team. This move happened in the spring of 2020 for their first season.
In this article, you will learn more information regarding the swimmer. So, let's dig deeper into Anton Chupkov's career, personal life, and net worth.
Also, here are some quick facts about the player before we head any further into the details.
Anton Chupkov | Quick Facts
Name
Anton Chupkov
Birthname
Anton Mikhailovich Chupkov
Nickname
"The Claw"
Birthdate
22 February 1997
Birthplace
Moscow, Russia
Age
26 years old
Gender
Male
Zodiac Sign
Pisces
Chinese Zodiac
Ox
Nationality
Russian
Body Type
Athletic
Hair Color
Light Brown
Skin
Fair
Height
6 ft and 2 in (188 cm)
Weight
152 lb. (71 kg)
Profession
Competitive Swimmer
Strokes
Breaststroke, Medley
Club
Toronto Titans (ISL 2020,
Energy Standard (ISL 2019),
Olympic Reserve "Youth of Moscow," Lokomotiv
Status
Active
Olympic Honors
Bronze medal – 2016 Rio de Janeiro (200m Breaststroke)
World Championships
Gold: 2019 Gwangju (200m Breaststroke)
Gold: 2017 Budapest (200m Breaststroke)
European Championships
Gold: 2018 Glasgow (200m Breaststroke)
Gold: 2020 Budapest (200m Breaststroke)
Relationship Status
Single
Social Media
Facebook
Instagram
Net Worth
$1.5 Million
Merch
Swimming Gear
Last Update
May, 2023
Anton Chupkov | Early Life and Background
On February 22, 1997, Anton Chupkov was born in Moscow, Russia. Unfortunately, the exact details and names of his parents aren't known.
Anton and his mother resided in a private house in Perovo. But, it was demolished, and the family moved to a modest two-room flat in Vykhino.
Per sources, the family still resides in the same residence currently. However, he didn't have an easy childhood. Firstly, his father died when Anton was six years old.
Similarly, the swimmer didn't have any siblings. Hence, he recalls his mother devoting her entire life to raising her one and only child.
We can trace his source of inspiration for picking up swimming as a passion since his childhood. Anton began swimming at the tender age of five.
Moreover, his mom enrolled him in Natalia Bykova's group. And, the team practiced at the Prozhektor recreation center's 25-meter pool.
The idea of swimming started as a hobby as no one thought about loud triumphs and medals at first. But, everything changed when Natalya Yurievna caught the eye of a young Anton Chupkov.
Anton Chupkov | Professional Career
Setting Foot
After his mom enrolled him in a school, Anton Chupkov started swimming as a hobby. But, according to the instructors who knew him at the academy, he swam for keeping up with fitness.
But, Natalya Yurievna advised his mother to continue his training. Eventually, he moved to the Yunost Moskvy sports school at 11.
This step would mark the beginning of his career. After that, he began working with coach Alexander Nemtyrev, with whom he is still in contact today.
You might like to read about: Dmitriy Balandin Bio: Swimming, Gold Medal & Wife.
Alexander was crucial in the development of Anton as a swimmer. He instilled a professional winning mentality in him.
Furthermore, he switched to breaststroke during this time and designed breaststroke as his defining style.
Consequently, the talented athlete became a member of the Russian Federation's young national swimming squad in 2013.
Climbing Through Junior Team
After becoming part of the junior national team, the Russian swimmer diverted his attention to significant events. He had already participated in many local and amateur tournaments.
The transition wasn't difficult as he secured his first podium finish the same year he joined the team.
At the 2013 European Youth Summer Olympic Festival, Anton won gold in the 200-meter breaststroke. Then, he went on two win silver in the 100-meter breaststroke.
These wins were his first medals as a member of the team. What followed next was a series of successes and trophies throughout the years.
The six feet two inches swimmer Anton competed in the 2014 European Junior Championships the following year. Again, he secured a podium finish in 50 and 100 meters as he bagged bronze.
Then, he went on to win the silver in the 200-meter breaststroke. Likewise, he made appearances in Russian medley relays, both as men's and mixed relay team members.
The same year, he competed in the 2014 Youth Olympics in Nanjing. Again, he dominated the tournament entirely, winning five medals. This tally included two golds and two Junior World Records.
Turning Up in 2015
2015 would turn out to be one of the most memorable years for Anton Chupkov. He won the gold medal and was crowned Russian champion in the 200m breaststroke.
The Russian guy was just 18 at the event held on April 20, 2015. Similarly, he participated in 50-meter and 100-meter breaststroke events.
His first world championships were dawning as he decided to compete in the 2015 European Games. The event was held in Baku.
He dominated the event and he took home four gold medals. This tally included a new World Junior Record in the 100-meter breaststroke.
The previous record was set by himself in August 2014. And, he was also the only swimmer in the field to breach the 1:01 mark.
Chupkov won three additional gold medals in the 100 breasts, 4×100 medley relay, and 4×100 mixed medley relay.
The Russian swimmer achieved a Junior World Record in the 200-meter breaststroke in his first World Championships. This happened in the semi-finals when he finished at 2:09.64.
Despite being new, he made it to the Championship final. He finished seventh in the final championship, recording a time of 2:09.96.
Chupkov then competed in the World Junior Championships. This event was held in Singapore a few weeks later. He won the 100 and 200-meter breaststroke events, setting a meet record in the 200.
An Engaging Career
Anton Chupkov finished third in the 200-meter breaststroke in 2:07.70. Hence, he earned a bronze medal in his first Olympic Games at 19.
Dmitriy Balandin of Kazakhstan and Josh Prenot of the United States beat Chupkov to the wall first and second.
On the final night of swimming in Rio, he was a member of Russia's 4×100-meter medley relay team, which placed fourth.
Chupkov set a new Championship and European record in the 200-meter breaststroke with a time of 2:06.96. Then, after turning fourth with 50 meters to go, a thrilling last 15 meters sealed the gold.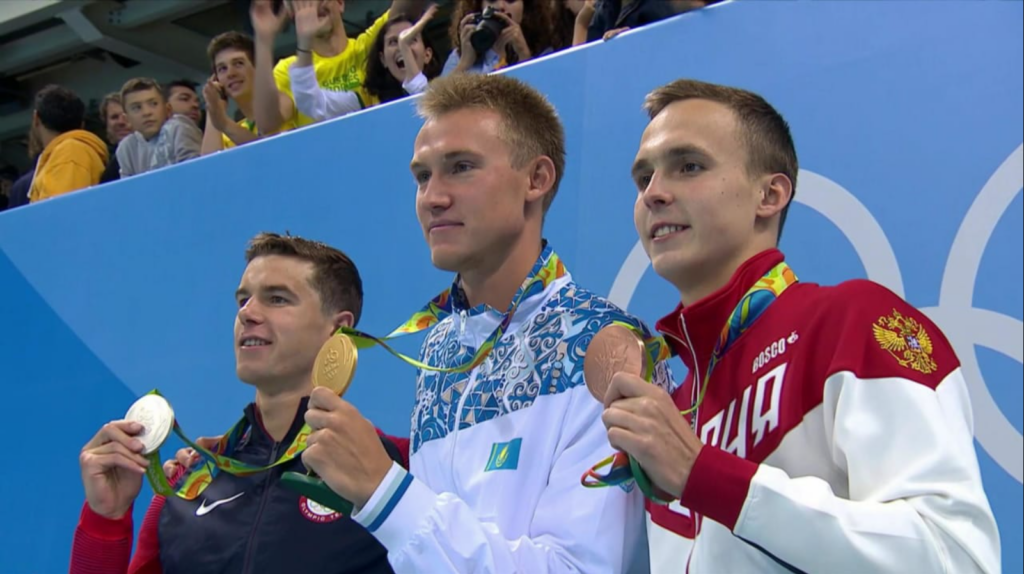 This win was his first-ever World Championship. And Anton Chupkov was a World Champion for the first time.
In Glasgow, Chupkov won two individual medals and one on a relay. First, he took bronze in the 100-meter breaststroke, setting a new personal best.
This win was his first senior international medal in the race. He later added a European title to his world crown, running a personal best of 2:06.80. Furthermore, it was a championship and European record.
In the 2019 World Championships, Chupkov raced back in the 200 breaststrokes after finishing eighth in the 100 (59.19). Then, Chupkov came from behind to defend his world championship.
He set a new world record in the final 50 meters, finishing in 2:06.12. Chupkov also took part in the 4×100 medley relay prelims. His team went on to win bronze.
How does Anton prepare for a world record?
By now, we must be pretty much aware that the young Russian is not just a regular swimmer.
Having notched a bronze medal in the 200-meter breaststroke at the 2016 Olympics, he believes one can never beat a record in training. It is just down to the competition.
Moreover, Anton adds that essentials like shaving, swimsuits, and caps do help. He shaves his body right before the race, which helps him improve streamlining.
Additionally, Anton prefers Speedo Suits that are tighter and lighter which help him do his personal best.
Over and above that, Anton states, "If I am nervous, it means I am ready." Click here to read the full interview of Anton with the Olympic Channel.
Anton Chupkov | Retirement
With an engaging career on his back, he headed for the men's 200 breaststroke final at the 2020 Tokyo Olympics, which the infamous Pandemic delayed.
However, he finished outside of the medals with a time of 2:07.24 in fourth place. And Anton soon declared his plans to retire in the coming future.
Further, he stated that he would have resigned last summer if the Games had not been postponed in November.
The reigning two-time world champion announced that Anton would compete in the FINA World Cup Series in Doha. Russian news agency RIA Novosti confirmed the news.
When asked for Games in Paris? Anton answered, "No, the next goal is to enjoy life." Thus, this statement clarifies his intentions to continue living but without swimming.
Anton also cleared up that he will not be racing at the 2022 World Championships in Fukuoka, Japan.
He is an athlete with immense potential still left in him. We hope that he changes his mind and decides to come out of retirement.
You might like to know about: Pieter Timmers's Bio: Earnings As A Retired Swimmer.
Is Anton Chupkov Married? | Know About His Personal Life
Anton Chupkov is neither married nor in a relationship with anyone. Instead, it seems he was devoted to swimming.
Because of his pleasant attitude, it's difficult to imagine the athlete is unmarried. However, despite this, he has kept a clear separation between his work and personal life.
Success in a competitive event like the Olympics requires sheer will and determination. Therefore, this could be why he has never had time for casual dating or romance.
In an interview, he revealed that he does not feel the need to have a life partner by his side. So instead, he wants to pursue a carefree life where one can live on their terms.
Furthermore, he is entirely sure that he will find a wife who will "please and sink into the soul." We hope the Russian talent finds the girl of this character soon and settles down eventually.
Anton Chupkov | Age, Height & Personality
Anton Chupkov is a swimming athlete, and he has the gifted body frame to prove it. Being a swimmer competing at the highest stage, his hands are remarkably flexible and robust.
At the time of writing this article, Anton is 26 years of age. However, he still looks fresh and fit enough to compete in the professional swimming scene.
Moreover, the athlete weighs around 157 lb. (71 kg) and stands at an astonishing height of 6 ft. 2 in (1.88 m).
Additionally, he is a swimmer in the breaststroke category. As a result, he devotes himself to workouts that improve his skills in these areas.
It's evident from his photos that he's kept himself up to the professional league's standards. His exact body measurements, however, remain unclear.
Anton works out for an hour in the Krugloye Sports Base Gym at 10 in the morning and later swims for two hours.
Lunch will be followed by an hour and a half of sleep or rest. Then he returns to the pool for another two hours of swimming. It is clear from his daily schedule how dedicative his personality is.
The Claw, aka Anton, loves his mom the most and loves spending his free time at home. Even at 24, his mom has a say in his decisions, and he respects the outcome. Incredible, isn't it?
Anton Chupkov | Net Worth & Earnings
Anton Chupkov accounts for much of his net worth from his professional swimming career. Similarly, he has his line of endorsements and sponsorships.
Throughout, he won several honors and accolades in his stint as a professional. One of the notable ones would be his bronze in the Rio Olympics.
Per Sources, Olympic medalists get a monetary award from their local Olympic organization. For instance, team Russia participants are paid $61,000 for a gold medal and so forth for other medals.
Therefore, it is clear that he received a massive payout from just one tournament. Similarly, there are several other regional and continental championships he won.
Being an Olympic medalist meant he was followed by various fitness and sports organizations for sponsorships.
Aligning with public sources, Anton Chupkov is estimated to have a net worth of around $1.5 million as of 2021.
You might like to read about: Sun Yang's Net Worth: Earnings as a Swimmer & Olympics.
Anton Chupkov | Social Media Presence
Despite having various platforms available, Anton Chupkov is active only on Instagram and Facebook.
His Instagram bio represents his medal count in the Olympics, World, and European Championships.
Additionally, he has provided his contact details for any potential partnerships. Anton uses Instagram to post candid photos of his races at major events.
Similarly, he is also seen posting his daily life outside of swimming and training. His Instagram feed is a balanced montage of his life inside and outside swimming.
Frequently Asked Questions (FAQs)
Did Anton Chupkov pursue a degree academically?
Anton enrolled in the Moscow State Pedagogical University's Faculty of Physical Education in 2015. He had intended to enroll in RSUFKSMiT but could not study for the tests because of European Games.
Which football team does he support?
In an interview with Teller Report, he revealed that he doesn't miss a single CSKA Moscow match.
Has Anton ever played chess?
The swimmer is not a professional chess player, but yes while in school, he took classes and played chess for two years. He participated in the tournaments and finished in the top three.