All the Olympic gymnastics fans know the name "Arthur Mariano." Indeed, the charismatic yet masculine guy representing Brazil on the international platform.
Initially, he was known in his native land for his skill and mesmerizing look that can't be blamed if you fell in love with it.
However, the 2016 Summer Olympics held in Rio de Janeiro changed his fame forever.
Back then, he won the bronze medal, and everyone apart from his homeland noticed him. In fact, that moment bought him exposure from all around.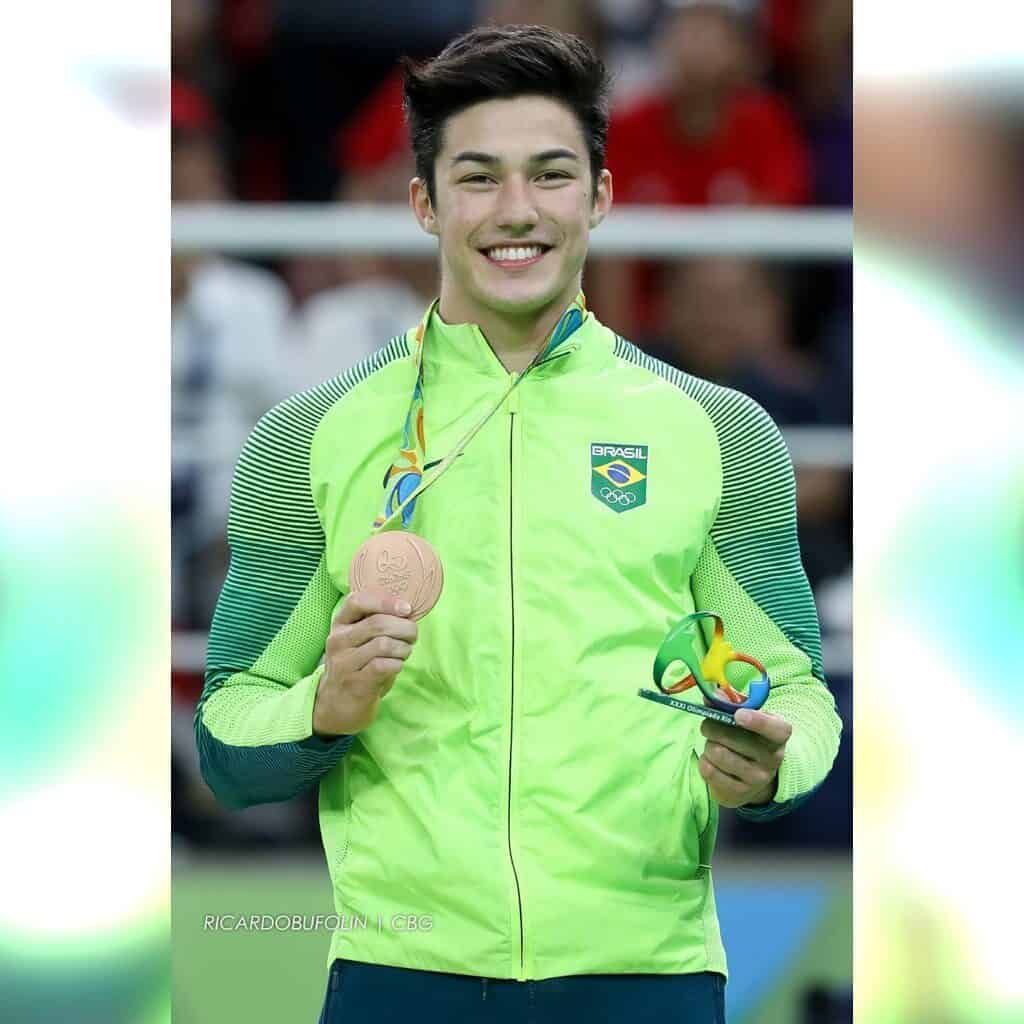 To date, Mariano has been actively taking part in gymnastics. Apparently, he is also the 2019 World Champion on the horizontal bar.
Aside from being an athlete, Mariano is also an internationally signed model.
Quick Facts:
Full Name
Arthur Nory Oyakawa Mariano
Date of Birth
18 September 1993
Birth Place
Campinas, Brazil
Shortened Name
Arthur Nory
Religion
Christianity
Nationality
Brazilian
Ethnicity
Mixed
Zodiac Sign
Virgo
Age
30 years old
Height
169 cm (5'7″)
Weight
65 kg (143 lb)
Hair Color
Black
Eye Color
Dark Brown
Build
Athletic
Father's Name
Roberto Mariano
Mother's Name
Nadna Oyakawa
Siblings
Two siblings:
Rebeca Yori Oyakawa Mariano
Israel Mariano
Physical Education
Paulista University
Marital Status
Unmarried
Girlfriend
None
Profession
Artistic gymnast
Model
Discipline
Men's artistic gymnastics
Club
Esporte Clube Pinheiros
Level
Senior International Elite
(Brazil national team)
Active Years
2011-present
Net Worth
$1.3 million
Social Media
Instagram, Twitter, YouTube
Merch
Gymnastics Mat, Balance Beam
Last Update

November, 2023
Arthur Mariano | Early Life, Family& Nationality
Mariano (fully named Arthur Nory Oyakawa Mariano) was born on September 18, 1993, under Virgo's sun sign.
Furthermore, he was born in Campinas, Brazil, to his parents Nadna Oyakawa and Roberto Mariano.
As a matter of fact, Mariano is half-Japanese and half-Brazilian, as his mother is from Japan. Also, he has two siblings Rebeca Yori Oyakawa Mariano and Israel Mariano.
Unfortunately, Mariano's parents went their separate ways when he was still a child.
Further, he went on to live with his mother in São Paulo and even likes it when he has his other's surname.
Mariano may still be a mystery as he hasn't opened up about his early days and academics lot.
Introduction to Gymnastics
Apparently, gymnastics wasn't the first thing Arthur tried in his life. Initially, he joined the judo class alongside his father at six and would do it.
However, when he came across gymnastics one day, he wanted to do it more than anything.
Mariano was just around ten and was inspired by a Brazilian female gymnast Daine dos Santos.
At the age of eleven, Arthur was spotted by a coach from the Pinheiros club in Sau Paulo, Brazil, who asked him to try out.
Therefore, he joined Esporte Clube Pinheiros after moving to Sau Paulo. Mariano stated that he was a bit late to find gymnastics and had to have everything in a fast-forward motion.
Read about Nathan Chen Bio: Career, Education, Net Worth, Family >>
Arthur Mariano | Career
Mariano stepped into the national floor for gymnastics; he stated it didn't come off easy for him. However, all he could do was move on.
Later in 2007, Mariano bagged his foremost title as he won the Brazilian Child Gymnastics Championship when he was fourteen.
Advancing on, he bagged many titles; however, it was the 2016 Summer Olympics, which gave him a breakthrough in his career.
Most may not even take it as a big deal; however, gaining a spot in the Olympics was like a dream come true for Mariano as he broke down into tears after winning.
Indeed, it was an unexpected situation as he was allowed to advance to finals as he got selected in the "two-athletes-per-country" rule. All in all, he won unexpectedly, beating all the odds.
Apparently, he had won the prize in the floor exercise, and before that, he had stood fourth in the 2015 World Artistic Gymnastics Championships.
Following it, he became the 2019 World Champion on the horizontal bar.
As of now, Mariano's dream is to bag the 2020 Olympics Games, which had been postponed to 23 July 2021 due to the novel coronavirus.
"My first competition in Brazil was a struggle. I was already doing everything that other boys my age did, but I was still very immature. It was difficult; I messed up and cried in the middle of the competition."
-Arthur Mariano
Body Measurements and Skills
Arthur Mariano is a handsome hunk standing at 169 cm (5 feet 7 inches) with a masculine body frame. Additionally, he has short and neatly maintained black hair with dark brown eyes. Altogether, he weighs 65 kg (143 lb).
As an athlete, training and a strict diet is a must, and Mariano is no stranger to it.
As explained by Mariano himself, he trains twice a day for four hours, which helps him burn around 700 to 1,000 calories.
Simply put, his first training session starts early in the morning while the other is in the latter half of the day.
His diet has followed the rule of low salt, no sweets, chocolate, and no junk food.
Injuries
As an athlete, Mariano has also come across various phases while getting injured. Below is the list of the injuries he has faced to date.
The year 2013: Back in his career's early phase, a ring strap got snapped and hit his right eye. Therefore, he had to undergo eye surgery to avoid losing his eyesight.
The year 2013: Following that injury, the same year, Mariano struggled with microfractures and tendinitis in his right shoulder. Due to it, he had to keep himself away from the sport for two months.
February 2015: During his training sessions with the Brazilian National team, Mariano injured his knee, which required surgery.
The year 2016: A foot surgery.
November 2016 and November 2017: In November 2016, Arthur had a right shoulder surgery, which again caused him to trouble the November of the next year. Thus, he underwent another operation.
The year 2019: Arthur suffered chondromalacia (softening of cartilage resulting in pain) in his left knee. Sadly, he doesn't have any medication; therefore, he would use ice every time before his training.
May 2020: Arthur suffered recurring shoulder pain, and thus, he had to undergo arthroscopic surgery on his left shoulder.
Achievements
Despite all the ups and downs, physically and emotionally, Arthur has been maintaining his flow. Not to mention, he lives by the motto, "The more you sweat in training, the less you'll bleed in battle."
To date, he has achieved certain feats in his career, some of which are listed below.
2011 South American Championships in Santiago: Bronze in the vault and gold as the team
2012 South American Championships in Rosario: Bronze in both the horizontal bar and vault, Gold in floor exercises, and gold as a team
2014 South American Games in Santiago: Silver as a team
2015 Pan American Games in Toronto: Silver as a team
2016 Olympic Games in Rio de Janeiro: Bronze in the floor exercise
2019 South American Championships in Santiago: Silver in all-around, Gold in the horizontal bar, and as a team
2019 World Championships in Stuttgart: Gold in the horizontal bar
Pan American Games of 2019 in Lima: Silver in all-around and the horizontal bar, Gold as a team
Brazil Olympic Award – Best Athlete of the Year from the Brazilian Olympic Committee (2019)
Brazilian of the Year in the sports category (for 2019 by the Brazilian magazine Istoe)
Learn about Mary Lou Retton Bio: Olympics, Gold Medal, Net Worth, Kids >>
Net Worth
Currently, Arthur Mariano has a net worth of $1.3 million. Besides being an athlete, Mariano is also an international model.
In 2019, he has named the face of Philippine-based international clothing brand BENCH's men's wear campaign in Brazil and Latin America.
Arthur Mariano | Personal Life
As a lesser-known fact about Mariano, he also served in the Air Force and got his physical education training from Paulista University in Sao Paulo.
Additionally, he can speak English and Portuguese.
Also, his days often start with the motivational stickers that he has hung up in his space.
Apparently, the athlete is a dog lover and has pets named; Rio, Tokyo, e Rita Lee.
Racist Snapchat
In May 2015, Arthur Mariano was suspended for 30 days from the sport to make a racist video regarding his teammate. Apparently, they were marking comments on the video to Angelo Assumpcao.
According to sources, their comments were like, "smartphone screen is white when working and black when broken, and that shopping bags are white and bin bags black."
Therewith, he was suspended alongside his teammates, Fellipe Arakawa and Henrique Flores.
As the news was spread through the Brazilian newspaper O Globo and thus, and later, Mariano posted a video apologizing for his acts. In the meantime, he stated that his comments were a joke.
Overall, taking on behalf of Angelo Assumpcao, Educafro (a Brazilian charity working with black youngsters) stated they to pay for scholarships for 50 poor children as punishment.
Current Days (2021)
Recently, with the Tokyo Olympics, Arthur Mariano missed the final match. As it's a sure thing that Mariano has a huge fan following and gets loads of comments regarding his matches.
For the name-calling comments on his social media sites, he explained his condition rather than getting angry over it. As his 2015 racist post came back to the limelight, he commented back to haters with, "There's a lot of clubbing; it always comes back."
Well, he opened up, stating that the comment regarding the incident has always been scary, and he is improving slowly from his mistake. He states it to be his "process of daily maturation." To it, he even added that he wouldn't run away from it anymore but face it boldly.
"I had burnout, depression; I had to stop for a while, go back, focus on the bar. And I'm here for another Olympics. Athletes, and human beings, make mistakes. I trained a lot, it was a complicated year, but I gave myself up."
-Arthur Nory Mariano
Girlfriend
Arthur Mariano has been a national heartthrob, and no wonder he is a "Lady's favorite." Indeed, his figures, achievements, and yet heartwarming smile make him an eligible bachelor. Yes, he is single!
However, Mariano is famous among his female gymnasts and can often be seen snap chatting with them. One of such friends is close with his fellow Brazilian gymnast Jade Barbosa.
All in all, the biggest rumor about his dating sparked with Simone Biles.
Back in 2016, she posted an Instagram upload with her picture with Arthur with the caption, "My Brazilian Boyfriend. "
In response to it, Arthur had also posted such upload with the, together and the caption as "My US Girl." Therewith, they left everyone thinking that they were dating as a couple.
However, looking closely, they opened up about being just close friends and pulling the uploads as a joke.
"We joke that we're like international boyfriend and girlfriend because we see each other at these international meets, so I think that's really cool. International friendships are the best, and I think it's something you should cherish forever."
-Simone Biles
Who is Simone Biles?
Often known as the "Queen of Gymnastics," Simone Biles is the most decorated American gymnast and the world's third most decorated gymnast.
Born on March 14, 1997, she has been a five-time World all-around champion, five-time World floor exercise champion, three-time World balance beam champion, and six-time United States national all-around champion.
All-round her career, she has garnered many notable titles while being the first American female gymnast to win a World medal in every event.
Social Media
Arthur Mariano is an active user of social media platforms, and you can find him anywhere.
His Instagram handle goes by his real name Arthur Nory (@arthurnory), where he has 1.2 million followers.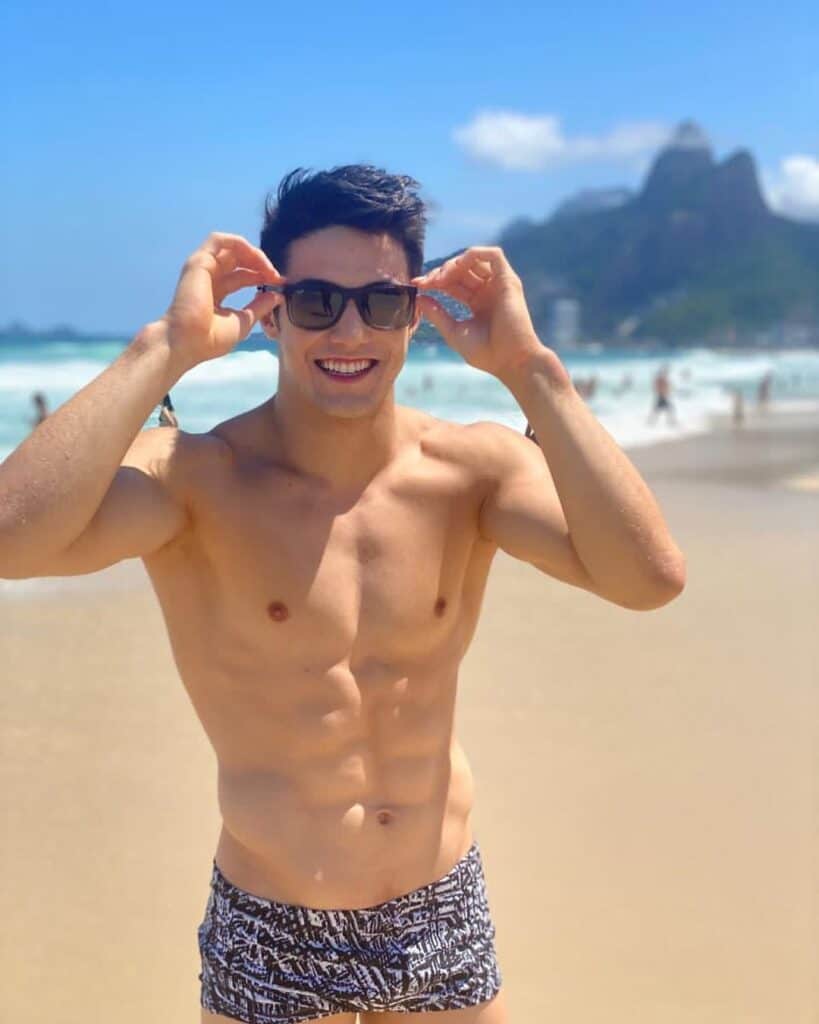 Likewise, his Twitter handle also depicts the name Arthur Nory (@arthurnory), which has 80.4k followers.
Following it, Mariano has his own YouTube channel named Arthur Nory, which has 14.8k subscribers.
Arthur Mariano | FAQs
Who does Arthur Mariano idolize?
Arthur Mariano idolizes German artistic gymnast Fabian Hambuechen, Japanese artistic gymnast Kohei Uchimura, US artistic gymnast Danell Leyva.
Who is Arthur Mariano's coach?
Arthur Mariano's personal coach is Cristiano Albino, while his national-level coach is Marcos Goto.
What else can Arthur Mariano do apart from Gymnastics?
Arthur Mariano is actually good with pianos and often does it as his hobby.