One of the world's youngest climbers, who is also referred to as "bouldering phenom," "climbing prodigy," "Gretzky of Granite," Ashima Shiraishi owns a worthy net worth of around $1 to $5 million.
The Japanese American rock climber has been pushing the limits for a very long time. She was the youngest climber of either gender to complete a sport route with a tough grade of 9a+(5.15a).
Not only that, Ashima was the first female to climb Japan's Mount Hiei, Horizon, rated a V15 (8C) boulder. And since then, she has been marking her essence energetically in bouldering and leads climbing.
Ashima's several accolades include first-place finishes in international competitions and countless first females and youngest ascents.
First, let's take a quick dive into facts about Ashima Shiraishi.
Ashima Shiraishi | Quick Facts
| | |
| --- | --- |
| Full Name | Ashima Shiraishi |
| Birth Date | April 3, 2001 |
| Birth Place | New York City, New York, United States |
| Nick Name | Bouldering Phenom, Young Crusher |
| Religion | Not Available |
| Nationality | Japanese American |
| Race/ Ethnicity | Asian |
| Education | Steiner School |
| Horoscope | Aries |
| Father'sName | Hisatoshi Shiraishi |
| Mother'sName | Tsuya Shiraishi |
| Siblings | Not known |
| Age | 21 Years Old |
| Height | 154 cm (5 ft 1 in) |
| Weight | 40 kg (88 lb) |
| Shoe Size | Not Available |
| Hair Color | Black |
| Eye Color | Dark Brown |
| Body Measurement | Not Available |
| Build | Athlete |
| Marital Status | Single |
| Boyfriend | Not known |
| Profession/ Occupation | Student, rock climber, sport climber |
| Type of Climber | Bouldering, Lead Climbering |
| Net Worth | $1- $5 million |
| Known for | The youngest person to climb a 5.14d/5.15a (9a/+) route, and the first female to climb a V15 (8C) boulder |
| Highest Grade | Redpoint: 5.14d/5.15a (9a/+), Bouldering:V15 (8C) |
| Sponsorship | Evolv, The North Face |
| Active since | 2008-present |
| Social Media | Instagram, Facebook, Twitter, Youtube |
| Merch | How to Solve a Problem, Make it Happen, Reel Rock 11, Chasing Winter, Out of Sight II, Evolv Climbing Shoe, Water Bottle |
| Last Update | March, 2023 |
Ashima Shiraishi's Net Worth and Income
Being an avid climber from the tender age of six. undeniably the majority of her income is earned through climbing accomplishments. Indeed, Ashima's climbing career has opened a number of doors in the best possible way.
Ashima initially kicked off by climbing Rat Rock at Central park and later climbed at Brooklyn Boulders in Gowanus, Brooklyn. And now, to our amazement, she is listed on the elite list of Richest Rock Climbers.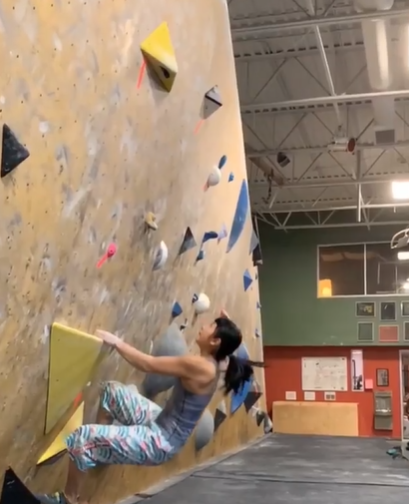 That must be the reason Ashima has a net worth of around $1 million to $5 million.
Ashima started coming into notice when she participated in national events and bagged the tag of the winner at the 2017 USA Climbing Sport & Speed Open National Championships Female Sports category.
No, by this, we did not mean to say she was unfamiliar before, but as Ashima grew up, she started hitting more popularity.
She finished second place at the USA Climbing Bouldering Nationals (ABS nationals) to ten-time champion Alex Puccio in 2017. The same year, Ashima made her Climbing World Cup debut as an adult.
To add up, prior to this, Ashima won the IFSC World Youth Championships for both Lead and Bouldering in the Female Youth B category in 2015, 2016, and 2017.
As aforementioned, Ashima was 14 when she conquered the climb Horizon (8C/V15) in Mount Hiei, Japan, the second person in the wide world to do this.
Sponsorships
Ashima Shiraishi is sponsored by climbing and outdoor brands, Evolve, The North Face, Petzl, and other superior brands like Nikkon and Coca-Cola Japan brands. She is also often seen wearing and flaunting Gucci Jackets.
Read about Dean Potter's Net Worth: Earnings & Sponsors
Ashima signing with Coca-Cola, claim to fame or failure!
Exactly on her sixteen birthday, April 3, Ashima announced her new partnership deal with Coca-Cola, a company that has just stepped into the world of rock-climbing sponsoring pro climbers.
It is the latter side if Ashima is getting benefitted from the sponsorship or not, but the only question that triggered fans and the public is Should the climbing commune welcomes the support from big drinks brands or fight back against their act of sweetness?
Let's take a look at why this question gets raised. With Ashimas's tide with Cocacola company, there came criticisms and appreciation as well.
Most so-called health-conscious people, social influencers, and opinionated climbers showered their disappointment. And some pointed out at Coke directly, saying, " How dare they grab such a young girl? She's only 16.)
Some of the fans showed disapproval, "Followers won't cover your expenses, but you will lose the audience in becoming dependent on signing such a sponsorship. Climbing should remain a representation of freedom," said one of the followers.
And some defamed the company as shit. While climbers like Conrad Anker, on the other hand, skipped the conspiracy and casually wished Ashima a happy birthday.
Well, this was all about comments, criticisms, and appreciation. But on a serious note, does it even matter? It's just an endorsement deal.
Yes, as an athlete, we can understand that athletes should not be prioritizing sugary drinks or food because it is high in calories and cause overweight.
But above and overall, we all do know Ashima is a smart climber, she knows what she is doing, let her push her competitive level, and let the endorsement offers come in.
Ashima Shiraishi Net Worth | Lifestyle
Well, you will get both flavors when you see Ashima if you are getting it, what I mean. She is a young chirpy girl who gets professional and starts pushing her limits when it's time to show her talent on the wall.
And at the same time, when Ashima gets into her personal space, she turns out to be this cute, bubbly girl who has ordinary wants and desires just like a simple girl next door doing all the eat, sleep repeat thing.
She looks like any other American girl with her thick blunt-cut bangs.
To meet her goals on a professional level, Ashima gets all busy with training camps where she keeps working hard, climbing daily from 9 to 5.
Not to mention, Ashima is a full-time student until now, but the rumors say she is planning to enroll at UCLA. However, she will remain a student for a few years at least.
Thus, it's a seen and understood fact that Ashima's schedule is quite tight. She has to take out time from her studies which usually happens on break, and get indulged in training. It's an after-school affair.
Ashima's Diet
She must be keeping much concern on her diet and fitness during the practice days as she knows she has a lot to achieve, more big moves to make for a big momentum.
Ashima follows a strict policy, "no food before the climb." She just hates the fat that comes after eating when your stomach gets all bloated. She is more into eating properly after the climb to retain her energy.
Other than that, Ashima loves food and misses her lunch on school days in the cafeteria. She has a different obsession with baking banana bread.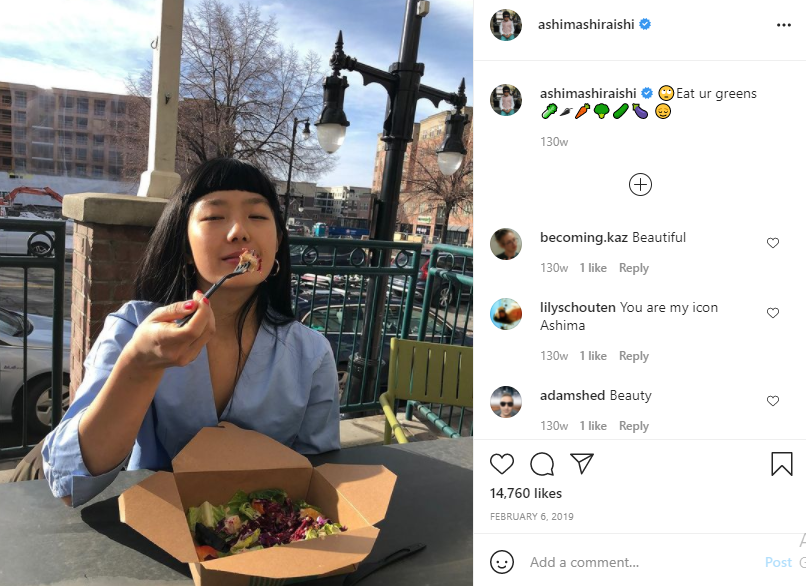 "I just love to eat a lot that's I got interested in trying to bake banana bread so I can use my own healthier ingredients. I've been discovering a healthy version of cinnamon rolls, cheesecake, zucchini bread, and birthday cakes for my parents." Ashima said.
Ashima and her family love Japanese food like okonomiyaki, which is halfway between a crepe and an omelet—and covers more seafood than meat. Ashima's favorite breakfast is Toast with peanut butter and honey.
During lunch hours, she prefers Pasta with marinara and zucchini. And when it's munch time, Almonds, pistachios, and Chocolate Hazelnut CLIF Nut Butter Filled Energy Bar is her favorite. When it comes to dinner, Gyoza, rice, and okonomiyaki are counted in.
Thrifting and Shopping
Again, just like any other ordinary girl, Ashima loves clothing and fashion. She usually prefers thrifting as it's free and personal. She also likes going to second-hand consignment stores when they line up vintage picks from designer brands like YSL and Versace.
Ashima Shiraishi Net Worth | Books
Well, it seems like Ashima has unique love and obsession stored in her for writing. She came across as an author for her book, " How to Solve a Problem: The Rise and Falls of a Rock Climbing Champion," published by Yao Xiao.
This is the number one bestseller book in rock climbing and has all the experiences that Ashima shared while thriving to become a world-class climber.
You can also read yet another article on Emily Harrington's Net Worth: Sponsors & Lifestyle.
Not Qualified for Tokyo Olympics 2021
People who share a fandom for climbing will finally get to see climb sporting makes its debut as one of five new sports at the 2020 Olympics in Tokyo.
The event will be a mix of three different disciplines, Lead Climbing, Bouldering, and Speed Climbing, for the climbers trying to notch Olympic medals this summer.
But hold on, people, if you are looking forward to the young climber Ashima making a great spot at Tokyo Olympics 2021, you might feel bad.
As per online sources, despite being one of the top outdoor climbers in America, Ashima didn't qualify for a spot in the US.
Ashima Shiraishi | TEDx Talks
The strong climber is completely way cute and wise beyond her age. Ashima appeared on the talk show as a live speaker to deliver her message throughout the wide world.
Of course, the event was conducted within a small group, but later the video weighed great importance to a mass of youths via Youtube. Ashima went on to talk about her likes, dislikes, and homework.
Ashima ended up rendering a big message," all of us are rock climbers every day facing our own v14s. Just climb through it".
Ashima Shiraishi | Social Media Presence
There is no getting worried as we can completely get a hold of her on Social Media Handles. Ashima is fairly available on Instagram, Facebook, Youtube,
Although we cannot say the same thing for Twitter Ashima is available there s well. She has a nice number of followers on her social handles, and she keeps them entertained with her climbs and uplifts on and off the wall.
Frequently Asked Questions
Where does Ashima Shiraishi get her pants from?
She actually wears her mom's homemade climbing pants, which are different. Her dad picks out the fabric from Japan or online, and her mom designs them at home.
Is Ashima Shiraishi into Ninja Warriors?
Yes, she is really interested in it. She has a lot of friends who competed in Ninja Warrior and have done pretty well. Isaac Caldiero is a friend of hers who used to climb a lot, and he won.