Austin Gomber wife, Rachel Gomber, is a TikTok star. They married in December 2019 and have sons named Beckham and Charlie.
Austin Zachary Gomber, also known as Austin Gomber, is an American professional baseball pitcher for the Colorado Rockies of Major League Baseball (MLB). He previously played for St. Louis Cardinals and Memphis Redbird.
Gomber was selected by the St.Louis Cardinals in the fourth round of the 2014 MLB draft. The athlete played in various minor leagues before making his MLB debut with the Cardinals on June 2, 2018.
Born on November 23, 1993, Gomber studied at West Orange High School in Winter Garden, Florida, and made himself available for the MLB draft after graduation but wasn't selected.
Later, he joined Florida Atlantic University and played college baseball for the Florida Atlantic Owls. He also played with the Bourne Braves of the Cape Cod Baseball League for collegiate summer baseball in 2013.
Austin Gomber Wife: Rachel Gomber
Tiktok star Rachel Gomber is the wife of Rockies professional baseball pitcher Austin Gomber. She was born on June 3, 1996, to her father, Mark Cottrell, and mother, Julie Bjornholm Cottrell, in Detroit, Michigan, and has a sister named Lauren Cottrell.
Rachel completed her bachelor's degree in BA, Psychology from Auburn University in Auburn, Alabama, US.
She became famous through her hilarious videos on TikTok, where she goes by the handle name, @rachelgomber. Rachel began her TikTok journey on March 29, 2020, aligning with the start of her life as a wife and mother.
She won people's hearts with her amusing and pertinent TikTok videos, giving glimpses of her family life and highlighting the joys and hardships of being an MLB wife and stay-at-home mom.
She has over 561.7k followers and over 28.9 million likes on Tiktok and has become a source of fun and inspiration for many.
Similarly, Rachel also posts glimpses of her life on Instagram. At the moment, Rachel has amassed 81.9k Instagram followers. On the platform, she posts adorable family pictures that give viewers a sense of the warmth and joy that permeate their household.
The social media influencer also has over 913 followers on Twitter, to go along with that.
Rachel is a very strong lady. In October 2021, through her social media, she disclosed being in an abusive relationship when she was 21 years old. While she has chosen not to go into additional detail, her vulnerability and courage in speaking out have touched many people, encouraging others who have faced similar challenges.
Rachel Gomber: Married Life And Kids
Rachel Gomber, the popular social media personality, has succeeded in being a social media influencer as well as a loving wife and devoted mother.
As per the interview given by Rachel to New York Post, a few weeks after she left her toxic relationship, Austin Gombe, the baseball pitcher, messaged her, and they instantly hit it off.
After Austin made his MLB debut later that year, they found out they were pregnant and got engaged. The couple got married in December 2019 and have since started a lovely family.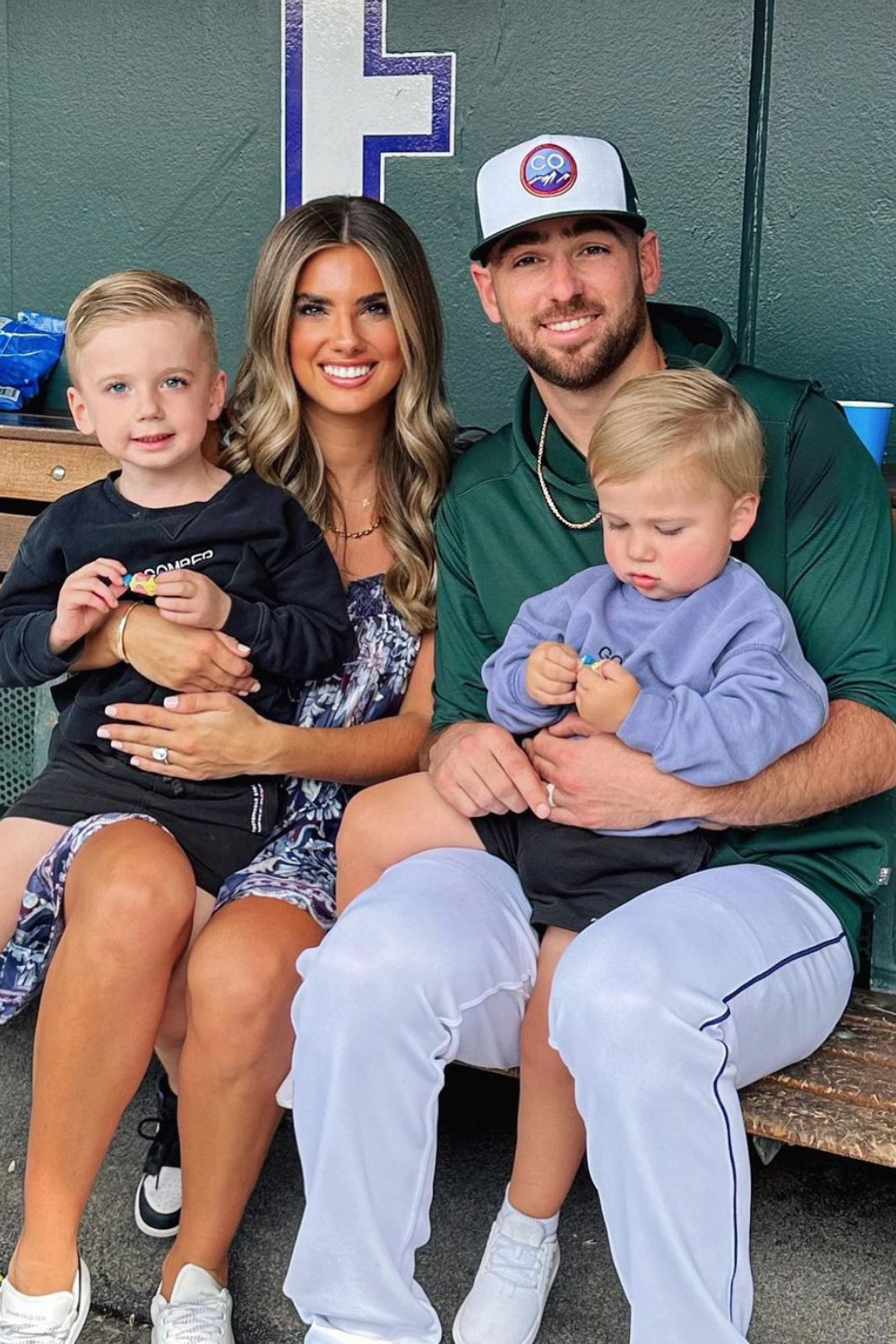 Rachel and Austin are proud parents to two adorable sons, Beckham and Charlie. She gave birth to their first child, Beckham, in 2019 and their second child, Charlie, on August 17, 2021.
She shares glimpses of her family life on social media, highlighting the love and joy in their home. As a devoted mother, Rachel creates a nurturing and loving environment for her children.
She continues to find moments of fun and lightness while combining her responsibilities as an MLB wife and a stay-at-home parent. All in all, Gomber has inspired many people through her life journey.