Bailey Tardy's parents Bob, and Kim Tardy, are part of the Real Estate industry. Bob and Kim raised Bailey alongside her two brothers.
A bubbly and fun personality on the golf course, Bailey comes from a family who are all graduates of the University of Georgia.
A graduate of the University of Georgia, Bailey turned pro in 2018. She won her first professional game on the Epson Tour in 2021 and received her LPGA card in December 2022.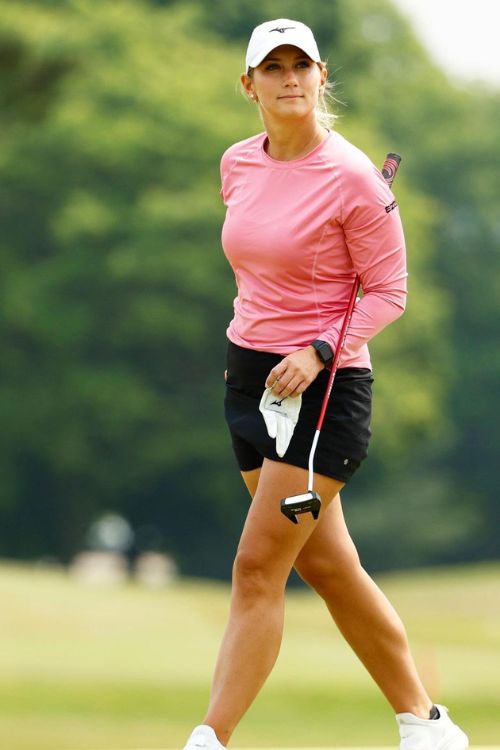 She made her LPGA debut earlier this year at the Drive On Championship but missed the cut. And the 26-year-old didn't let that happen in the US Open.
She may be the new kid on the block, but Bailey Tardy showed in the US Open that she is here for a long time. Tardy tied for the fourth position in the US Open and at one point was leading the tournament.
Allisen Corpuz took the $2 million prize money home, with Charley Hull tying in second position. But the competition has surely put on Bailey on the map. She has earned herself several fans who will now look forward to watching her in the upcoming events.
Bailey Tardy Parents, Bob, And Kim Tardy
Bailey Tardy's parents, Bob and Kim Tardy, raised their three kids in Georgia. She is the youngest and grew up alongside her two brothers.
Tardy comes from a family of University of Georgia graduates. Her father, Bob Tardy, graduated from the University of Georgia with a degree in Business Administration in 1987.
Bob is currently the managing director at Cushman & Wakefield, a global commercial real estate services firm. Bob's journey in real estate began in 2000 when he was appointed as the Vice President of Duke Realty Corporation.
He worked there for six years before moving on to the same position at Technology Park. Bob also worked as a Vice President at IDI Logistics before joining PM Realty Group.
In 2016, he joined XPO Logistics as a director and managed five of their eight business units. He worked there for three years before joining his current workplace.
Bailey's mom, Kim Tardy, is also a graduate of the University of Georgia and previously worked as an account executive before joining her husband in the real estate world.
She has been part of Keller Williams Realty since 2012 and previously worked as a Boot Camp Instructor in the American Boot Camp Company.
Bailey Tardy Brothers, Peyton, And Montgomery Tardy
Bailey Tardy has two brothers, Peyton, and Montogomery Tardy, who unlike her, have chosen careers away from the sporting world.
One of her older brothers, Montogomery Tardy, is a graduate of the University of Georgia, like the rest of the family.
He graduated with a degree in business administration in 2016 and was part of the Sigma Alpha Epsilon.
After graduation, Montgomery joined Diamond Executive Search as a Database Analyst but worked there for only four months.
He then joined HPI Direct as a Systems Integration Analyst for two years before joining Professional Sports Publication as a sales director. He is currently a Business Systems Analyst at Talent Path.
Both the brothers have stayed away from the limelight and don't seem to use social media as such. They have been previously featured on Bailey's Instagram as the siblings enjoyed fishing and sailing in Oahu, Hawaii earlier this year in April.
Bailey Tardy Boyfriend
Bailey hasn't disclosed whether she is currently in a relationship or not. The golfer has kept the media's attention on her work life rather than her personal life.
But on December 12, 2022, Bailey shared a picture with a mystery man on her Instagram handle. The picture came in a post where she shared the exciting news of receiving the LPGA card.
In her post, she thanked her golf instructor Scott Hamilton and her supportive parents. The snap also featured her cute dog, Ramsey, who seemed to be itching to get belly rubs.
But since that post, Bailey hasn't shared any picture with the mystery man, so it's difficult to say whether she is in a relationship.