Baker Mayfield is an American football quarterback in the NFL for the Los Angeles Rams. He is one of the most famous names in the league, decorated with many awards. Mayfield also played for the Cleveland Browns in the NFL earlier.
In his early college football career, he played for the Texas Tech Red Raiders and joined Oklahoma on a sports scholarship.
On Baker's request, Panthers granted his release on December 5, 2022, as he was claimed off waivers on December 6 by the Los Angeles Rams, inheriting the remaining $1.35 million on his contract.
Here, we will discuss some important facts about Mayfield's career and personal life.
But lets first let's look at his quick facts.
Quick Facts
Full Name
Baker Reagan Mayfield
Birth Date
April 14, 1995
Birth Place
Austin, Texas, U.S.A.
Nick Name
Unknown
Religion
Christianity
Nationality
American
Ethnicity
Unknown
Education
Lake Travis High School
Texas Tech
University Of Oklahoma
Horoscope
Aries
Father's Name
James Mayfield
Mother's Name
Gina Mayfield
Siblings
An Older Brother, Matt Mayfield
Age
27 Years Old
Height
6 ft 1 in / 1.85 m / 185 cm
Weight
98 Kg / 215 lbs
Shoe Size
8
Hair Color
Black
Eye Color
Black
Married
Yes
Wife
Emily Wilkinson
Children
None
Profession
Football Player
Net Worth
$22 Million
Salary
Under review
Currently Works At
National Football League (NFL)
Affiliations
Los Angeles Rams
Active Since
2014
Merch
Bobblehead, Rookie Card
Social Media
Instagram, Twitter, Facebook
Last Update
March 2023
Bio, Early Life, Education, & Parents
Baker Mayfield was born in Austin, Texas. He spent his childhood in Austin and attended the local high school.
He went to Lake Travis High School and was a starting quarterback on the school team.
Mayfield was born to his father, James Mayfield, and his mother, Gina Mayfield. He has an elder brother named Matt Mayfield.
His father was a private equity consultant. James Mayfield, Baker's father, played football for the University of Houston.
After graduating high school, Baker joined Texas Tech College and transferred to the University of Oklahoma in 2014.
Age, Height, Weight, & Body Measurements
Baker Mayfield is currently 27-years old. He has been a very successful player at a very young age.
Since he is a player and has to stay fit, he has a well-shaped body which he keeps fit and is very concerned about his health.
Mayfield weighs 215 lb. Talking about his height, he is 1.98 meters tall. He is also popularly known for using his elevation to the team's advantage, as he can easily confuse his opponents.
Career
Mayfield has had an exciting career from school to college and finally to the National Football League. Here, we will take a close look at his career.
High School Career
Baker Mayfield played football in high school, led Lake Travis to a 25–2 record in two seasons, and won the 2011 4A State Championship.
He ended his high school career with 6,255 passing yards, 67 touchdowns, and eight interceptions.
College Career
Although Baker plays professional football in the NFL, he played college football for almost five seasons. Let's take a look at his college career and stats.
Texas Tech
Before starting the 2013 season, Baker Mayfield was named the starting quarterback after the quarterback Michael Brewer's back injury. He had an excellent start for Texas Tech.
In his first game, the quarterback passed for 413 yards and four touchdowns and set a new school record with 43 completions of 60 attempts. He was one of the finest performers of the season.
Despite being injured and losing some games, Mayfield completed the freshman season with 2,315 yards on 218-of-340 completions with 12 touchdowns and 9 interceptions.
Following his excellent performance, Mayfield was awarded the Big 12 Conference Freshman Offensive Player of the Year for the 2013 season.
Oklahoma Sooners
After playing for a season for Texas Tech, Mayfield transferred to the University of Oklahoma.
Due to some misunderstandings between the coach and the management, he had to leave the team. Mayfield also said that he took the transfer due to scholarship issues.
However, the Texas Tech coaching staff and the management denied the accusations.
He lost the 2014 season due to the transfer rules and regulations of the Big 12 Conference. Mayfield was named the starting quarterback for the Sooners on August 24, 2015.
In his first game for the Sooners against Akron on September 6, 2015, Mayfield completed the game with 388 passing yards with three passing touchdowns on 23 completions in the 41–3 win.
He also performed similar performances in his other games by completing the 2015 season with 3,700 passing yards, 36 touchdowns, and seven interceptions.
Moreover, he led the team to the 2015 Orange Bowl, the semifinal for the 2015 College Football Playoff.
2016 Season
The 2016 season started with a loss for Mayfield, where he had 323 passing yards and two touchdowns.
In the next match against his former club Texas Tech, Baker had 390 passing yards, three touchdowns, and two interceptions. He helped the team in their 45-40 victory.
He had 1,321 passing yards, 15 passing touchdowns, and three interceptions in the last five season games.
Also, Sooners won all the last five games of the 2016 season. Mayfield helped lead the Sooners to a 35–19 victory over Auburn in the 2017 Sugar Bowl.
He finished the game with 19 completions on 28 attempts for 296 passing yards and two touchdowns, earning him the MVP award.
2017 Season
The 2017 season was the final season for Baker Mayfield with the Sooners. He was criticized after he planted the Sooner's flag on the home ground of Ohio. However, he later apologized for his behavior.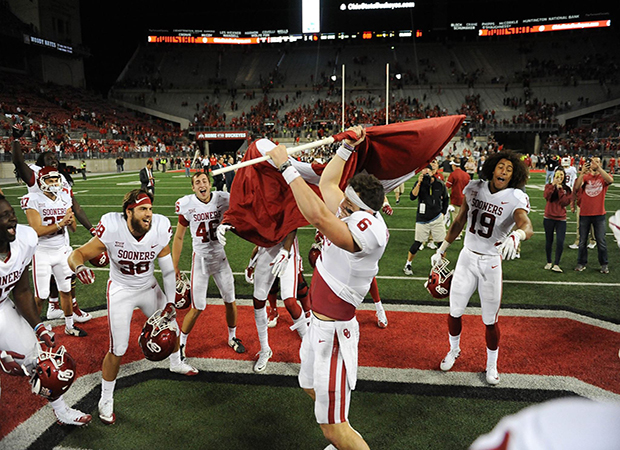 Moreover, he also misbehaved with the coach of Kansas and the fans. He was caught mouthing bad words to the coach. Mayfield later apologized publicly.
Due to his erratic behavior, he lost some important games as well.
Baker Mayfield led Oklahoma to its third straight Big 12 Championship Game in 2017. He was awarded MVP honors for his performance in the series.
Moreover, he won the 2017 Heisman Trophy on December 9, 2017, and became the first and only walk-on player to win the Heisman Trophy.
Professional Career
In the 2018 draft, Baker Mayfield was selected by the Cleveland Browns in the first round. He was one of the most sought-after players, and the Browns were happy to have him.
On July 24, 2018, Mayfield signed a four-year contract worth $32.68 million in guaranteed salary.
2018 Season
The quarterback started his rookie year against the New York Jets. He came as a substitute and passed for 201 yards as the Browns returned and prevailed 21–17, ending their winless streak at 19 games.
Although he was a great player, he was also known for his foul gameplay. On December 29, Mayfield was fined $10,026 for his foul gameplay and inappropriate behavior against his opponents.
In the 2018 season, Mayfield was named 2018 PFWA All-Rookie, the second Cleveland quarterback to receive this honor since Tim Couch in 1999.
He ended the 2018 season with 3,725 passing yards and 27 touchdowns.
2019 Season
The 2019 season was a very productive season for Baker Mayfield. His performance became even better in 2019.
Moreover, Mayfield became the first player to start in all 16 games for Cleveland in a season since 2001.
With outstanding performances in most of his games in 2019, Mayfield finished the season with 3,827 passing yards, 22 touchdowns, and 21 interceptions, as the Browns finished with a 6–10 record.
2020 Season
Although the NFL player started the 2020 season with a loss, his individual performance and contribution to the team were crucial.
In the game against the Bengals, Mayfield completed 22/23 passes for 297 yards and a career-high five touchdowns.
On November 8, 2020, Mayfield was listed and isolated for a few days after he was on the list of people who were with a person with COVID-19.
He finished the 2020 season with 4,030 passing yards, 30 touchdowns, and 9 interceptions through 18 games.
2021
For the 2021 season, Mayfield extended the contract with the Browns. Also, Baker played partially with a Torn labrum he suffered during Brown's Week 2 victory over the Houston Texans on October 7, 2021.
He suffered a right knee contusion during a Week 10 loss to the Patriots. Consequently, withdrawn from the rest of the game by coach Kevin Stefanski.
In the Week 17 loss to the Steelers, Mayfield went for surgery ending his season.
Baker stood on injured reserve on January 5, 2022. He threw his 100th career passing touchdown against Green Bay Packers.
Mayfield played a significant role in the Week 14 win over the Las Vegas Raiders on 18 January 2023.
Career Stats
Beer
Fans can't get enough of Mayfield's shotgunning a beer in 2019 during the Indians game against the Angels as a spectator.
The camera was focused on him, and he took the chance to take another beer can and shotgun it before chugging it all in.
Following it, he also stood to showcase his Francisco Lindor jersey. Indeed, the incident bought a wave of cheers and an energy-packed game.
Stats & Achievements
Mayfield is an athlete with thorough achievements.
He is known for his aggressive play style and is often named the "high-end game manager."
Mayfield posted 1,514 yards, with 15 touchdowns, seven interceptions, and a 74.0 quarterback ratio. Some of his important achievements are listed below.
Heisman Trophy
2× Heisman Trophy Finalist (2016,2017)
Maxwell Award (2017)
Walter Camp Award (2017)
Davey O'Brien Award (2017)
Associated Press Player of the Year (2017)
2× Sporting News Player of the Year (2015 & 2017)
2× Burlsworth Trophy (2015 & 2016)
Big 12 Offensive Player of the Year (2015 & 2017)
Big 12 Offensive Freshman of the Year (2013)
2× First-team All-American (2015 & 2017)
3× First-team-All-Big 12 (2015-2017)
First former walk-on to win Heisman Trophy
NCAA passer rating leader (2017)
7× Pepsi NFL Rookie of the Week: Week 16 (2018), Week 7 (2020)
2×AFC Offensive Player of the Week: Week 16 (2018), Week 7 (2020)
PFT Rookie of the Year (2018)
PFWA Rookie of the Year (2018)
PFF Offensive Rookie of the Year (2018)
PFWA All-Rookie Team (2018)
Personal Life, Wife, & Children
Although Baker Mayfield is a famous player, he has managed to keep his personal life away from the media as he does not speak much about his personal life.
Talking about his marriage, Mayfield married a popular internet personality, Emily Wilkinson, on July 6, 2019.
A mutual friend introduced Mayfield and Emily. You can follow her on Instagram @emilywmayfield.
Wilkinson is a few years older than Mayfield. Initially, Mayfield's consistency in catching the attention of Wilkinson brought them together.
After living together, they engaged and took vows in the Bluebell events with a romantic, vintage-inspired outdoor wedding at Calamigos Ranch in Malibu.
The beautiful pair does not have any children as of now.
Cheating Scandal
In February 2020, Baker Mayfield was backlashed with a scandal about him cheating on his wife.
According to the sources, a young Ohio woman named Kacie Dingess claimed to have hooked up with Mayfield.
As for the illustration, she said she had added him on Snapchat and started talking there. After a few exchanged photos through Snapchat, they met in Westlake behind Cheesecake Factory.
Dingess revealed Mayfield set a strict no-phones policy; thus, she met him in his SUV without her phone.
In the Cleveland radio show "Rover's Morning Glory," she talked about how her small talk led them into physical activity because Mayfield blocked her on Twitter.
However, neither Mayfield nor his wife has commented on her statement and the scandal. Therefore, as proof, Kacie also provided text messages between her and Mayfield.
Wilkinson doesn't seem to be bothered by such allegations, and as most believe, she also gave her a clap-back reply via Instagram upload.
The post isn't dedicated or pointed at specific ones; however, people believe it related to the incident, as she has captioned, "living a happy life and living without regrets."
Net Worth, Salary, & Lifestyle
Mayfield is among the highest-earning football players in the NFL. He had signed a contract with Cleveland worth $32.68 million in 2018.
As of 2023, Mayfield has a net worth of $22 million, and his annual salary is estimated at $10.5 million.
Mayfield also earns through brand endorsements with Hulu, BodyArmor, and Progressive.
Net Worth Of Baker Mayfield In Different Currencies
Here is the net worth of Baker Mayfield in different currencies, including the Euro and Pound Sterling:
Currency
Net Worth
Euro
€

10,377,600

Pound Sterling
£

8,795,400

Australian Dollar
A$

16,317,540

Canadian Dollar
C$

14,934,900

Indian Rupee
₹

904,370,400

BitCoin
฿

218
Quotes
"Everywhere I look, someone is telling me, 'You're not good enough,' or, 'You can't do this or that.' You can only hear that so many times before enough is enough."
"It doesn't matter what cards you're dealt. It's what you do with those cards. Never complain. Just keep pushing forward. Find a positive in anything and just fight for it."
"Family first, always, no matter what the situation."
Social Media Presence
Mayfield updates about his games and his commercial advertisements on his social media. He is available on Facebook, Instagram, and in Twitter.
View this post on Instagram
Facebook (@Baker Mayfield): 306k followers
Instagram (@bakermayfiled): 1.6m followers
Twitter (@bakermayfiled): 854.4k followers
Popularity Graph
Baker Mayfield is a football quarterback for the Los Angeles Rams of the NFL.
The above graph shows Mayfield's popularity over the past twelve months.
Frequently Asked Questions (FAQS)
How far can Baker Mayfield throw?
Mayfield once threw over 70 yards making NFL history with an incomplete pass to Hail Mary while playing for Cleveland Browns. He can throw up to 66 yards on average.
How long did Baker Mayfield and Emily Wilkinson date?
The duo (Baker Mayfield and Emily Wilkinson) dated for six months; however, they knew they wanted to spend the rest of their lives together.
What is the jersey number of Baker Mayfield?
Baker Mayfield features in jersey number 6 for the Cleveland Browns. Jack Mills is Baker Mayfield's Agent.
Who was featured with Baker Mayfield in the commercial?
Mayfield and Alice Cooper were featured together in the commercial for his Progressive Insurance.Jedrick Wills was once in the Baker's commercial.