Baker Mayfield is a celebrated American football quarterback who played for the Cleveland Browns of the National Football League (NFL). He started his college football career being a walk-on player for the Texas Tech Red Raiders. He got moved to Oklahoma from Texas Tech due to scholarship issues and poor communication with coaches.
Moreover, he has won numerous awards because of his outstanding performance as a senior in 2017. And his awards include the Heisman Trophy, Walter Camp Award, Maxwell Award, and unanimous All-America recognition.
Now, you can move towards his top 100 quotes that can encourage you to win.
"Always have self-confidence because that can take you a long way."― Baker Mayfield
"Everywhere I look, someone is telling me, 'You're not good enough,' or, 'You can't do this or that.' You can only hear that so many times before enough is enough."― Baker Mayfield
"It doesn't matter the position you're in. If you're not going to work hard, then you're not doing it right."― Baker Mayfield
"You don't build a great castle just all at once."― Baker Mayfield
"Always been brutally honest. Some people don't like that because it's rare nowadays."― Baker Mayfield
"If you can grab a ball and throw it, you can grab a ball and throw it. I don't care how tall you are, either. I'm not gonna see over a 6-foot-7 left tackle. You've gotta find lanes; you've gotta know where your guys are. It's not about the height: if you can win ball games, you can win 'em."― Baker Mayfield
"I don't think I'm over-the-top cocky, I'm just proud of where I came from."― Baker Mayfield
"When people doubt me, I want to prove them wrong."― Baker Mayfield
9th of 100 Baker Mayfield Quotes
"Height doesn't matter. You see guys like Tyrod Taylor, Brees, Russell Wilson: they've proven that it doesn't matter."― Baker Mayfield
"If you're not gonna do it right off the field, who's to say we trust you on the field?"― Baker Mayfield
"I love this game, and without the competitive nature, I wouldn't enjoy it."― Baker Mayfield
"Whatever opportunity I get, to make sure I get better, I need to take advantage of that."― Baker Mayfield
"For me, being as competitive as I am, the bigger the challenge for me, the better for me."― Baker Mayfield
"The best thing – I say it all the time – what happened at Oklahoma was sitting for a year after I transferred. To sit there and be able to focus on the physical parts of my body. You know, develop, and then the mental side of the game, learning."― Baker Mayfield
"Not everybody responds to yelling at 'em or jumping all over 'em. Sometimes you need to put your arm around somebody and encourage them."― Baker Mayfield
"I set the bar high, and I'll do anything, whatever it takes to win. I care more about this game than most people ever will. When you mix a lot of those things with a winning mentality, it's a good thing to have as a franchise quarterback."― Baker Mayfield
"It doesn't matter what cards you're dealt. It's what you do with those cards. Never complain. Just keep pushing forward. Find a positive in anything and just fight for it."― Baker Mayfield
"Life is a bunch of ups and downs. It's how you handle it."― Baker Mayfield
"Everybody wants to portray the bad boy, the Johnny Manziel stuff, but I love the game of football. There's no doubt about that."― Baker Mayfield
"It is nice to get reps and to slowly build that timing and chemistry. To be able to do that, you start to get into a rhythm."― Baker Mayfield
"I was the undersized underdog who people never gave a chance. From that, the motivation to prove people wrong just grew and grew… Looking back now, I'm glad I didn't hit puberty until later."― Baker Mayfield
"I am going to be myself. To me, that is going to take care of the rest."― Baker Mayfield
"Teams ask me about my character, but until you sit down and talk to me directly, you might have image that's portrayed in stories or headlines. But I love the game, I'm up front and honest, I know exactly what I'm about, and that's the most important thing."― Baker Mayfield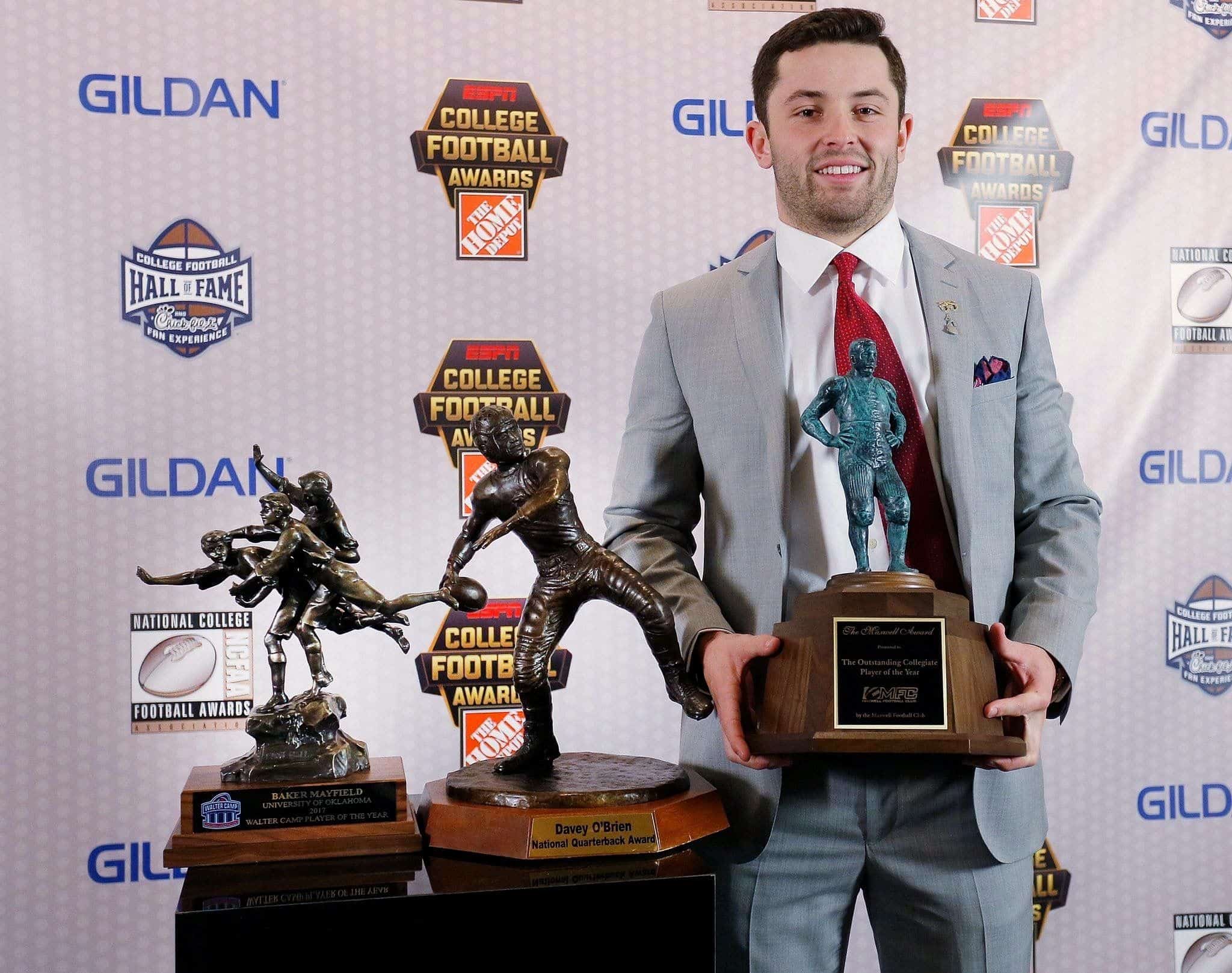 "I appreciate all the kids who come up and enjoy my play at OU. But everybody giving me their opinions is where I draw the line. If it's someone who hasn't been there before, I really can't handle it. It's 'Slide more.' 'Don't take as many hits.' 'Get out of bounds.' I know they have my best interests at heart. I just have to remind myself of that."― Baker Mayfield
"Before the game, getting guys in the right mindset and confident – you play well when you're confident. People can say 'cockiness' or whatever, but there are results when you play with a confidence and you believe in yourself."― Baker Mayfield
"TCU – they told me they were going to offer me a scholarship and kind of drug it out. I told other schools I wasn't interested because I thought I was going to be there. They disappointed me and kind of hung me out to dry right before signing day."― Baker Mayfield
27th of 100 Baker Mayfield Quotes
"I used to have the mindset of worrying about everybody else's opinions, trying to please everybody, but that's not going to happen."― Baker Mayfield
"I have to command the offense. I have to command the team. I have to bring a spark and give us a chance to win."― Baker Mayfield
"If I came in with the mindset of just being happy that I got drafted and just to settle for a backup job, that wouldn't be myself."― Baker Mayfield
"I've always been a guy to keep positive energy on the sideline."― Baker Mayfield
"The energy I bring, the passion I bring, it's infectious. You can ask anybody on that Oklahoma staff. That's what I bring to the table."― Baker Mayfield
"To be compared to Brett Favre is pretty special, but he was his own player, and so am I. I'm not trying to be Brett Favre, Jr., the second coming. I want to be myself, and I want to be the best to ever play."― Baker Mayfield
"I am a huge Justin Timberlake fan."― Baker Mayfield
"It's important to have a say in your off-the-field brand and what you're doing, your sponsorships, what you want to be represented by, and the image you want to have."― Baker Mayfield
"There are a lot of things I would take back, off the field, to be a franchise guy."― Baker Mayfield
"I know how to lead."― Baker Mayfield
"People will have their guesses and opinions on my character, but anyone that's actually sat down and talked to me knows that I don't have any character issues, any off-the-field issues."― Baker Mayfield
"I easily could've gone to a place like Florida Atlantic, but my dad pushed me to realize that my dream was to play somewhere big. He was right."― Baker Mayfield
"I'll do anything it takes to win."― Baker Mayfield
"I've learned I can't change every opinion or have everyone's approval. If I get caught up in that, I'm worried about the wrong things."― Baker Mayfield
"You're not always going to have a perfect day. You're not always going to have the day that you envision."― Baker Mayfield
"You can't beat the Cotton Bowl. There's nothing like that."― Baker Mayfield
"I'm not ashamed to speak my mind. What you see is what you get. You're not going to get a two-faced person who is going to say one thing and mean another."― Baker Mayfield
"Anytime you get a better competition level, it's always better for you because you want to get the best out of yourself, and you want to compete against the best."― Baker Mayfield
"You've got to have the same attitude each day. You've got to show up to work."― Baker Mayfield
"Having been through some adversity, starting from different points and having to work through the depth chart on many occasions, it's definitely helped my story."― Baker Mayfield
"I've set up my goals, and I go after them, and if I do that each day, the rest will take care of itself."― Baker Mayfield
"I say it all the time: Texas high school football. It's no joke. It's a big deal. And when you get good coaches like I had at Lake Travis, and then you play other good programs, it develops you very quickly, and it gets you going."― Baker Mayfield
"Everything along the way has made me the competitor I am."― Baker Mayfield
"I think I thrive under the spotlight; I live for a big moment."― Baker Mayfield
"I learned, for me to play at my best, I need to play with an edge."― Baker Mayfield
"Community service has been a great thing for me."― Baker Mayfield
"If I were on another team or program, I'd hate me, too."― Baker Mayfield
"Football is a violent, competitive game. That's the way it was always meant to be played. You are supposed to play with an edge. You are actually supposed to impose your will on the other person to win."― Baker Mayfield
55th of 100 Baker Mayfield Quotes
"You come to Oklahoma to beat Texas. I was born and raised in Austin. They didn't recruit me. I grew up 15 miles from their campus. I can't stand them."― Baker Mayfield
"There are spots that I have to hit. Throws I can't miss."― Baker Mayfield
"You can focus on the few things that give people a negative image about me, or you can see the other things I've done, or talk to people in my inner circle who know more about who I really am."― Baker Mayfield
"I am a Cleveland Brown. I am proud and happy about that."― Baker Mayfield
"If you can win ballgames, you can win ballgames."― Baker Mayfield
"I'm ready for any adversity that's going to hit."― Baker Mayfield
"You need to be competitive, but a lot of that you can internalize and use that as motivation to drive you. You do not need to show it all the time."― Baker Mayfield
"I want to be drafted to a team that knows exactly what they're getting."― Baker Mayfield
"That's the biggest difference from college to NFL. Everybody's so talented at this level, the difference is knowing the game – knowing where to go with the ball in my position, knowing how to execute your job to the highest level. In college, you could just get by playing ball."― Baker Mayfield
"Cleveland, as a whole, is a great sports town. People love the Browns here."― Baker Mayfield
"Whenever I get a chance to get my reps in, that's a good challenge for me."― Baker Mayfield
"Anytime I get the chance to play ball, I get excited."― Baker Mayfield
"Without pressure, I don't think this would be very much fun, without all the people watching and finding joy in this game."― Baker Mayfield
"I don't think I'd hold back if I ever had a conversation with anybody that truly passed up on me."― Baker Mayfield
"I was confident in my ability. It's why I decided to walk on to a bigger school, in the Big 12: because I was confident in myself."― Baker Mayfield
"All the different coaches and styles of play I've seen helped me develop, to relate to my teammates."― Baker Mayfield
Top 32 Diego Maradona Quotes>>>
"I'm always competitive."― Baker Mayfield
"I love being around my teammates, and I love leading and having responsibility."― Baker Mayfield
"I would never put myself before my mom."― Baker Mayfield
"I just want the team to win, no matter what the cost is."― Baker Mayfield
75th of 100 Baker Mayfield Quotes
"When a play breaks down, yeah, I've been blessed with the ability to make plays."― Baker Mayfield
"I'm not fast, so I have to be able to throw from the pocket."― Baker Mayfield
"I can make any throw."― Baker Mayfield
"Under pressure is something I thrive on."― Baker Mayfield
"I was fortunate enough to do a docu-series throughout the draft process, but I did that to show the behind-the-scenes stuff."― Baker Mayfield
"Expectations are one thing, but you've got to do your own. Got to do your own."― Baker Mayfield
"Any win feels great. It is hard to do."― Baker Mayfield
Top 32 DeMar DeRozan Quotes>>>
"Anytime you can get the crowd to be a factor, kudos to the crowd."― Baker Mayfield
"Football is hard to have success. It is tough to do your job."― Baker Mayfield
"When you can have a relationship that's like that to where everything is out in the open, you are up front, and there is open communication, it makes for a great relationship."― Baker Mayfield
"Family first, always, no matter what the situation."― Baker Mayfield
"I'm not trying to please everybody. I'm just trying to play for one team and do it the right way."― Baker Mayfield
"Within football, there is a lot of trash talk, a lot of stuff that's not been made aware to everybody."― Baker Mayfield
"You've got to play to your players' talents."― Baker Mayfield
"I'm confident I can show exactly what I'm about, how much I care about football, and how I'd do anything to win."― Baker Mayfield
"My dad thinks I have a photographic memory."― Baker Mayfield
"I've always been a guy who's very confident in my own abilities."― Baker Mayfield
"I can listen to all the people patting me on the back, or I can listen to the people saying I need to get better. I know I need to get better, or else there would be nobody saying that."― Baker Mayfield
"I had to overcome a lot of things, but with that, I've inspired a lot of people."― Baker Mayfield
"I get true joy out of that, being able to help people."― Baker Mayfield
"My mom and I used to dance to the Jackson 5 in our living room."― Baker Mayfield
"At an early age, it was always trying to root for the Sooners. When Jason White won, it was awesome running around my living room like I won it. I've always had fun watching the Heisman ceremony."― Baker Mayfield
"I know how to work. Not everything was given to me."― Baker Mayfield
98th of 100 Baker Mayfield Quotes
"I had to play the cards that I was dealt to get better mentally, physically, and push myself to limits that I didn't think I was capable of."― Baker Mayfield
"There's always instances where you want those throws back, but the worst part about it is that I can't redo it."― Baker Mayfield
"I always have that in the back of my head – the idea that I've been spoon-fed because of where I'm from. I think that's one of the main things that drives me to work harder to show that, in reality, I haven't been handed anything."― Baker Mayfield