Basketball players, Bam Adebayo and Ade Adebayo are not brothers. Bam Adebayo has a half-brother from his father's side and remains away from the limelight.
The 25-year-old power forward of the Miami Heat, Bam Adebayo, has Nigerian background from his dad's side. But when he was young, he never wanted to acknowledge it.
Bam, whose full name is Edrice Femi Adebayo, was raised by a single mother in North Carolina. He resented his last name as his father had no whatsoever role in his upbringing.
The NBA star has recognized that he has a half-brother but has never really given out his name. But going through his social media profile, it is certain that Bam Adebayo is a family man.
Bam has a cousin in Jabari Ashe, who has previously been featured in Forbes Magazine. Despite being only cousins, Bam treats him as his own younger brother.
Currently, the power forward is enjoying stellar performances in the playoffs alongside Jimmy Butler. The two look certain to push Heat to the round 2 of the playoffs.
Is Bam Adebayo Related To Ade Adebayo?
As Bam Adebayo shares the same last name as Ade, many basketball fans for a second believe them to be brothers.
But this isn't true. Born in 2001, Ade Adebayo is one of the rising players in the college basketball scene.
The point guard, Ade Adebayo was born in London to Susan and Waheed and currently stars for UC Davis Aggies in NCAA. He has two older siblings, including a sister, Vivian, and a brother, Rilliwan.
In his four seasons with UC Davis, Ade Adebayo has played 94 games and has scored 41 points, including 19, three-pointers. Ade was one of the names in the 2021 and 2022 Big West Conference All-Academic Team and is currently majoring in Mechanical Engineering.
Earlier this year, in January 2023, Ade Adebayo scored a career-high 14 points against Cal State Bakersfield Roadrunners, including nine rebounds, and 1 steal. It is to be seen whether Ade Adebayo continues his basketball career or shifts his focus elsewhere.
Who Is Bam Adebayo Brother?
Bam Adebayo doesn't have a brother but has a half-brother.
Many fans consider Jabari Ashe to be his brother, but Jabari's Facebook profile tells another story. In an interview with Andscape, Bam did mention his half-brother.
The NBA star said it was his half-brother, who delivered the news of their father's demise.
On the Team USA website, Jabari Ashe is mentioned as Bam's younger brother, which might make many of Bam's fans believe it to be true.
But going through Jabari's Facebook, one can quickly decipher that the two are cousins. Jabari Ashe was born on April 21, 1998, and is a year younger than Bam.
Jabari was born to Nikki and Mike Ashe and has shared several pictures of him with his parents.
Like Bam, Jabari has an interest in basketball and was previously a player of the game during his high school and university days.
Jabari Ashe Was Featured In Forbes Next 1000
Born and raised in Washington, North Carolina, Jabari graduated from East Carolina University in 2019. Ashe had previously attended Belmont Abbey College, a fact mentioned in his LinkedIn profile.
Since graduating, Jabari Ashe has worked as a Life Insurance Agent at Northwestern Mutual and was a start-up founder of KnowCap Interactive. Currently, Jabari runs two companies as a co-founder.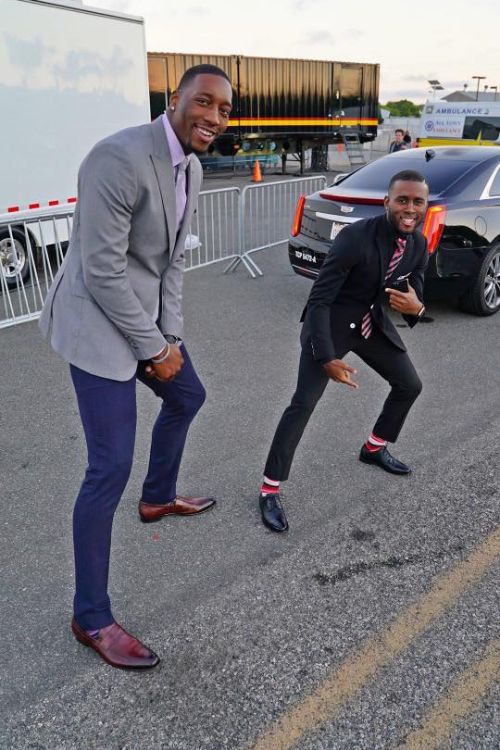 Ashe is co-owner of the company, Grind Oral Care, which he founded in 2021, and is the Vice President and Co-Founder of Acumen Media, founded in 2018.
In his Instagram bio, Jabari has mentioned the fact about him being listed as one of the names in Forbes Next 1000. He has also mentioned other Instagram pages related to his business, including Grind Goods and Grady Sports.