Jimmy Butler sister Shanique Dickerson resides in Houston, Texas. Shanique Dickerson is one of the seven siblings of Jimmy Butler.
The Miami Heat small forward Jimmy Butler's rise to stardom is an inspiration to many. The NBA star grew up without a father in sight, and his mother kicked him out of their home when he was 13.
Despite finding himself in a precarious position, Butler navigated through his tough teenage years to make a name for himself in the NBA.
Butler was raised by the Lambert family, who he came to know through Jordan Leslie. The high school friends turned brothers were raised alongside six other siblings.
Shanique Dickerson is one of the seven siblings of the Heats star. Despite staying away from the public limelight, Shanique voices support for Jimmy through social media.
Currently, starring against Milwaukee Bucks in the playoff, Jimmy was crucial in their victory in Game 3. The six-time NBA All-Star is yet to win a ring, but it might change in 2023.
Jimmy Butler Sister Shanique Dickerson Is A Houston Native
Jimmy Butler's sister Shanique Dickerson has called Houston her home since childhood.
The two siblings came to know each through the Lambert family. Michelle and Michael Lambert were parents to four biological children and had adopted three mother kids before welcoming Jimmy.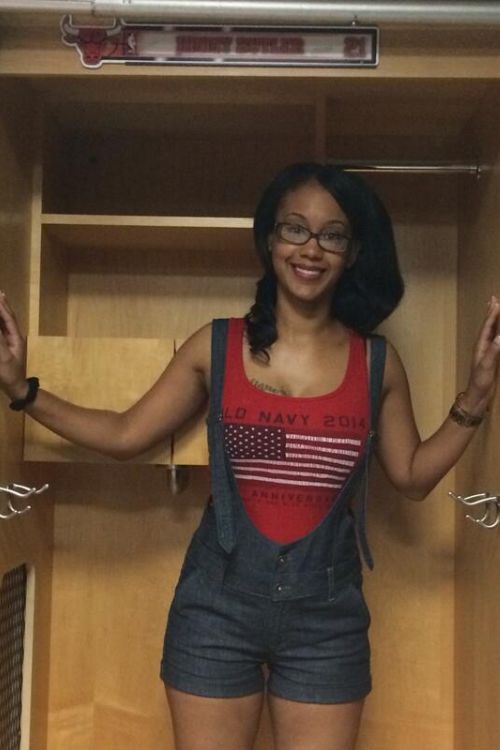 Shanique seems to have tied the knot with special someone. She goes by the name Shanique Laci on Instagram and has the initials of her better half beside a ring emoji on her Instagram bio.
The older sister of the NBA star celebrates her birthday every year on December 29 and is believed to have been born in 1981. The older sister is also available on Twitter with the username @NiqueDickerson.
On her Twitter, Shanique has shared a few posts of Jimmy from game days, supporting her little brother. In 2014, Shanique shared a picture of her traveling to the Chicago Bulls locker room.
The proud sister, Shanique, was seen standing inside Jimmy's locker. She has also shown support to her other brother, Jordan, on her Twitter handle.
Jimmy Butler Grew Up In A Blended Family
Jimmy Butler didn't have the perfect childhood growing up. But it did teach him valuable lessons.
Being abandoned by your biological parents can sound like a nightmarish situation, and the NBA star Jimmy has gone through it all.
Left by his father, Jimmy Butler Sr, in infancy and kicked out of home by his mother, Londa Butler, when he turned a teenager, life wasn't kind to young Jimmy.
For the most part, Jimmy Butler couch-surfed at his friend's homes. During freshman year, Butler crossed paths with Jordan Leslie, and quickly the two bonded over basketball and family trauma.
Hearing Butler's story, Jordan's mother, Michelle, welcomed 16-year-old Jimmy to her home. The future NBA star tried his best not to cause the Lambert family any problems.
He was always on his best behavior and received their support to continue his basketball dream. In recent years, Butler has talked about his relationship with his biological parents.
Jimmy has stated that he has reconciled his differences with his biological mother, Londa, and is on good terms with her.
Jimmy Butler Relationship With Girlfriend Kaitlin Nowak
Being one of the top athletes in the world, many are curious about Jimmy Butler's dating life.
The NBA star has been linked with a host of celebrities in recent years, including Selena Gomez and Iggy Azalea. But has been in a long-term relationship with Kaitlin Nowak.
The two are yet to tie the knot but share a baby daughter, Rylee Butler. Kaitlin gave birth to their first child in 2019.
A fashion model and entrepreneur, Kaitlin is 32 years old. She comes from Polish-American ancestry and is a well-known name in social media.
But she is not just a pretty face. The 32-year-old has a bachelor's degree in Public Relations from the University of Nebraska-Lincoln and has been working on her business in recent years.
Jimmy has kept his relationship with Kaitlin low-key. The couple is not seen on each other's social media handles keeping the prying eyes of the media away from their relationship.