Ben Roethlisberger is a former American football player who played for the Pittsburgh Steelers of the National Football League (NFL).
He played the whole 18 seasons of his professional career with the Steelers after being drafted in the first round (11th overall) of the 2004 NFL Draft.
In 2006, Ben became the youngest Super Bowl-winning quarterback in NFL history. Likewise, he was named to his first Pro Bowl in 2007.
After having a colorful career, he officially retired on January 27, 2022. Right now, he is still involved in the sport, but only as a fan.
Ben criticized the controversial penalty call of Super Bowl 2023, which played a decisive role in the result. Many agreed with his words and supported his opinion.
You may know about Ben Roethlisberger, but do you know his personal life and net worth?
If you don't remember, we've written this article talking about his education, private life, family, and net worth.
Well, let's get started if you're ready.
Quick Facts
| | |
| --- | --- |
| Celebrated Name | Ben Roethlisberger |
| Real Name/Full Name | Benjamin Todd Roethlisberger Sr. |
| Gender | Male |
| Age | 41 Years Old |
| Birth Date | March 2, 1982 |
| Birth Place | Lima, Ohio, United States |
| Father's name | Kenneth Todd Roethlisberger |
| Mother's name | Ida Jane Foust |
| Siblings | Carlee Roethlisberger, Bob Roethlisberger |
| Nationality | American |
| Height | 6 feet 5 inches/1.96 m/ 196 cm |
| Weight | 109 kg/240 lbs |
| Sexual Orientation | Straight |
| Marital Status | Married |
| Wife/Spouse (Name) | Ashley Harlan (M. 2011) |
| Children | Yes (Baylee Marie Roethlisberger, Bodie Roethlisberger, Benjamin Todd Roethlisberger) |
| Profession | Former Professional Football Player |
| NFL Draft | 2004 / Round: 1 / Pick: 11 |
| Active Since | 2004- 2022 |
| Team | Pittsburgh Steelers (2004-2021) |
| Net Worth | $100 Million |
| Merch | Signed Ball, Signed Bat |
| Social Media | Twitter, Facebook, Website |
| Last Update | June 2023 |
Early Life, Family, & Education
Ben Roethlisberger was born on March 2, 1982, in Lima, Ohio, United States.
He was born to his father, retired quarterback and pitcher Kenneth Todd Roethlisberger, and mother, Ida Jane Foust.
They divorced when Ben was two years old, and his father re-married a woman called Brenda.
Since Ida Jane passed away in a car accident when Ben was eight, he was looked after by step-mom Brenda.
The NFL star grew up with his two siblings, Carlee Roethlisberger and Bob Roethlisberger.
Not to mention, Carlee starred for the women's basketball team at the University of Oklahoma.
Furthermore, Ben attended Findlay High School for his high school education. Later, in 2000, he transferred to Miami University.
Age, Height, & Nationality
The former professional football player was born in the year 1982, which makes him 41 years old.
He stands at an astounding height of 6 feet 5 inches/1.96 m and weighs around 109 kg (240 lbs).
And with such height and weight, Roethlisberger has maintained his physique with an appropriate diet and workouts.
Early Career
When the Pittsburgh Steelers beat the Seattle Seahawks in 2006, he was the first starting quarterback to win a Super Bowl.
But, long before he became a Super Bowl-winning athlete, he had a high school and collegiate career.
In fact, ever since he was in high school, Roethlisberger began playing football. He was the captain of several basketball, baseball, and football teams.
Ben's position was generally wide receiver until his senior year when he played quarterback.
High School
Ben was the captain of the Trojans' football, basketball, and baseball teams at Findlay High School in Findlay, Ohio.
Even though he became one of the most famous quarterbacks, Roethlisberger did not play the position until his senior year, giving way to the coach's son, Ryan Hite.
Instead, he played wide receiver as his coach, Cliff Hite told the Toledo Blade, "My son throwing to Ben was a better combination."
The coach later admitted that the decision to start his son over Roethlisberger as the quarterback was wrong and even went on to say, "I'm a knucklehead nationally recognized."
College
Roethlisberger played as a college quarterback at Miami University in Oxford, Ohio. He was redshirted for his first season in Miami in 2001.
During his time at university, he broke many records and set many rookie records for passing yardage and touchdown throws.
He has been the most prolific college quarterback in the history of the Miami University football team. He led the Redhawks in passing yards, completions, and a touchdown pass.
On August 31, during the 2002 regular-season opener against North Carolina, he passed for 204 yards and had a then career-high 59-yard punt to win with 27–21.
Ben broke the MAC single-game record for passing yards in a 48–41 loss to Northern Illinois.
With a total of 3,238 passing yards and 271 completions in 2002, he set the Miami single-season record.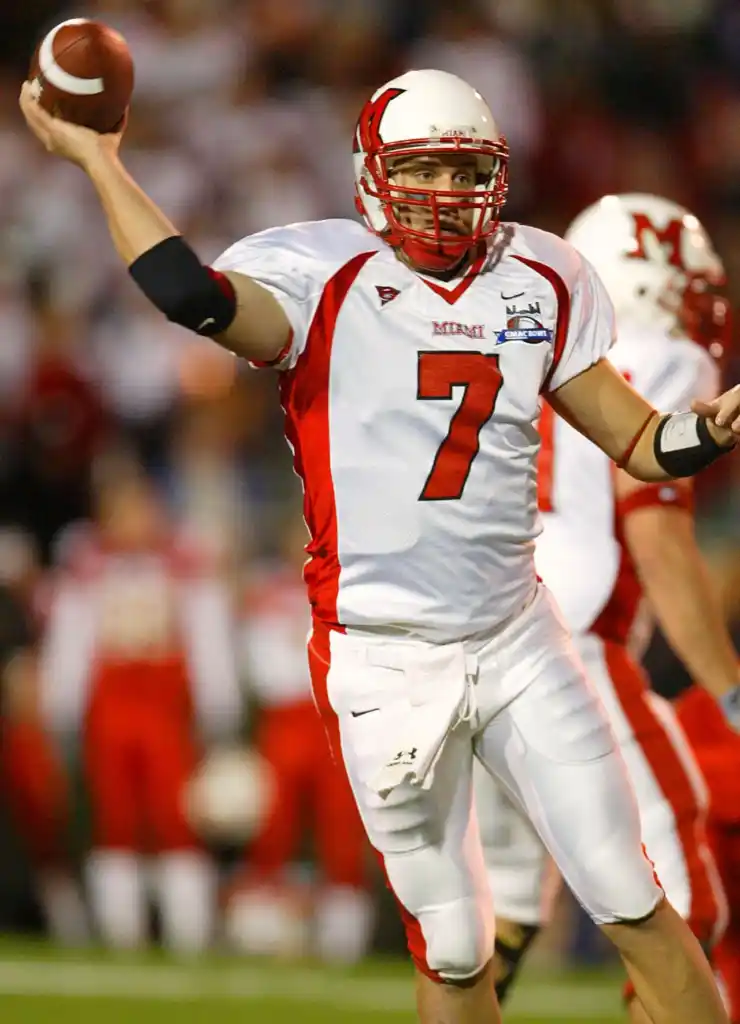 Roethlisberger was named the 2003 MAC Offensive Player of the Year. During his homecoming on October 13, 2007, the Miami RedHawks retired his jersey number #7.
That was the first time a football jersey number had been retired by Miami in 34 years.
He is only the third player in Miami football history to have his number retired, joining John Pont and Bob Hitchens. Ben was also the first player to win the Heisman Trophy in Miami's history.
Professional Career
The Redhawks' success in 2003 led to the belief that he would be selected early.
Roethlisberger scored a 25 on the Wonderlic test. In the 2004 NFL Draft, the Pittsburgh Steelers picked him 11th overall.
For the team that selected him, he became the highest-drafted quarterback to play for. He was already featured on the Hey Rookie, Welcome to the NFL.
Moreover, Ben was one of 17 and the best quarterbacks in the 2004 NFL Draft.
He had the longest career with the team that signed him. Later, he became a two-time Super Bowl winner and a six-time Pro Bowler.
2004 Season
Ben Roethlisberger signed a six-year deal with the Steelers on August 4, 2004, worth $22.26 million in salary and incentives.
In 2005, the Associated Press unanimously named him the NFL Offensive Rookie of the Year. He was one of the first quarterbacks to have been so honored in 34 years.
2005 Season
In the 2005 regular season, the Steelers finished with an 11-5 record. Roethlisberger missed all four games due to knee injuries but led the league in 8 Yards Per Attempt.
Roethlisberger helped guide the Steelers over the Cincinnati Bengals. They had defeated the Steelers in the regular season by seven points to a Divisional Round playoff victory.
In January 2006, Roethlisberger led the Steelers to a playoff victory in the Divisional Round over the Bengals.
Pittsburgh beat the Colts 21-18 to progress to Super Bowl XL in the AFC Divisional Round.
To win the AFC title and advance to the Super Bowl, the Steelers defeated the Broncos 34-17. In February 2006, Ben Roethlisberger became the youngest quarterback to win a Super Bowl.
2006-2007 Season
Roethlisberger missed the first game of the 2006 season following an off-season motorcycle accident. He had an emergency appendectomy on September 3, 2006.
His return led to a sub-par result, as he threw two interceptions with no touchdowns in a 9–0 loss.
He set a Steelers record in Week 12 of the 2007 season against the Miami Dolphins, completing 85.7 percent of his passes.
2008 Season
On March 4, 2008, Roethlisberger signed an eight-year, $102 million contract with the Pittsburgh Steelers. He claimed that he would like to retire as a Steeler.
On his initial contract that he signed after the draft, he had two years remaining. He led the Steelers to a stunning win over the Cardinals in Super Bowl XLIII.
2009-2015 Season
In Week 6 of the 2010 season, against the Browns, Roethlisberger returned to the Steelers after being suspended for the first four weeks.
He surpassed the 20,000-yard passing plateau in his 90th regular-season appearance in Week 8 against the Saints.
He finished the season with a record of 9-3 in 12 starts, passing for 3,200 yards, 17 touchdowns, and a career-low five interceptions.
Ben Roethlisberger is one of the fourth quarterbacks in NFL history to get 100 wins in his first 150 starts.
The Steelers ended the season with an 8-8 record, missing the playoffs for the first time since 2012. He built career highs in yards with 4,952 during 2014 and passing touchdowns with 32.
2015-2021 Season
On March 13, 2015, Ben Roethlisberger signed a five-year contract with the Pittsburgh Steelers.
He started the Steelers' first game against the Patriots. He suffered injuries in the next two games against the 49ers and the Rams.
In 2016, he led the league in passing yards for the second time. The American player was named to his third consecutive and fifth career Pro Bowl on December 20, 2016.
In 2017, he was ranked 22nd on the NFL Top 100 Players list, just one spot below his ranking from the previous year.
On March 4, 2021, Ben signed a re-negotiated contract with the team and played a few matches before announcing his retirement on January 27, 2022.
Summary Career Stats
Have a look at the summary career stats of Ben Roethlisberger.
| | | | | | | | | | |
| --- | --- | --- | --- | --- | --- | --- | --- | --- | --- |
| Summary | G | AV | QBrec | Cmp | Yds | Y/A | TD | Int | FantPt |
| 2021 | 16 | 9 | 9-7-0 | 390 | 3740 | 6.2 | 22 | 10 | 218.1 |
| Career | 249 | 208 | 165-81-1 | 64.4 | 64088 | 7.6 | 418 | 211 | 4019.5 |
Wife & Kids
Ben Roethlisberger is happily married to Ashley Harlan, an assistant doctor from New Castle, Pennsylvania. The couple got married on July 23, 2011.
Their son was born on November 21, 2012, and was named Benjamin Todd Roethlisberger Jr.
The couple has two more daughters, Baylee Marie Roethlisberger, born in 2014, and Bodie Roethlisberger, born in 2017.
The family of five lives peacefully and incredibly close. Besides being a family man, he has also been involved in charity.
In fact, Ben is a campaign spokesman for the Swiss Origins. It is meant to help Americans of Swiss descent communicate with their origins.
Roethlisberger went back to Miami University in 2012 to complete his degree. The same year, he graduated with a Bachelor of Science on May 6.
Net Worth, Endorsements, & Income
Ben Roethlisberger has an estimated net worth of around $100 million as of June 2023.
His primary source of income is his football career, but he also has other investments.
His first deal with the Steelers was six years long, with incentives and wages worth $22.26 million. He got a $600K signing bonus and a $3.7 million average salary.
After that, in 2008, he signed a 6-year $87.9 million extension deal and four years $87.4 million extension deal in 2015.
With the end of the contract, in 2019, he signed a new $68 million extension with the Steelers, which included a $37 million signing bonus.
Ben converted $19.5 million of his 2020 salary & bonus to a signing bonus, allowing the Steelers to clear $9.5 million in cap space.
He re-signed with the team for one year for $14 million in 2021 and concluded his career.
Furthermore, the footballer earns over $1 million annually through sponsorships and endorsements. Some of his endorsers are Nike, Fanatics, Panini, Sprint, Upper Deck, etc.
Not to mention, the athlete is the founder of Big Ben's BBQ, a barbeque sauce.
Highlights, Awards, & Accomplishments
Ben Roethlisberger is an accomplished player who has won several honors. He is a two-time winner of the Super Bowl, i.e., XL and XLIII.
He has been named to Pro Bowl 6 times: 2007, 2011, 2014, 2015, 2016, and 2017. In addition, Ben was the MAC Offensive Player of the Year in 2004.
He was the NFL Offensive Rookie of the Year the same year. Moreover, in 2014, Roethlisberger became the NFL passing yards co-leader.
Social Media Presence
Big Ben is not a big social media freak but is active on a few platforms.
He frequently tweets and posts on Facebook to reach his fans and followers. However, he isn't active on Instagram, as we couldn't find his verified accounts.
Twitter: 397.2K Followers
Facebook: 496K Followers
Popularity Graph
Big Ben is a famous sports personality who has millions of fans.
The above graph illustrates the 12-month search interest of the former quarterback.
Frequently Asked Questions (FAQS)
What was Ben Roethlisberger's jersey number?
Ben Roethlisberger wore the jersey number #7 for Pittsburgh Steelers before retiring.
Is Ben Roethlisberger injured?
No, Ben Roethlisberger is doing well and is busy living a family life.
Did Ben Roethlisberger test positive for Covid?
Yes, in November of 2021, it was announced in an interview that the former footballer had tested positive for Covid. Ben reported to Steeler's doctor that he had cold-like symptoms, and upon testing, he received a positive result.
Who is the youngest quarterback to win a Super Bowl?
Ben Roethlisberger is the youngest quarterback in NFL history to win a Super Bowl. He won the Super Bowl championship when he was 23 years old.
Is Ben Roethlisberger inducted into the Hall of Fame?
No, the former NFL player must be retired for five years to be inducted into the Hall of Fame. He will be eligible for his induction in 2026.
When did Ben Roethlisberger make his NFL debut?
The athlete made his NFL debut in 2004 with the Pittsburgh Steelers. He ended his career in 2022 with the Steelers.
Were Ben Roethlisberger and Antonio Brown teammates?
Yes, both of the footballers were teammates and played for Pittsburgh Steelers. Not to mention, the two complimented each other's game very well.
How many Super Bowl rings does Ben Roethlisberger have?
Ben Roethlisberger has won two Super Bowl rings, winning Super Bowl XL and Super Bowl XLIII with the Pittsburgh Steelers.