Baseball, no doubt, is one of the most popular sport, and its appeal has been stretched all across the globe.
However, the appeal of baseball doesn't just start and end with games. Over these years, it has also existed prominently on the silver screen.
In fact, the history of baseball movies is as rich and assorted as the players who have stepped onto the ball fields.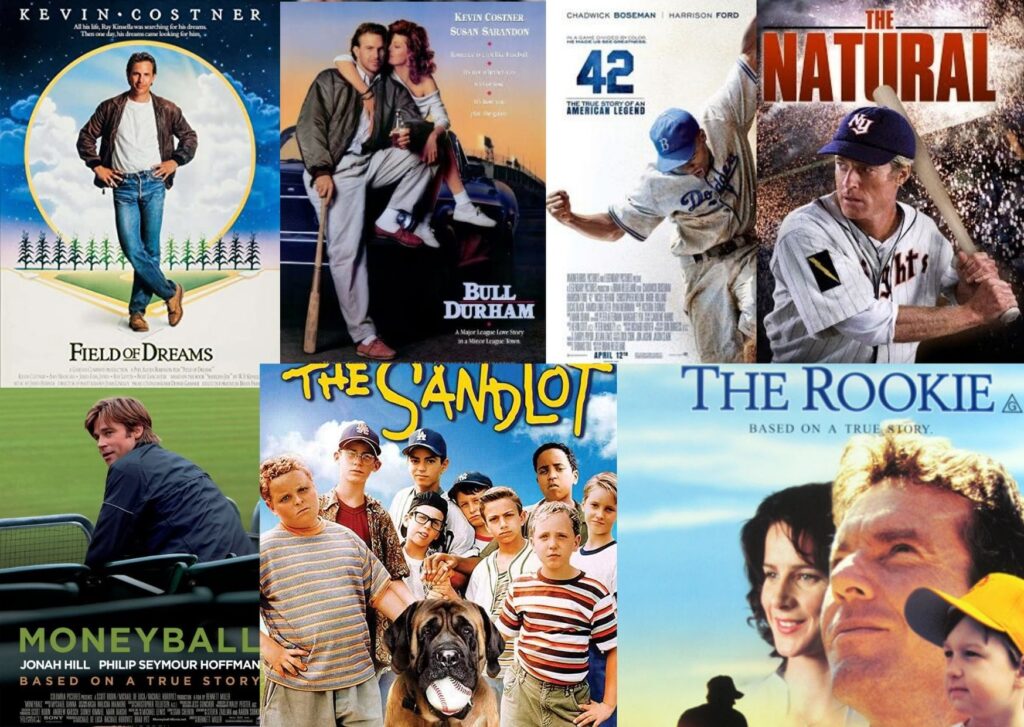 Today in this article, we're going to present you with the top 10 best baseball movies of all time.
Top 10 Best Baseball Movies
10. For the Love of the Game
Release Date:
IMDb rating: 6.6/10
For the Love of the Game is a 1999 sports drama film which was written by Dana Stevens and directed by Sam Raimi.
Interestingly this movie is based on Michael Shaara's 1991 novel with the same name.
The movie covers the story of 40-year-old pitcher Billy Chapel (Kevin Costner), who's playing his last game for the Detroit Tigers.
As the film opens, Billy awaits his girlfriend, Jane Aubrey (Kelly Preston), in the Manhattan hotel suite for dinner, but his date never arrives.
Also, as Billy pitches that night, he must decide whether to accept the new trade or quit the game or save his relationship.
As the game progresses, Billy battles against physical and emotional limits for a perfect game and love life. Later, he accomplishes success in the game and also saves his relationship.
For Love of the Game is not just a sports movie, but it also shows the heartwarming drama about love, life, and risking it all for the love of the game.
9. The Rookie
Release Date: March 29, 2002
IMDb rating: 6.9/10
The Rookie, a 2002 American sports drama film, was written by Mike Rich and directed by John Lee Hancock.
The movie portrays the real-life story of former professional baseball pitcher Jim Morris and his journey to Major League Baseball.
Likewise, Dennis Quaid has played the role of Jim Morris, along with Jay Hernandez, Rachel Griffiths, and Brian Cox.
The movie displays the life of Jim Morris, who could never make it out of the minor leagues due to a shoulder injury that occurred twelve years ago.
The Rookie is a must-watch inspirational movie for any sports fan.
8. 42
Release Date:
IMDb rating: 7.5/10
42, a 2013 biographical sports film, was written and directed by Brian Helgeland. It is based on the life of the late baseball player Jackie Robinson.
Notably, Robinson was the first African American player to play in Major League Baseball (MLB) during the modern period.
The film stars late Chadwick Boseman as Jackie Robinson, along with Christopher Meloni, Nicole Beharie, Harrison Ford, Hamish Linklater, Lucas Black, Ryan Merriman, and André Holland in supporting roles.
The movie displays the year 1947 when the Brooklyn Dodgers owner Branch Rickey (Harrison Ford) brings Jackie Robinson to play major league baseball.
It is the first time in the MLB history that a black man plays on the team in a time when there is unbridled racism all across the U.S.
Facing all the racism and critics, Jackie demonstrates true courage by not reacting to any criticism and hate. The movie impressively portrays his ability to battle personal and professional setbacks, forms.
42 is not just a sports movie. Instead, it is a respectfully told biography that shows the inspirational journey of an influential American sports icon.
Nashville Smashville Hat to Display Your Authentic Fandom>>
7. Bull Durham
Release Date: June 15, 1988
IMDb rating: 7.1/10
Bull Durham, a 1988 romantic comedy sports film, was written and directed by Ron Shelton.
Notably, it was included on the Top 10 Sports Films list as the #5 sports film by American Flim Institue in 2008.
The movie stars Kevin Costner as Crash Davis, Tim Robbins as "Nuke" LaLoosh, and Susan Sarandon as Annie Savoy.
In the movie, Crash is a romantic-minded, minor-league veteran and an aging catcher for the Durham (NC) Bulls.
Nuke is a wild, young rookie pitcher for the Bulls who is being tutored by Crash to become more mature and disciplined by channeling his talent.
Similarly, Annie is a major league fan girl and baseball connoisseur. In the movie, each season, she chooses one player as her student and teaches him the ways of baseball, love, and life.
The movie covers the story of these three different characters involved in a love triangle and their mentoring relationship.
You might also want to know: <<Top 10 Best Football Movies of All Time>>
6. A League of Their Own
Release Date: July 1, 1992
IMDb rating: 7.3/10
A League of Their Own, a classic sports comedy-drama film was directed by Penny Marshall in 1992. This movie is a fictionalized tale based on the true story of the All-American Girls Professional Baseball League (AAGPBL).
The movie stars Tom Hanks along with Geena Davis, Rosie O'Donnell, Madonna, and Lori Petty.
This movie displays the story about the all-women baseball League that played during World War II.
Basically, it displays the story of two sisters, Kit (Geena Davis) and Dottie (Lori Petty), who play in the league for the Rockford Peaches.
It portrays their love-hate relationship and their journey from a small town to the major leagues.
On the other hand, Tom Hanks (Jimmy Dugan) plays an alcoholic, foul-mouthed, former major leaguer who serves as their team manager.
Likewise, Madonna and Rosie O'Donnell play as the teammates of the two sisters.
Furthermore, the film features plenty of humor, heart, and memorable characters. A League of Their Own is one of the must-watch sports movies and best baseball movies of all time.
5. Moneyball
Release Date: September 9, 2011
IMDb rating: 7.6/10
Moneyball is a 2011 biographical sports movie written by Steven Zaillian, and Aaron Sorkin, and directed by Bennett Miller.
It is hands down, one of the most successful baseball films of all time. Moreover, it is based on the Michael Lewis's book Moneyball: The Art of Winning an Unfair Game.
The movie portrays the true story of the Oakland Athletics former baseball coach Billy Beane.
When three of the best players of Oakland Athletics decide to leave his team, Billy has to face the difficult task of putting together a new team for the 2002 competition.
However, with the help and advice of a young economics graduate student Peter Brand, he converts Oakland's team into one of the winning teams.
Further, his team Oakland Athletics also ends up winning 20 games consecutively. With all the hard work today, Billy is a successful executive vice president of and minority owner of the Oakland Athletics.
In the movie, Billy Beane's role was played by Brad Pitt, and Jonah Hill portrayed Peter Brand's role.
4. Major League
Release Date: April 7, 1989
IMDb: 7.2/10
Major League is a sports comedy film written and directed by David S. Ward. The movie portrays the fictional and light story about the real team Cleveland Indians.
The movie features Charlie Sheen, Wesley Snipes, Tom Berenger, James Gammon, Bob Uecker, Dennis Haysbert, Rene Russo, and Corbin Bernsen.
Likewise, the new owner of Cleveland, Rachel Phelps (Margaret Whitton), decides to relocate the team to Miami because of the warmer climate and a new stadium.
However, to move to Miami, the team has to lose badly. So Rachel put together the worst possible team she can.
Further, this attitude of the Rachel gives the team members to fight back and fail her plan. So, to spite her, the team's members go on a journey to bring a winning team to Cleveland.
This movie teaches us how we can make every dream come true with hard work and dedication.
It is one of the classic, inspirational and hilarious baseball movies that everyone should watch.
3. The Natural
Release Date:
IMDb: 7.5/10
The Natural is a is a 1984 sports film directed by Barry Levinson. The movie is based on Bernard Malamud's 1952 novel, The Natural.
The movie stars Robert Redford, Robert Duvall, and Glenn Close. It portrays a story of a young baseball player Roy Hobbs (Robert Redford), who is from Nowheresville.
Moreover, the night after his father's death, a huge lighting, and an electric storm appear and explodes that oak tree outside his bedroom window.
In the morning, Roy takes it as a god's sign and carves out a beautiful bat, naming it "Wonderboy."
Further, out of nowhere, he becomes a legendary baseball player of the major league and lives the fame he could never have had earlier in his life.
However, later he has to face many twists and turns. To know that you will have to watch the movie.
The Natural is a mesmerizing and memorable sports movie of all time. It is undoubtedly one of the best baseball movies ever made.
2. Field of Dreams
Release Date: May 5, 1989
IMDb: 7.5/10
Field of Dreams, a 1989 sports fantasy drama movie was directed and written by Phil Alden Robinson. The movie is also based on the W. P. Kinsella's novel, Shoeless Joe.
Notably, this movie was nominated for three Academy Awards, including Best Adapted Screenplay, Best Original Score, and Best Picture.
In the classic film, we are taken on a journey to fulfilling dreams and having second chances to make things right.
It teaches us to embrace every little happiness and celebrate the magical moments while we are still alive.
The movies feature Kevin Costner, James Earl Jones, Amy Madigan, Burt Lancaster, and Ray Liotta.
Ray Kinsella (Kevin Costner), a farmer who lives with his wife and daughter, one day hears a mysterious voice whispering, "If you build it, he will come."
After that, he sees a vision of a baseball diamond in his cornfield. Later, he risks the economic and emotional stability of his family and builds the baseball field.
When the mysterious voices continue, he then looks for the reclusive author to understand the purpose of his field and the meaning of the messages.
Field of Dreams is an extraordinary movie that has moved audiences like no other film of its generation. It a must-watch sports movie for sure.
Also, check out: Top 10 Best Basketball Movies of All Time >>
1. The Sandlot
Release Date: April 7, 1993
IMDb: 7.8/10
The Sandlot is a 1993 sports comedy film written and directed by David Mickey Evans. This movie stars Tom Guiry, Karen Allen, Mike Vitar, James Earl Jones, and Denis Leary.
It portrays the story of a group of young kids and their adventures involving baseball during the summer of 1962.
As a nerdy kid, Scotty Smalls (Tom Guiry) moves into a new neighborhood and has trouble making friends. He wants to learn to play baseball but sadly doesn't have anyone around him.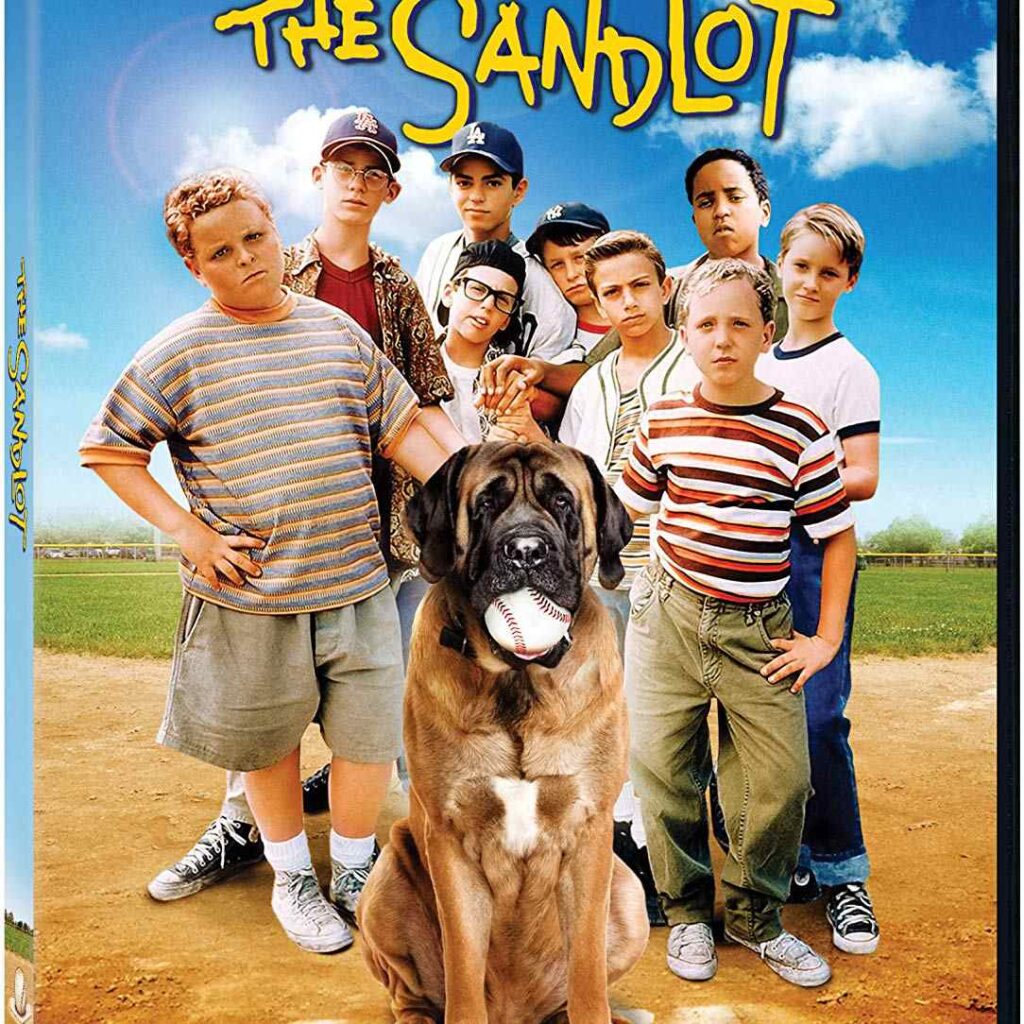 Luckily he then meets Benny Rodriguez (Mike Vitar), his neighbor and baseball guru. Benny takes Scotty under his wing and makes him part of the local baseball team.
Together they fall into numerous adventures, the snooty rival ball team, the traveling fair, treehouse sleep-ins, and the desirous lifeguard at the local pool.
The movie teaches us the importance of friendships, the struggles of getting out of the comfort zone while having the joys of being a kid; both on and off the baseball field.
Summary
Well, we hope you enjoyed our exciting list of the 'Top 10 Best Baseball Movies.' Feel free to comment down below your favorite baseball movie and why.
Here's a quick summary of our top list.
The Sandlot
Field of Dreams
The Natural
Major League
Moneyball
A-League of their own
Bull Durham
42
The Rookie
For the Love of the Game