Sports and movies usually go hand in hand. All necessary elements required in making a good story for movies are present in any sports.
The popularity of basketball is growing popularly worldwide. So, the combination of basketball with entertainment has become a perfect fit.
As a result, we, the audience and sports fans have been blessed with several unforgettable basketball movies and documentaries over these past years.
Looking at reviews and ratings we have prepared our list of top 10 basketball movies of all time.
10. Celtics Pride
Released date: 1996
IMBd rating: 5.3
The number 10 spot in our all-time best basketball movies is taken by Celtics Pride to begin our list.
The underrated comedy movie portrays Mike O Hara, a physical education teacher, and Jimmy Flaherty, a plumber.
As die-hard Boston Celtics fans, both of them are united by the love for their favorite team.
The Celtics are in good form to win the championship, but Utah Jazz Louis Scott put amazing performances to forces game 7 in the NBA finals.
They become desperate and kidnaps Jazz star player Lewis Scott to make sure their team wins deciding game 7.
This movie has a nice twist at the end, but it does not have a sense of Celtics culture.
9. Space Jam
Release date: 1996
IMDb rating: 6.4
Space Jam is probably the best basketball movie of young basketball fans back in the '90s.
It's hard to resist including the animated movie Space Jam in the best basketball movies of all time.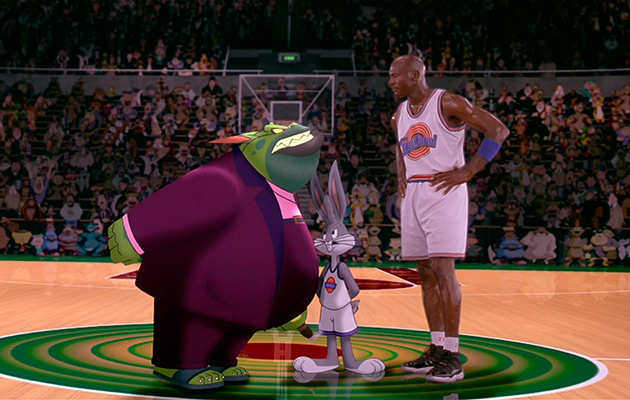 The main reason the goat Michael Jordan is himself playing the main character role in the movie.
Secondly, one of the famous cartoon characters ever made, the loony tones being featured in the movie.
Furthermore, it is the highest-grossing basketball movie to date with $90 million.
Besides him, other basketball superstars in the movie are Muggsy Bouges, Shawn Bradley, Charles Barkley, Patrick Ewing, and Larry Jhonson.
The special combination between cartoons and several NBA players worked very well in the movie.
In the movie, MJ is kidnapped by Looney Tunes to defeat an epic basketball match against Monstars, aliens who stole NBA star's playing ability.
Later, after defeating monsters, MJ returns o his family.
Nearly 24 years after Space Jam 2 is released in 2021, the main character is played by "King" Lebron James himself.
NBA: Top 10 Best Point Guards Ever>>
8. Love and Basketball
Released date: 2000
IMDb rating: 7.2
Love and Basketball portray the deep connection of two athletes to each other and basketball.
Moreover, the movie is a blend of love and basketball. Movies emphasize life lessons rather than a big shot or buzzer-beater.
Quincy McCall (Omar Epps) and Monica Wright (Sanna Lathan) are neighbors dreaming of playing professional basketball.
They both got basketball program scholarships from USC coming out of high school as good players.
Being the son of former NBA player McCall is a top prospect, but Monica was USC recruiting class late addition.
Although developing a relationship before their recruitment, they both fell apart in college. However, they reconnect with each other later.
In short, movies show pressure college athletes may counter, even if they are top recruit or underrated players, and how often relationships take a back seat for a game, they love.
7. Blue Chips
Released date: 1994
IMDb rating: 6.2
Blue Chips are one of the best underrated movies of all time. The movies have done a masterful job of portraying illegal behind the scenes.
You can watch the trailer right here >>
In the movie, Western University head coach Pete Bell (Nick Nolte), an old school coach who hates illegal activities and cheating in basketball.
But when his college illustrious basketball program falls behind, Bell settles his own personal opinion and allows friend of the program."
After the program is approved, they land three top prospect recruit for their college program next season by offering athlete cars, houses, jobs, and cash.
But regretting his decision in a press conference after winning against the number 1 team in Indiana, Bell resigns and tells the truth of scandals.
NBA legends Shaq O'Neal and Penny Hardaway have played the role of Coach Bell, two high school star players.
Likewise, the film also features other college and NBA athletes, coaches, and media to emphasize authenticity.
The fun fact is that Blue Chips is the reason why Orlando Magic drafted Penny in 1993. Also, Penny and Shaq became close while filming, and Shaq personally requested Magic to draft him.
Oklahoma Sooners Hoodies: Excellent Quality, Stylish Hoodies>>
6. Above the rim
Release date: 1994
IMDb rating: 6.6
Another 1984 movie, Above the Rim, is next on our list. It was released a few months after Blue Chips.
The film shows the life of promising high school player Kyle-Lee (Duane Martin) in senior year. However, he is waiting for his basketball program scholarship from George town.
While taking the next step of his career, Kyle gets stuck between brothers: former player/ security guard Leon and another drug dealer, Birdie.
The movie has perfectly used New York basketball to dive into the two brothers' stories and their connection with the young hooper.
Likewise, it was shot in Harlen streets, mainly at legendary court Ruckers Playground. The movie locations provide a superb backdrop and authenticity for the movie story.
Although people think the movie is related to former NBA star Allen Iverson, he doesn't connect to the movie.
The 10 Best Shooting Guards of All Time>>
5. Hoosiers
Released date: 1986
IMDb rating: 7.5
The first movie on our list, based on a real story, Hoosiers ranks fifth as the best basketball movie ever made. It's a movie that represents Indiana.
Hoosiers is the story of Milan High School from an Indiana small town that made the journey to the state championship in 1954.
The movie covers an underdog high school basketball team who pushed themselves to the state championship game from unity and hard work.
Likewise, Hoosiers have beautifully presented how basketball bonds people and feeling towards their community.
Gene Hackman has played an excellent role as a team coach in the movie.
The town's best player Jimmy Chitwood eventually joins the team leading the seven-member team towards their championship.
Filmed on a less than $7 million budget, it's quite a successful movie of all time.
Furthermore, the motivational speeches and quotes of the film are still famous among athletes and clubs worldwide.
Interestingly, the "Hickory" jerseys worn in the movie by high school players are the same as the one NBA team Indian Pacers usually wears.
4. Hoop Dreams
Released date: 1994
IMDb rating: 8.3
Next on the list is documentary rather than fictional movies. Being one of the best sports documentaries ever filmed, Hoop Dreams deserves to be 4th on our list.
Moreover, in 2007 poll International Documentary Association honored Hoop Dreams with the best documentary of all time.
The documentary covers two boys named Arthur Agee and Willian Gates living in the inner-city of Chicago. Likewise, both kids want to play professionally in the NBA.
It was filmed from 8th grade in their high school to freshman year in college.
However, after being scouted by St.Joseph High School, one stays, but another one joins a local public school due to financial problems.
Similarly, it also covers the obstacles like bad grades, injuries, family deaths, social issues, and other problems faced to become a successful basketball player.
Both of the kids are using basketball as means to get out of these difficult situations.
Although documentaries became successful, sadly, both of them failed to make it to the NBA.
Furthermore, Hoop Dreams have clearly shown glimpses of many issues in the countries and how youths are making an effort to rise from these tough situations.
3. Coach Carter
Released date: 2005
IMDb rating: 7.3
Coach Carter not only focuses on basketball but also teaches real-life lessons emphasizing discipline, hard work, and academics.
The movie is a true story based on Richmond High School basketball coach Ken Carter.
He made headlines for suspending his undefeated basketball team due to bad exam grades in 1999. As expected, he only allowed teams to play only after improving their grades.
Watch the exciting trailer for this movie, right here >>
Samuel Jackson has played the role of a coach in the movie. His role teaches coaches responsibility in the life of their players.
The tough coach takes an unmotivated group of boys to Northern California's best high school, changing the team's entire culture.
Moreover, Coach Carter symbolizes the mantra of an underdog rising against all odds. The true meaning behind the movie is wonderful and amazing.
Coach Carter is a must-watch inspirational and motivational movie for any sport athletes or fans.
Top 10 Best NBA Players of All Time >>
2. He Got Game
Released Date:1998
IMDb rating: 6.9
One of the best basketball movies made by Spike Lee, He Got Game comes next on our list.
The movie focus on the top of his school prospect Jesus Shuttlesworth and his father, Jake. Jesus' role model is his father, who was a former basketball player.
Moreover, in the movie Jesus Shuttlesworth is played by former NBA player Ray Allen.
But Jesus' dad is in prison for killing his mom. So, he wants to play professionally as soon as possible to take improve his sister and own living standard.
Big-time basketball colleges offer Jesus cash and women during his recruiting visits.
However, the state governor offers Jake a chance of prison sentence reduction if his son plays for Alma Mater.
Ultimately, to decide their future fate, father and son play serious one on one basketball.
Everything from cinematography, soundtracks, and scenery is perfect and amazing in the movie. Not to forget Ray Allen's beautiful jump shots.
1. White Man Can't Jump
Released Date: 1992
IMDb rating: 6.8
White Man Can't Jump takes the crown of best basketball movie ever made on our list. The movie has shown glimpses of real street basketball in the USA.
The movie covers unlikely hustlers Billy Hoyle (Woody Harrelson) and Sidney Deane (Wesley Snipes).
Billy is a former college basketball athlete making a living playing against streetballers who think he can't play because of his skin color.
On the other hand, Dean is a talented cocky street baller who is defeated by Billy twice.
Understanding Billy's talents and skills, Dean becomes his partner to be successful in LA streets.
The comedy movie has shown the friendship of two different street ballers of different backgrounds trying to make a living from the game they love.
Furthermore, both Harrelson and Snipes have displayed good and awesome basketball in the movies.
Summary
The 2020-21 NBA season will end within one month. Basketball fans have to wait until October to watch their favorite teams and players hit backcourt again.
So, for fans watching these basketball movies will be worth it during the offseason. Let's have quick look at the summary.
White man can't jump
He got the game
Coach Carter
Hoop Dreams
Hoosiers
Above the rim
Blue Chips
Love and Basketball
Space Jam
Celtics Dream