The Portuguese have been invested in soccer since the 19th century. Their national team has seen some phenomenal players over the years, including Eusébio, Luís Figo, and Cristiano Ronaldo, to name a few.
Have you ever wondered who the best Portuguese soccer players are? Or wondered which clubs they belong to?
Talented soccer players are considered heroes in Portugal. Winning championships in several different leagues, the top-tier players are often considered idols by their fans.
In the Qatar World Cup 2022, Morocco knocked Portugal out in the quarterfinals, halting the Portuguese's dream of winning their first world cup. But there's no denying that the team has great players.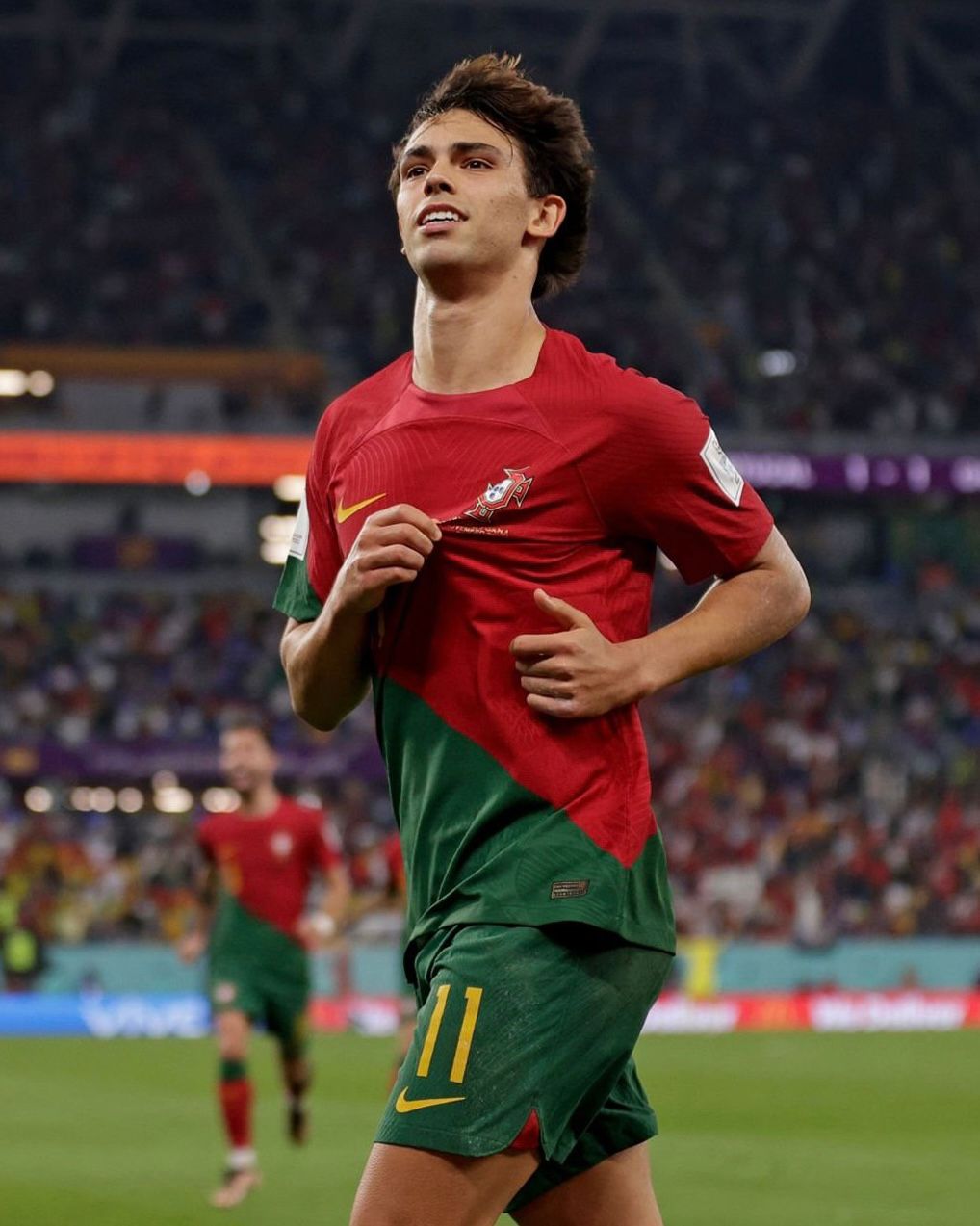 In today's article, we'll find out about the top 12 best Portuguese soccer players and some facts about them.
So, keep scrolling down and read each line, for you might miss a fact or two.
| | | |
| --- | --- | --- |
| Rank | Player's Name | Position |
| 1 | Cristiano Ronaldo | Forward |
| 2 | Eusébio | Striker |
| 3 | Luis Figo | Midfielder |
| 4 | Rui Costa | Midfielder |
| 5 | Deco | Midfielder |
| 6 | Paulo Futre | Winger |
| 7 | Ricardo Carvalho | Center-back |
| 8 | Ricardo Quaresma | Winger |
| 9 | Fernando Chalana | Winger |
| 10 | Pedro Miguel Carreiro Resendes | Striker |
| 11 | Pepe | Defender |
| 12 | Joao Moutinho | Midfielder |
Top 12 Best Portuguese Soccer Players in the World
Today's listing is based on the players' fan following, publicity, and success.
12. Joao Moutinho
Height: 1.70 m (5 feet and 7 inches)
Net worth: $5 Million
Joao Filipe Iria Santos Moutinho, commonly known as Joao Moutinho, is #12 on our list of best Portuguese soccer players.
Born on 19th September 1986, he plays as a central midfielder for the Premier League club Wolverhampton Wanderers and the Portuguese national team.
Moutinho made his national soccer debut against Egypt on 17th August 2005 at the age of 18. Moreover, he won the friendly game with a 2-0.
Moutinho's performance and skills proved to be a great asset for his first club (Sporting CP). Furthermore, he has won Europa League, Ligue 1, and Taca de Portugal with different clubs.
Similarly, Moutinho has won Nations League (2018-19), and European Championship (2016). He has also bagged the UEFA European Under-17 Championship with his national team (2003).
12. Pepe
Height: 1.87 m ( 6 ft and 1 in)
Net worth: $15 Million
Kepler Laveran de Lima Ferreira, born on 26 February 1983, is a professional soccer player who plays as a center-back for Porto and the Portugal national team.
He started his professional career at Maritimo and FC Porto before joining Real Madrid on July 10, 2007. He stayed with the Spanish giants for 10 years and won 3X La Liga, 2X Copa del Rey, 2X Supercopa de Espana, 3X UEFA Champions League, 2X UEFA Super Cup, and 2X FIFA Club World Cup.
For the Portugal national team, Pepe has made 133 appearances scoring 8 goals, and won UEFA European Championship (2016) and Nations League (2018-19).
11. Nani
Height: 1.77 m (5 ft and 10 in)
Net worth: $30 Million
Luis Carlos Almeida da Cunha, also known as Nani, is the name that no soccer fanatics would never miss or forget.
The Portuguese star was born on 17th November 1986. Mostly a winger, he is currently linked with Melbourne Victory of the A-League Men.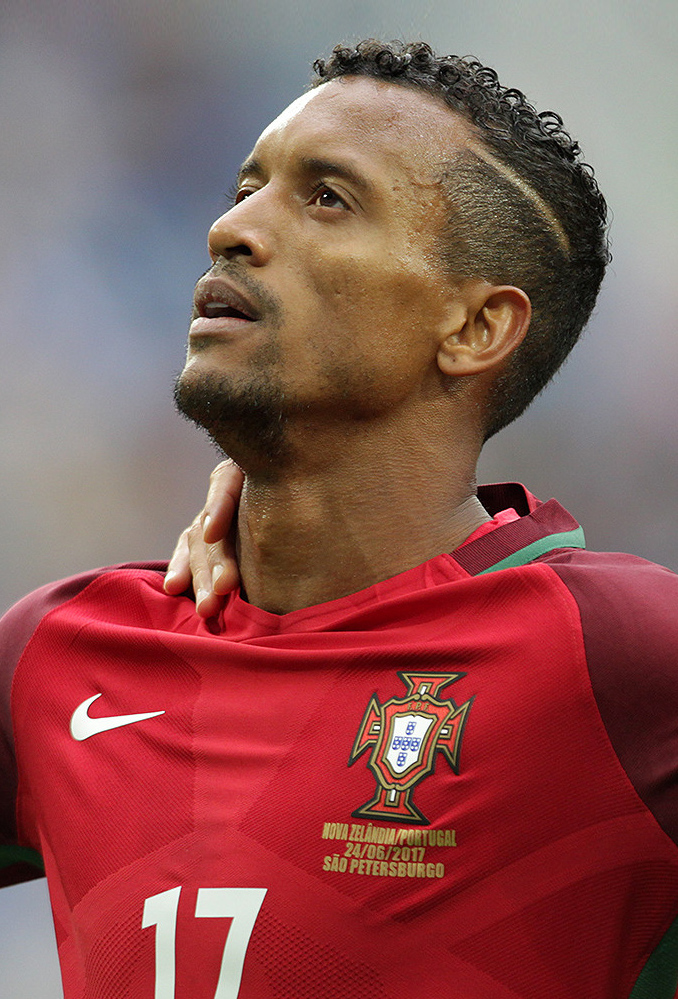 Nani began his national team career in 2006. He played his first game for the Portuguese team on 1st September 2006, where he scored his first goal. Unfortunately, the Portuguese team lost to Denmark with a score of 4–2.
The star player has made 112 appearances for the national team, scored 24 goals, and made 23 assists. The 2016 European Championship was the only title he won with the national team.
Most of his club career achievements were achieved during his time at Manchester United, where he collected 2X English League Cup, 4X English Super Cup, 4X Premier League, 1X FIFA Club World Cup, and 1X Champions League.
10. Pauleta
Height: 1.80 m (5 ft and 11 in)
Net worth: $5 Million
Pedro Miguel Carreiro Resendes, also known as Pauleta, born on April 28, 1973, is a retired player.
Pauleta played as a striker during his professional career. Before becoming a professional, he played with local clubs.
He joined Paris Saint-German FC around the 2003-04 season and he retired at the age of 38 after playing a season with Sao Roque.
Not to forget, Pauleta was the top scorer of the PSG at the time, with 109 goals in 211 appearances. However, his record was broken by another legend, Zlatan Ibrahimovic, in October 2015. With PSG, Pauleta won 1X French League Cup and 2X French Cup.
Also, Pauleta is the first Portuguese national team player to never play in the
Portuguese top-level game. Similarly, he played for his country in two World Cups and two European Championships.
9. Fernando Chalana
Height: 1.65 m (5 ft. and 5 in.)
Net worth: $5 Million
On number 9, we have former soccer player and manager Fernando Albino de Sousa Chalana (1959- 2022).
He mainly spent his professional career at Benfica, and later worked as a manager for the same club.
Even though he was prone to many injuries and physical problems, he was still one of Portugal's best soccer players at Euro 1984, leading Portugal to the semi-finals.
For the national team, Chalana made 27 appearances, scoring 2 goals and making 2 assists.
8. Ricardo Quaresma
Height: 1.75 m (5 ft and 9 in)
Net worth: $40 Million
Ricardo Andrade Quaresma Bernardo is one of the best wingers. He last played for Vit. Guimaraes and he is currently a free agent.
Quaresma began his career at Sporting and later joined Barcelona, Inter Milan, Chelsea, Porto (twice), Al-Ahli Dubai, Beşiktaş (twice), and Kasımpaşa before joining Vitória de Guimarães in 2020.
Moreover, he is considered an unpredictable talent. Some of his tricks include the Rabona and Trivela (a bending shot with the outside of his right foot). These particular tricks he does are responsible for his fame among fans worldwide.
Quaresma has 80 caps for the national team, scored 10 goals, and made 25 assists. His major achievement with Portugal was the 2016 Euro Championship.
7. Ricardo Carvalho
Height: 1.83 m (6 ft)
Net worth: $20 million
The retired former Portuguese professional soccer player Ricardo Alberto Silveira de Carvalho was one of the best center-backs in the country and is now working as an assistant manager for Marseille.
Ricardo started his professional career at Porto. His transfer to Chelsea at a signing fee of around $32.2 million once made a big headline.
The Portuguese center-back won two Premier League titles simultaneously and one League Cup in his first two seasons with Chelsea FC. Moreover, he was voted Player of the Year in 2008.
Besides that, Carvalho led Chelsea to win the league and FA Cup two years later. This was the first Double in the club's history.
After being with Chelsea for six years, Carvalho got transferred to Real Madrid at $8.15 million. He proved himself by winning two titles; La Liga and Copa del Rey.
Ricardo made 89 appearances for Portugal and was part of the squad in their feat in the 2016 Euro Cup.
6. Paulo Futre
Height: 1.75 m (5 ft and 9 in)
Net worth: $1-5 Million
Paulo Jorge dos Santos Futre, born on 28th February 1966, is a former soccer player who played mainly as a left-winger. He scored 6 goals in his 41 appearances for the national team.
Futre was especially known for his exquisite dribbling skills. After starting his professional career at Sporting, he later moved to Porto. After joining Porto, he won the 1987 European Cup.
With his rising fame and success in the sport, he represented clubs in Spain, France, Italy, England, and Japan.
Futre appeared for Benfica in 1993. But, unfortunately, his following years were spoiled by frequent injuries.
5. Deco
Height: 1.76 m (5 ft and 9 in)
Net worth: $25 million
Anderson Luís de Souza, most commonly known as Deco, is a Brazilian-born Portuguese sports agent and retired professional soccer player. Deco mainly played as an attacking or a central midfielder.
The champion started D20 Sports after retiring from his successful soccer career. To clarify, D20 Sports is an agency that manages Brazilian and Portuguese soccer players. He is currently working as a scout for the Spanish club Barcelona.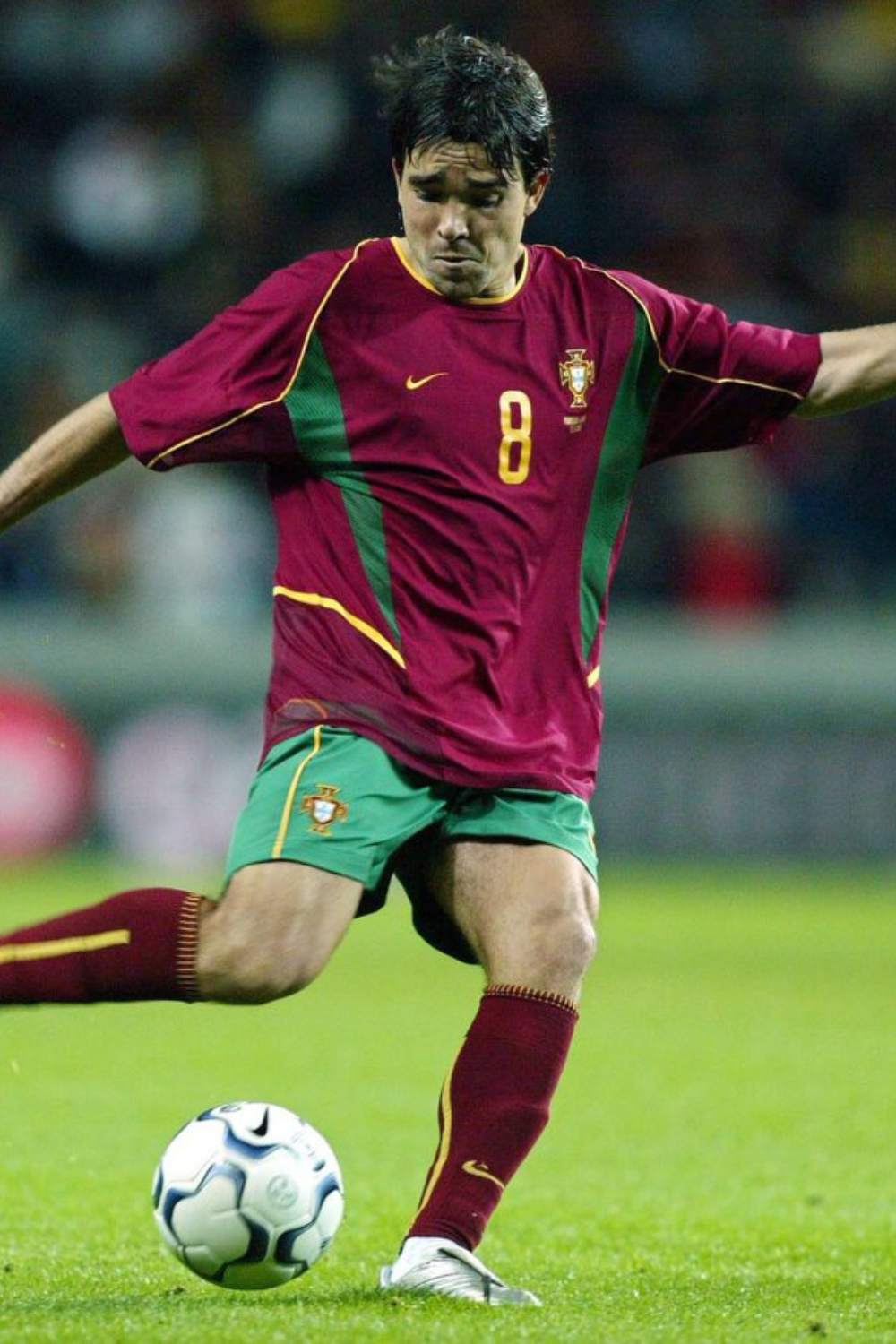 Not to forget, he is one of the very few players to have won the UEFA Champions League with two clubs (Porto in 2004 and Barcelona in 2006).
Deco was named the UEFA Club Footballer of the Year and UEFA Best Midfielder in Porto's Champions League-winning season and later named the Man of the Match in the 2004 UEFA Champions League Final.
4. Rui Costa
Height: 1.80 m (5 feet and 11 inches)
Net worth: $49 Million
The former Portuguese professional soccer player Rui Manuel César Costa is #4 on our list. He is also the 34th president of the sports club S.L. Benfica.
Not to forget, Costa is regarded as one of the best midfielders globally and one of the best Portuguese soccer players.
During his professional career, Costa mostly played the role of an attacking midfielder. He was mainly known for his unique technique and playmaking ability.
He made 94 appearances for the Portugal national team and scored 26 goals.
Above all, he was named by Pelé in the FIFA 100 as one of the 125 greatest living soccer players ever to walk the stadium. Costa was Nicknamed "The Maestro" and "Il Musagete."
3. Luis Figo
Height: 1.80 m (5 feet and 11 inches)
Net worth: $50 million
Luis Filipe Madeira Caeiro Figo, also known as Luis Figo, was born on 4th November
1972. The former Portuguese professional soccer player is serving as an Advisor of management for UEFA.
During his professional career, Figo played as a midfielder for Sporting CP, Real Madrid, Barcelona, and Inter Milan.
Similarly, while playing for the Portugal national team, Figo had 127 caps and scored 32 goals. However, this record was later surpassed by Cristiano Ronaldo, João Moutinho, and Pepe.
Not to forget, Figo's 96 assists are considered one of the most in La Liga history, behind Lionel Messi, Xavi, Karim, and Cristiano Ronaldo.
2. Eusébio
Height: 1.77 m (5 ft and 10 in)
Net worth: $8 million
Eusébio da Silva Ferreira is the oldest one on today's list 25 January, 1942- 5 January 2014). He was a Mozambican-born Portuguese professional soccer player who played as a striker.
Ferreira is recognized as one of the greatest players worldwide. The athlete is also considered the greatest player to ever play in S.L. Benfica. For his national team, he scored 41 goals in 64 matches.
Nicknamed Black Panther, Black Pearl, or O Rei (the King), the athlete was famous for his agility, technique, athleticism, and his fierce right-footed shot, making him an exceptional goal scorer.
1. Cristiano Ronaldo
Height: 1.87 m (6 ft and 2 in)
Net worth: $500 Million
We can blindly tell who the number one is, the best Portuguese soccer player, and the national pride/hero. The man, the myth, the legend, Cristiano Ronaldo Dos Santos Aveiro is also called CR7.
Over the past 20 years, Ronaldo has proven to be one of the best to grace this sport. He is not only the best player but also the best leader.
Cristiano plays as a forward for Al-Nassr FC of the Saudi Pro League and the Portugal national team.
Not to forget, Cristiano is one of the most decorated and award-winning soccer players. He has won five Ballon d'Or awards and four European Golden Shoes. It is the most received by a European player.
Similarly, he has won around 32 trophies, including 7 league titles, 5 UEFA Champions Leagues, 1 UEFA European Championship, and 1 UEFA Nations League.
Ronaldo also holds the records for most appearances (183), most goals (141), and assists (42) in the Champions League.
He holds the record for the most goals in the European Championship (14), the most international goals by a male player (118), and the most international appearances by a European male (196).
To clarify, Ronaldo is one of the very few players to have made over 1,100 professional career appearances and score over 800 official senior career goals for the club and country.
Conclusion
Hope the legends mentioned above and their stories inspired you just like they have inspired millions worldwide.
Please feel free to drop a comment down below and tell us who is your favorite player from the list and why.