Regardless of considering Zlatan Ibrahimovic arrogant, childish, and ignorant, one can't ignore his achievements within football.
Overall he has won 32 titles in his career, playing for nine different teams. But the lack of UCL glory in his resume hurts.
Zlatan is a natural goal scorer, having scored 564 career goals throughout his football career. He is also the top scorer in Sweden with 62 goals.
Despite being 40 years old, Zlatan is the third-fastest player of the Seria A. He strictly maintains his diet and practices taekwondo to maintain his fitness.
In football, one player's name definitely appears first when the word controversy comes: Zlatan. His career has not been scarce of controversies.
Zlatan is a family guy and loves to spend time with his family. He is married to Helena Seger and has two children together.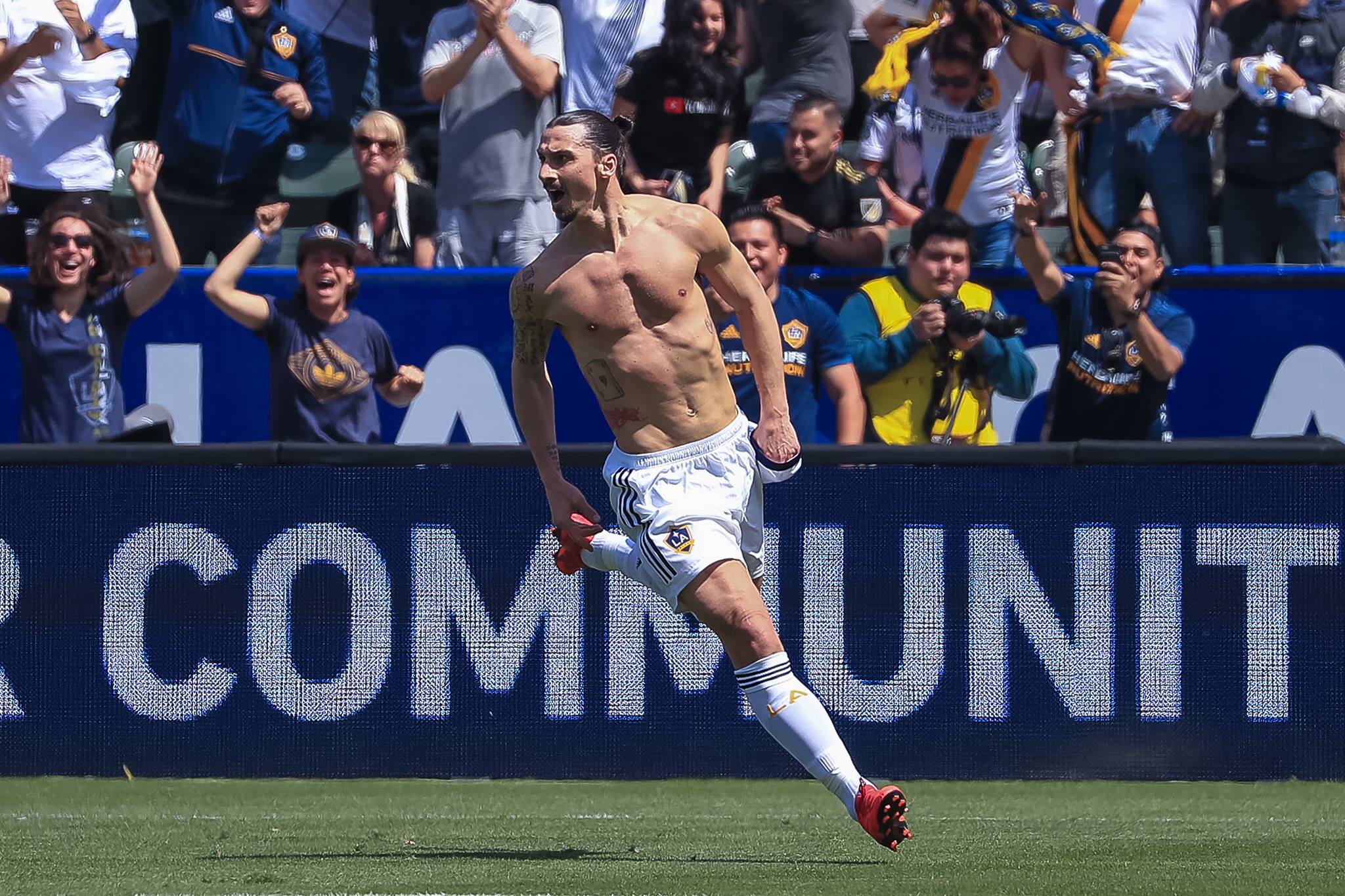 "The older I get, the better I get. like red wine."
Quick Facts
| | |
| --- | --- |
| Name | Zlatan Ibrahimovic |
| Birthday | 3rd October 1981 |
| Birth Place | Malmo, Sweden |
| Nick Name | Ibra, Zlatanera |
| Age | 40 years old |
| Gender | Male |
| Religion | Muslim Bosniak |
| Nationality | Swedish |
| Ethnicity | Unknown |
| Zodiac Sign | Libra |
| Profession | Footballer |
| Height | 6'5″(1.95m) |
| Weight | 95kg(209 lbs) |
| Body Mass Index (BMI) | 24.8 |
| Build | Athletic |
| Hair Color | Black |
| Eye Color | Black |
| Tattoo | Yes |
| Father Name | Sefik Ibrahimovic |
| Mother Name | Jurka Gravic |
| Siblings | Sanela, Monika, Sapko (sister), Violeta, Aleksader |
| Relationship | Helena Seger (Wife) |
| Children | Maximilian, Vincent |
| Preferred Foot | Right |
| Playing Position | Striker |
| Agent | Mino Raiola |
| Professional Debut | 1999 |
| Current Team | AC Milan |
| Previous Team | Malmo FF, Ajax, Juventus, Inter Milan, Barcelona, Paris Saint Germain, Manchester United, LA Galaxy |
| FIFA 22 Rating | 84 (Overall) |
| Salary | £187,000 per week |
| Net Worth | $90 million |
| Transfer Market Value | €5.00m |
| Shoe | Nike |
| Jersey Number | 11 |
| Social media | Instagram, Twitter, Facebook |
| Merch | I Am Football, Bobblehead, Signed Game-Worn Jersey |
| Last Update | September, 2022 |
Zlatan Ibrahimovic | Fitness and Body Appearance
Despite being at a late stage of his career, he is only getting better with age. Currently, Zlatan is the third-fastest player in the Seria A.
To maintain his physique, he follows a strict diet. The athlete is no fan of working in the gym. However, Zlatan practices taekwondo for strength and conditioning training.
According to GQ Italia Zlatan, every single food is weighed on a scale. Mostly, he likes to eat white meats, bresaola meats, and fresh vegetables.
The footballer also has a personal chef and likes to keep his weight from 92-94 kg.
Ibrahimovic is one of the tallest footballers globally, standing 6 ft 5 inches (1.75m). At present, he weighs 94kg (207.43lbs).
Zlatan likes to keep his hair long and prefers a ponytail hairstyle.
Tattoos
Like other professional footballers, Zlatan seems to be a fan of tattoos. Firstly, he has tattooed his surname in Arabic on the backside of his right arm alongside his son's name.
Likewise, on his lower back, he has tattooed common Buddhist "Five Deva Faces."
Similarly, on his upper right arm, he has another Buddhist tattoo, "Yant Prajao Khao Nirote."
Furthermore, on his ribcage, he has tattooed the phrase "Only God can judge me." Lastly, on his back, he has a giant tattoo of a roaring lion.
Zlatan Ibrahimovic | Early Life
Zlatan Ibrahimovic was born on 3rd October 1981 in Malmo, Sweden. He was born to a Muslim father, Sefik, and a Catholic mother, Jurka Gravic. Both of his parents immigrated to Sweden.
As a young kid, Zlatan idolized Brazilian Ronaldo. Furthermore, he began playing football at the age of 6.
Difficult Childhood
Zlatan's parents divorced when he was only two years old. He went on to live with his mom after she won his custody.
However, the footballer mentions living with his mother and new step-father as a painful experience. But due to his mother's difficulty in taking care of 5 kids, he was sent to live with his dad at the age of 9.
Because food was scarce in his father's house, Zlatan often stayed hungry, so he used to go to his mother's for dinner.
Later, he grew up being a petty thief and started stealing bikes and shops. Zlatan also grew up getting into fights in his childhood. Once, at the age of 13, he hospitalized his teammate.
When he was 15 years old, he also considered quitting football for work at the docks. However, his manager convinced him to play football.
Read also some famous quotes from Zlatan Ibrahimovic >>
Zlatan Ibrahimovic | Professional Club Career
Beginning
In 1996 Ibrahimovic signed his first professional contract with Malmo FF. Later he moved to the senior team in 1999. Overall, he scored 18 goals in 47 appearances for the club.
On 22nd March 2001, Zlatan signed with Ajax for €8.7 million. In his first season with the club, he manages to win the Eredivisie title.
Next season in his UCL debut season, he scored five goals to help his club reach the quarter-finals.
Italy Calling
After spending four seasons with Ajax, he signed with Juventus. In his first season, he scored 16 goals as Juventus finished top of the league.
But a season later, Juventus was relegated to Seria B due to the Calciopoli scandal. Because of this incident, he left to join Inter Milan.
In the 2006-07 season, Zlatan scored team-high 15 goals, whereas Inter won the Scudetto with a record of 97 points.
Later, in the 2007 season, he won Seria A Footballer of the Year, scoring 17 goals and winning back-to-back Seria A titles.
Next season Zlatan became Seria, A top scorer for the first time with 25 goals. Likewise, he won back-to-back player of the year and hattrick Seria A titles.
Move to Spain
On 27th July 2009, Zlatan Ibrahimovic signed with Barcelona for €46 million. He was presented in Camp Nou in front of 60,000 fans.
Although Zlatan initially signed a 5-year deal, he only played one season with Barca. Mainly due to a feud between him and the coach.
Overall, he scored 21 goals for the Catalonia side before moving to loan joining AC Milan. A season later, he joins the Italian side permanently.
In the 2011-12 season, he became Seria A top scorer with 28 goals. However, he could not help Milan win their back-to-back Seria A title.
PSG
On 17th July 2012, Zlatan signed three years contract with PSG for €20 million. His annual salary of €14 million made him the second-best footballer.
As he was signed as project setup by new Qatari owners, he didn't disappoint them.
Zlatan helped PSG win the 12 titles, whereas he finished as the league's top scorer in three seasons.
His all time goals for the PSG were 156, which were the highest until it was broken by his former teammate Edison Cavani.
Move to Premier League
Zlatan Ibrahimovic signed with Manchester United after being a free agent in 2016. Later, he became the oldest player to score 15 goals in Premier League history.
Although Zlatan signed a one-year contract extension in August 2017, he terminated his contract six months later to join LA Galaxy.
In his single season at MLS, he broke the club record for most goals scored in a single regular season with 26 goals.
Return to Itlay
On 27th December 2019, Zlatan returned to AC Milan for six months contract with an extension option.
After scoring against Callegari on 11 January 2020, he set a landmark of scoring in four decades. Likewise, in a 3-1 victory against Parma, he made his 100th appearance.
After signing a 1-year contract extension, Zlatan scored in 9 consecutive starts for Milan in 2020-21.
Similarly, on 22nd April 2021, Zlatan reached 500 goals in a 4-0 win against Crotone.
Career Stats
| | | |
| --- | --- | --- |
| Year | Apps | Goals |
| Career | 859 | 510 |
Some of his Accomplishments and Highlights:
Eleven-times Ballon d'Or Nominations
Finished Ballon d'Or in the 4th place in 2013
Recepient of FIFA Puskás Award in 2013
Juventus Player of the Year in the 2004–05 season
MLS Greatest Goal in 2020
Zlatan Ibrahimovic | National Team Career
Zlatan has represented Sweden U-18 and U-21 side. Although Zlatan was eligible to play for Sweden, Bosnia, or Croatia, he decided to play for Sweden.
On 31st January 2001, he made his debut in a 0-0 draw against the Faroe Islands. Later, Zlatan was named in the 2002 World Cup, where he played in 2 matches.
Zlaten helped Sweden qualify for UEFA Euro 2004, netting three goals in the qualifying campaign. During the tournament, his backheel goal in a 1-1 draw against Italy was named a tournament-best goal.
Although he was the joint third-highest scorer in the 2006 World Cup qualifying campaign with eight goals, he failed to score in the tournament.
Later, in UEFA Euro 2012, Zlatan's volley goal against France won the tournament's best goal. He was named in Team of the Tournament.
On 14th November 2012, Zlatan scored four goals in a 4-2 victory over England. His last goal, a 35-yard bicycle kick, won the 2013 FIFA Puskas Award.
On 4th September 2014, Ibrahimovic netted his 50th international goal in a 2-0 win over Estonia, becoming the country's leading scorer.
In 2016 following Sweden's exit from the first round of Euro 2016, he announced his retirement from the national team.
After Sweden clinched their place in the 2018 FIFA World Cup, Zlatan expressed his desire to come back to the national side.
However, Janne Andersson mentioned he wouldn't be called up for the tournament.
Comeback
In 2020, Zlatan again hinted at returning to Sweden's national team. Later, Andersson flew to Milan to discuss the matter.
In the FIFA World Cup qualifiers 2022, he was named to the Sweden squad, making a comeback after five years of absence. In both Kosovo and Georgia matches, he provided one assist each.
Read Also: Eden Hazard Bio: Brother, Stats, Injury & Salary >>
Zlatan Ibrahimovic | Personal Life
Family
Zlatan Ibrahimovic married Helen Segar in 2005 at Italy. As of now, Helena works as a real estate agent in Itlay.
Furthermore, she is a gym lover and spends at least an hour daily maintaining her body fitness.
Zlatan and Helena have an interesting love story. They firstly met in 2002 at the parking lot when their car bumped into each other.
As Seger was not in a good mood, she screamed at him. But Zlatan was fascinated by her future wife. Later they started dating.
To date, they have two children. Their first child Maximiliano was born in 2006, whereas the second one Vincent in 2008.
Lifestyle
Ibrahimovic made a fortune playing football, and he is also making a good investment of that money.
Zlatan seems to like expensive things. His private plane Cessna Citation Longitude costs $26 million and has 12 leather seats. Likewise, his Riva 100 Corsaro yacht costs $ 9million.
Zlatan also purchased the church in Stockholm, for which he paid $11 million.
One of the famous purchases of Zlatan is Davenso island, the 13th largest island in Sweden.
But its price has not been disclosed yet. Five hundred hectares property also has a hunting ground, where he spends time for his passion hunting deer, wild boar, and fishing.
Zlatan Ibrahimovic | Salary and Business
Ibrahimovic is the highest earner in the AC Milan squad. He earns $187,000 per week pulling $7.2 million in a year.
Furthermore, his career earnings while playing for Manchester United is a whopping $35 million.
Zlatan Ibrahimovic estimated net worth is $190 million.
Zlatan Ibrahimovic was an official athlete of Nike Mercurial. During that period, he was hugely involved in brand promotion.
But in 2016, after launching his own brand A-Z Sportswear, he hasn't been an official ambassador of any company.
Later, from 2016 to 17, he switched to Adidas for sports equipment sponsorship. But he again returned to Nike season later.
Besides Nike, Zlatan gas promoted brands like Volvo, Vitamin Well sports drinks, Microsoft Xbox, and Nivea.
Not to mention he released his documentary named Becoming Zlatan in 2015. The documentary starred several of his teammates.
Business
In 2016 Ibrahimovic initiated his own brand named A-Z Sportswear. His company sells men's, women's, and children's sportswear. He collaborated with Petter Varner to make sports accessible to everyone.
Furthermore, Zlatan also has his own Andriod game named Zlatan Legends. It is an online multiplayer game that involves a blend of racing and football.
Likewise, in 2019 Ibrahimovic purchased 23.5% shares of Swedish football club Hammarby IF.
Charity
For many years, Ibrahimovic has worked with The UN World Food Program. He has promoted various campaigns helping to increase awareness around the world.
One of his well-known campaigns is 805 million names, where he tattooed names of 50 starving individuals ahead of games.
Later in the press conference, Zlatan mentioned he wanted to support people suffering from hunger.
Likewise, although his Swedish side didn't qualify for the 2014 World Cup, he made a great gesture to his national disabled football team.
Zlatan donated 350,000 Swedish Krona for their flights, hotels, and living expenses.
Similarly, in the recent Covid 19 outbreak in Itlay, Zlatan organized a fundraiser to strengthen health facilities.
Zlatan Ibrahimovic | Controversies
Controversy in sports is common. Since his childhood, Zlatan Ibrahimovic has already been involved in many controversies in his career.
In 2004 Zlatan threatened to break the leg of his Ajax teammate Van der Vaart after Vaart accused him of deliberately injuring him in an international friendly.
During his time at Barcelona, Zlatan allegedly threw a training kit all over the room and insulted Guardiola.
Later, Carles Vikarrubi, vice president, stated Zlatan threatened to beat up Guardiola publicly if he was not released.
In 2011 he was handed 3 match ban for punching Marco Rossi during the match. Likewise, in 2012 Zlatan was handed 2 match ban for kicking Saint Etienne player Stephane Ruffier.
Likewise, in 2013 his former teammate Lucas Moura stated Zlatan frequently insulted his teammates.
French media company L'Equipe branded Ronaldo and Ibrahimovic as the most arrogant footballers across the globe.
After Coupe de la Ligue game against Lille, Zlatan told his teammate not to talk with a journalist stating himself as the boss when asked the reason.
In July 2019, Zlatan made controversial remarks about the MLS level of play, mentioning Ferrari among Fiats.
Later November 2019, after buying a share of Hammarby, rivals of his boyhood club, his statue was vandalized by Malmo fans.
Recently, in 2021 Zlatan came under fire for his comments made toward Lebron James and other players regarding their social and political activism.
Read Also: Mohamed Salah Bio: Stats, Goals, Wife & Net Worth >>
Social Media Presence
Currently, Zlatan Ibrahimovic has Instagram, Twitter and Facebook handle. Although Zlatan has more than 87 million followers on these handles, he doesn't consider himself an active social media guy.
Furthermore, Zlatan mentions he doesn't live a social media life.
Trivia
Zlatan holds blackbelt in taekwondo. During his childhood, he attended the Malmo Taekwondo club. Furthermore, he can kick 7ft 6 inches into the sky.
Zlatan is the one and the only footballer to score Champion league goals for six different clubs.
The term "To Zlatan" named is added to the Swedish dictionary, which means to dominate.
In 2011 he published a book, I am Zlatan Ibrahimovic, to tell his story on and off.
In 2014 he gave all of his PSG teammates a free X-box as a gift.
During his spell at PSG, Zlatan banned players from carrying their own bags asking employees to do that job. Later, he increased their salary.
In France, at Doddy's cafe, there is a burger named after Zlatan known as "Le Zlatan."
Zlatan has won the Swedish footballer of the year record 12 times. Moreover, he won 10 consecutive from 2007 to 2016
His agent is Mina Raiola.
Zlatan has won a team trophy with every club he has played except LA Galaxy.
Zlatan Ibrahimovic | Frequently Asked Questions
How many clubs does Ibrahimovic have played?
Since his debut, Zlatan has always been one of the top strikers in Europe. Overall, he has played for nine clubs in his career.
Moreover, Zlatan always continued his goal-scoring form for every club he played. In 833 club career appearances, he has scored 502 goals.
Has Zlatan Ibrahimovic sustained an injury?
Yes, the player has suffered an Achillies Tendon injury that will keep him off the football field for a while.