You may think sports anime have the same boring repeating story and characters. But it's not true. Instead, some of the best sports anime will give you energy, laughter, and entertainment.
Besides the rich story, you will find motivation and rich character backgrounds that you will want to cheer and engrave in your memories.
Here is a fantastic list of the 13 best sports anime ever made, which you must definitely watch once in your lifetime.
13 Best Sports Anime
13. Chihayafuru
Have you heard of Chihayafuru? Chihiayafuru is one of the best sports anime where the story revolves around a female protagonist.
Chihaya Ayase is a tomboy who doesn't have any dreams at all. But her life changes when a quiet transfer student introduces her to Karuta (a Japanese card game).
Throughout the story, her interest in Karuta increases which leads to competing with others. The story brings out flavors such as sports, drama, a slice of life, and many more.
Likewise, the story is adapted from the manga and converted into anime. Chiyayafuru has also even turned into a live-action film.
The anime contains 25 episodes with an OVA in 2013. While the game is about a sport that you have never heard of, it has more non-japanese fans.
The show is popular because of its characters and how they grow due to their achievements and disappointments. Even the supporting cast has character development.
12. Ping Pong The Animation
Another one of the great anime that you must not avoid. Ping Pong The Animation has one of the unique animations.
It's unique and may take some getting used to, but it shouldn't prevent you from checking out this sporting treasure.
The protagonist has a simple belief to chant these three phrases in mind "the hero comes, the hero comes, and the hero comes, and I'll surely come to you."
Makoto Tsukimoto uses this slogan as a source of inspiration while dealing with the stress, ping pong tournaments, and life issues.
The Ping Pong Animation is a sports story, but it is more than that. The story is built around ping pong and how ping pong changes and affects their life.
This animation doesn't have any colorful animation, fanservice, or attractive characters.
However, the story is one of the best sports anime and explores a natural conversation between characters.
Top 12 Richest/Most-Paid Sports in the World [2021 Edition] >>
11. Prince of Tennis (Tennis no Ouji-Sama)
Unlike other anime, the protagonist Ryoma Echizen of Prince of Tennis is talented from the beginning. But this is not enough. He has to grow and develop in the sport of Tennis.
While on the verge of becoming the best, he has to play and defeat the opponents. The story seems simple, but later on, the anime gets into depth with new characters and a storyline.
Prince of Tennis has many twists, and the supporting character has some of the best comedic moments. The characters' designs and styles are attractive and eye-catching as well.
Likewise, the anime has been adapted from a manga with 178 episodes, OVAs, and movies. Tennis no Ouji-Sama had huge popularity and was regarded as one of the best sports anime.
If you like old anime styles between 2000-05 with a sports story, we recommend you watch Prince of Tennis. Then, you will not regret watching the anime.
10. Run With The Wind
Actually, Run With The Wind is a book adaptation that focuses on running. The story is character-driven which focuses on each character giving each unique flavor.
Then what makes Run With The Wind Unique? The words that sum up the anime are inspiring, satisfying, and a good plot.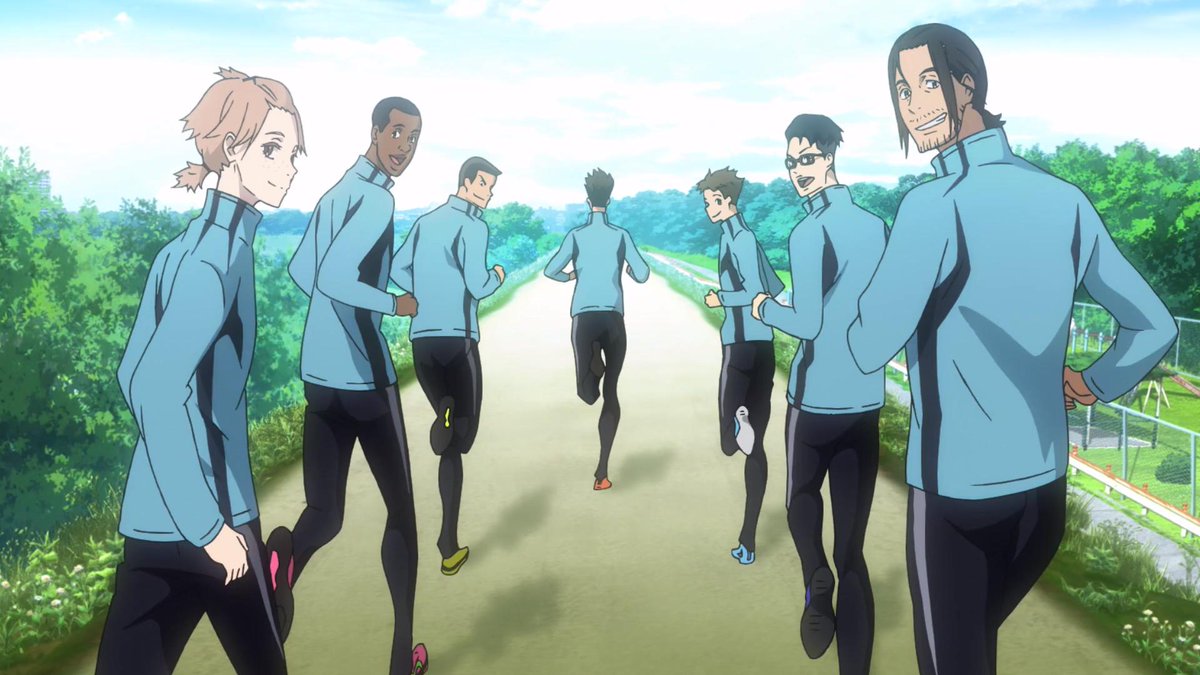 Each character has a different personality, complex and personal relationship with running. Compared to other sports anime, Run With The Wind is the most natural and serious anime.
The story revolves around Haji Kiyose, a former runner forced to retire due to an injury.
Likewise, Kiyose spends his four years trying to recruit students to join his dorm to assemble a squad capable of reaching the distance.
But when the main protagonist Kakeku Kuraha comes, the story starts to get better. Will Kiyose be able to form the Hakone relay team?
9. Yuri On Ice
Yuri On Ice is the most special anime out there. The story uniquely depicts athletics and homosexuality. It has garnered a huge amount of positive feedback for its unique portrayal.
The anime binges you to rewatch again and again. Yuuri Katsuki, one of Japan's most promising skaters, returns to his childhood home to consider his future possibilities.
Sports anime often shows character development. Similarly, Yuri On Ice has some of the best characters, each with unique personalities and stories.
The story continues when Yuuri starts to lose his edge in skating and rather gains weight. But when the guy who inspired him becomes his mentor, his life suddenly changes.
Will he be able to lose weight or continue to train to become one of the best skaters? For these, watch the anime.
If you want to be highly motivated, then we recommend you watch Yuri on Ice. Yuri on Ice is one of the best sports anime ever made.
8. Hajime No Ippo
This anime is one of the most popular and best sports anime ever made. So if you love sports anime, you cannot skip Hajime No Ippo.
The anime had 26 episodes in 2009, while 25 episodes were added in 2013-14. Other than the shonen jump anime One Piece.
Likewise, Hajime No Ippo manga is another ongoing shonen jump manga since 1989 and still going on with 1300 chapters and more.
The manga is a shonen, with a combination of sports, comedy, and action. Many people may feel nostalgic only by hearing the anime name as people grew up watching this anime.
Makunouchi Ippo, a shy high schooler, is followed on his quest to become a professional boxer. The manga is one of the best-seller manga and was awarded the Kodansha Manga Award.
The story includes a well-rooted main protagonist, an important and interesting rival, and a perfectly relatable MC.
7. Yowamushi Pedal
Yowamushi Pedal is a fun sports anime that, by the title pedal, indicates a cycle. The anime is perfect for those who want to enjoy it.
Yowamushi is one of the most popular sports anime of all time. The anime is splendid and phenomenal to the point that it increased the bike sales in Japan.
However, because the anime club has collapsed, he will have to settle with the bicycle racing club. Thus, begins the journey of the protagonist in the cycling world.
The ensemble of characters is a lively bunch, with the main character isn't your usual sports anime hero. However, the protagonist and antagonist both turn out to be memorable characters.
Yowamushi Pedal has around 38 episodes, sequels such as Yowamushi Pedal: Grande Road and spin-off name as Yowamushi Pedal: Spare.
The anime lacks in the area of realistic and serious anime but instead has drama and comedy factors.
Top 16 Hot Boxers in the Boxing World >>
6. Ace of Diamonds (Diamond No Ace)
The anime where each character has to prove themselves. The popularity of this show is because its story was based on baseball.
Baseball is one of the favorite games in Japan. Due to which its popularity was immense in Japan.
The story introduces Eijun Sawamura loses his final middle school baseball game. After being defeated, Eijun and his friends resolve to compete in the national competition after entering high school.
Everything changes when a scout suddenly invites Eijun and his friends to Tokyo's elite Seidou High School. Now the story continues with Eijun and his friends' desire to improve.
The anime has 75 episodes with a genre of comedy, sports, shounen, and school.
The story has good characters, psychology, and in-game tension. The animation and sound effects are one of the best things about the anime.
5. Big Windup!
The anime is one of the finest and addictive sports anime ever made? The story and characters are unexpectedly good.
The story begins with Ren Mihashi, who was the ace of his middle school baseball team. But, yet could never win because of his terrible pitching.
Consistent defeats led his teammates to harass him and developing low self-esteem. As a result, Mihashi chose to attend a different high school, which further led him to be involved in baseball.
This show's specialty is that Higuchi Asa created the original manga. In addition, Mangaka Higuchi has a degree in sports psychology.
Likewise, they used that degree to create this tale and the characteristics of the characters and the challenges they face.
Thus, making this anime one of the finest baseball anime that will inspire you.
4. Free! Iwatobi Swim Club
Free! is a fan-service-driven anime that gained a lot of attention. It was made for individuals who enjoy watching many gorgeous lads swim and sparkle in the water.
That was unexpected, but it astonished the anime world as people enjoy it without the fanservice.
The best feature of the anime is the stunning artwork that makes you want to go swimming. Swimming has never seemed to be more enjoyable or refreshing.
One of its advantages, similar to Haikyuu, is the character connections. Again, we won't give anything away, but the characters' relationships evolve rather interestingly.
3. Captain Tsubasa
Tsubasa Tsubasa Tsubasa, this is how we used to shout whenever we saw the anime. Captain Tsubasa is one of my all-time favorite anime.
The anime is one of Japan's most influential sports anime. Some of the soccer stars are brought into soccer through this anime.
A soccer lover will love the anime and the movies as it depicts the life of soccer. However, the main attraction of the anime is the story where each character has a different unique story.
The story revolves around Tsubasa, a soccer fanatic who aspires to become the finest player in the world and win the World Cup.
Similarly, Tsubasa overcomes obstacles and impossible challenges one after the other. Often with breathtaking displays of skill with the help of his family, friends, coaches, and teammates.
Captain Tsubasa has a long history, and originally the manga was introduced in 1981-88. While the anime started from 1983-86 with 128 episodes. And adapted into movies and anime.
The ball is my friend is one of the most popular catchphrases of this anime which has inspired thousands of people.
Recently the anime was again introduced in 2018. So one word that describes the anime is evergreen.
2. Kuroko's Basketball
Kuroko's Basketball is one of the most loved sports anime. The anime is so immensely popular that if you are an anime lover at some point in time, you may have already heard about it.
The story begins with a team of basketball prodigies known as the Generation of Miracles. However, after they completed their junior year, they went separate ways.
However, few people are aware that another player accompanied the Generation of Miracles. Now the sixth player, Tetsuya Kuroko and Taiga Kagami, become teammates and take on Kuroro's old team.
Kuroko's Basketball is another long-running show with about 75 episodes. The show's main focus is basketball, and it's recognized for its smooth animation and intense basketball movements.
Likewise, the show brings out a good amount of drama, obstacles, and success, which you search for in a sports anime.
1.Haikyuu
Haikyuu is one of the greatest sports anime ever made. The anime has a good storyline and characters that you must not miss out on.
The story is based on real-life volleyball, which feels like watching a real volleyball game.
Everything about Haikyuu is perfect with believable characters, character development, enjoyable anime pace, animation, well-written story, and more.
The anime is inspired by the phrase "teamwork makes the dream work." The relationship between each character and teammates is something that you must look forward to.
Similarly, the story begins with Hinata Shouyou, who develops an unexpected passion for volleyball.
Shouyou joined his school's volleyball team, determined to emulate the championship's best player. Haikyuu is an unexpectedly good sports anime that might help you fall in love with anime.
Top 12 Most Popular Sports in America [2021 Edition] >>
Conclusion
These are the list of 13 best sports anime ever made. If you have any favorite anime, please feel free to comment and share what you love about that anime.