Bill Belichick, the head coach of the New England Patriots, instilled love for football into his sons. As a result, Belichick & his son Brian both work for the NFL team Patriots; the latter is their safety coach.
The general manager of the Patriots & his ex-wife Debby Clarke are parents to a daughter Amanda (the eldest), and two sons: Stephen and Brian Belichick.
As the saying goes, the apple does not fall far from the tree, the athletic & coaching trait of Bill passed down to his three kids- meaning all of them are coaches.
The youngest of the Belichick siblings, Brian was a two-sport athlete (lacrosse & football). He saw himself playing collegiate lacrosse at Trinity College but would switch to football coaching upon graduation.
Throughout the years, he has assisted his father, Bill Belichick & elder brother Stephen in managing the NFL team, New England Patriots.
He was in the management squad of the Patriots as they won the Super Bowl two times (LI & LIII).
Bill Belichick Son: Brian Belichick Is Safety Coach For The Patriots
Bill's youngest son Brian Belichick, born in 1992, is already a noteworthy name in the NFL who gets credits for efficient coaching in the New England Patriots.
Currently, he is the safety coach for the Patriots. He assumed the role in 2020, replacing his elder brother Stephen, who is now the outside linebackers coach of that team.
Before that, Brian served as the coaching assistant of the aforementioned team from 2017 to 2019 before his profession.
Belichick is associated with the New England Patriots since 2016, having joined as its scouting assistant.
An attendant of The Rivers School, Brian went to Trinity College in Hartford, Connecticut, where he excelled in lacrosse along with football.
In 2016, he graduated from college with an anthropology major.
Bill Belichick's son never thought about becoming a coach; however, he always left his options open.
And when the opportunity to work for Patriots came, Brian took it, forming a coaching trifecta in the Belichick family.
Brian Belichick Married Life & Wife
Brian is married and lives with his wife, Catherine McLaughlin. The couple married on June 26, 2021, at St. Mary's Church.
His parents (who are now separated), siblings & his father's girlfriend, Linda Holliday, were in attendance at the wedding.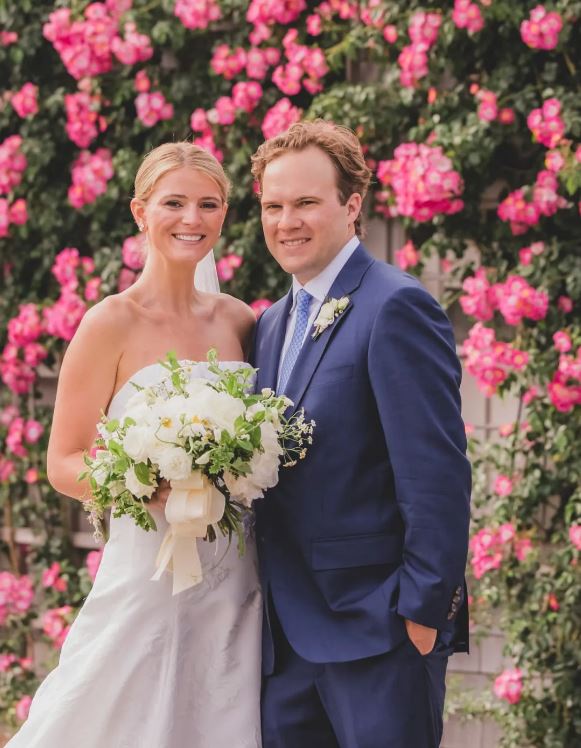 According to Linda's LinkedIn profile, she works as an associate director at Brigham and Women's Hospital (2019- now).
She is a 2016 graduate of Trinity College-Hartford with a BA in American Studies with a concentration in race relations in American culture.
More On Siblings: Sister Amanda & Brother Stephen
With constant support from Bill to do whatever their heart desired, all of his three children ended up becoming coaches.
Both Brian and his elder brother Stephen (b. March 25, 1987) are on the coaching staff of the NFL giant New England Patriots.
As of now, Stephen serves as the outline linebackers coach of the Patriots, following his promotion in 2020 from safeties coach (2016- 2018).
He joined the team in 2012 as its defensive assistant through 2015.
Stephen is married & shares four kids (Blakely, Hayes, Quincy & Rocco) with his wife, Jen Belichick.
The eldest of all, Amanda, is the lacrosse head coach for the College of the Holy Cross (2015- now).
She was the varsity girls' lacrosse head coach at Choate Rosemary Hall for two years & then an assistant coach at UMass.
Amanda lives with her husband, AJ DeSantis.
The Pressure To Match The Levels
As of 2023, Bill is in his 49th consecutive year as an NFL coach with six Super Bowl victories.
As a son, Brian must feel like he has a big shoe to fill in, but Bill is a very supportive and uplifting father.
So, it is safe to say that, in times of despair, Bill will lend a supporting hand to his sons instead of asking them to compete to be of his caliber.
Bill Belichick's son, Brian Belichick, is admired by everyone and makes a positive impression on the team.
We wish him all the best for his future and hope the Belichick family's legacy continues.
Bill Belichick Rejected Medal of Honor
New England Patriots head coach Bill Belichick has been the subject of multiple controversies over his entire career.
One of the most unexpected times when Belichick made the headlines was when he rejected the Medal of Honor from Donald Trump in 2021.
Bill is known for his closeness/friendship with former president Donal Trump.
Bill caused a stir when he politely declined the Presidential Medal of Freedom. The reason for this was cited to be a riot caused by Trump's supporters at the Capitol in protest of Joe Biden's Electoral College victory.
Many commended Bill's decision not to receive the medal. And as we all know, Coach Belichick is the man who marches to his own drums. So, it wasn't entirely surprising to see him decline the highest honor in that given scenario.