An Indiana native, Blake Wesley saw his NBA career dream come true as the first-round pick of the San Antonio Spurs in the 2022 NBA Draft. Currently, he is a shooting guard for the Spurs (2022- present).
Considered among the top prospects from Notre Dame, his collegiate career averaged 14.4 points per game. After his freshman year, he opted to go for the NBA draft.
Despite experiencing a setback due to an unfortunate injury in his second NBA career game, Wesley has put in much effort to return to the court.
With his fully guaranteed four-year contract with the Spurs, fans can expect to see Wesely with the #14 number jersey throughout the 2025-26 season.
Born in South Bend, Indiana, to Leslie and Derrick Wesley Sr., Blake has two elder siblings; one sister and one brother.
This article will cover Blake Wesley's family details, high school, and collegiate career, NBA career, net worth & contracts.
Quick Facts
Full Name
Blake Carrington Wesley
Known As
Blake Wesley
Date of Birth
March 16, 2003
Age
20 Years Old
Birth Place
South Bend, Indiana
Nationality
American
Father's Name
Derrick Raymond Wesley Sr.
Mother's Name
Leslie Ann Wesley
Siblings
Two
Zodiac Sign
Pisces
Relationship Status
Single
Height
6 feet 5 inches/ 196 cm/ 1.96 m
Weight
185 lbs/ 83 kg
Education

High School: James Whitcomb Riley High School
College: Notre Dame (2021-2022)

NBA Draft
2022/ Round: 1/ Pick: 25th Overall
Playing Career
2022-Present
Current Team

San Antonio Spurs (2022- Present)

Awards & Achievements

Second-team All-ACC (2022)
ACC All-Rookie Team (2022)

Position
Shooting Guard
Jersey Number
14
Annual Salary
$3 Million
Net Worth
$800K-$1 Million
Social Media
Instagram, Twitter
Last Update
June 2023
Blake Wesley's Family Details!
Blake Wesley was born in South Bend, Indiana, on March 16, 2003, to Leslie and Derrick Wesley Sr. His parents have been married since September 11, 1993.
His father, Derrick Sr. (birthday on February 19), graduated from Riley High School and played basketball at Ball State University from 1984-88. He was a two-time MVP and was inducted into the Ball State Athletics Hall of Fame in 1998.
Wesley's mother, Leslie (birthday on January 27), studied liberal studies at Indiana University Bloomington and is currently the executive director at Indiana Parenting Institute of St. Joseph County.
Blake has two older siblings: one sister named Taylor and one brother named Derrick Jr.
Taylor (born on November 29, 1996) studied public relations with marketing and played basketball at Indiana University South Bend.
Derrick Jr. (born on June 5, 1998) studied general studies, liberal arts, and sciences at Indiana University South Bend and is currently the youth liaison coordinator at Indiana Parenting Institute.
Age, Height & Body Measurements
Blake Wesley is 20 years old as of 2023. His zodiac sign is Pisces.
The black-haired and dark brown-eyed basketball player stands 6 feet 5 inches (1.96 m) tall and weighs 185 lbs (83 kg).
In addition, he has a standing reach of 8 feet 7 inches (2.61 m) and a wingspan of 6 feet 9.25 inches (2.05 m).
High School & Collegiate Basketball
Blake Wesley received his high school education from James Whitcomb Riley High School.
During his senior year, he averaged 27.1 points and 6.1 rebounds, leading his school to the Class 4A sectional title.
He finished high school with 1496 points and was selected for the Indiana All-Star team.
Wesley chose to commit to Notre Dame after receiving offers from notable universities, including Creighton, Kansas State, Louisville, Maryland, Purdue, and Xavier.
He averaged 14.4 points and 3.7 rebounds per game during his first year.
On March 30, 2022, Wesley declared for the 2022 NBA draft.
NBA Career
In the 2022 NBA Draft, the San Antonio Spurs selected Blake Wesley in the first round.
He made his NBA debut on October 28, 2022, playing against the Chicago Bulls and scoring 10 points while providing 4 assists in a victory of 129-124.
However, just two days after his debut, during a game against the Minnesota Timberwolves, he had an unfortunate accident where he collided with Jaden McDaniels, resulting in a torn MCL in his left knee.
Wesley's first NBA start was on February 10, 2023, playing against the Detroit Pistons.
Net Worth & Contracts
Net Worth
Blake Wesley's estimated net worth is between $800K-$1 million as of June 2023.
In addition to his basketball career, Wesley has also been endorsing Herbalife USA, a health and wellness website specializing in selling nutrition products.
Moreover, Adidas has partnered with Wesley along with other players from the 2022 NBA Rookie Class, such as Walker Kessler, Bennedict Mathurin, and Keegan Murray.
Contracts
The San Antonio Spurs drafted Blake Wesley as the 25th overall pick in the 2022 NBA Draft on June 23, 2022.
On July 5, 2022, Wesley signed a four-year rookie scale contract worth $12.24 million with the Spurs.
The contract's average annual salary is $3 million, and he received a guaranteed amount of $4.8 million upon signing.
The club also holds the option to extend the contract during the 2024-25 and 2025-26 seasons.
Relationship & Social Media Presence
Blake Wesley maintains an active presence on popular social media platforms, like Instagram and Twitter, with 48.2k followers on Instagram and 5.6k followers on Twitter as of this writing.
He has not shared much information regarding his dating history or relationship status. Furthermore, no report on his girlfriend ever came up.
On his social media accounts, he features pictures of his basketball games, training reels, and moments with his family.
Blake Wesley is allegedly single and focused on his basketball career.
Popularity Graph
The following chart illustrates Blake Wesley's search interests over the last twelve months, which peaked in June 2022.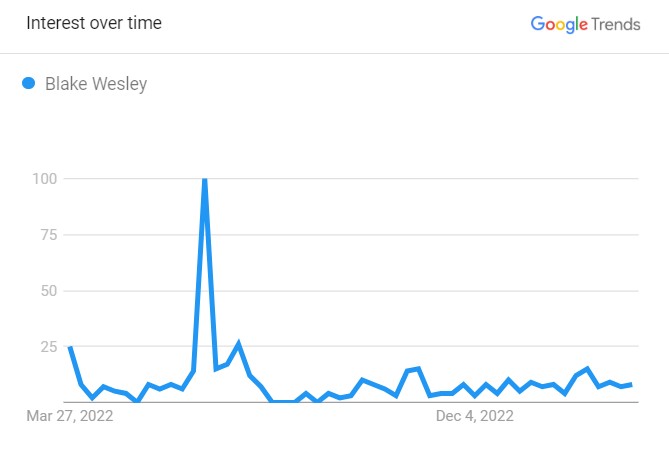 The surge in his search interest came after the San Antonio Spurs picked him in the 2022 NBA Draft.
Frequently Asked Questions (FAQs)
What jersey number does Blake Wesley wear?
Blake Wesley wears jersey number 14 for the San Antonio Spurs.
How much does Blake Wesley make?
Blake Wesley earns a base salary of $2.38 million for the 2022-23 season.